Well, Los Angeles, this is it: You're about to go vegan (if you haven't already). PETA has wrangled ad space in several L.A. gyms, and let's just say we're using it wisely. Two of my favorite poster guys will be gracing ads in weight rooms and showing all the not-yet-vegans who see them what they're missing out on.
The first one holds the title of the Strongest Man in Germany: He's Patrik Baboumian, and I'm kind of enamored with him for a few reasons. First, he's busting through tired old stereotypes like he could probably bust through a concrete wall—and doing it in the most charming way possible. And second, despite his imposing size, he is genuinely one of the nicest people you'd ever meet. I'm also digging his clever sense of humor here: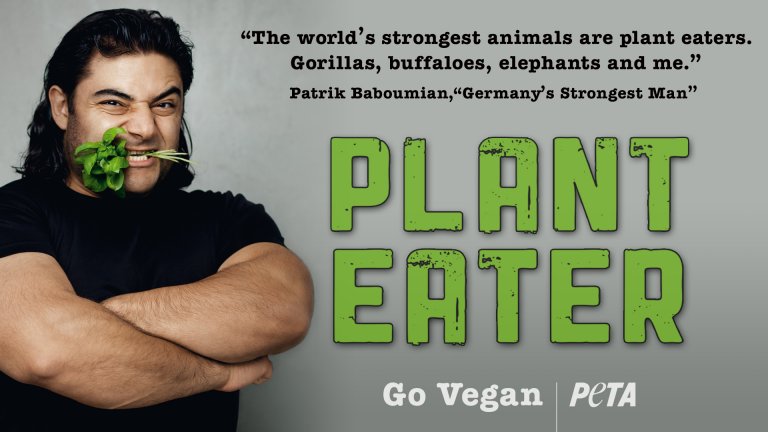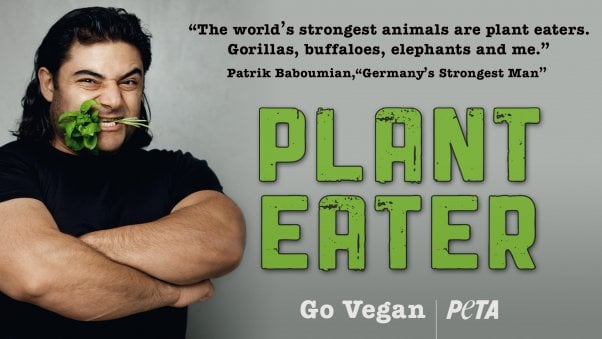 "My strength needs no victims. My strength is my compassion."

—Patrik Baboumian
To take nothing away from our other poster guy, PETA's Sexiest Vegan Next Door alum Zachary Koval. He is (of course) also insanely strong, as kind as a kitten, and impossibly charming. But I like his PETA ads for, um, different reasons.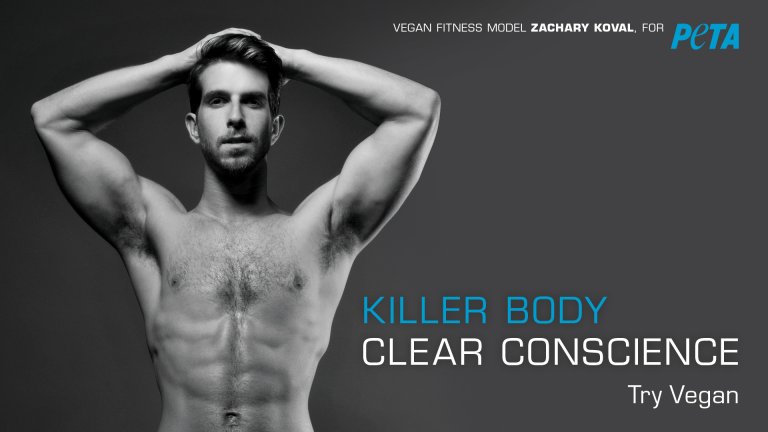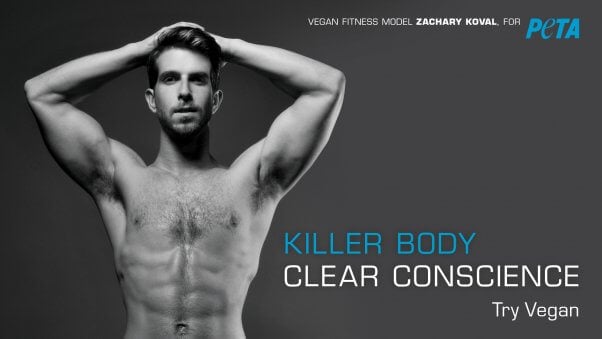 I told you—you wanted to see these.
"I couldn't stomach the thought of eating animals. I couldn't understand the difference between "pet" animals and "food" animals. Why eat one and not the other, when both are living creatures with personalities, capable of feeling both pleasure and pain?"

—Zachary Koval
I have a feeling that L.A. gyms are going to be seeing an uptick in attendance soon, too. Most people who switch out fatty, cholesterol-filled meat and dairy for colorful plant superfoods say that they feel better, have more energy, and are less sluggish and tired.
Plant foods have also been known to lower one's risk of developing cancer and heart disease and actually reverse health problems, including high cholesterol, high blood pressure, and type 2 diabetes. Vegans live, on average, 10 years longer than meat-eaters do. As Men's Health reported recently, "Vegans Are the Healthiest and May Outlive Us All."
So, Los Angeles, go see these guys in action. You can catch them scrolling on gym screens here:
Gold's Gym Hollywood, 1016 Cole Ave.
Gold's Gym North Hollywood, 6233 Laurel Canyon Blvd.
Gold's Gym Los Angeles, 735 S. Figueroa St.
Gold's Gym Glendale, 3211-A Galleria Way
Metro Fitness Los Angeles, 3610 Valleybrink Rd.
And those of us in the rest of the country can tape the ads to our treadmills and refrigerators for some tough, kind, and cute inspiration.