It's a bird, it's a plane … it's an eye-catching, mind-changing PETA billboard!  PETA is the world's largest animal rights organization, and we're committed to doing whatever we can to raise awareness of animal issues and improve the lives of animals every day. Our colorful demonstrations, edgy campaign tactics, unprecedented victories, and tenacity have made 2019 another remarkable year of progress for animal rights. Some of this success comes from our big and bold billboard ads, placed in the perfect spot to spark discussions about the ways speciesism affects animals.
See The Most Shocking, Most Buzzworthy, Most Eye-Opening PETA Billboard Ads of 2019
Eating Meat Kills More Animals Than You Think
Cows aren't the only animals who die for beef, dairy, and leather. When huge swaths of rainforest are burned by farmers and ranchers, the animals who live there are burned up along with the trees and other plants. This year, as fires ravaged the Amazon rainforest, this stunning PETA ad painted a clear picture of the ways eating meat and dairy hurts the environment: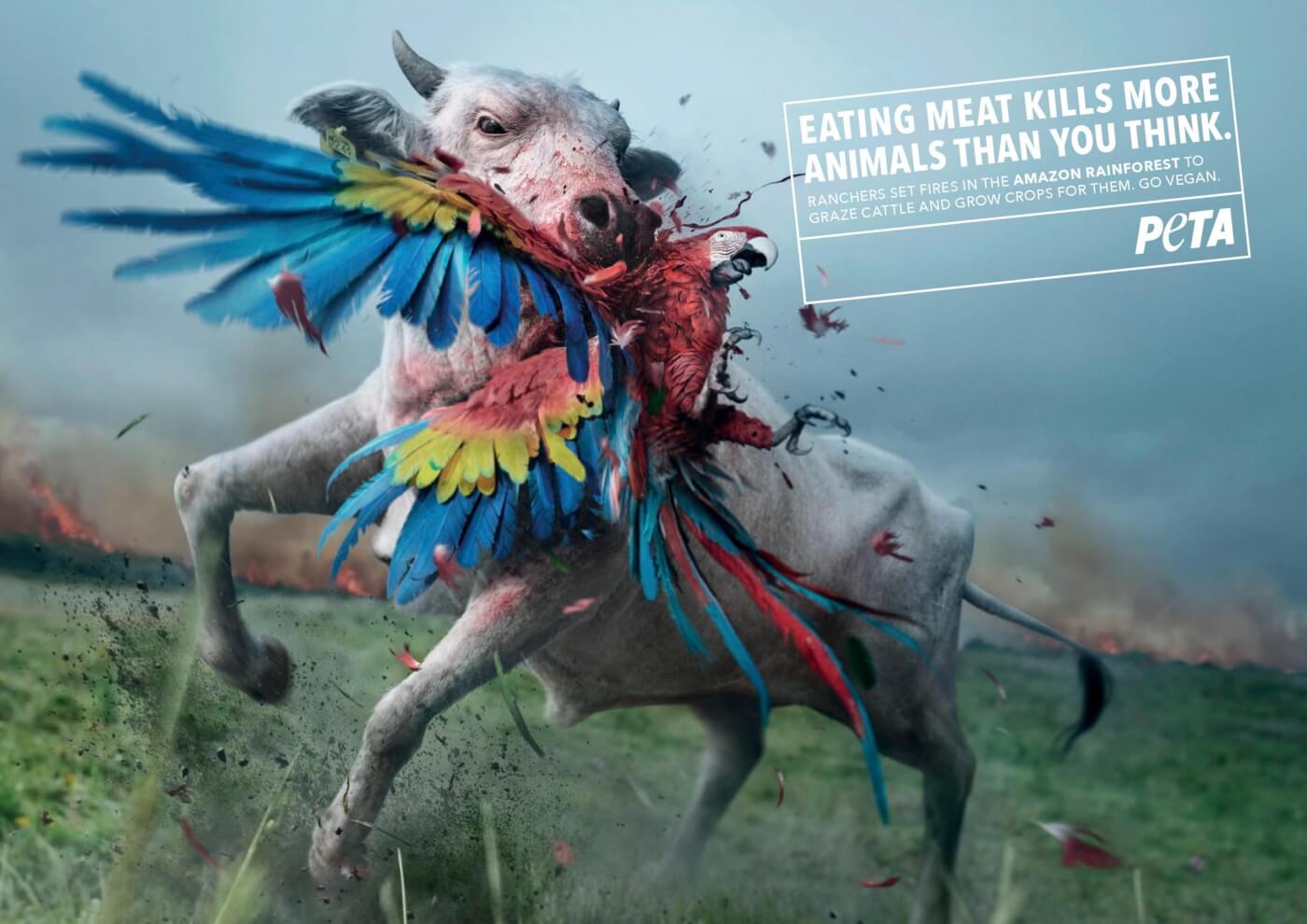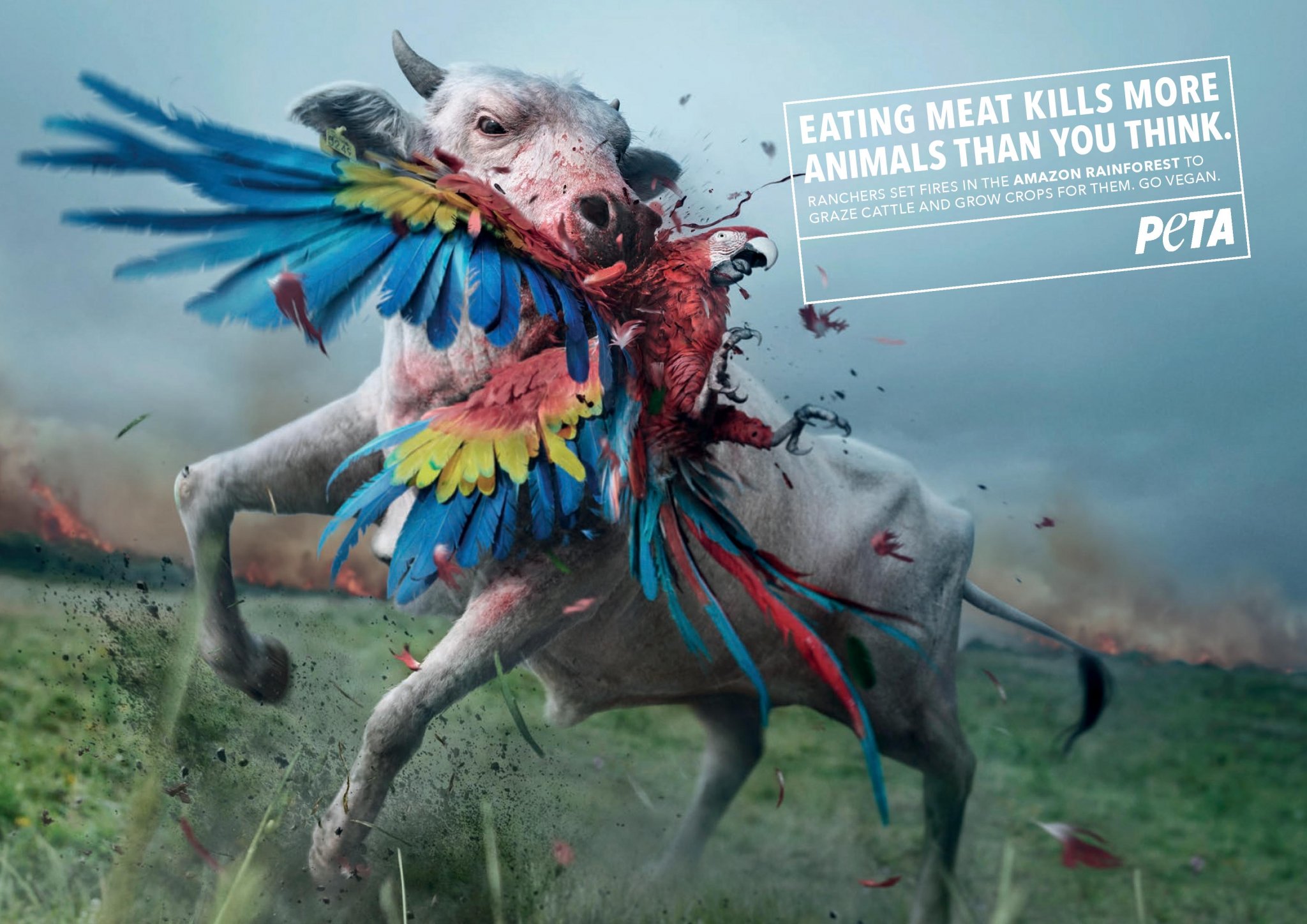 Going vegan is a great way to accomplish many goals at once: You'll combat deforestation, decrease your carbon footprint, and spare many animals suffering and death.
We Are All Animals
All eyes were on a beautiful hen and Joker star Joaquin Phoenix when this PETA ad hit New York's Times Square this year:
Phoenix, PETA's 2019 Person of the Year, has been vegan since age 3 and always speaks up for animals.
#Never21
PETA has released 12 exposés of the bloody and cruel wool industry, yet beleaguered retail chain Forever 21 continues to sell this violently obtained material. In 2019, we pushed the morally bankrupt store to ditch wool, and our efforts are just getting started. This year, we ran two billboard ads in Denver near Forever 21 locations to show shoppers the reality of wool.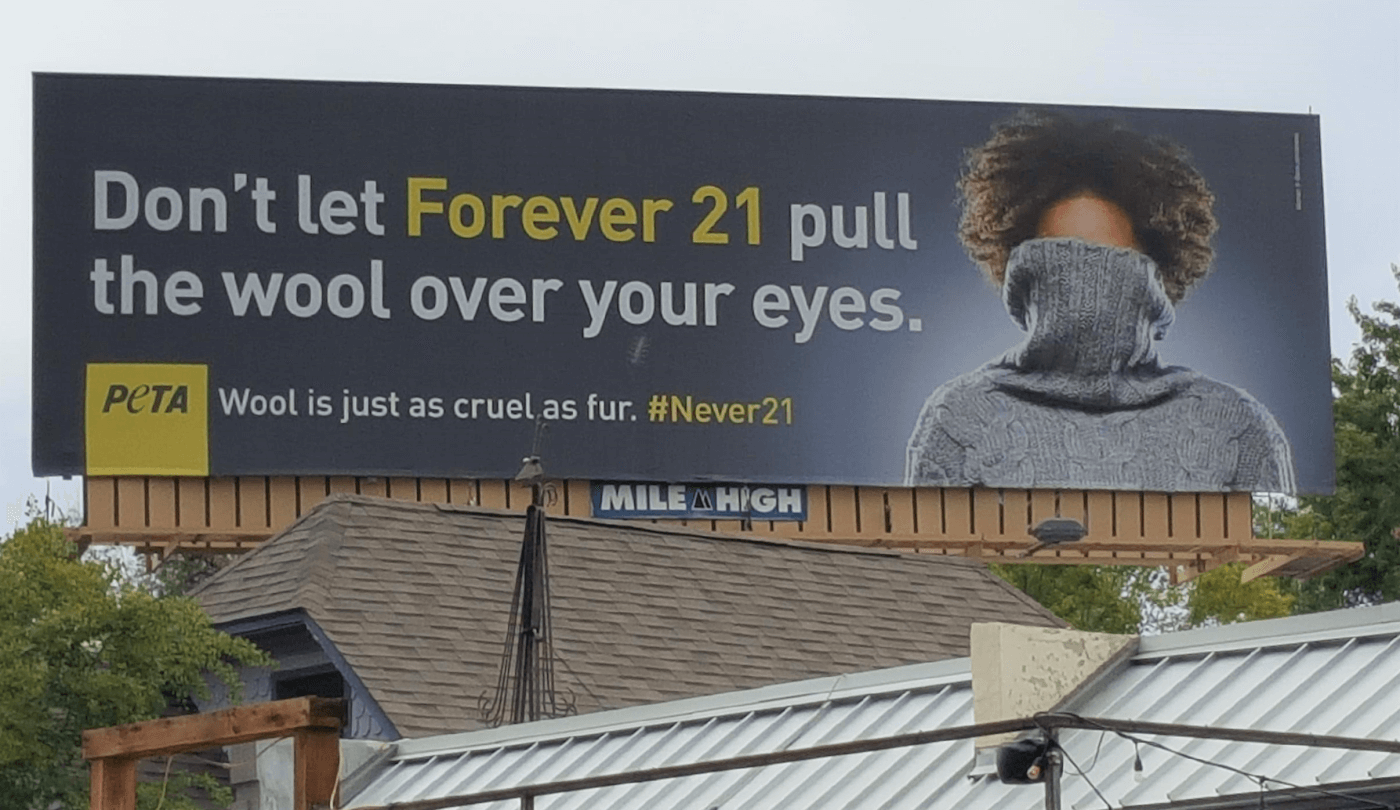 Sisters Under the Skin
To celebrate her 70th birthday, PETA President Ingrid Newkirk appeared on this billboard, placed on Melrose Avenue in Hollywood, California:
On the inside, we're all the same. Animals feel pain and experience fear, love, and joy, just as humans do.
#EndSpeciesism
Speciesist thinking involves considering other animals—who have their own desires, needs, and complex lives—as means to human ends. This toxic view also leads humans to draw non-existent distinctions between animal species, based solely on the purpose that those animals might serve.
We placed this beautiful billboard in multiple cities in 2019 to remind viewers that it's speciesist to believe that farmed and captive animals don't suffer or feel emotions to the same extent as the animals with whom we lovingly share our homes:

We even had a special version, starring a handsome turkey, ready to go for Thanksgiving.
Everyone Deserves Humane Rodent Control
Following reports that Jared Kushner owns several rundown apartment buildings in Baltimore—a city home to a district which President Donald Trump called a "rat and rodent infested mess"—PETA placed a billboard that drove home the difference between a rich "pest" and a poor fella just trying to survive on crumbs: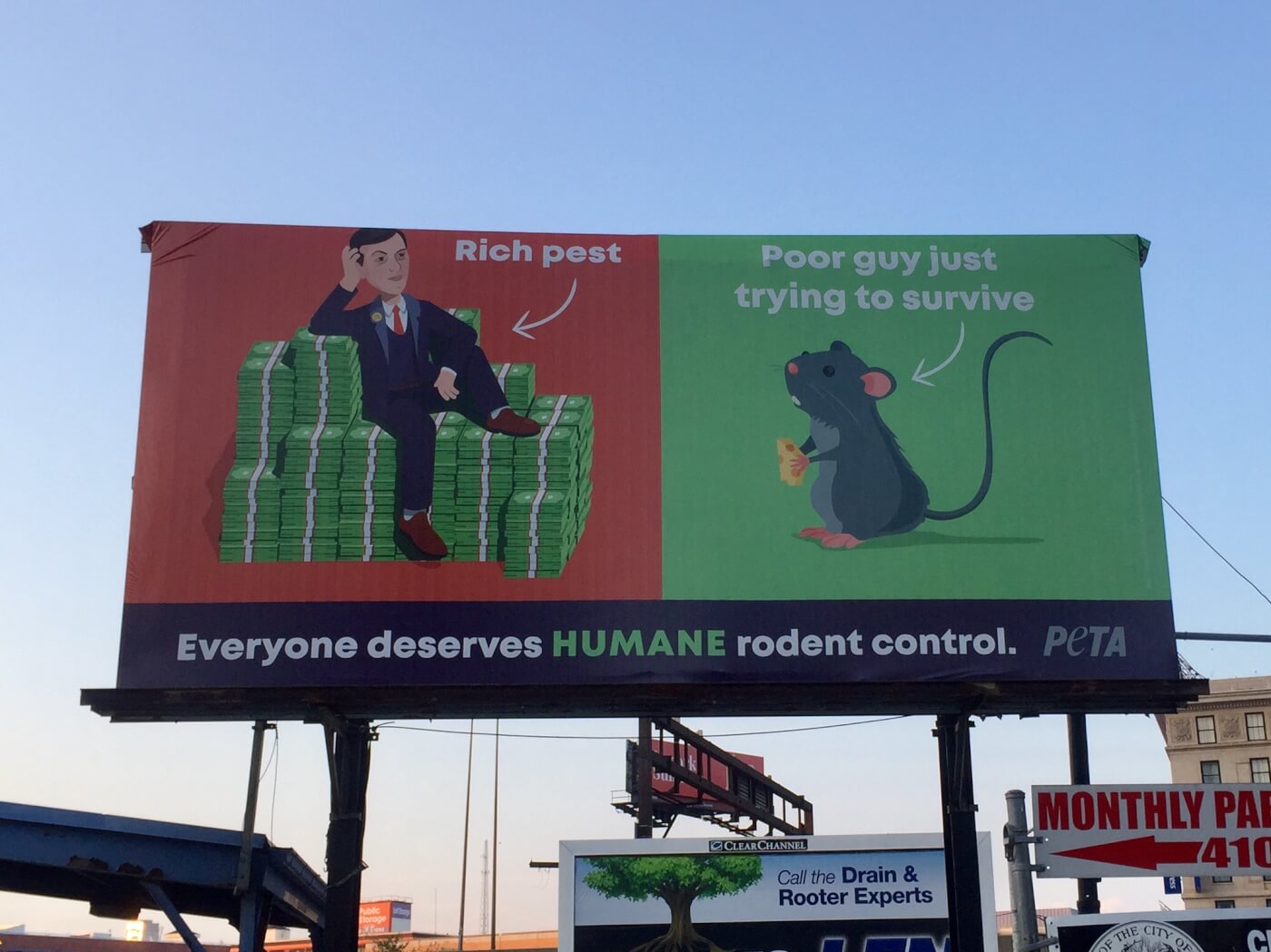 PETA encourages homeowners, renters, and building managers to evict unwanted tiny "tenants" by using only effective, nonlethal methods.
'I'm ME, Not MEAT'
Animals suffering on farms are unique, feeling individuals. This year, when a transport truck carrying terrified pigs to a Kansas slaughterhouse overturned on the highway, killing nearly a dozen animals, we were quick to place this empathy-inspiring billboard near the site of the crash:

'I Want You to Change'
Closing out 2019, this heartfelt billboard appeared in Madison, Wisconsin, with a simple message for conscientious viewers regarding who gets hurt when people wear wool: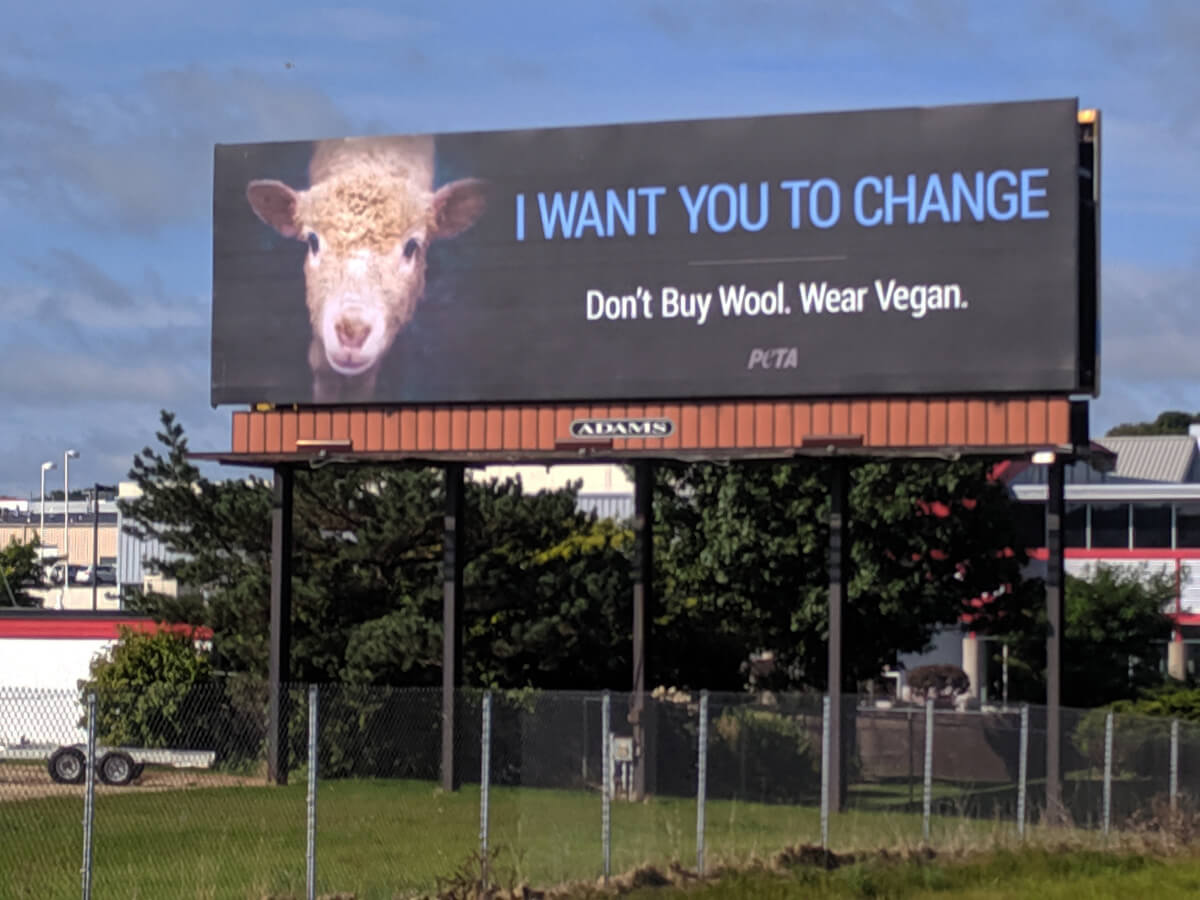 ---
You can change in 2020, and PETA is here to help!
You can stop wearing animal-derived materials.
You can go vegan with a free vegan starter kit.
Order Your FREE Vegan Starter Kit!
You can stop buying products that were tested on animals.
You can take action for animals suffering in rundown tourist traps.
You can make a world of difference for a neglected animal today.
You can have a profound impact on those around you just by being mindful of what you eat, wear, watch, and say. Countless "lightbulb" moments are triggered every day simply by being kind to animals! Share this page with your friends, family members, and social media followers today to start sparking discussions about animal rights: