Between What the Health and Okja, 2017 saw what can only be described as a vegan revolution. What do these two films have in common? In addition to being must-sees, both films were made accessible to the masses, thanks to one company: Netflix. So it's likely no surprise that PETA has named the entertainment company our 2017 Company of the Year.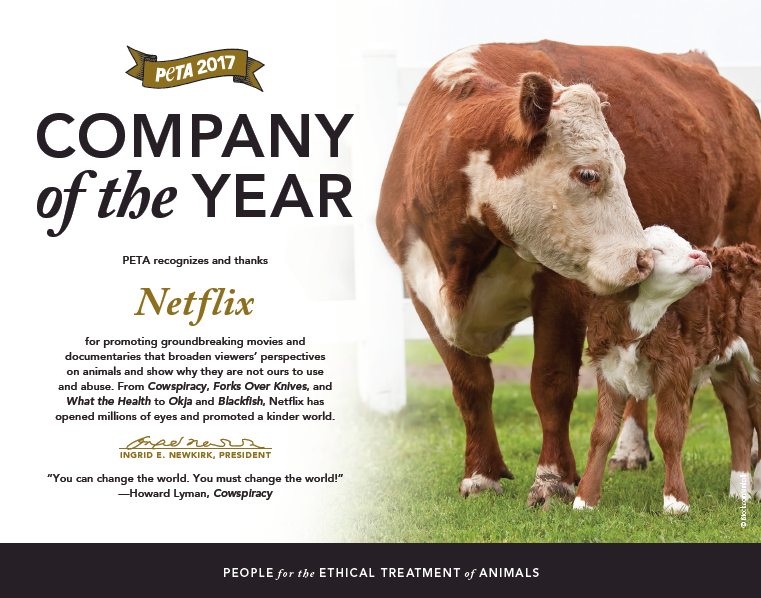 Thanks to Netflix, millions of viewers have access to groundbreaking movies and documentaries that promote living kinder and more compassionately. Audiences are being exposed to the abuse that animals endure in marine parks, circuses, and the meat and dairy industries. As a result, many folks are taking action against companies that exploit animals for entertainment, including by eating vegan and adopting cruelty-free lifestyles—all thanks to Netflix.
#Okja will steal your heart ❤️ And make you question everything you think you know about the meat industry. #Netflix https://t.co/vHGg0BT15S

— PETA (@peta) June 28, 2017
In March, What the Health took the world by storm. The documentary ignited a discussion about plant-based eating like we'd never seen before and had a major impact on vegans and nonvegans alike. Many—celebrities included—expressed their strong reactions to the film. What the Health even persuaded a few professional NFL players to make the switch to vegan eating.
In June, Okja basically sparked a vegan uprising. The film inspired even diehard meat-eaters to go vegan. It had celebrities—including Lily Collins, Jessica Chastain, and others—chiming in to talk about the eye-opening flick. In June and July, requests for PETA's free vegan starter kits skyrocketed, thanks to the heartwarming movie.
Netflix had been offering access to films and documentaries that broaden viewers' perspectives on animals long before What the Health and Okja. Blackfish, for example, tells the story of Tilikum, a captive orca at SeaWorld, and provides an in-depth look at marine-animal parks. The film resulted in a backlash against SeaWorld, which—just like Blackfish on Netflix—can still be seen today.
Cowspiracy: The Sustainability Secret took on the meat industry, the most environmentally destructive force on the planet today. The film changed the world—the owner of a Texas restaurant even decided to switch to a completely vegan menu after watching it. If you haven't seen Cowspiracy, change that—stat. The film is now exclusively streaming on PETA's 2017 Company of the Year's website.
It was more than 20 years ago that an elephant named Tyke—who could no longer endure the abuse that she had been subjected to in the circus—crushed her trainer and escaped from a Honolulu arena. Tyke Elephant Outlaw—available for streaming on Netflix—is the riveting documentary that tells this exploited elephant's story.
Thought-provoking and life-changing films are so important, and clearly, Netflix has them in spades. PETA recognizes and thanks the company for providing viewers with groundbreaking movies and documentaries that open their eyes and promote kindness toward animals. We can't wait to see what captivating, inspirational films Netflix releases next.
Did You Watch Okja?
Anyone who has been inspired by Okja and is horrified by the suffering that real pigs endure for the meat industry can help animals simply by not eating them. Click here to get started by ordering a free vegan starter kit today.
Did You Watch Blackfish?
In addition to boycotting SeaWorld, you can do more to help marine mammals imprisoned at the abusement park. Click here to ask the company to end all animal acts at its parks and release the animals it holds captive into seaside sanctuaries.
Did You Watch Tyke Elephant Outlaw?
You can help elephants like Tyke. Click here to tell Carson & Barnes Circus to end its cruel animal acts and send the animals to reputable sanctuaries, and click here to take action today for animals who are forced to travel with UniverSoul Circus.
Watch All the Eye-Opening Films on Netflix
Click the button below to check out a compilation of some of our favorite movies that everyone (vegan or otherwise) should watch: