What the Health—the follow-up film from the creators of the groundbreaking documentary Cowspiracy—is taking the Netflix-watching world by storm. In the film, executive producer Joaquin Phoenix blows the lid off "the collusion and corruption in government and big business that is costing us trillions of healthcare dollars, and keeping us sick."
Much as they did to the other recent Netflix game changer, Okja, many folks—celebrities included—are expressing strong reactions to the film. The documentary has undoubtedly had a major impact on vegans and nonvegans alike, persuading many to consider a plant-based diet.
Just watched #WhatTheHealth and I'm going vegan.

— • Emma ✌️• (@emma_malsom) July 20, 2017
We applaud these celebrities for using their power and influence to help encourage others to watch this life-changing documentary. Take a look at some of our favorite What the Health celeb tweets:
Watches #WhatTheHealth once…. pic.twitter.com/4YJckxwnHu

— NE-YO (@NeYoCompound) August 6, 2017
Almost every day someone emails me to say they've seen @wthfilm and are re-thinking their approach to food. So proud of Kip and Keegan and … pic.twitter.com/i9vfmWEgif

— moby XⓋX (@thelittleidiot) July 19, 2017
If you liked #whatthehealth @wthfilm you might really like @cowspiracy @forksoverknives @earthlingsfilm pic.twitter.com/ZIx9ssq2HM

— moby XⓋX (@thelittleidiot) July 25, 2017
Watching What the Health again. Ugh. I can't eat cheese or drink milk anymore? pic.twitter.com/94XcfDIZkf

— Michael Buckley (@HeyBuckHey) July 24, 2017
Me watching @wthfilm Watch. This. Film.#WhatTheHealth pic.twitter.com/tqccrBUqvR

— Amanda Wyss (@_AmandaWyss) July 25, 2017
What should I be watching on @netflix ?! Recently watched @ChasingCoral and #WhatTheHealth and loved them! Suggestions please! ⬇️⬇️⬇️⬇️

— Shay Mitchell (@shaymitch) July 25, 2017
What the Health on Netflix…..smh crazy but informative. Sad bout what we are lied to about.

— Chris Gragg (@Gragg80) July 18, 2017
So I just got done watching #WhatTheHealth

— Ryan Rose (@RidiculouslyRy) July 19, 2017
Nah not healthy watch "What the Health on Netflix https://t.co/50tb80UVXY

— Tobias Harris (@tobias31) July 19, 2017
Just watched -what the health on Netflix and had to thank THE MOST HIGH for leading me to a plant based diet shit is realer than I thought!

— ghost (@therealstylesp) July 19, 2017
What the health – actually made me sad and gave me a headache I thought I knew it was fuckd up but it's what I thought and even more fukd!!

— ghost (@therealstylesp) July 19, 2017
https://twitter.com/theonlyemanny/status/886733256913072129
About to @Postmates my groceries . #busyMonday . Has anyone watched what the health lol I'm so confused what to eat now

— Mehgan James (@MehganJames) July 17, 2017
Watching "what the Health" on @Netflix extreme but true,
Opened my eyes to more controversial companies. Every1 should WATCH THIS! #change

— Gail Kim-Irvine (@gailkimITSME) July 17, 2017
This documentary "What the health" is blowing my mind right now. It's on Netflix. Please watch if you can.

— Damon Wayans Yunior? (@wayansjr) July 16, 2017
Trying to find breakfast to eat after watching the documentary What The Health….the struggle is real and our food industry is f$!ked.

— Stephen tWitch Boss (@official_tWitch) July 16, 2017
"What The Health" I recommend watching this. There are a lot of things they don't tell you about the food you're eating every day.

— EVERYTHING CHANGES (@UmmetOzcan) July 14, 2017
Now watching "What the Health" 👀 can I have a plant based diet?? Knowledge is everything

— Khadijah Haqq McCray (@ForeverKhadijah) July 15, 2017
What The Health….

— Swiff D ™ (@SwiffD) July 12, 2017
Just finished watching the Netflix documentary "What The Health" and all I have to say is WOW!!!

— Kendall Langford (@KendallLangford) July 12, 2017
Lol it lowkey would make someone want to go vegan tho https://t.co/fB7YPDd3WN

— Grady Jarrett (@GradyJarrett) July 10, 2017
I've watched 15 minutes of "What the Health" on Netflix…. and I couldn't be more happy I am vegan… #confusionistheirgame #whatthehealth

— Nathalie Emmanuel (@missnemmanuel) July 26, 2017
Watched the documentary "WHAT THE HEALTH" on Netflix. So eye opening!!!! Must watch

— Garrett Temple (@GTemp17) July 24, 2017
Don't allow tradition to kill our #children watch what the health on #Netflix please #parents

— Darius Mccrary (@DariusMccrary) July 24, 2017
Please watch the #movie what the #health on #Netflix If NOT for yourself watch & learn 4 your #children and their futures #dads

— Darius Mccrary (@DariusMccrary) July 24, 2017
https://twitter.com/theycallmeTUNE/status/889504038441582593
https://twitter.com/CameronMoulene/status/889959175861657600
Well, this was going to happen regardless, just didn't think so soon. Going plant based after watching "What the health".

— Massy Arias (@mankofit) July 25, 2017
Phoenix has never been one to shy away from tough subjects, having helped PETA expose wool producers, the trade in dog leather, the cold-blooded horror of the exotic-skins industry, and more. And he isn't shying away from this issue, either.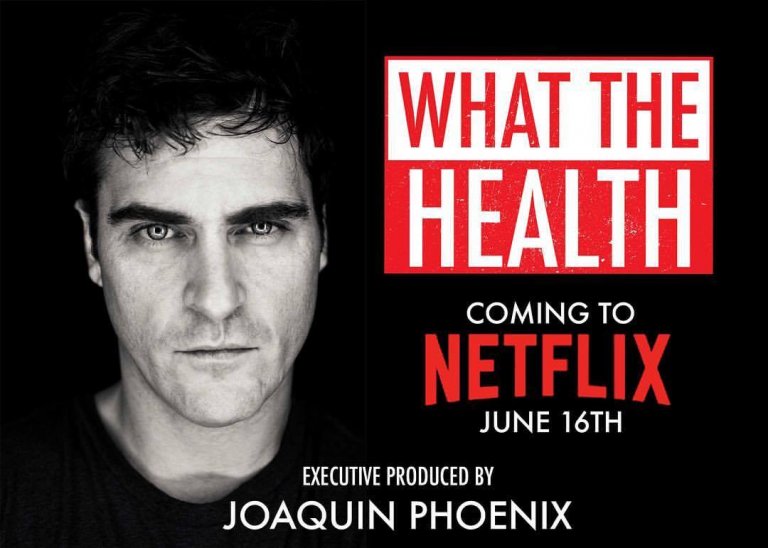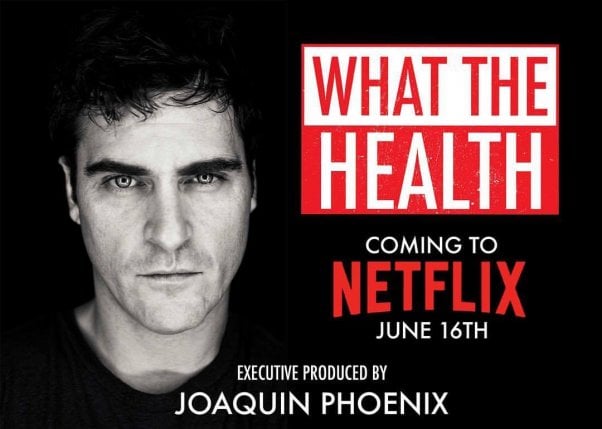 Get Inspired by What the Health and Other Animal Rights Films
Catch What the Health on Netflix. And if it leaves you hungry for more of what food producers aren't telling you, click the button below to check out some other eye-opening films available for streaming, and to pledge to go vegan: