This week, the new Netflix movie Okja was released. It's an action-adventure film that shows the horrors of animal agriculture through the eyes of a young girl and her "super pig." Filmmaker Bong Joon Ho should take pride in the fact that what he made is effective, because it already has numerous people pledging to go vegan after connecting with the story. If you're ready to watch the film, here are some things that you can expect to happen:
1. She can't even stand the sight of meat now.
Okja is such a beautiful movie that's is I can't look at meat anymore im jumping on that #vegan wave pic.twitter.com/rYJ40xr4Fr

— scumbutistrying (@cybersauce_) June 29, 2017
2. She realized that the "Vegan Agenda" conspiracy is real and becoming mainstream.
Raw (2017) & Okja (2017) have pushed the Vegan Agenda to new heights

— Sabrina (@emilysblunt) June 28, 2017
3. Apologies were made.
me before okja: i luv meat i could literally never be a vegan yikes lol!!me after okja:pic.twitter.com/F0CkLbr6oU

— creepy spice (@bbygarrow) June 29, 2017
 4. He entered his midlife crisis with a healthy change.
@jonronson I'm a 43 year old life long meat eater and after watching #okja find myself this lunchtime sat in a vegan restaurant in Cardiff

— Barry Kerslake (@barry_kerslake) June 29, 2017
5. Tears were shed.
Just finished watching Okja and I'm sobbing 🙁 I've wanted to become vegan or at least vegetarian and I really want to commit to it.

— GiGi (@schwamped) June 28, 2017
6. He decided it was time to stop planning and start doing.
well I was planning on become vegan but now Okja is really making me wanna be vegan more

— llewyn (@taikaawaititi) June 28, 2017
7. If you were already vegan, you went MORE vegan.
Me being extra vegan after watching #Okja pic.twitter.com/tKH80bnJyC

— Youri'B (@Youri_Bourgeois) June 29, 2017
8. … or decided to help mentor others.
if anyone seriously wants 2 go vegan after okja i am HERE

— pait TODAY (@70spoe) June 28, 2017
9. Everyone had the same thought at the same time.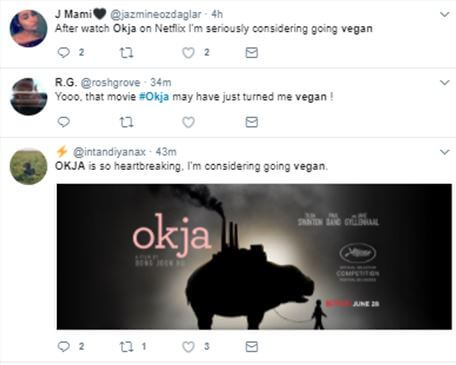 10. The future started to look brighter.
Maybe not everyone's gonna go vegan, but hopefully #Okja can make a lot of people realize how cruel it is to eat animals.

— Cosa Aliandoe (@cosaliandoe) June 30, 2017
11. Seriously, this movie changed lives.
Just finished watching Okja and I want to be vegan now

— Jackson (@superjacksobros) June 29, 2017
---
Learn more about animals used in film and television on The PETA Podcast:
Listen to more episodes on iTunes and Spotify! Subscribe for new episodes.
---
What You Can Do
In the U.S., 110 million sensitive, affectionate animals—just like Okja—are killed for food every year. When you start to relate to who's on your plate, you can make a difference by switching to a vegan lifestyle. Order our vegan starter kit to help get you started, and then sign our Vegan Pledge!
Have you read Free the Animals? It's the amazing true story of the animal liberation front! It reads like a suspense novel, with riveting accounts of daring animal rescues from vivisectors, fur farms, and food factories. It's a book you won't be able to put down—or forget.