For its outstanding advances in behalf of animals over the past 12 months, Los Angeles has been chosen as PETA's City of the Year for 2012. The Los Angeles City Council will receive a commemorative certificate, along with a letter signed by PETA President Ingrid E. Newkirk, in recognition of its achievements.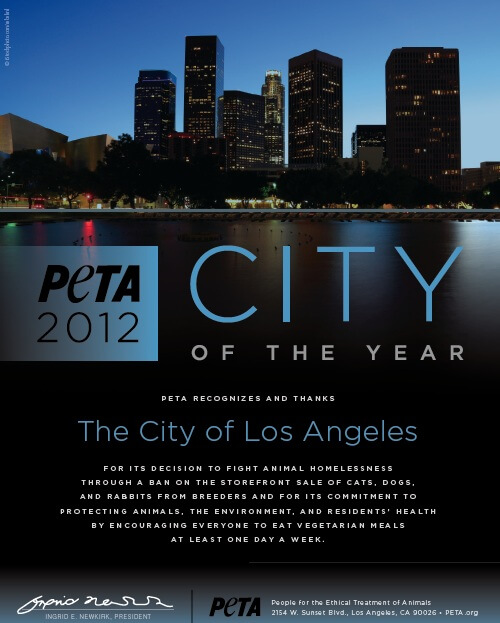 In a state that has been a trailblazer for animal-friendly legislation—including bans on foie gras and shark-fin soup and the passage of a law that raises the standards of animal welfare on factory farms—the City of Angels continued to raise the bar in 2012, with accomplishments that include:
Banning the Retail Sale of Cats, Dogs, and Rabbits
In October, L.A. became the largest U.S. city to prevent pet shops from selling animals from breeders and puppy mills. The new law, passed by the City Council in a 13-2 vote, is intended to encourage the adoption of animals from city shelters—a vital step toward ending the animal overpopulation crisis.
Endorsing Meatless Mondays
In November, Los Angeles officially endorsed Meatless Mondays—the largest American city to do so thus far—by a unanimous City Council vote. The resolution cited concerns over the harm that the meat industry causes to animals, the environment, and human health as reasons for the endorsement.
Taking Up a Ban on Exotic and Wild Animals in Circuses
After the city's Personnel and Animal Welfare Committee proposed a law barring circuses and other traveling exhibitions from forcing elephants to perform in L.A., the City Council has begun considering enacting such a ban. If the law passes—and please help PETA make sure that it does—Ringling Bros. and other circuses that abuse elephants and other exotic animals will no longer be allowed to exploit them during stints in Los Angeles.
But these aren't the only reasons why L.A. has drawn PETA's notice in 2012. In July, Dodger Stadium took the fifth spot on PETA's annual list of the Top 10 Vegetarian-Friendly Major League Ballparks. L.A. is also the hometown of PETA's 2012 Person of the Year, the fabulous Anjelica Huston.
And, hmm, it seems like there was something else … oh, yes: In March, PETA held the grand opening of its Los Angeles offices in the freshly inaugurated Bob Barker Building. Coincidence? Think it over while Ella takes you on the grand tour.
We hope you'll join PETA in thanking the members of the Los Angeles City Council for their compassionate actions over the past year—and encourage them to keep up the great work in 2013 and beyond!