It used to be that a day spent watching the great American pastime could do some serious damage to our great American waistlines. Not so much now, with hungry fans making the healthy vegetarian and vegan options that stadiums are offering disappear like a Ryan Braun homer. Here are our 2012 picks for major league stadiums that knock it out of the park when it comes to delicious veggie fare: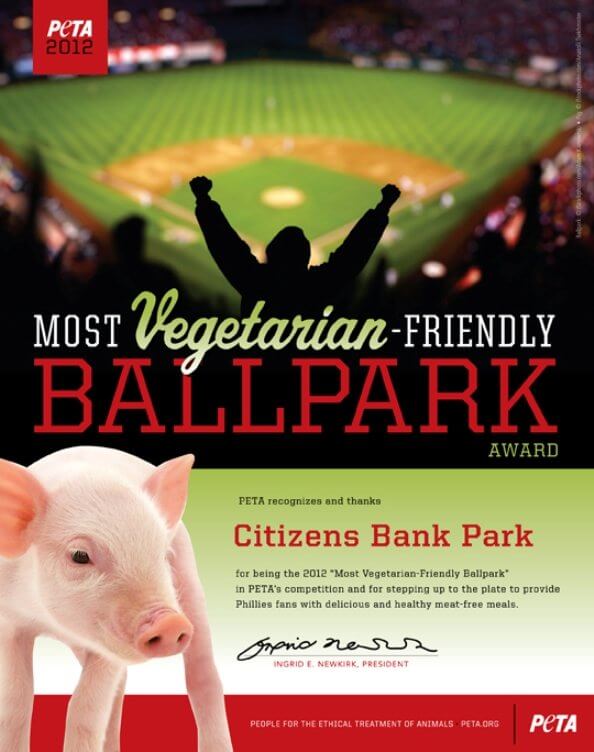 Ballpark: ©iStockphoto.com/AdamKazmierski • Pig: ©iStockphoto.com/Anatolii Tsekhmister
Philadelphia Phillies' Citizens Bank Park: PETA pal Chase Utley has returned from the disabled list, and Citizens Bank Park has returned to the top of our list, thanks to its array of meatless options, which include a vegan chicken-steak sandwich, veggie "pit beef" smothered in barbecue sauce, an Italian vegetable grinder, and ever-popular veggie dogs and black-bean burgers.
Seattle Mariners' Safeco Field: Ichiro is a legend in Seattle, in Japan, and around the world—and many of Safeco Field's vegetarian offerings, including the IchiBan veggie dog, the Seattle chili veggie dog, and the Bombay veggie dog, have international appeal as well. With so many great new vegetarian options, it's no wonder that Safeco Field has moved up in our standings.
Detroit Tigers' Comerica Park: There's a trio worth cheering for at Comerica Park—and we're not talking about Justin Verlander, Prince Fielder, and Miguel Cabrera. We mean the stadium's vegetarian Italian sausages, veggie riblets, and vegan hot dogs. With these and other great-tasting vegetarian choices available, Tigers fans can show that they care about cows, pigs, and chickens, too.
Oakland Athletics' O.co Coliseum: O.co Coliseum is pitcher-friendly and vegetarian-friendly. The veggie dogs, veggie burgers, bean burritos, ancho chili and mushroom fajitas, and other vegetarian items are as welcome to compassionate fans as Josh Reddick's great season has been.
Los Angeles Dodgers' Dodger Stadium: With new ownership and delicious meat-free creations, such as the vegan sloppy Joe, veggie sushi, and edamame, things are looking up for true-blue Dodger fans!
New York Mets' Citi Field: Johan Santana, David Wright, and R. A. Dickey aren't the only big draws at Citi Field. Mets' faithful are also flocking to the stadium for the veggie patty sandwich, veggie dogs, veggie burgers, grilled vegetable heroes, and other meatless meals.
Los Angeles Angels' Angel Stadium of Anaheim: The Halos' roster is loaded with stars—from Pujols to Trout to Trumbo—and the concession stands at Angel Stadium of Anaheim are loaded with winning vegetarian eats, including veggie dogs, black-bean burgers, bean burritos, veggie wraps, and California cucumber rolls.
Washington Nationals' Nationals Park: Bryce Harper, Stephen Strasburg, and Gio Gonzalez have helped make the Nats a winning ballclub, and the vegetarian selections at Nationals Park—including chili made with mock meat, veggie burgers, tofu sandwiches with Vegenaise, and falafel—have won the stadium a spot in PETA's standings. Maybe someday Teddy will even win the Presidents Race.
Pittsburgh Pirates' PNC Park: The Pirates are moving up in the standings in more ways than one—this season, PNC Park scored a spot on PETA's top 10 list of vegetarian-friendly stadiums after earning an honorable mention three years in a row. With veggie burgers, pasta primavera, vegetarian lo mein, salad with fried green tomatoes, and other vegetarian fare, the choices for compassionate fans are even stronger than the Bucs' bullpen and more satisfying than a game-saving grab by Andrew McCutchen.
Minnesota Twins' Target Field: Baseball is as American as Target Field's "accidentally vegan" apple pie. The stadium's other vegetarian picks, which include a veggie "walk-a-taco," veggie dogs, vegan mousse martinis, and vegetarian stir-fry, and a big hit with Twins' fans, too-no matter where the team is in the standings.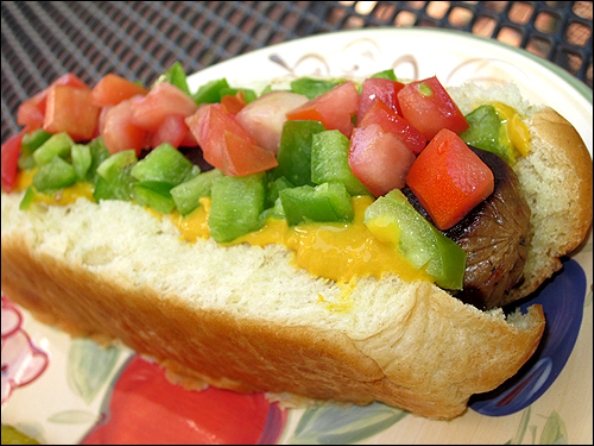 Congrats to the Chicago White Sox's U.S. Cellular Field, the Boston Red Sox's Fenway Park, the Colorado Rockies' Coors Field, the Atlanta Braves' Turner Field, the Arizona Diamondbacks' Chase Field, and the San Francisco Giants' AT&T Park for earning honorable mentions. Many thanks to the sporty folks at Veggie Happy for helping to get more vegetarian and vegan options on stadium menus nationwide.