During a news conference in Miami on March 30, 2023, The Dolphin Company—current owner of the Miami Seaquarium—announced plans to release the long-suffering orca Lolita (aka "Tokitae," "Toki," and "Sk'aliCh'elh-tenaut") to a seaside sanctuary in Washington state. This exciting announcement followed a massive campaign by PETA in which we had protested and pursued several lawsuits on her behalf. We were joined in our efforts by local residents, celebrities who raised awareness of Lolita's plight, and compassionate people around the world.
But on August 18, 2023, before she could be released, Lolita died at the Miami Seaquarium after enduring nearly 53 grueling years in the smallest orca tank on the planet.
Although plans to relocate her never came to fruition, they were made possible through the generosity of philanthropist Jim Irsay, owner and CEO of the Indianapolis Colts.
PETA and Lolita: Looking Back at Our Campaign to Help the Orca
Efforts to free Lolita started in the '90s—when advocates like Orca Network and PETA ally Richard Donner, the producer of Free Willy, used buzz from that film and its sequel to publicize Lolita's plight—and continued until plans for her relocation were announced.
Keep reading to discover the many ways that PETA took action for Lolita over the years. You can see photos from our protests, watch videos starring Lolita's celebrity sympathizers, and read about our efforts online and in the courtroom.
Here Are Just a Few of the Dozens of Bold PETA Protests for Lolita
PETA and PETA Latino supporters went to the Miami Seaquarium several times in one year to urge the marine park to end the decades of suffering that Lolita had endured there. At one of these protests, we unveiled a massive banner, which members and supporters marched to the facility. The spirited protesters confronted visitors with Lolita's unbearable living conditions right as the venue opened for the day.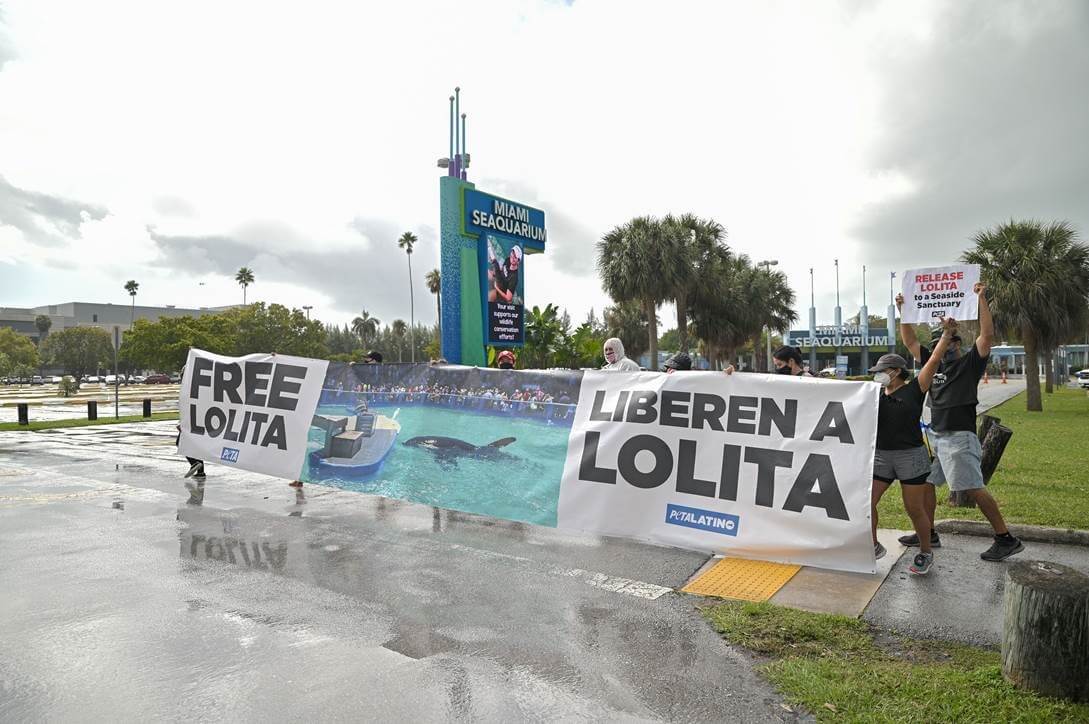 In August 2021, a bodypainted "orca" plopped into a tiny bathtub in downtown Miami. The arresting visual display reminded passersby that Lolita had spent more than five decades in the smallest orca tank in the world—an experience akin to being confined to a bathtub for 50 years.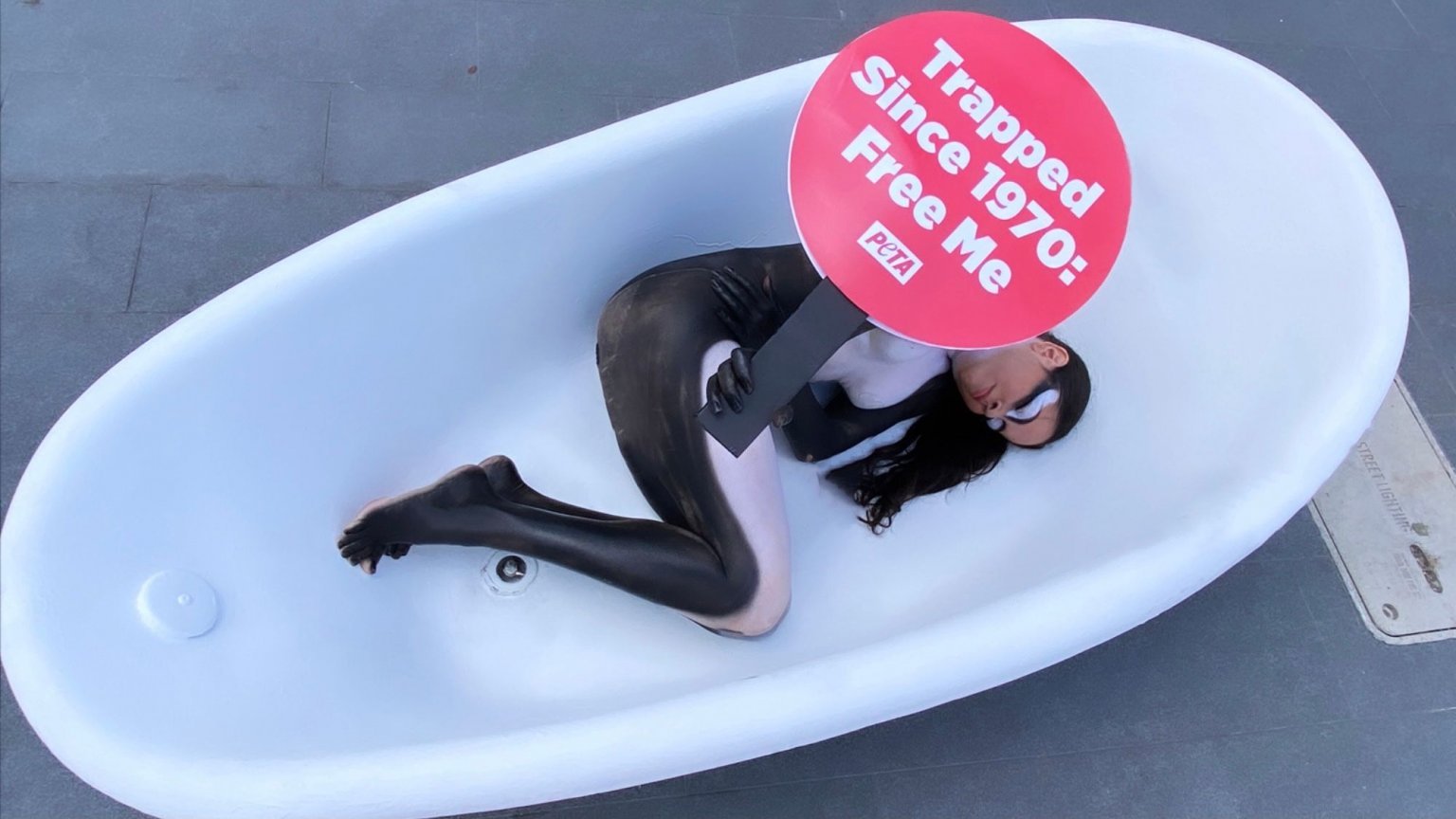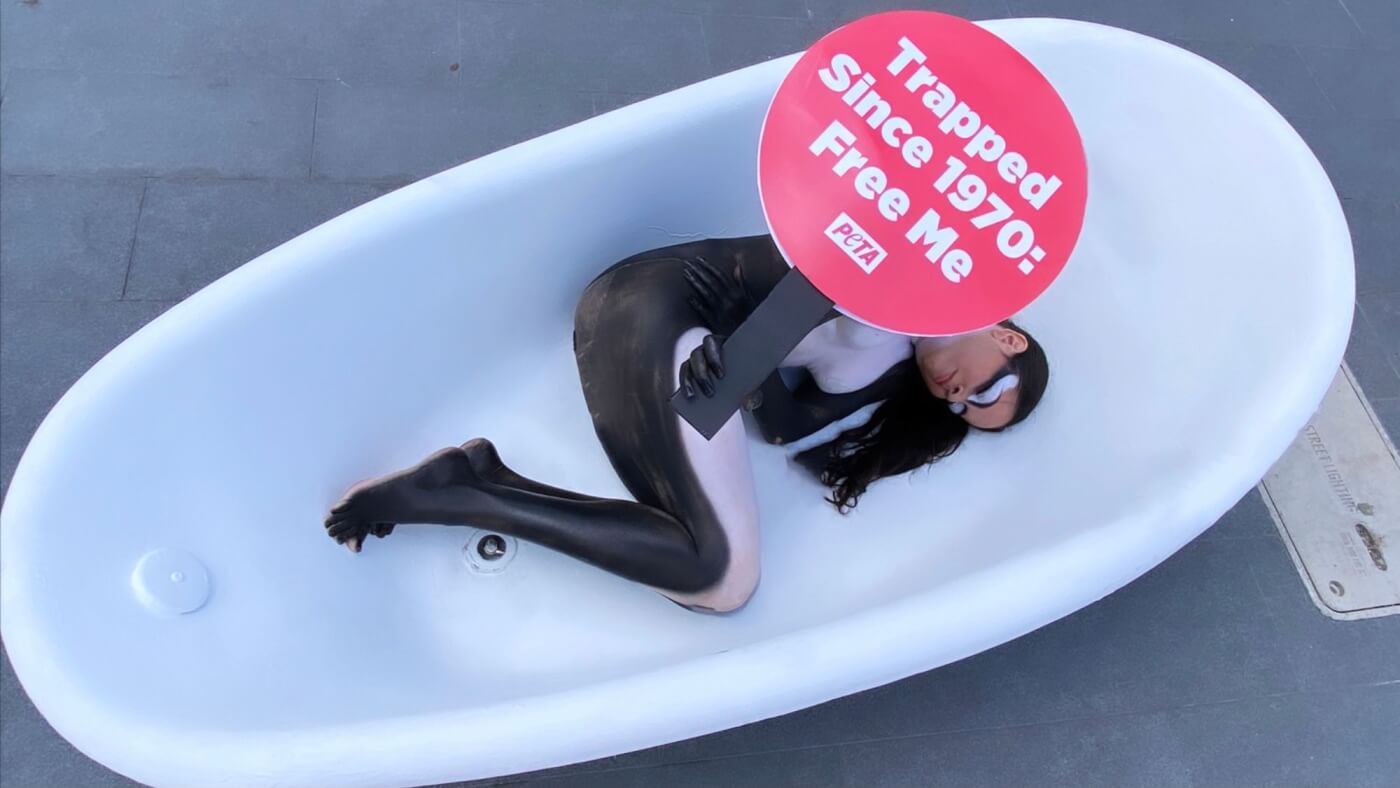 Wearing capes and accompanied by a giant inflatable "orca," young members of Animal Hero Kids joined forces with PETA to kick off their summer vacation by leading a protest outside the Miami Seaquarium in May 2021. There, they pointed out that Lolita was even younger than they were when she was abducted from her ocean home.
In November 2018, people got an eyeful as a truck giving the illusion that it was transporting a listless orca in a tiny tank circled downtown Miami and the Miami Seaquarium. The billboard proclaimed, "Abducted From the Wild. Hasn't Seen Another Orca Since 1980. Free Lolita! Boycott Miami Seaquarium!"
In 2016, two PETA "orcas" wearing little more than black-and-white bodypaint and shackles were arrested and taken away in handcuffs after climbing on top of the baggage carousels at Miami International Airport to demand that the Miami Seaquarium free Lolita.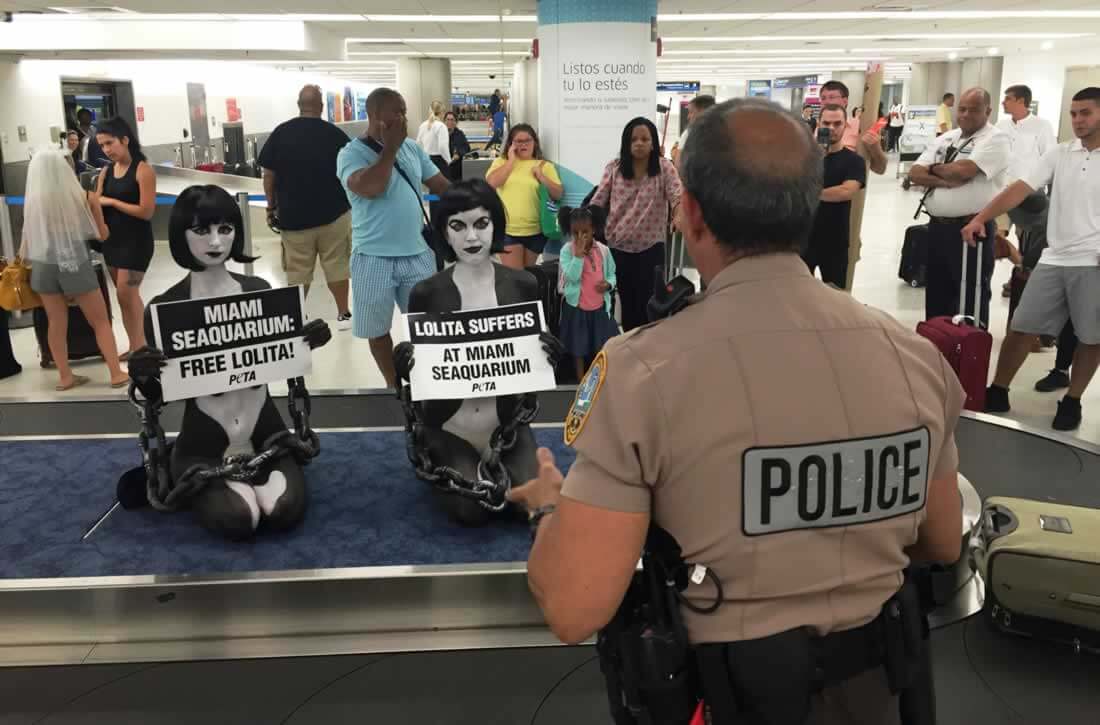 Celebrities Teamed Up With PETA to Bring Attention to Lolita's Plight
In 2022, singer Paulina Rubio joined forces with us. The "Queen of Latin Pop" fired off a letter to The Dolphin Company's CEO urging him to do right by Lolita.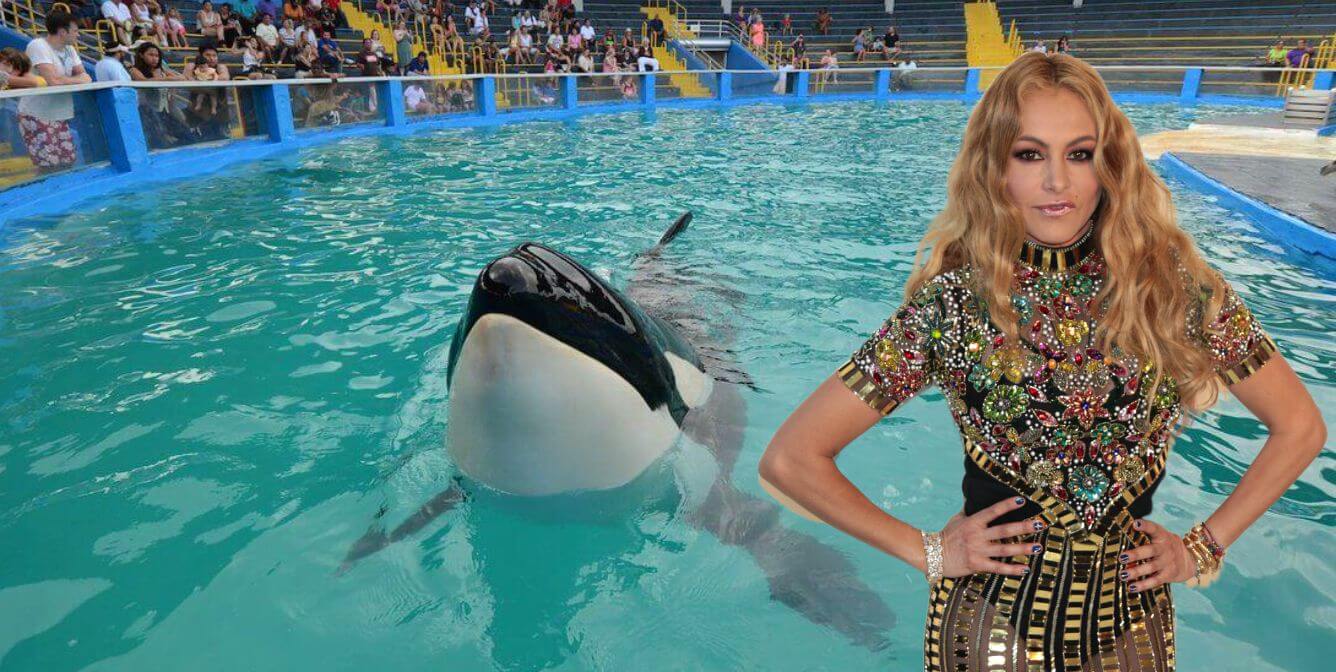 © StarMaxInc.com
Hours after Rubio's letter was sent, Venezuelan reporter Dereck Blanco joined a spirited PETA Latino protest at the Miami Seaquarium. He later shared footage from the protest and a heartfelt message calling for Lolita's release with his followers on Instagram:
For International Women's Day in 2021, PETA celebrated three other Latinas who had spoken up for Lolita. Kate del Castillo, Natasha Araos, and Alicia Machado have all called on the Miami Seaquarium to release Lolita to a seaside sanctuary. Del Castillo starred in a PETA video and even hosted a media conference in Miami calling for Lolita's release, while Araos and Machado attended a PETA protest marking Lolita's 50th anniversary in captivity: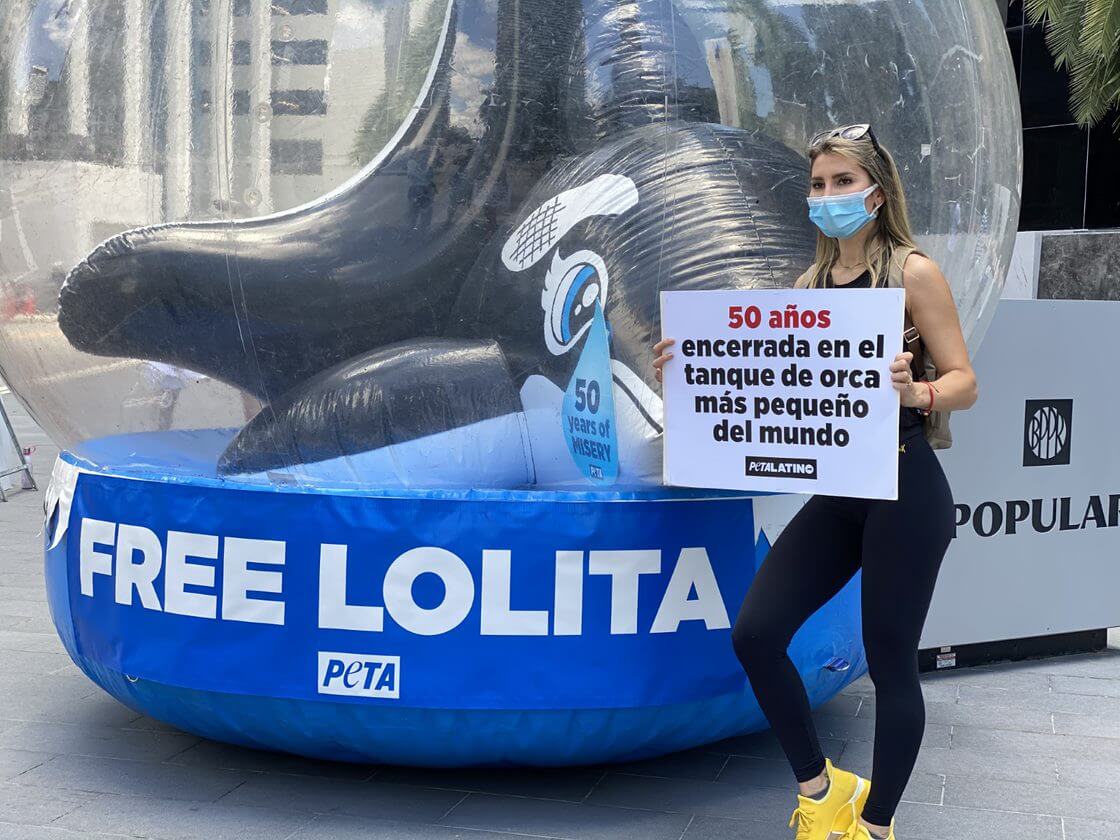 In 2021, del Castillo also sent a letter on behalf of PETA and PETA Latino to the CEO of The Dolphin Company after learning that it planned to buy the Miami Seaquarium, urging him to send Lolita to a seaside sanctuary.
"There's a chance for Lolita to be reunited with her long-lost family—but only if you give the word," del Castillo wrote. "I'm asking you—at a time when the world is in desperate need of some good news—please be a hero by allowing Lolita to live out her remaining years at home."

—Kate del Castillo
The same year, the host of Telemundo's Caso Cerrado, Dr. Ana María Polo, starred in an animated Spanish-language video for PETA Latino. In the video, the famous judge provided the voice of Lolita and urged people to stay away from the Seaquarium.
In 2018, TV legend and passionate animal rights activist Bob Barker called on the Miami Seaquarium to make releasing Lolita to a seaside sanctuary its New Year's resolution:
Actor Alan Cumming spoke up for Lolita in 2017. He called on the Seaquarium's parent company at the time, Parques Reunidos, to allow her to return home.
"We both hail from the cooler north, and we're both in our early 50s," Cumming wrote in a letter. "However, over the past five decades, I've been able to travel the world and pursue my dreams, while she has languished in the smallest, oldest orca tank in the world. I'm writing to ask that you free her."

—Alan Cumming
In 2015, a PETA supporter in Miami rallied local officials, businesspeople, and renowned celebrities to call for Lolita's freedom. Among others, the then-mayor of Miami Beach, Philip Levine, and television host Daisy Fuentes both spoke in support of sending Lolita to a sanctuary.
Lolita has spent 45 years alone in a tiny barren concrete tank. We are all aware of the tragic sadness and harm inflicted upon these majestic, highly intelligent, endangered creatures in captivity. We now know it's not entertainment. It's just wrong. With knowledge comes responsibility. The time has come to do what's right. We must help return Lolita to her native habitat. Her protected sea pen is ready. Miami, a city so dear to my heart, now has the opportunity to set a powerful example for the rest of the world. I urge everyone to please support this extremely overdue effort. Lolita's future depends on the conscience of mankind. Let's do what's right.

—Daisy Fuentes
In 2013, actor and TV host Natalia Villaveces and her friend actor Patricia De León led a spirited bilingual protest at the Seaquarium. Villaveces also starred in a video urging people not to support businesses that force marine mammals to perform:
The same year, Real Housewives of Miami star Adriana de Moura appeared in a bold PETA ad calling attention to Lolita's suffering. Like Lolita, Moura was used to living her life in front of audiences—but she made it clear that she chose to do that and that Lolita didn't have a choice.

PETA Used Social Media to Advocate for Lolita Online
From sharing footage from our demos on the ground at the Miami Seaquarium with our online audience to creating heartbreaking illustrations to help portray Lolita's life of misery, PETA used social media to advocate for Lolita's freedom for over a decade. We reached millions of people with these posts.
BREAKING: Lolita, the orca, will finally be going back to her home in the ocean after 52 years in captivity!

This comes after decades of campaigning by PETA and fellow animal rights activists, as well as the generosity of @Colts owner Jim Irsay, who provided the funds for her… pic.twitter.com/0zZISMOgmC

— PETA (@peta) March 30, 2023
We created countless images depicting her plight, made dozens of videos to highlight how torturous most of her life had been, shared updates on her health, pointed out her decades of loneliness and lack of everything important and natural to her, tried to relay how awful it must have been to be forced to live in the tiniest orca tank on earth, and did so much more.
After more than 50 years, Lolita is going home!

We've sued on her behalf, protested for years, and inspired hundreds of thousands of people to take action.

Now she will prepare to leave her tiny tank at #MiamiSeaquarium for a sea sanctuary in her home waters 🌊 pic.twitter.com/zg9GtAodyM

— PETA (@peta) March 30, 2023
Whether we were sharing carousels on Instagram, explaining her story in short-form videos on TikTok, writing powerful threads on Twitter, or sharing emotional images on Facebook to express how depressed Lolita must have felt, we never stopped telling her tragic tale in order to spread awareness and move folks to join us in taking action for her.
This is also the first time the @USDA has cited @MiamiSeaquarium for providing Lolita with insufficient shade, even though we've been raising the issue FOR YEARS. pic.twitter.com/1miD5OlgX2

— PETA (@peta) September 30, 2021
PETA Lawsuits Uncovered Information About Lolita, Urged Feds to Revoke Seaquarium's License
For more than a decade, PETA was involved in groundbreaking legal actions to help Lolita.
Endangered Species Act Lawsuit
After the National Marine Fisheries Service illegally excluded Lolita in 2005, when it granted protections to the Southern Resident orca population from which she was taken, PETA successfully petitioned the agency to reverse its decision. Our efforts resulted in Lolita's listing as endangered under the federal Endangered Species Act (ESA).
This victory paved the way for PETA's 2015 lawsuit against the Miami Seaquarium, which argued that Lolita's confinement to the world's smallest orca tank—in which the Seaquarium kept her with incompatible animals, without adequate protection from the sun, and without any companions of her own kind—subjected her to illegal harm and harassment in violation of the ESA.
Although the courts acknowledged the evidence of harm presented by PETA and our expert witnesses, they nonetheless summarily concluded before a trial could be held that the injuries Lolita suffered from were not sufficiently "serious" to amount to a violation of the ESA. This ruling ignored well-established evidence of the profound mental and physical suffering orcas endure when kept in tiny tanks.
Our lawsuit, however, uncovered damning records that exposed these details, among others, for the first time:
How often Lolita was attacked by the incompatible dolphins held in her tank
A record of the drugs she was administered for ailments likely caused by her captivity
The absence of any meaningful enrichment
PETA Took On the USDA
In 2012, PETA sued the U.S. Department of Agriculture (USDA) after it issued a license to the Miami Seaquarium even after we submitted extensive evidence to the agency demonstrating that the conditions in which Lolita was confined appeared to violate the federal Animal Welfare Act (AWA). The courts held that the USDA was allowed to approve annual renewal applications automatically, even for facilities that were not in compliance with the AWA—a ruling that still stands today.
But in 2014, the Miami Seaquarium was sold to a new owner, Palace Entertainment. Under the AWA and its regulations, exhibitors' licenses don't transfer upon change of ownership and a new license can be issued only to a facility that demonstrates compliance with USDA regulations.
This meant that the USDA could no longer rubber-stamp the Miami Seaquarium's license, as its existing one was terminated upon its sale and it still held Lolita in conditions that violated the AWA. Legally, the USDA was required to reach a new licensing decision for the facility under its new owner.
Despite the clear evidence that Lolita's conditions failed to meet the bare minimum standards required, the USDA licensed Miami Seaquarium as an additional "site" under the existing license of Palace Entertainment.
When we sued the USDA over these actions in 2016, a district court again found in the agency's favor, relying on the result of the 2012 decision. But PETA's legal eagles were determined to get justice for Lolita. After Palace Entertainment sold the Miami Seaquarium to The Dolphin Company in 2022, the USDA licensed the rest of the facility for public exhibit but not Lolita and her tank—making our lawsuit moot and helping to pave the way for The Dolphin Company, Friends of Toki, and Irsay's announced plan to transfer Lolita to a seaside sanctuary in the Pacific Northwest, which was PETA's ultimate goal.
Other PETA Efforts for Lolita
PETA was a shareholder in Parques Reunidos, which previously owned the Miami Seaquarium, and we attended, spoke at, and protested at its annual meetings for years, urging the company to take action for Lolita.
After hearing from us, Tripadvisor, Airbnb, and Booking.com all agreed to stop selling tickets to any park holding orcas captive.
In 2019, we successfully urged a Miami Ford dealership to drop its sponsorship of the Seaquarium.
PETA also pressured the Miami-Dade Board of County Commissioners and mayor to terminate the Miami Seaquarium's lease. After the facility was sold in 2022 to The Dolphin Company, Miami-Dade County had to consider whether to approve the license transfer. We urged it not to do so in light of the many issues at the facility and said that in the alternative, at a minimum, the county must improve its oversight of the facility and push for independent veterinarians to assess Lolita's well-being, both of which the county pursued.
Take Action for Dolphins and Whales at SeaWorld
Eighteen orcas are suffering at SeaWorld's abusement parks, and other dolphins and whales are still being used as breeding machines to create generations of suffering animals. Please urge SeaWorld to establish a firm and rapid plan to end its use of animals, stop breeding all dolphins and whales, and relocate them to sanctuaries.