It's not every day that someone pledges $20 million to help one individual, but to Jim Irsay, the life of Toki the orca—who had been kept in a small concrete tank for over 50 years—was priceless. A few months before Toki (also known as "Lolita") passed away, the well-respected NFL team owner announced that he was funding and working to achieve her move to a seaside sanctuary in her home waters.
Not only did Jim step up to help Toki and bring attention to the suffering of captive wild animals, he also embodies a profound love for other animals and the desire to make a positive impact on the world. We sat down with him to learn about the motivations behind his compassionate decisions and his heartwarming connection with his beloved dog, Drake.
Liberating Toki
Toki was abducted from her home 53 years ago and held in a concrete tank until she died in August 2023.
The orca's life story captured the hearts of many around the world, including Jim, who felt a profound connection to her plight and was moved to action after watching Avatar: The Way of Water. Before she passed away, Jim had committed to pay for and aid in Toki's move to a seaside sanctuary in her home waters along the coast of Washington state.
Jim's actions not only marked a milestone in the fight for animal liberation but also sparked a broader awakening. Through his pledge, Toki's suffering gained attention, shedding light on the plight of captive wild animals worldwide. Advocacy continues for orcas and other dolphins as well as thousands of other animals who—like Toki—are held in concrete tanks in the name of entertainment.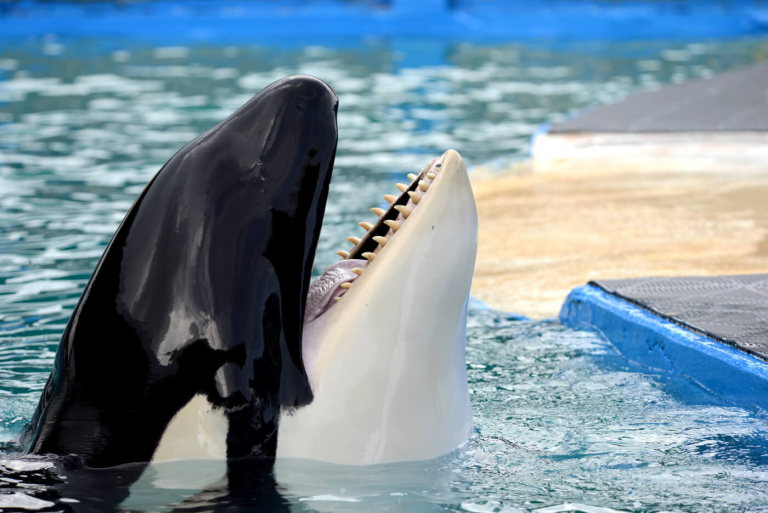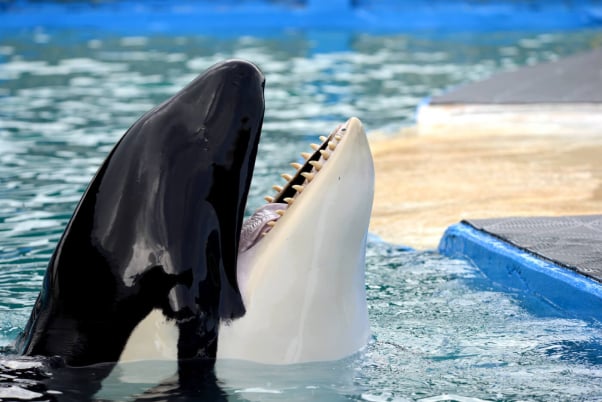 Changing the Game at Lucas Oil Stadium
Under Jim's watch, Lucas Oil Stadium, home of the Indianapolis Colts, has revolutionized the culinary landscape by incorporating a diverse variety of vegan options. From mouthwatering vegan chicken tenders to delectable smoked tofu couscous and cauliflower wings, the stadium now stands as one of PETA's five most vegan-friendly NFL venues. He has even said, "The food in the stadium is so good. There's just no way anyone couldn't like it!"
Jim believes that providing vegan options at the stadium is not just about catering to a niche audience—it's about setting an example for others and demonstrating that everyone can play a role in making the world a better place.
"I believe more that hopefully the idea is that, when people come to Indy and come to a Colts football game, that having true vegan and vegetarian options, plant-based options, it's so awesome. If you don't have the options, then no one can buy it."

—Jim Irsay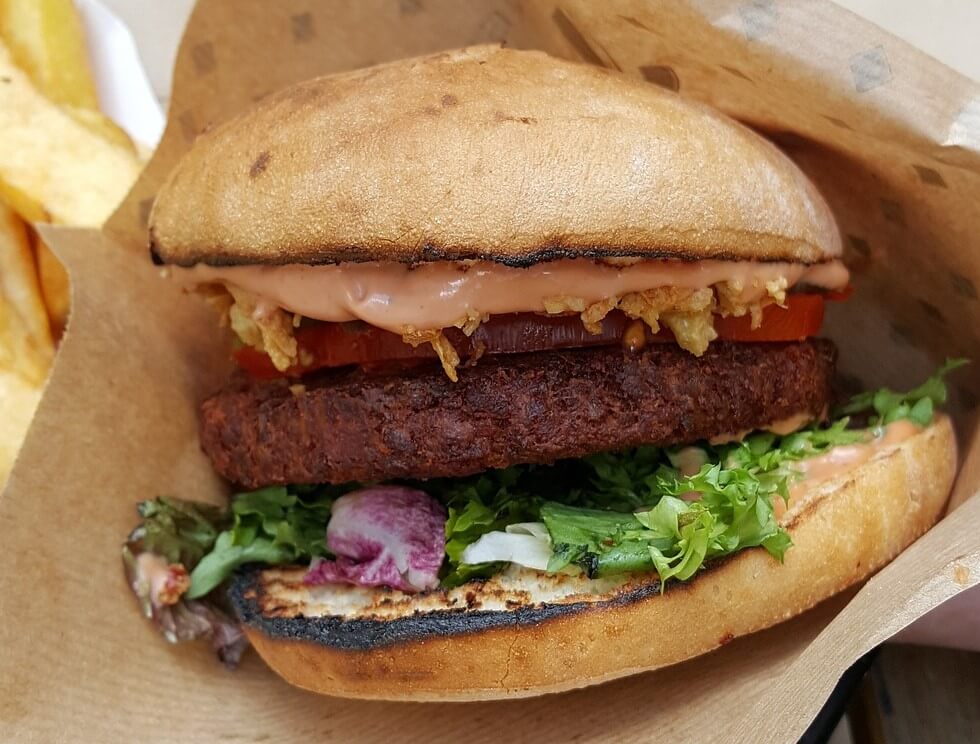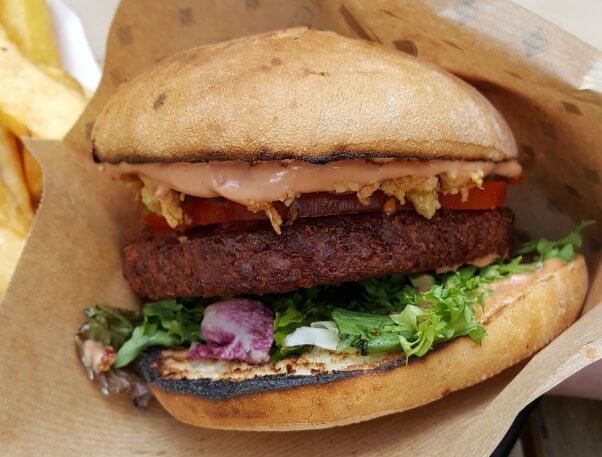 Elevating Vegan Luxury to 40,000 Feet
Jim has taken vegan options to new heights—literally. His private plane, a G550, underwent a complete vegan transformation and was aptly renamed the Blue Vegan. Jim's revamp team meticulously replaced leather and wool in carpets, seat covers, headliners, and sidewalls with animal-free materials, complete with the Indianapolis Colts logo. This makeover serves as an eye-opener regarding the countless animal-based materials that often go unnoticed in daily life.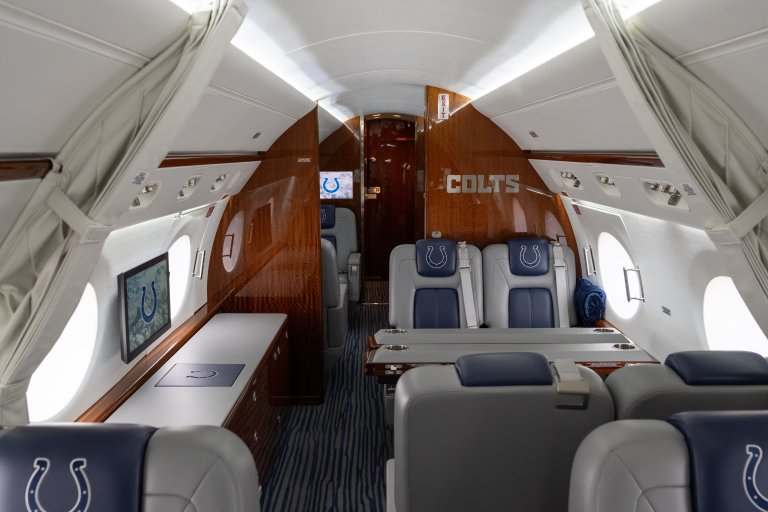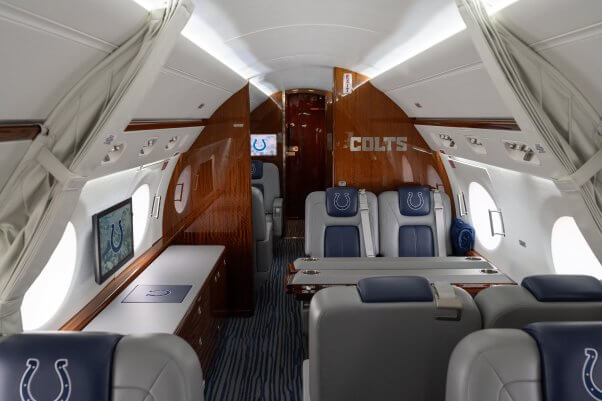 Drake: The 'Holy Dog' and Ambassador of Love
At the heart of this compassionate journey is a beloved dog, Drake. Jim describes him as his "holy dog," and his connection with his loyal companion is heartwarming. Drake is the star of the show and accompanies him everywhere, including to Colts training camps and games. Their bond is evident as the loyal canine keeps watch over his guardian, and their affectionate relationship is touching to see.
In honor of this beautiful connection, Jim is developing Drake's House in Indiana, a shelter dedicated to providing animals in need with care and love.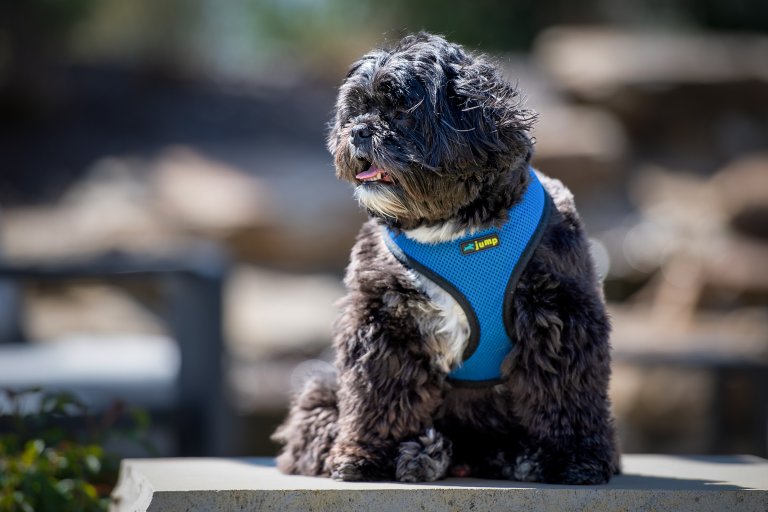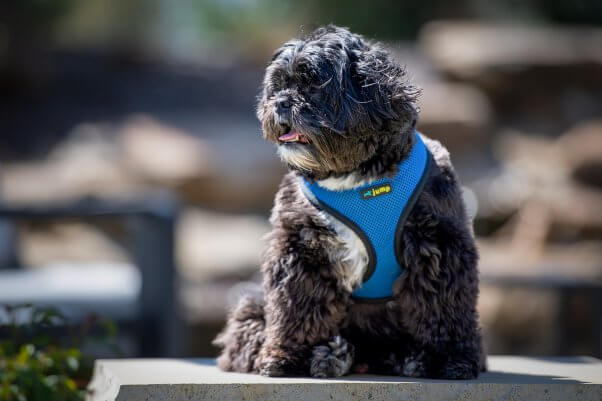 Photo courtesy of Indianapolis Colts
A Life of Service and Kindness
Jim's deep commitment to philanthropy honors his family's humble beginnings and is fueled by his innate desire to help others. His dedication to mental health awareness and destigmatizing mental illness is evident in Kicking the Stigma, an initiative he launched with his daughters—Carlie Irsay-Gordon, Casey Foyt, and Kalen Jackson—and the Indianapolis Colts in 2020. In addition to raising awareness of issues around mental health, Kicking the Stigma has provided various mental health projects with millions of dollars in funding, aiming to create a world in which people feel supported and understood without judgment or shame.
Whether he's speaking about animals or breaking down barriers so that individuals can have access to mental health care, one thing is certain: Jim's compassion is genuine. He believes life's struggles can unlock opportunities for us to transform into more connected, more empathetic individuals.
"No one asked for suffering, but it gives you great compassion and understanding. … What suffering does is it makes you understand that you are connected to it all. You're connected to that dog, frozen in the cold with no shelter to go to. You are connected to that person who's going through something. You actually have part of you that's feeling that. Your empathy is that great … That's where we can't get overwhelmed in trying to help change the world."

—Jim Irsay
In a world that often emphasizes material gain and power, Jim stands as a beacon of empathy and kindness. With Drake by his side, he reminds us that love, kindness, and service can touch the lives of all sentient beings, creating an enduring legacy of goodness. May his story serve as a guiding light to inspire others to lead with understanding, empathy, and purpose, shaping a brighter, more compassionate future for all.
Let's spread Jim's message of compassion: