For the first time ever, nonhuman animals in Germany are the plaintiffs of a complaint asserting that the German government is infringing upon their constitutional rights. The complaint was filed Tuesday with Germany's Federal Constitutional Court by PETA Germany and Dr. iur. Cornelia Ziehm, a lawyer, on behalf of the piglets. PETA Germany and Dr. iur. Ziehm are acting only as the piglets' representatives—the piglets themselves are the legal plaintiffs.
As the plaintiffs, the piglets are alleging that German law and the handling of animals in German society—specifically, the castration of male piglets—blatantly contradict each other. According to German law, animals cannot be harmed without reasonable explanation. The castration of piglets—with or without anesthesia—is in clear violation of this, giving Germany's male piglets only one option: to sue for the enforcement of their rights in court.
Each year in Germany, approximately 20 million male piglets are castrated within their first few days of life.
During castration, the skin covering the piglets' scrotum is cut open, typically without anesthesia. The testicles are then squeezed out and the spermatic cords (vas deferens) are either severed or simply torn off. This heinous practice was outlawed in 2013—farmers were given a transitional period and were told to phase out the cruel act by December 31, 2018. But, on November 29, 2018, the transitional period was inexplicably extended for another two years.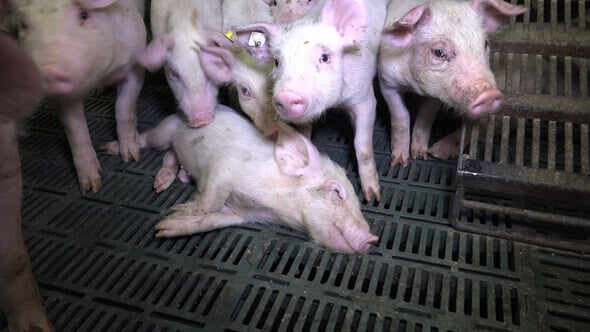 In addition to ending piglet castration without anesthesia in Germany, the filing's objective is for the complaint is to be explicitly recognized in court, which would pave the way for granting nonhuman animals other fundamental rights in the future.
Fundamental Rights for All Animals
The piglets' case may be a first for Germany, but similar cases have already been heard in courts around the world. In 2011, for example, PETA, three marine-mammal experts, and two former orca trainers sued SeaWorld for violating orcas' constitutional rights. A federal court was asked to declare that five wild-caught orcas (Tilikum, Katina, Kasatka, Corky, and Ulises) forced to perform at SeaWorld were being held as slaves in violation of the 13th Amendment to the U.S. Constitution. The filing—the first ever seeking to apply the 13th Amendment to nonhuman animals—named the five orcas as plaintiffs.
Then, in 2015, PETA filed a groundbreaking lawsuit asking a U.S. federal court to declare Naruto, a free-living crested macaque, the copyright owner of the now-famous "monkey selfie" photographs that he had indisputably taken himself. PETA acted as Naruto's "next friend" (or representative) in the filing.
The lawsuit seeks to establish that Naruto should own his selfie, just as any human being owns a selfie they take. https://t.co/L9R8bpJG6y

— PETA (@peta) May 23, 2017
All three of these filings have a similar intent: Basic rights are basic rights and should not depend on an individual's species. Pigs, dolphins, monkeys, humans … we all share the same capacity for pain, hunger, fear, thirst, love, joy, and loneliness and have an equal interest in freedom. Denying this—denying any animals fundamental rights—is speciesism, plain and simple.
You can help pigs like the plaintiffs in this Tuesday's filing by refusing to eat them.
German piglets may be taking matters into their own hooves, but that doesn't mean we can't lend a helping hand. Click below if you want to stop supporting cruelty to pigs: