The Faroe Islands, located in the North Atlantic between Scotland and Iceland, are the location of the grindadráp—an annual mass slaughter of pilot whales and white-sided dolphins. Every year, up to 1,000 of these animals are driven into a bay by boats, metal hooks are inserted into their blowholes, and ropes are used to drag them alive to near the shore, where their spinal cords are slashed with a spear or knife. A U.K.-based cruise line recently publicly apologized to passengers aboard one of its ships who bore witness to this bloody event.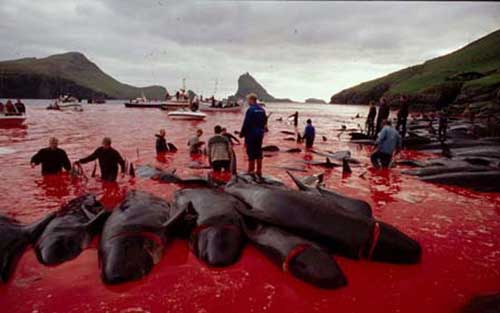 Because of incidents such as these, the grindadráp is courting negative attention and driving tourists away from the Faroe Islands. If the government there is keen to attract visitors, the gruesome grindadráp must be replaced with an activity that respects dolphins and pilot whales and allows them to live free in their natural home.
And the killings in the Faroe Islands during the grindadráp are just a drop in the bucket.
An estimated 300,000 whales, dolphins, and porpoises die globally each year after being injured by fishing nets or lines.
In the fishing industry, whales are callously referred to as "bycatch"—a speciesist euphemism for animals who are caught or become tangled in fishing nets or other fishing gear and are then discarded and left to die.
Studies show that more than half of some species of large whales have been entangled in abandoned fishing gear at some point in their lives. In many cases, these victims may spend their final moments desperately struggling to free themselves until they die of exhaustion, starvation, suffocation, strangulation, dismemberment, or other injuries.
Entanglement in fishing gear continues to be the leading cause of death for North Atlantic right whales—one of the most endangered large whale species, with fewer than 400 individuals remaining. Since 2017, 50 of these whales have been reported dead or seriously injured. Those individuals make up more than 10% of the total population.
The vast majority of whales who become entangled in fishing gear aren't even detected.
Whales who survive their initial entanglements with fishing gear but are left severely injured are likely to die within three years, and females who survive have much lower birth rates and longer intervals between calving than those who haven't been entangled.
Commercial fishing is detrimental to the ocean and all the species that inhabit it. Let's turn the tide against this destructive industry.
Go Vegan to Save the Whales!
No animal deserves to be trapped in fishing nets and killed for food or discarded and left to die.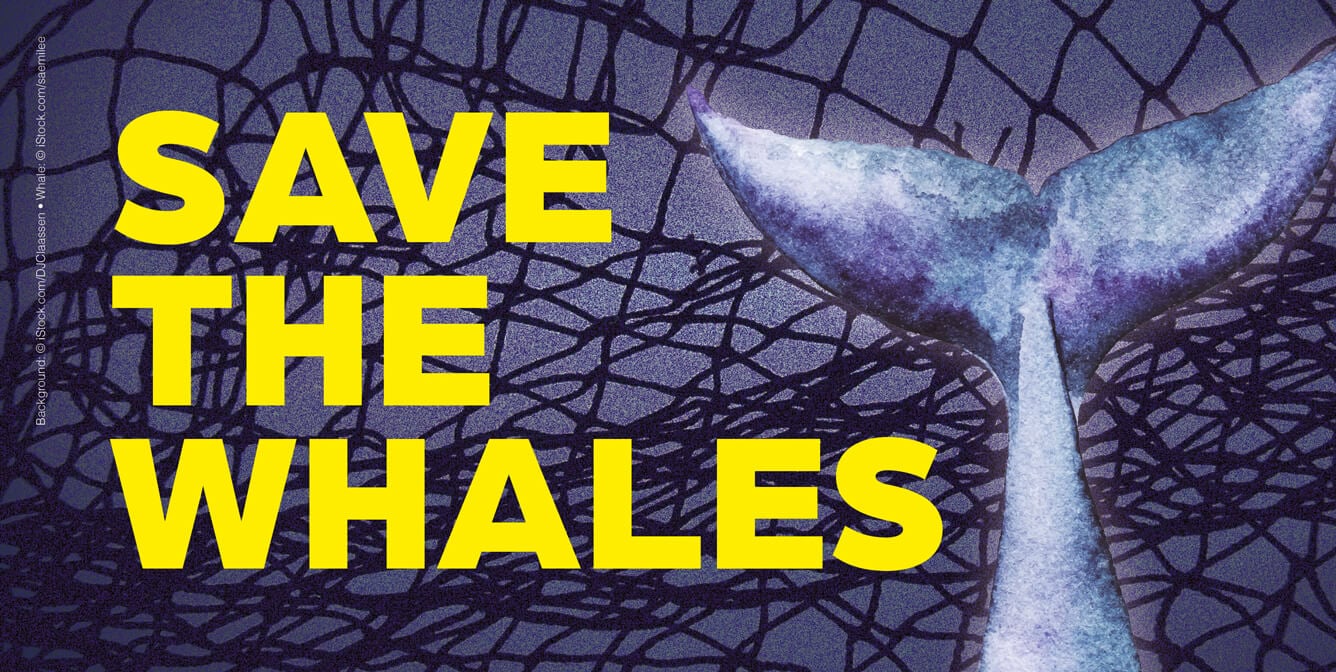 Whales, fish, crustaceans, and other animals need our help. To help protect marine life, don't support the cruel fishing industry. Go vegan to save the whales today: