In 2015, this video showing a sea turtle with a plastic straw lodged in his nostril went viral:
Researchers were able to remove the straw and return the animal to the ocean, but the video still received millions of views—and caused quite an uproar. It sparked a huge anti–plastic straw movement. According to ABC, the viral footage has been a "big factor in the growing campaign to eliminate plastic straws." But according to a newer report, abandoned fishing gear—not straws and other consumer plastics—is "the most harmful form of marine debris for animals," such as this sea lion, who became entangled in fishing line:
According to the report, titled Ghosts Beneath the Waves, more than 700,000 tons of fishing gear is left in the ocean each year. This abandoned equipment—also known as "ghost gear"—kills and mutilates millions of sea animals.
Update (May 31, 2022): Off the coast of the Spanish island of Mallorca, a rescue team worked for 45 minutes to rescue a humpback whale who had become entangled in ghost gear. According to reports, a fishing net was initially wrapped around her so tightly that she couldn't even open her mouth. While she was saved by compassionate humans, most animals who get caught in discarded fishing nets are never rescued.
Update (November 9, 2021): A team of PETA fieldworkers urgently paddled to the grisly scene of a great blue heron hanging upside down from a tree by a fishing line in the Elizabeth River in Norfolk, Virginia. A fishing hook had also pierced the animal's wing.
The team members rushed to free the entangled heron so that the bird could receive emergency care. But the traumatized heron's injuries were so severe that the animal died on the way to the veterinarian. This heron is one of countless victims of abandoned fishing gear.
Update (March 22, 2021): In a dramatic rescue captured on video, a team from PETA-supported Animal Rahat in India cut a baby crocodile free from an abandoned fishing net that had become wrapped around the animal's mouth and body. Check out the harrowing footage.
Thanks to Animal Rahat and locals who took swift action, this baby crocodile can splash about freely once more. Unfortunately, countless other animals aren't as lucky.
Update (March 17, 2021): A pregnant minke whale is dead after "ghost gear" (in this case, a discarded fishing net) became stuck in her mouth—she was reportedly found dead on a beach on an island in Scotland. A trawl net (a large net that's towed midwater or dragged along the seafloor) was found jammed in the expectant mother's baleen (the filter-feeding system inside her mouth), making it impossible for her to eat.
A pregnant minke whale got a piece of discarded trawl net stuck in her baleen. Unable to properly feed, she and her unborn calf died. Ghost gear is one of the many reasons our team does not eat seafood. #WhatsYourBycatchhttps://t.co/YFZn8pTaoD

— Oceanic Preservation Society / OPS (@OP_Society) March 18, 2021
Eating fish must end—not only are the individuals who wind up dead (or sometimes alive) on your plate deserving of being left in peace, the tens of thousands of whales, dolphins, sharks, and turtles who are killed because of discarded fishing gear (the fishing industry callously refers to these as "bycatch") also deserve to live.
Update (July 31, 2019): On June 20, a mother sperm whale and her baby, both dead, were found floating in a tangled fishing net in the Mediterranean Sea off the western coast of Italy.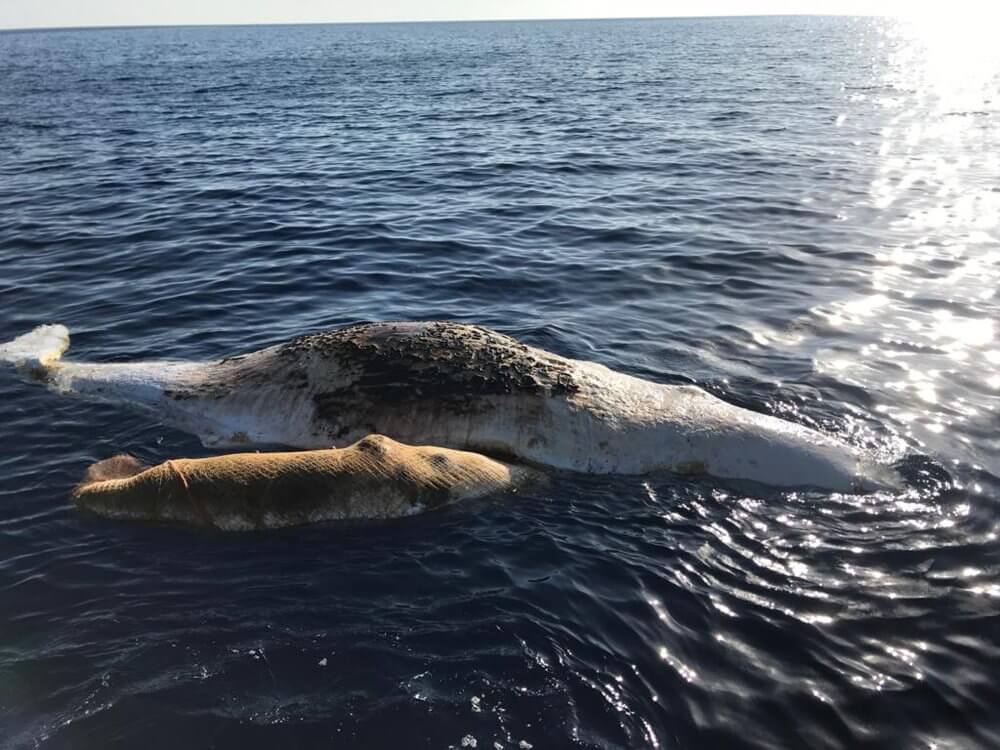 PHOTO: Marevivo
According to reports, the mother whale died while trying to save her baby. Fishing net was found in the mother's mouth, while the net completely blanketed the baby whale.
"The death of these two giants of the sea is a loss for our natural heritage, but knowing that what happened is our fault makes it even more tragic," said Rosalba Giugni, president of a local environmentalist group. "Changing our behavior is not enough. We need to change our beliefs."
If this tragedy and the slew of similar incidents below make you sad, there's really only one thing to do: Stop eating fish. Get started with these delicious vegan fish recipes.
Update (July 18, 2019): While patrolling off the coast of Maine, a group of marine scientists from the University of New England discovered a 7-foot porbeagle shark with a plastic ring wrapped around her neck and gills.
Yesterday we tagged and released an incredible 224 cm porbeagle that had a piece of circular plastic lodged around her neck. We removed it, and are tracking her recovery via a fin mount sat ! We have named her Destiny because she is a survivor! Stay tuned for updates! pic.twitter.com/C7BK8g2XVv

— Sulikowski Lab (@SulikowskiLab) July 3, 2019
"We do not know for sure where the plastic came from, but it appears to be similar to that found around commercial fish bait boxes," said Dr. James Sulikowski, a professor. The shark likely would've died had the plastic not been removed, according to Sulikowski, who believes that it had been there for years, becoming more embedded in her skin as she grew. The group named her Destiny, "because she is definitely a survivor!"
The number-one thing you can do for sharks like Destiny is to stop eating fish.
Order PETA's free vegan starter kit for great tips and recipes to help you make the transition to fish-free vegan meals.
Update (May 21, 2019): A dead turtle, still entangled in the abandoned netting that most likely killed him or her, was found off the coast of Grayton Beach, Florida. The photos below, sent to PETA by a concerned snorkeler, show just how hopelessly trapped animals can become when snared by ghost gear. This is a grim glimpse into our collective future if more people don't make the compassionate—and necessary—decision to stop eating fish.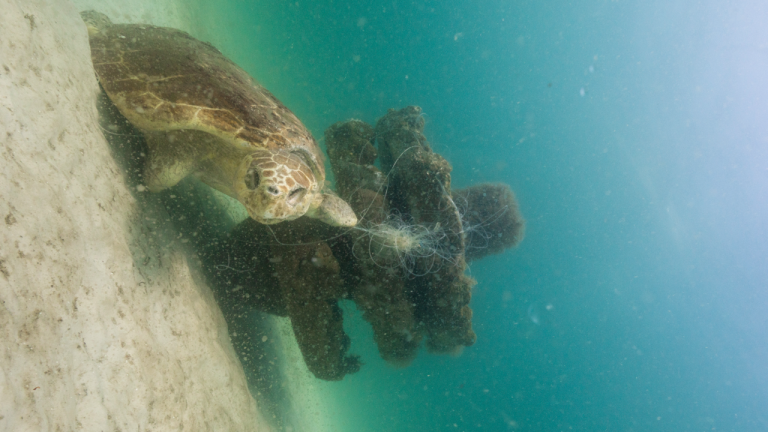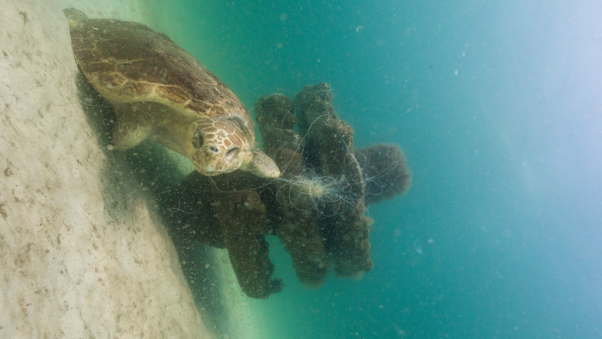 Chandler Williams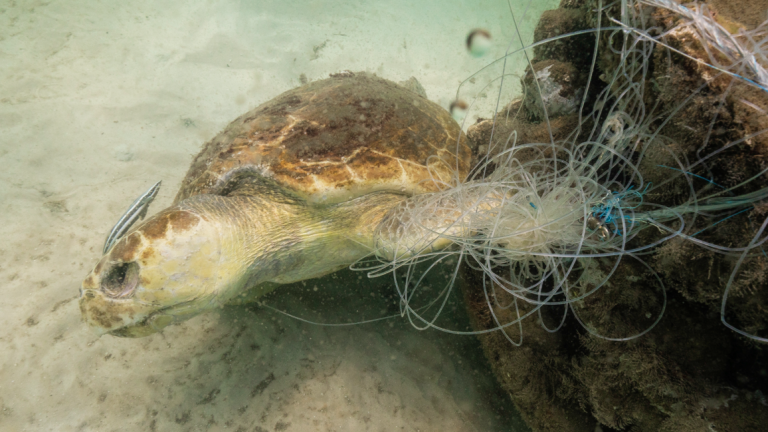 Chandler Williams
Update (November 30, 2018): When this leatherback sea turtle (whose species is endangered) was found dead on a beach in New York, wildlife experts who examined his body determined that he had died after becoming entangled in discarded fishing equipment. A piece of rope with a buoy attached to it was wrapped around his head and both front flippers, and experts believe that the turtle strangled to death. He was likely between 50 and 80 years old.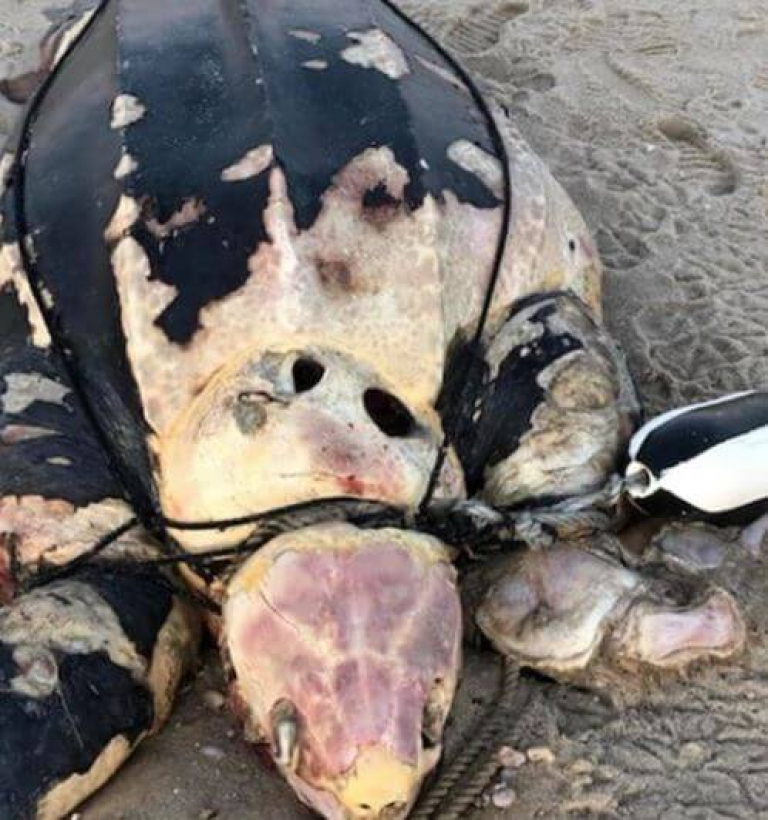 © Turtle Rescue of the Hamptons
Update (September 10, 2018): Off the coast of western Colombia, conservationists recorded a humpback whale calf breaching the water. At first, nothing seemed abnormal, but the observers were left stunned as her tail—or what was left of it—emerged. Where a significant chunk of the tail should have been, there was nothing but a gruesome wound.
Whale calf left with no tail after getting trapped in abandoned fishing net https://t.co/oIcxWpbfJp

— Metro (@MetroUK) August 28, 2018
Experts believe that the body part was most likely lost after becoming tightly entangled in an abandoned fishing net. Once circulation to the tail was cut off, it would eventually have fallen off. Unfortunately, this baby humpback—maimed by humanity's carelessness—will probably die without her tail, if she hasn't already.
Update (August 22, 2018): A photograph taken in northern Australia by a film crew shooting Blue—an upcoming ocean documentary—shows the decomposed body of a green sea turtle still wrapped in the plastic fishing net that's believed to have killed him.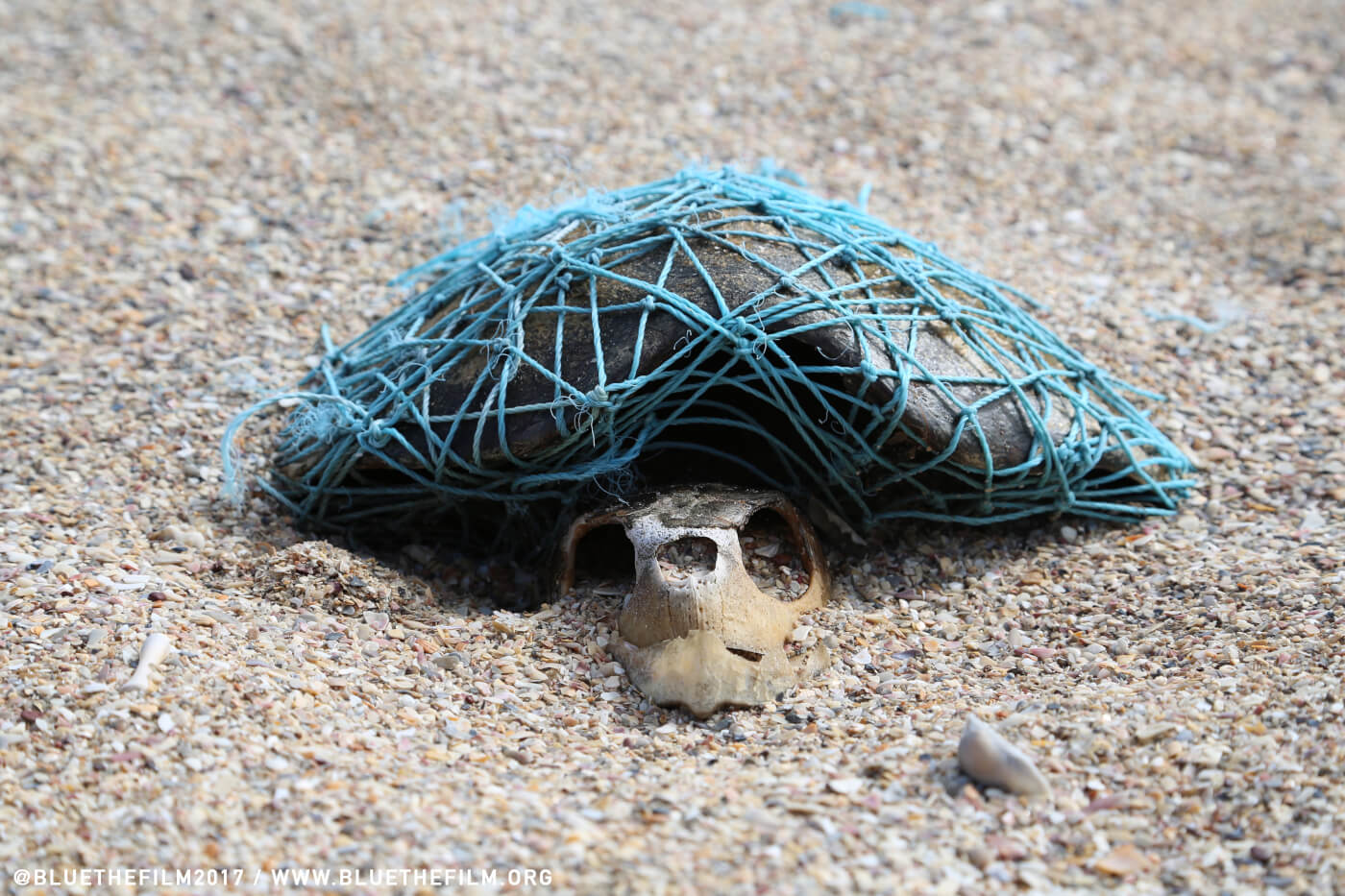 © BLUE The Film
According to The Independent, the film crew released the image to call attention to the dangers of abandoned fishing nets, also known as "ghost netting."
Update (August 15, 2018): A video shared by ABC News shows a whale off the coast of Chile trapped in a fishing net. Kind divers worked together to free the animal. Had these divers not come across him, he could have died.
---
Originally posted on March 29, 2018:
Other victims of this "ghost gear" include this seal …
"Fishing gear is designed to catch and kill marine life, and 'ghost gear'—abandoned, lost or discarded fishing gear—is the most harmful form of marine debris for animals." #seaturtle #education #awareness #protection https://t.co/PfeEp4gnME

— Save the Sea Turtle (@savetheseaturtl) March 23, 2018
… and this one …
Report: "Ghost" Fishing Gear Killing Whales, Seals https://t.co/OP2noQQys0 pic.twitter.com/MEyhkh9PWf

— PNS-California (@PNS_CA) March 23, 2018
… and this one …
Ghost fishing gear takes a growing global toll on ocean wildlife: https://t.co/sYm5GaoNko @PNS_News @GGGInitiative pic.twitter.com/FKgJhFfxzP

— Ken Peterson (@aquaken) March 22, 2018
… and this one …
Researchers recently visiting Bouvet Island in the #Antarctica, one of the most remote islands in the world, discovered seals painfully entangled in fishing net pieces. Photos courtesy of Chris Oosthuizen/Audun Narvestad/@NorskPolar #marinelitter #plastickills #ghostfishing pic.twitter.com/P3FCjRjdgC

— Per-Erik Schulze (@PerErikSchulze) March 14, 2018
Other animals affected include whales, like this one …
This gray #whale was lucky to be saved by rescuers from a fishing net wrapped around his tail. How many other #animals aren't so lucky? #bycatch #ghostfishing pic.twitter.com/srMFEcQDbP

— Kelly Levenda (@KellyLevenda) January 5, 2018
… and sea turtles, like this one …
That's a lot. This gear keeps on fishing, catching ocean wildlife as well.https://t.co/L6RxeIaWEE pic.twitter.com/wcZpP6DJpV

— Billion Baby Turtles (@SaveHatchlings) March 26, 2018
… and gulls, like this one …
Seagull with fishing hook stuck in its beak. Needs to be more care taken around the foreshore. #Sydney #wildlife pic.twitter.com/qLAVqadW0c

— Hux (@Kevin_Huxley) January 19, 2018
… and crustaceans, like this crab: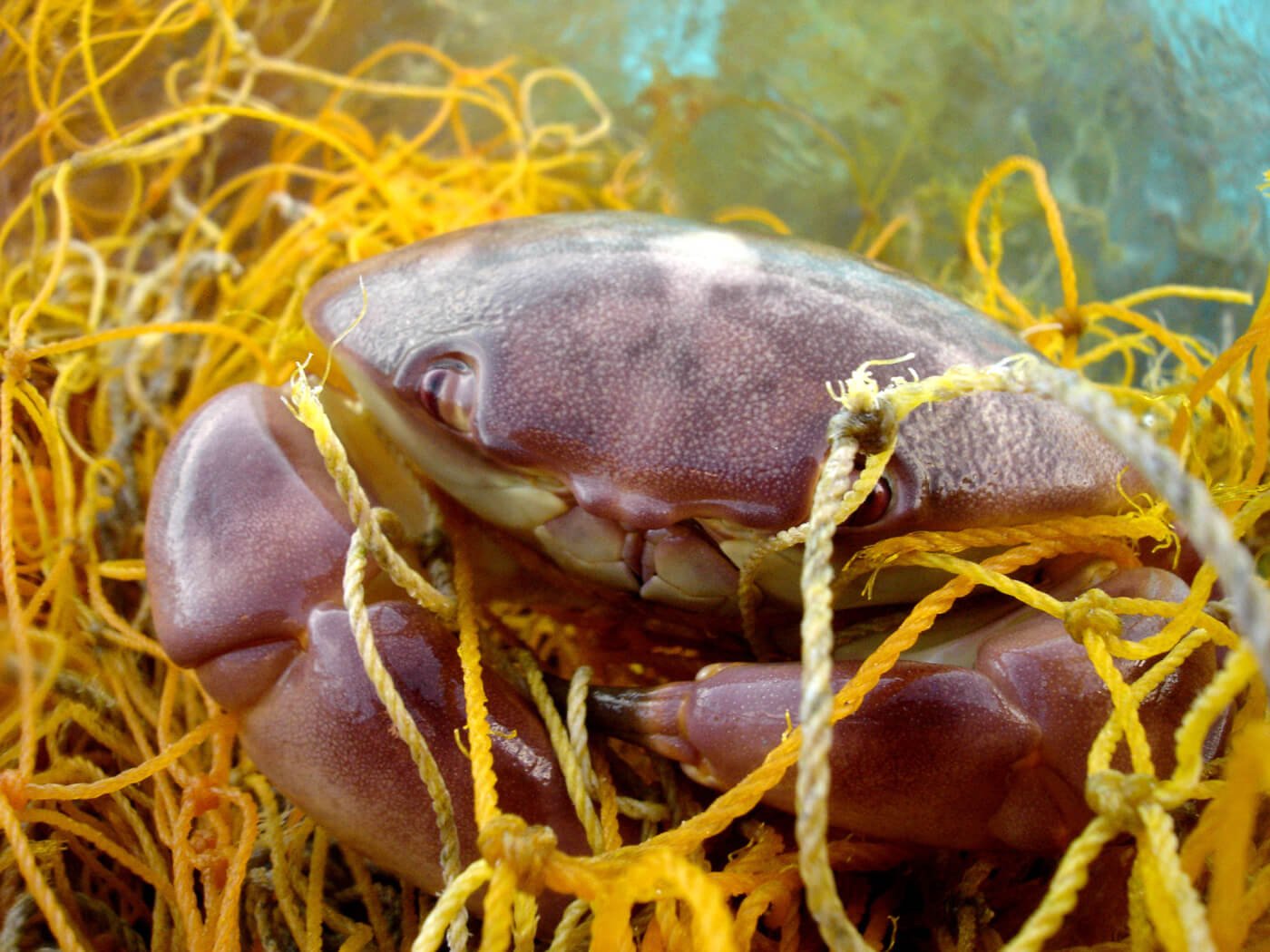 Sea animals aren't the only ones suffering. "Already threatened ecosystems, including shallow coral reef habitats, also suffer further degradation from ghost fishing gear," Ghosts Beneath the Waves reports.
Proposed solutions to this deadly epidemic include reducing the amount of fishing gear that's being dumped into our oceans, as well as recycling abandoned fishing gear in innovative ways. While it's commendable that solutions are being suggested and implemented, we need to think bigger if we want to protect marine animals and ecosystems.
If the appropriate response to a turtle getting a straw stuck in his nose is to shun such items, we clearly need to do more to save the millions of animals who are being maimed and killed by so-called "ghost gear."
It's simple: No fishing would mean no fishing gear—abandoned or otherwise.


© Jordy Chias
Clearly, fishing is hazardous to the environment. But it's also horrifically cruel. Commercial fishing kills hundreds of billions of animals worldwide every year—far more than any other industry—while catch-and-release fishing is just cruelty disguised as "sport." And if you think eating fish is good for your health, think again. Fish flesh can be badly contaminated with toxic chemicals that are known to cause cancer and brain degeneration. Fish is also the most likely of all foods to make you sick from bacterial contamination, which is why seafood is one of the top causes of food poisoning in the U.S.
Here's How You Can Help Animals Harmed by Ghost Gear
So if fishing is so damaging to animals, the environment, and your health, why is it still a thing? The truth is, it doesn't need to be. If you fish for "sport," opt for a cruelty-free outdoor activity instead, like canoeing, kayaking, hiking, or birdwatching—even better, go "fishing" for trash at a local beach, lake, pond, stream, or river. "Trash fishing" is a fun, compassionate activity that cleans up animals' homes and helps prevent them from eating or becoming entangled in dangerous debris. Learn more here.
Check out PETA's "Go Trash-Fish!" card game—our animal-friendly twist on the classic game—in the PETA Shop: