Vince Vaughn's latest "break-up" has been with dairy products. He has long had a penchant for vegan meals, and in a recent interview, he said that he's now staying away from dairy products for his health. And Cameron Diaz may be returning to her vegetarian roots. The "bad teacher" is a good role model, telling People magazine that she cut out dairy products for her health and got another fringe benefit: clear skin.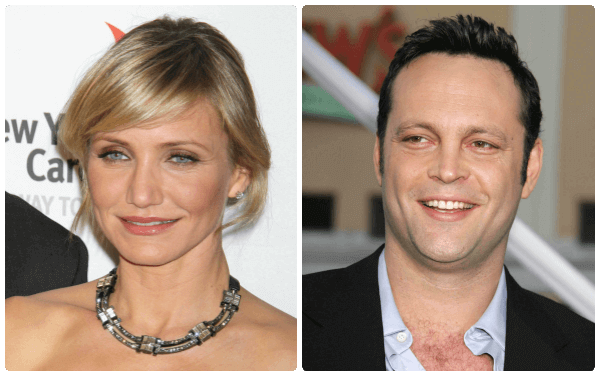 © StarMaxInc.com
In other celebrity news:
Vince and Cameron aren't the only ones hopping on the vegan and vegetarian bandwagon. NCIS star Emily Wickersham revealed to Craig Ferguson that she's almost completely vegan, and Madonna's son Rocco Ritchie is meat-free.
Lindsey Vonn has found the perfect animal companion to help her heal from her knee injury and the loss of her shot at the medal stand in Sochi, Russia. The skier adopted a boxer mix, Leo, who understands exactly what she's going through—because he broke his leg when he was hit by a car. Lindsey has been gushing about Leo and wrote on Facebook, "I encourage anyone looking for an animal to adopt from a shelter and save a life! #bumkneebuddies"
And Alyssa Milano became a savior for another dog. Watch the video below to see the touching story of Bomi, a dog she paid to have rescued from the South Korean dog meat industry and flown to safety in a foster home in the U.S.
PETA's huge protest of SeaWorld's float at the Rose Parade and the arrest of many of the demonstrators, including 12-year-old Rose McCoy, made headlines across the country. But our favorite analysis of the protest came from Moby:
A 12 y.o girl and my wheelchair bound friend Gretchen were arrested protesting sea-world today. Dear sea-world, you're losing. #Blackfish

— moby XⓋX (@thelittleidiot) January 2, 2014
And he's not the only one who's determined to keep protesting SeaWorld until the park frees the animals there.
https://twitter.com/JASMINEVILLEGAS/status/421038419288932352
Hope no one went to @SeaWorld over the holiday. And if you did then see the film Blackfish. #Blackfish #seaworldsucks #BoycottSeaWorld

— Max Joseph (@maxjoseph) January 7, 2014
Hey friends in Orlando, are there any new attractions at any of the parks that I should check out while I'm here? NO SEA WORLD #Blackfish

— Doug Benson Will Be In PDX on Saturday (@DougBenson) January 5, 2014
So proud of my bad ass friend @simonereyes for standing up for orcas and protesting against SeaWorld http://t.co/tE20aav779

— Dr. Jenn Mann (@drjennmann) January 5, 2014
BREAKING: 54% of positive responses to CNN's Sea World poll have been traced to a single sea world computer.

— Sam Simon (@simonsam) January 3, 2014
officialpeta's photo http://t.co/lj6EZJSPQY

— ElisabettaCanalis (@JustElisabetta) January 3, 2014
@Peta2 19 PETA Activists Arrested For Protesting SeaWorld Float At Tournament Of Roses Parade! http://t.co/cpULCSfKNI

— Perez Hilton (@PerezHilton) January 2, 2014
Photo: Newly sprung from the slammer – me and @peta VP @tracyreiman #activistlife #peta #roseparade… http://t.co/zYE5Xw2I1Q

— Simone Reyes Ⓥ (@simonereyes) January 3, 2014
SeaWorld foe and new vegan Ariana Grande had a great night at the People's Choice Awards, scooping up the prize for Favorite Breakout Artist. She was in good company, as animal advocates Ellen DeGeneres, Kaley Cuoco, Taylor Swift, and Ian Somerhalder, and the animal-friendly casts of Breaking Bad and The Big Bang Theory, also picked up trophies.
2014 has been a great year so far for Cuoco. She married her sweetheart, Ryan Sweeting, in a celebration that included an upside-down wedding cake and a groom's cake that bore the likenesses of the couple's three adopted dogs.
Congratulations are also in order for our friend Kid Ink, whose new album, My Own Lane, claimed the number one spot on the rap charts.
And these animal-friendly celebs were vying for number one on our list of best tweets of the week:
Yes RT"@Fascinatingpics: This is the correct way to see Wild Animals. Let them be free. http://t.co/VNp7wwBgIQ"

— Daisy Fuentes Marx (@DaisyFuentes) January 5, 2014
Take a picture, not a trophy. This is how real men shoot animals.. pic.twitter.com/F20oQ09uwj

— Ricky Gervais (@rickygervais) January 8, 2014
This year I intend to use my time wisely; cat-gazing mostly.

— Jason Mraz (@jason_mraz) January 2, 2014
To keep up with what all your favorite stars are doing for animals, follow @PETA on Twitter.