Rocky, like so many other pit bulls, was used as a living burglar alarm. He was kept outdoors in all weather extremes, chained to a flimsy doghouse, with no life, no love―no nothin'.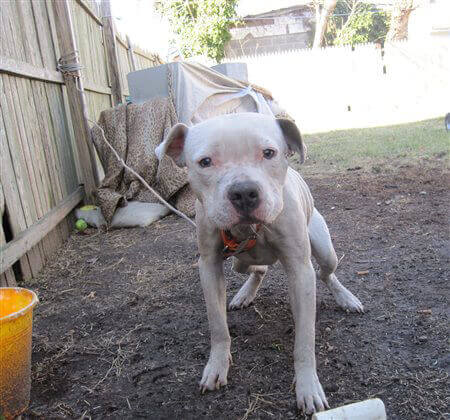 Brutus had broken free of his chain and gotten his ear nearly ripped off by another dog, but his owner was oblivious to the extent of the injury―not that he had made any effort to find out how severe it was. Instead, he just chained Brutus up again and went back inside his own warm, comfortable home, while Brutus cowered inside his doghouse.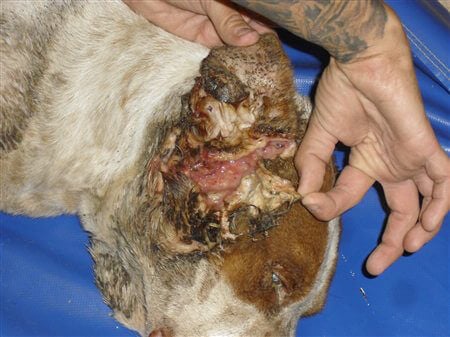 These are just two of the countless pit bull cruelty and neglect cases that PETA's Community Animal Project and Emergency Response Team have dealt with recently, and the abuse and neglect of pit bulls in particular seem to be getting worse. Everyone knows that animal shelters are full of these vulnerable dogs. Pit bulls are left at shelters in record numbers—and since they are difficult to adopt out, reputable shelters (that don't slam the door in the dogs' faces) are finding that they must euthanize more pit bulls and pit bull mixes than all other dogs combined.
That's why we are trying to stop pit bull abuse at its roots by preventing pit bulls from being born into a world that largely views them as cheap bodyguards, burglar alarms, punching bags, and back-alley gladiators. No one needs to bring even one more dog into this world while there are so many still homeless.
PETA's mobile clinics provide no-cost to low-cost spay/neuter surgeries to hundreds of pit bulls every year, and we'd like to push that number even higher. Love pits and don't want to see more of them tied up by tractor-trailer chains or torn up like Brutus was? PETA has now launched a special fund through which all donations will go toward free pit bull spay and neuter surgeries. Click here to make a donation today to help prevent more pit bulls from falling into the wrong hands.