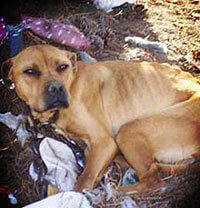 PETA's Community Animal Project (CAP) has improved the lives of thousands of animals in Virginia and North Carolina. CAP rescues local animals directly—crawling through sewers, poking through junkyards, climbing trees, dodging cars, and coaxing terrified strays to safety. We go into the very poorest of neighborhoods to deliver food, doghouses, and bedding to neglected animals who have never known a kind word or touch.
We also offer spaying and neutering surgeries for animals who would otherwise reproduce and bring many more animals into a life of misery.
Learn more about SNIP (Spay and Neuter Immediately, Please) services and fees, or sponsor a surgery for a dog or cat.
CAP staff and volunteers also transport animals to local veterinarians, provide water and food to dogs with empty bowls, loosen collars that have grown too tight, and supply tangle-free running lines for dogs hopelessly wrapped in chains. They rescue injured and dying animals and capture skittish strays who have been given up on by other agencies. CAP staffers also counsel animal guardians on proper care, such as always allowing companion animals to live inside the house with their families, and help people make that transition whenever possible.
And they don't give up. Our fieldworkers return to check on the animals and replace old bedding, check the doghouses, and make sure that the animals have food and water. They continue to educate—politely—and urge reluctant humans to be real companions to their animals.
Asia's Story
In April 2005, PETA's CAP staff found Asia, a female pit bull, chained up in a barren yard in a Virginia neighborhood without food or an adequate source of water. She looked like a skeleton with skin stretched over it. The property owner gave us custody of Asia, so we rushed her to an emergency clinic where we had to carry her inside since she could barely walk. The veterinarian who examined her said that she should weigh 60 pounds, but she only weighed 31 pounds. The heavy chain that she had been on was almost half of her bodyweight. Sadly, Asia's prognosis was not good, and the veterinarian recommended euthanasia to alleviate suffering. A post-mortem examination revealed that Asia had been suffering from three painful intestinal obstructions called "intussusceptions"—more than the veterinarian had ever seen in one animal.
We may wonder why someone bothers to keep a dog at all when the lonely, frustrated animal is chained out of sight behind the house 24 hours a day. But the truth is that countless dogs are suffering from the same horrible neglect that made Asia's life a living hell. PETA worked tirelessly to see that Asia's owners were punished—and in December 2005, Benjamin and Julia Grandison were found guilty of cruelty to animals and ordered to pay fines and court costs totaling nearly $500. Benjamin Grandison also received a suspended jail sentence. Most importantly, both were prohibited from owning animals in the future.
Unfortunately, there are millions of dogs just like Asia out there. They suffer in the heat and frost with external and internal parasitic infestations, upper respiratory infections, heartworms, parvo, mange, hunger, thirst, and endless solitude—at the mercy of people who are more concerned about "owning" animals than caring for them. While our CAP staff members do everything they can to persuade people to allow their dogs inside their homes, they are not always successful—and many dogs continue to languish outdoors. In these cases, our CAP caseworkers, determined to improve animals' lives, do everything that they can to make the animals' lives a little more comfortable.
PETA's work in our neighboring state, North Carolina, has been extensive. In 2000, PETA was invited to help North Carolina animals by a caring police officer who had witnessed terrible suffering and was appalled by conditions in area "shelters" (some are just outdoor shacks that lack heating and cooling and leave animals to drown or freeze to death during bad weather). Because the pounds in the area didn't have an adoption program or even operating hours, the animals were slated to die by being shot with a .22, gassed in windowless metal boxes, or injected with a substance that paralyzed them and caused their organs to seize up while they were still completely conscious.
These practices were carried out for decades until PETA stepped in to provide a painless death for the animals—free of charge. No one likes to euthanize animals, and no one despises the ugly reality of euthanasia more than the people who hold the syringe. But we could not turn our backs on these animals, who had already been mistreated and left for dead at these bare-bones county facilities.
In subsequent years, PETA has gotten involved by assisting the pounds with cleaning, euthanizing unadopted animals, adopting out animals when excellent homes were available, training staff, providing supplies, conducting cruelty investigations, and supplying adequate shelter to animals housed at the primitive facilities and to dogs in the local community. PETA has built and delivered more than 7,700 custom-made doghouses to needy dogs.
PETA works around the clock to bring about the day when every companion animal born has a good home waiting—a day when animal homelessness is non-existent. Until that day comes, we believe that euthanasia is a kind option for dogs and cats who are born into a world that doesn't want them. We welcome discussion about this issue, but the sad fact is that there are far too few good homes to go around. Too many people patronize pet shops where dogs and cats can be bought with a credit card or seek out purebreds from breeders who are adding to the overpopulation crisis, and too few people spay and neuter their animals or keep animals for a lifetime.
Please never buy an animal from a breeder, pet shop, or anywhere else, and always have your animal companions spayed or neutered.