PETA has once again partnered with the Friends of Norfolk Animal Care center to offer free spay and neuter surgeries for dogs and cats of Norfolk residents. Rabies vaccines and microchipping are also free for surgical patients. This clinic will be offered on the second Wednesday of the month and is by appointment only. Call 757-622-7382, extension 3, to make an appointment, or click the link below to make an appointment online.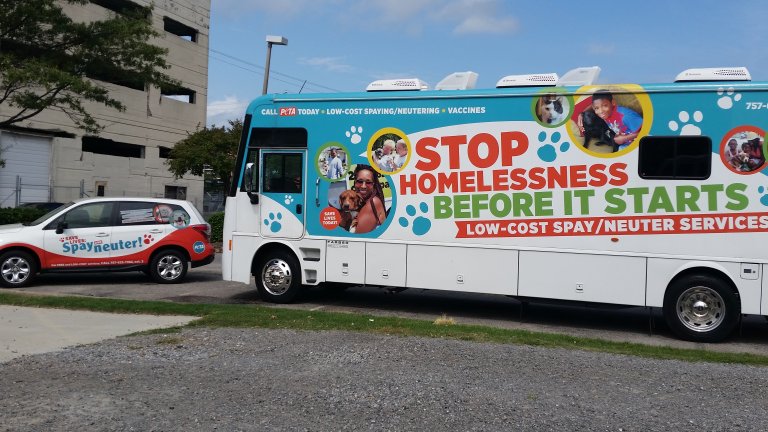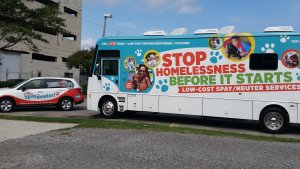 PETA's Mobile Clinics Division (MCD) spays and neuters hundreds of companion animals every week in Southeastern Virginia in three state-of-the-art mobile clinics. Each clinic is capable of spaying and neutering up to 28 animals per day. The staff consists of a licensed veterinarian, a licensed veterinary technician, a veterinary assistant, and an assistant who checks in each animal. The clinics operate an average of six days a week and travel from Virginia's Eastern Shore to Gloucester and from the Border Station in Chesapeake, Virginia, to Emporia and locations in between.
Since its inception in 2001, PETA's mobile clinics have helped to prevent the births and inevitable suffering of hundreds of thousands of unwanted dogs and cats in Virginia and North Carolina, all through low-cost or free sterilization surgeries.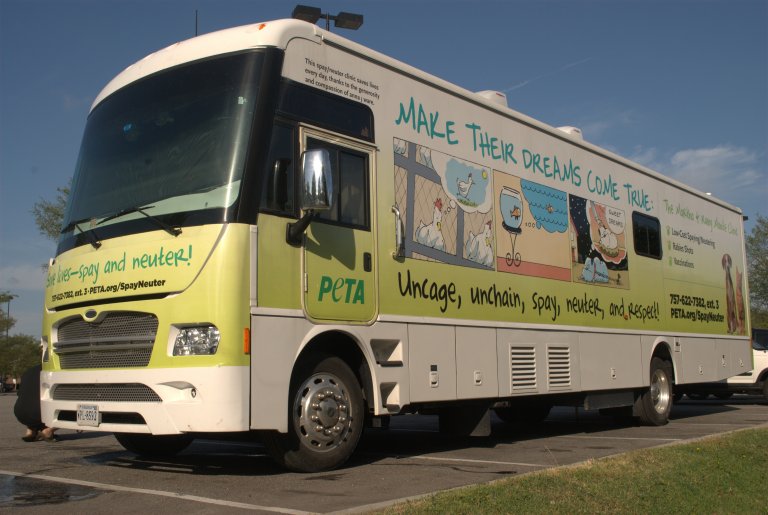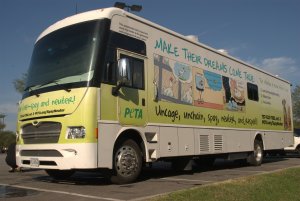 In one year, an unspayed cat can give birth to 16 kittens, who can go on to reproduce in just four months. An unspayed dog can birth up to 12 puppies in a year. Cats and dogs can go back into heat just days after giving birth. Spaying and neutering by the MCD means that countless animals will never be left on the streets to fend for themselves, succumb to untreated injuries and illnesses, become the victims of abuse, or be turned over to an animal shelter and have to be euthanized because no one wanted them.
How MCD Helps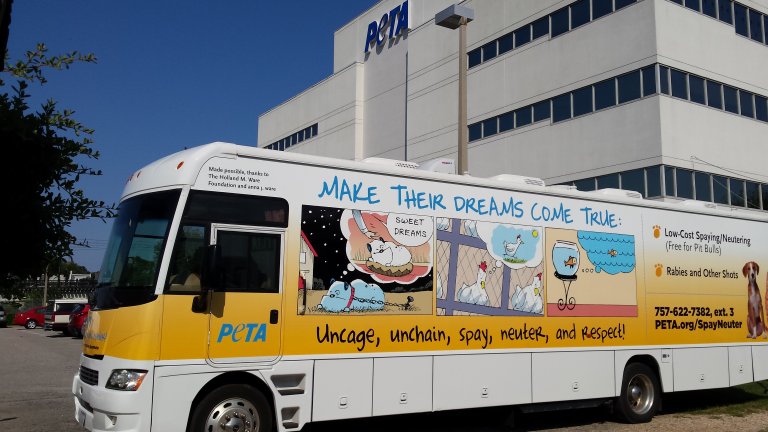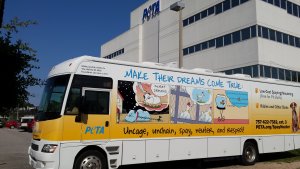 PETA staffers volunteer to go into low-income neighborhoods to distribute flyers about our low-cost spay and neuter program. The clinics park in these neighborhoods, which makes it easier for residents to take in their companion animals for surgery. If someone doesn't have transportation, we offer to transport his or her animal to and from surgery at no cost.
The mobile clinics park at animal shelters and humane societies and spay and neuter the animals who are up for adoption prior to their release so that there are no accidental pregnancies.
How You Can Help
Call on elected officials to pass mandatory spay-and-neuter laws in your state, county, and town. Also, sign PETA's pledge to end animal homelessness today, and always have your companion animals spayed or neutered.
Need Your Companion Animal Spayed or Neutered?
PETA's mobile clinics travel throughout the Hampton Roads, Virginia region daily. Click here to find out when they will be in your area. Please call 757-622-7382 and select option 3 or click here for more information or to request an appointment. Your animal must have an appointment to be spayed or neutered.
We recommend that you print and fill out the following forms to bring when you visit the clinic:
Check-In Form (for surgery patients only) – All forms must be filled out in blue or black ink
Other forms you may find helpful before your visit include:
To request an appointment to have your companion animal spayed or neutered, please call 757-622-7382, extension 3, or visit PETA.org/SpayNeuterAppt.
Because of breed-specific surgical complications, our mobile clinics do not accept Dobermans, Rottweilers, or bulldogs for surgery. Flat-faced breeds are more prone to respiratory distress during anesthesia and post-surgical recovery because of their narrow nasal passages and facial structure. We recommend the use of a private veterinary hospital, where they can be monitored more closely. Acceptance for surgery in our mobile clinics is at the sole discretion of the attending veterinarian. Due to extended surgical time, we cannot perform sterilization surgery on cryptorchid dogs over 50 pounds. Please see your regular vet or our low-cost options sheet for other clinics in this case.