From luxury skin care and vacations to the latest tech gadgets, Hollywood stars are used to being showered with lavish gifts throughout awards season. So this year, PETA decided to give top Oscar® nominees a break from the typical luxurious swag-bag freebies by giving them something that can help them spring into action for animals—custom emergency hammers to save dogs trapped in hot cars.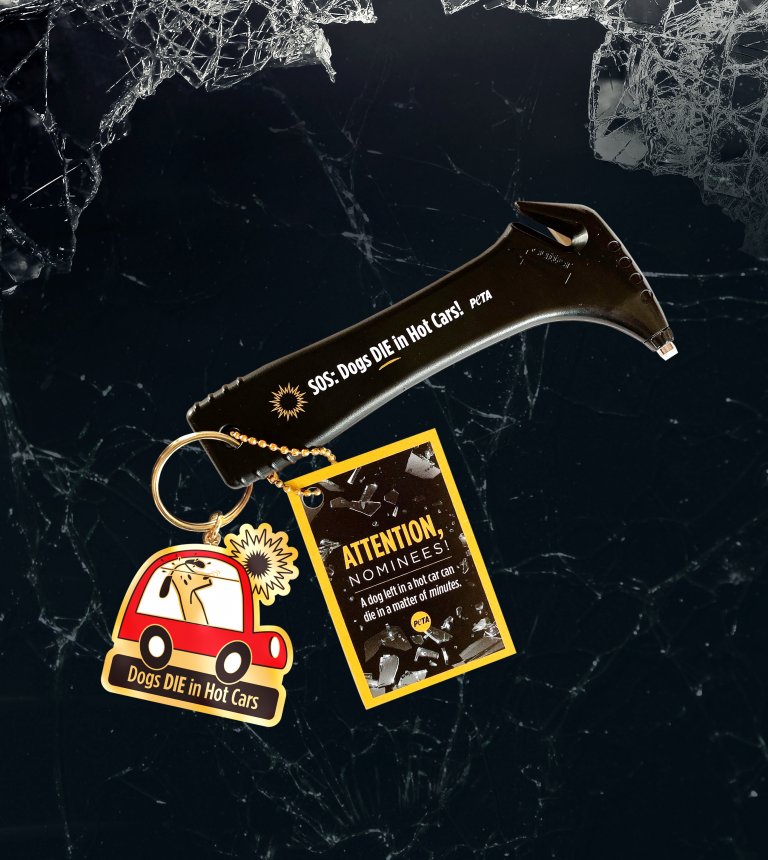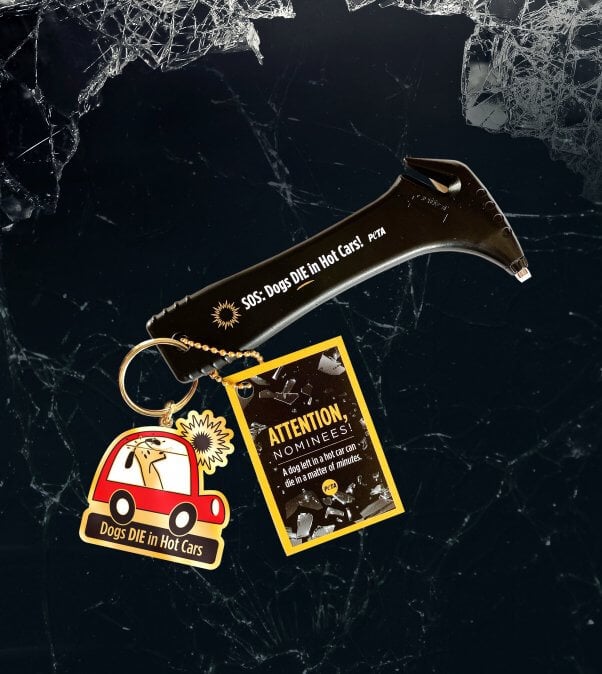 These custom hammers will be included in the "Everyone Wins" Nominee Gift Bags given independently to top Oscar® nominees, along with keychains that read, "The Car Is Insured—the Dog Is Irreplaceable." In past award seasons, PETA has showered nominees with animal-friendly gifts, including vegan Red Carpet–Ready Bath Bombs, spy pens to capture animal abuse on set, a Veestro gift card, and fashion-forward sunglasses to inspire celebrities to see how their food choices affect animals and the environment.
In an exclusive PETA video, Lash Fary of Distinctive Assets—the gift guru behind these exclusive bags—shows how celebrities (as well as the rest of us) can use the emergency hammer to do whatever it takes to save a life and offers tips for what to do if you find a dog trapped in a hot car.
This year, Hollywood's biggest night, which is usually held in winter, was delayed because of COVID-19, making PETA's message even timelier with the warm summer months just around the corner. Even in mild weather, temperatures in cars can skyrocket in mere minutes. The temperature outside might be a lovely 70 degrees, but the temperature inside a parked car can soar to 99 degrees in 20 minutes. And on a 90-degree day, the interior temperature can reach as high as 109 degrees in just 10 minutes. Dogs can die of heatstroke in as little as 15 minutes. They can't cool themselves by sweating as humans can—their primary way of cooling off is by panting, which isn't effective when they're trapped in a car with only hot, humid air to breathe. That's why dogs should never be left in parked cars for any amount of time—even with the window rolled down a bit.
If you don't have a hammer, you can buy one here! Or see below for other ways you can help when you see an animal trapped in a hot car: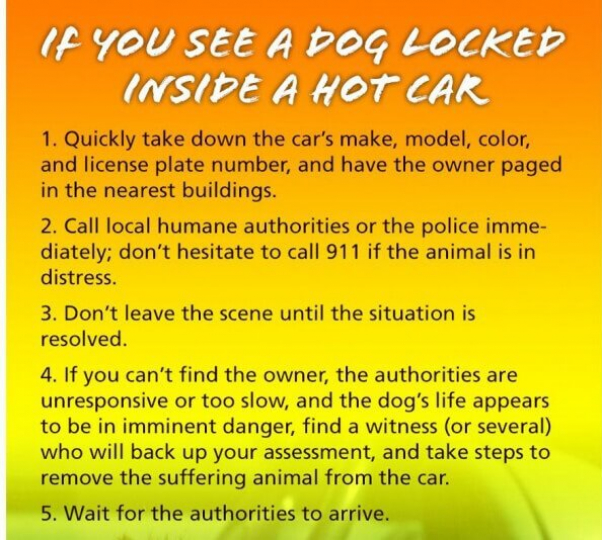 Many celebrities have spoken up for dogs in hot cars, including Super Bowl champion Tyrann Mathieu, Mexican singer Paulina Rubio, Italian supermodel Elisabetta Canalis, and model Nicole Williams English. PETA hopes to add even more stars to this growing list now that they have the tools to help dogs!
Remind your friends and family never to leave animals unattended in a car on a hot day—click below to help spread the word:
Note: The "Everyone Wins" Nominee Gift Bags are NOT affiliated in any way with the Oscars® or the Academy of Motion Picture Arts and Sciences (AMPAS). AMPAS does not award, sponsor, endorse, or provide these gift bags. Neither the Academy nor Distinctive Assets wants there to be any association in the media between the "Everyone Wins" Gift Bags and the Oscars® or the Academy.