Lights … camera … take action!
That's the message PETA's Animals in Film & Television Division is sending this year's top Oscar nominees in the form of a spy pen that would make any James Bond wannabe green with envy. These stealthy recording devices fit discreetly into a shirt pocket and enable compassionate crew members, actors, or anyone else on a film or television set to document animal abuse and report it.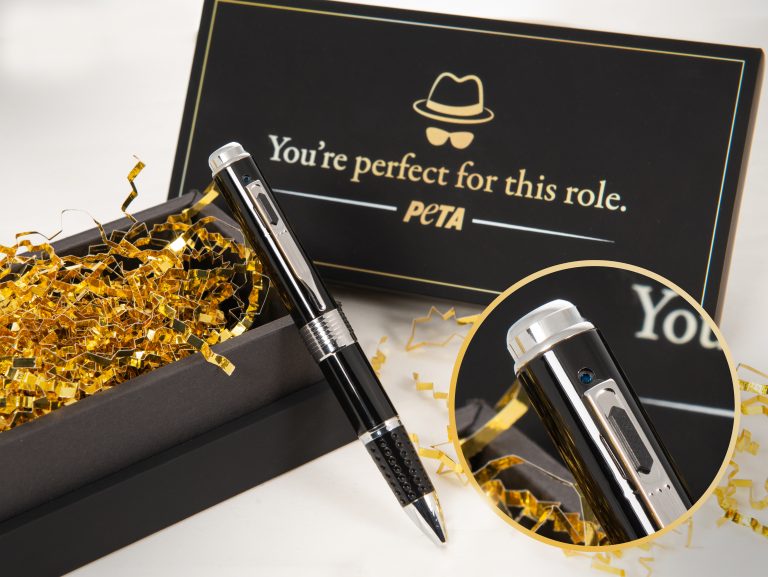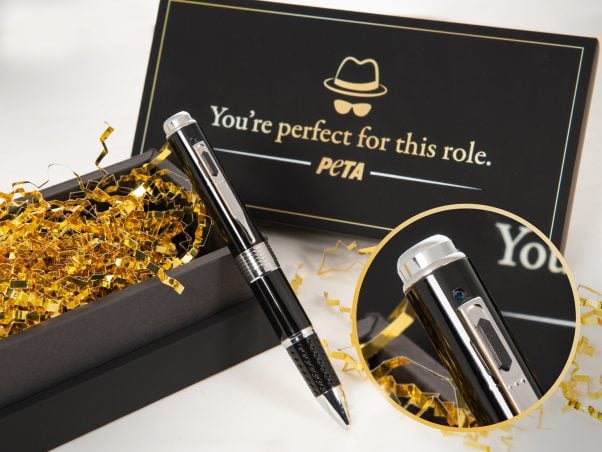 Hollywood is increasingly using computer-generated imagery instead of forcing real animals to "perform" on and off camera. Recent PETA Oscat winners Black Panther and Mowgli: Legend of the Jungle showed the world that you can present dynamic, lifelike panthers, rhinos, and elephants onscreen without exploiting real wild animals. But until the entertainment industry stops using real animals altogether, we must count on whistleblowers to document and report incidents of animal abuse on set when they occur.
Recently, whistleblowers reported events on several sets, including those of Yellowstone, Crazy Alien, and A Dog's Purpose. Footage reportedly taken from the set of A Dog's Purpose showed a dog being forced into a pool of rushing water and, evidently in another scene, being submerged underwater. Whistleblowers are crucial to exposing cruelty to animals, and we think Hollywood's A-listers are perfect for the role.
Because some jurisdictions restrict the use of surreptitious recording devices, each recipient was instructed to check local laws before using the device.
This is the second year in which PETA has made a contribution to the "Everyone Wins" Nominee Gift Bags, distributed independently by Distinctive Assets to Oscar nominees in the major acting and directing categories. Last year, the top nominees received Red Carpet–Ready Bath Bombs—all cruelty-free and vegan, of course.
What You Can Do
You don't need a special device to document abuse.
If you witness any form of animal abuse on a film or TV set, do your best to capture it on your smartphone or camera (adhering to local laws). Then report it to PETA's confidential whistleblower hotline at 323-210-2233 or [email protected]. If you don't have a way to record the incident, please report it anyway. Anonymity will be protected.
Note: "Oscar," "Oscars," "Academy Award," and "Academy Awards" are registered trademarks of the Academy of Motion Picture Arts and Sciences, which isn't affiliated or associated with PETA, nor does it endorse, sponsor, or otherwise approve of PETA's Oscats.