If you're baffled that decades-old, unreliable research methods are still being used today, you aren't alone. Tests on animals have always been examples of bad science, and a new paper published by PETA scientists, the U.S. Environmental Protection Agency (EPA), and other international experts shows again that tests that don't use live animals can promote animal well-being and human health.
Tests on live rabbits cause suffering.
PETA scientists and their coauthors examined the Draize eye test, which was developed in 1944. In it, experimenters apply chemicals to live rabbits' eyes and usually leave the affected area (or areas) unwashed for 24 hours or more. In this experiment, rabbits may experience significant pain, swelling, hemorrhaging, or cloudy vision and may even go blind in the eye that is tested on. The animals are then killed or used again in these same painful tests.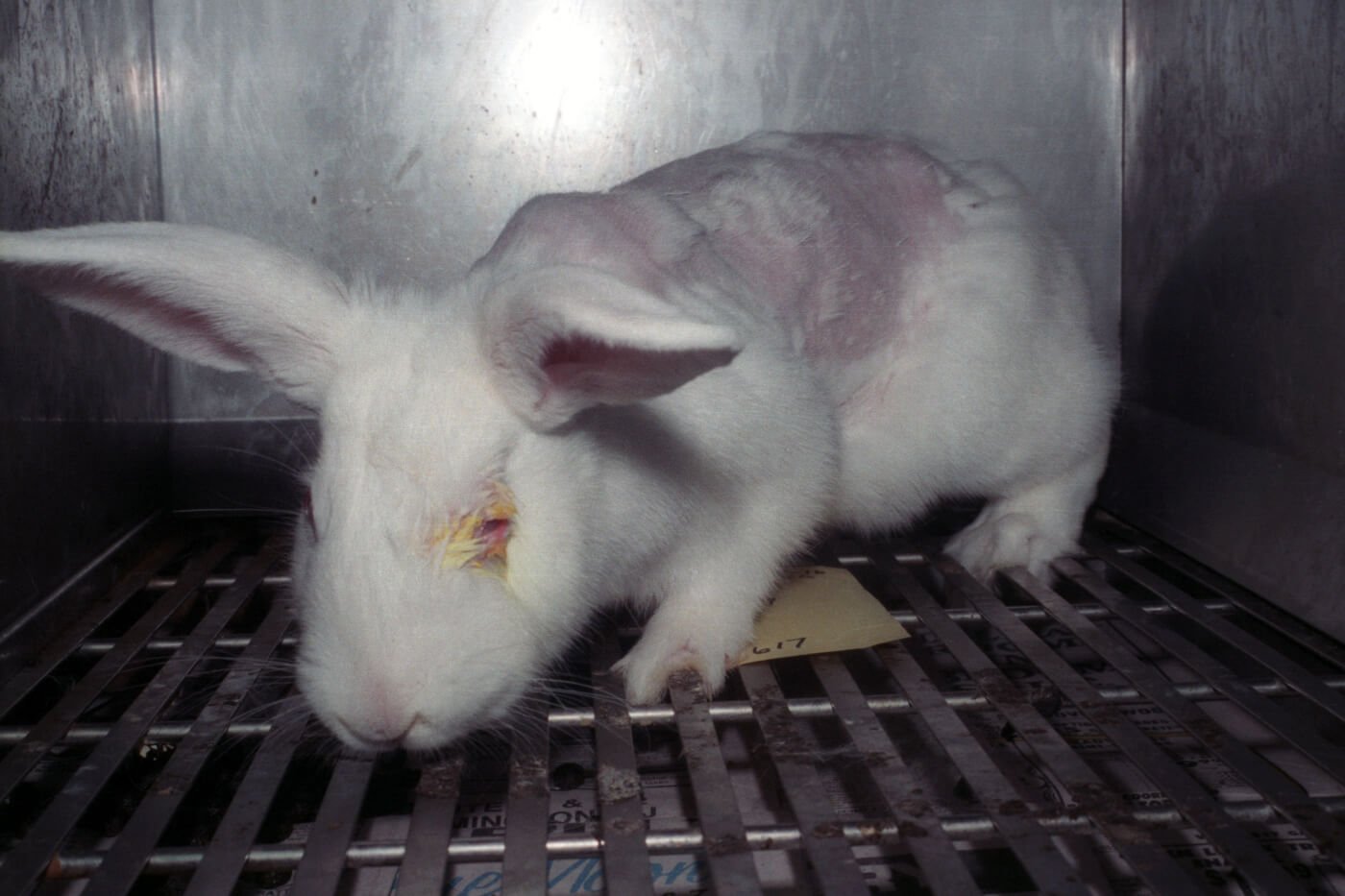 Tests on animals aren't good science.
Despite the scientific limitations of the Draize eye test, the EPA receives data from more than 200 of these tests each year for pesticides used in the U.S. The rabbit eye test is notoriously unable to produce consistent results, even though consistency is a fundamental aspect of any good test. Furthermore, you may have noticed that there are significant differences between rabbits and humans. For example, did you know that rabbits have a third eyelid?
The Problem to Be Solved
Scientists are required to compare the results from newer, non-animal methods directly against inconsistent data from flawed animal tests to confirm the validity of the new methods. This means that if a new, better method is developed, it will be perceived as incorrect, because its results don't match up with the old, flawed animal test. Clearly, using flawed animals tests as a gold standard for comparison hinders good science.
PETA Scientists and Other Experts Offer a Win-Win Solution
This paper challenges the status quo: It urges the scientific community to rethink how we prove the scientific validity of new methods, which should be evaluated for how well they reflect human biology, rather than how well they imitate unreliable, decades-old animal tests.
In the paper, PETA scientists and their expert collaborators from government agencies and private laboratories reviewed how relevant the rabbit test and tests that don't use live animals are to humans. They found that the methods that don't use live rabbits were as, if not more, reflective of human biology and that their results were more consistent. The authors concluded that the newer methods should be accepted now to replace the rabbit test, which would prevent an estimated 600 rabbits from being used in pesticide tests each year in the U.S. alone. Some of these test methods that don't use live rabbits have already been accepted by the EPA for testing certain types of substances.
The conclusions are clear: It's time to stop using the rabbit eye test and stop comparing new, reliable, and human-relevant test methods to flawed animal tests. PETA scientists are now working to ensure that the more human-relevant methods that don't use live rabbits can be used in the U.S. and around the world—and you can help, too.
How You Can Help Rabbits in Laboratories
Be on the side of science and refuse to buy from companies that test their products on animals: