To help Hollywood stars see the devastating effects of animal agriculture on the planet more clearly and inspire them to go vegan to combat climate change, PETA has included a pair of fashionable DIFF Charitable Eyewear sunglasses and a gift certificate to Veestro—a plant-based meal-delivery service and PETA Business Friend—in each of this year's prestigious "Everyone Wins" gift bags, which are independently given to top Oscar® nominees.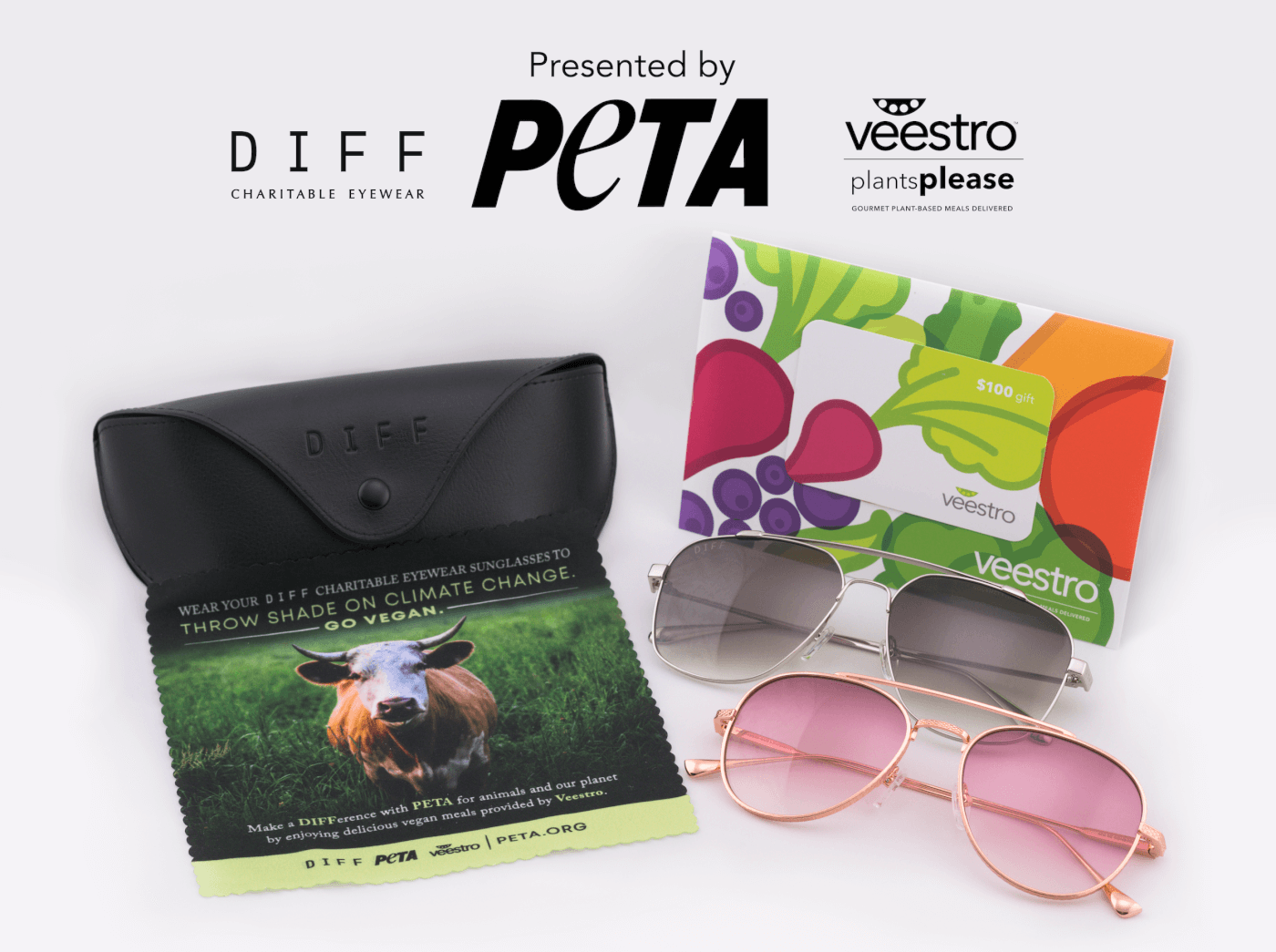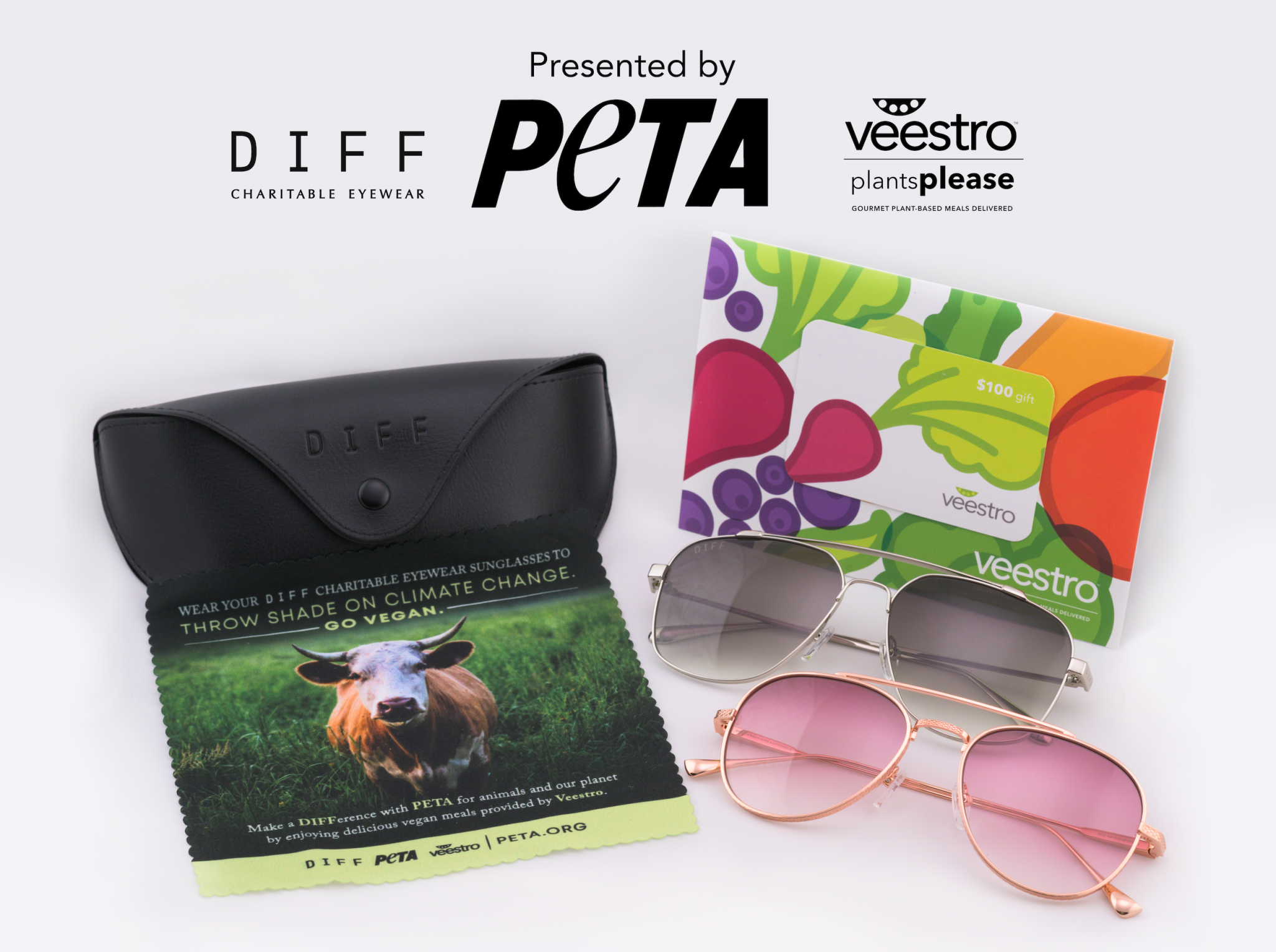 Niche marketing company Distinctive Assets will distribute the bags to today's biggest movie stars—including PETA's 2019 Person of the Year, Joaquin Phoenix—in the lead-up to the ceremony on Sunday.
BREAKING: Joaquin Phoenix is named PETA's 2019 Person of the Year!

The #Joker actor has dedicated his life to animal liberation. Animals are so lucky to have such a compassionate activist speaking up for them. https://t.co/RnXXa0HXSt pic.twitter.com/2dorQadaaM

— PETA (@peta) December 2, 2019
Celebrities can use their platform to encourage fans to make kind choices for animals and our planet. For example, earlier this year, Phoenix used his Golden Globes acceptance speech to shed light on the link between the use of animals for food and the climate crisis:
Sending a HUGE congratulations to PETA's 2019 Person of the Year and #vegan #JoaquinPhoenix for his #GoldenGlobes win!

His performance as Arthur in #Joker was just as unforgettable as his acceptance speech 👏 pic.twitter.com/6Ti4Z9bunT

— PETA (@peta) January 6, 2020
We hope our gift will inspire more compassionate celebrities to see how their food choices impact the environment and to face the crisis of climate change head-on by going vegan now.
Are You Ready to Make the Switch? Click Here!
According to the United Nations, animal agriculture is responsible for nearly one-fifth of human-induced greenhouse-gas emissions and a global shift to vegan eating is necessary to combat the worst effects of climate change. Each person who goes vegan spares the lives of nearly 200 animals every year.
Are You Ready to Fight Climate Change With Diet Change?
Take a page from Phoenix's book: Go vegan …
Order a FREE Vegan Starter Kit With Recipes, Tips, and More
… and don't be silent about it. Silence is violence. Real change happens only when people speak out against injustice. Click on the link below to help us deliver our message of total animal liberation loudly and often.
Join PETA's Action Team to Help Animals
Note: The "Everyone Wins" Nominee Gift Bags are NOT affiliated in any way with the Oscars® or the Academy of Motion Picture Arts and Sciences (AMPAS). AMPAS does not award, sponsor, endorse, or provide these gift bags. Neither the Academy nor Distinctive Assets wants there to be any association in the media between the "Everyone Wins" Gift Bags and the Oscars® or the Academy.