Vegan Passover Recipes

Celebrate a Compassionate Vegan Passover with these recipes from PETA.
Starters
Matzo Meal Pancakes
1 1/2 cups matzo meal
1/4 cup sugar
4 tsp. baking powder
3 cups water
1/2 cup apples, minced
1 tsp. ground cinnamon
Oil, for frying
Maple syrup (optional)
Mix all the ingredients together except the oil and maple syrup.
Heat the oil in a frying pan.
Add heaping tablespoonfuls of the batter to the hot frying pan and flatten each one out with a spoon.
Cook until each pancake is brown, about 2 minutes. Carefully flip and cook the other side of each pancake, another 2 minutes.
Serve warm and drizzle with maple syrup, if desired.
Note: This batter is very thick. After you spoon it into the frying pan, be sure to flatten it out so that it will cook all the way through. If you find that the batter sticks to the spoon, dip the spoon in some water.
Makes about 12 pancakes
Check out VeganPassover.com for more recipes like this one!
Chopped 'Liver' Spread
Adapted from No Cholesterol Passover Recipes by Debra Wasserman and Charles Stahler and provided by The Vegetarian Resource Group
1/2 lb. mushrooms, chopped
1 small onion, chopped
3 Tbsp. oil
1 cup chopped walnuts
Salt and pepper, to taste
1 Tbsp. water
Sauté the mushrooms and onion in the oil for 8 minutes. Pour into blender or food processor, adding the walnuts, salt, pepper, and water. Blend until smooth. Serve on matzo as a spread.
Makes 1 cup
Traditional Charoset
1–2 Macintosh apples, peeled and cored
1 cup walnuts, shelled
Kosher wine, for moistening
Cinnamon, to taste
Sugar, to taste
Mince the apples and walnuts or pulse in a food processor. Moisten with the kosher wine and season with cinnamon and sugar.
Makes 10 servings
Main Course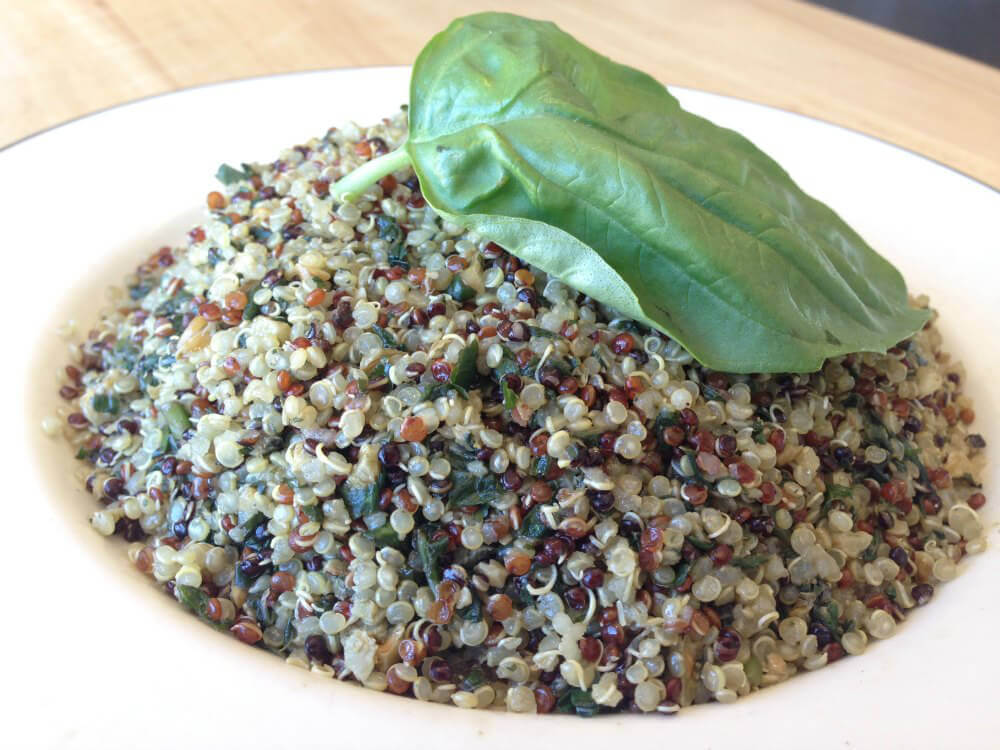 Creamy Pesto Quinoa
1/3 cup pine nuts, walnuts, or a combination of both, toasted
3 medium-sized cloves garlic
2 cups packed fresh basil leaves
3/4 tsp. salt, or to taste
Freshly ground black pepper, to taste
1/3 cup extra-virgin olive oil
1 cup cooked quinoa
Pulse together the nuts and garlic in food processor until coarsely ground. Add the basil, salt, and pepper and pulse to reduce. Add the olive oil and process until the desired texture is achieved.
Mix gently with the cooked quinoa and serve. This dish can also be served cold.
Makes 6 to 8 servings
Aunt Charlotte's Carrot Tzimmes
For the Carrots:
1 lb. baby carrots or chopped or sliced large carrots
1/4 cup sugar
For the Pudding:
1/2 cup matzo cake meal
1/8 tsp. pepper
1 tsp. paprika
1/4 heaping tsp. salt
1 tsp. sugar
1 small onion, grated
1/4 cup oil
1/2 cup water
Put the carrots in a small, oven-safe Dutch oven or casserole dish. Sprinkle 1/4 cup sugar over the carrots, cover, and set aside for 3 to 4 hours on the counter or in the fridge overnight.
Heat the covered dish on the stovetop over low heat until the carrots are slightly soft and there is some liquid in the bottom of the dish, about 15 minutes.
Mix the matzo cake meal, pepper, paprika, salt, and sugar together in a large bowl. Add the onion, oil, and water and mix well.
Spread the pudding on top of the carrots, cover, and cook on the stovetop over medium-low heat until the pudding sets. Then bake, covered, at 350°F, until the pudding is browned around the edges, approximately 45 minutes to 1 hour.
Makes 5 servings
Sweet Potato Kugel
Adapted from No Cholesterol Passover Recipes by Debra Wasserman and Charles Stahler and provided by The Vegetarian Resource Group
6 small sweet potatoes, peeled and grated
3 apples, peeled and grated
1 cup raisins
1 cup matzo meal
2 tsp. cinnamon
1 cup walnuts, chopped (optional)
1 cup fruit juice or water
Mix all the ingredients together. Press into a baking dish and bake at 375ºF until crisp on top, about 45 minutes.
Makes 12 servings
Eggplant Casserole
Adapted from No Cholesterol Passover Recipes by Debra Wasserman and Charles Stahler and provided by The Vegetarian Resource Group
1 large onion, chopped
3 Tbsp. oil (or a mixture of oil and water to reduce fat)
1 medium eggplant, peeled and cubed
1/4 cup diced green pepper
11 oz. tomato-mushroom sauce
1 tsp. salt
1/2 tsp. pepper
2 large tomatoes, diced
1 1/2 cups matzo farfel
Sauté the onions in oil until tender.
Add the eggplant, green pepper, tomato-mushroom sauce, salt, and pepper, and cook, covered, for 15 minutes, or until the eggplant is tender. Stir in the tomatoes.
In a 2-quart baking dish, arrange the vegetables and matzo farfel in alternate layers, beginning and ending with the vegetables. Bake at 350ºF, uncovered, for 25 minutes.
Makes 6 to 8 servings
Baked Stuffed Zucchini
Adapted from umass.edu
2 zucchinis, cut in half lengthwise
1 small onion, finely chopped
4 Tbsp. tomato sauce
1/2 tsp. parsley
1 clove garlic, chopped
2 Tbsp. matzo meal
Scoop the pulp out of the zucchini halves.
Heat the pulp, onion, tomato sauce, parsley, and garlic in a pan for 5 minutes.
Add the matzo meal to the mixture and mix well.
Restuff the zucchini halves with the mixture and place in a baking dish with a little water on the bottom. Bake at 450ºF for 30 minutes, or until the zucchini shells are soft.
Makes 4 to 6 servings
Dessert
Chocolate Matzo Brittle
1 cup dairy-free chocolate chips
2 Tbsp. agave nectar or maple syrup
Pinch of cinnamon
2 matzos, broken into pieces slightly larger than bite-size
1/3 to 1/2 cup lightly toasted nuts (e.g., sliced or slivered almonds, chopped walnuts, pecans, or pistachios)
1/2 cup dark or golden raisins, dried cranberries, or other chopped dried fruit, such as apricots, mangoes, or pineapple
Line two large plates with wax paper or parchment.
Combine the chocolate chips, agave nectar, and cinnamon in a medium saucepan. Cook over low heat until smoothly melted. Remove from the heat.
Add the broken matzo. Stir to coat evenly with the chocolate. Spread in a more or less single layer onto two parchment- or wax paper–lined plates. Sprinkle the nuts and raisins over the top. Refrigerate for at least an hour before serving.
Just before serving, break up into large chunks and transfer to a serving platter.
Makes 4 to 6 servings
Chocolate Chip Cookies
Adapted from theppk.com
1/2 cup brown sugar
1/4 cup white sugar
2/3 cup walnut or other neutral-tasting oil
1/4 cup unsweetened almond milk
1 Tbsp. potato starch
2 tsp. vanilla
Scant cup matzo cake meal
1/2 tsp. baking soda
1/2 tsp. salt
3/4 cups semisweet chocolate chips
Preheat the oven to 350°F. Lightly grease two baking sheets.
Combine the brown and white sugar, oil, almond milk, and potato starch in a bowl and stir for about 2 minutes, or until the mixture resembles a smooth caramel. Add the vanilla and mix.
Add 3/4 cup of the matzo cake meal, the baking soda, and the salt and mix until well incorporated. Mix in the remaining matzo cake meal, then fold in the chocolate chips.
Roll the dough into small balls and flatten to approximately 2 inches. Bake until the edges are just slightly browned, about 8 minutes. Let cool on the baking sheet for about 5 minutes, then transfer to a cooling rack.
Makes approximately 24 cookies
Respond