You may be familiar with TeachKind's much-loved "A Dog's Life" comic, which tells the story of a dog named Molly who was chained outdoors and neglected by her human family because they didn't understand or consider her needs. The comic also emphasizes the great responsibility of caring for a companion animal and teaches kids to think about animals' needs. The full-color comic (which is available for free through our website and in printable form online) was originally geared toward student reading levels in grades 3 to 5.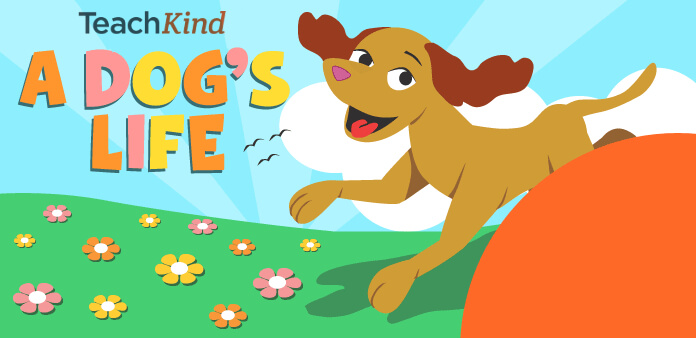 But we've got exciting news: "A Dog's Life" is now accessible to an even wider range of students and reading levels, thanks to our recent collaboration with Sounds First. Sounds First developed a reading system to help early readers and delayed readers navigate the confusing pronunciation of many English words. "This version has been modified to allow early readers and delayed readers access to this story with the support of a new reading tool based on linguistical theory that provides a transparent phonemic respelling called Sounds First Reading System," explained Sounds First. "The Sounds First code provides insight into how to pronounce sounds that may be too difficult for early readers." Think of words in a dictionary: Every word is also written out phonetically to help guide us toward the correct pronunciation—this system is similar.

This edition of "A Dog's Life" includes a chart on the last page that explains the pronunciation set forth in the code created by Sounds First. This code is called a "phonemic respelling," similar to that provided in the dictionary but simpler. Teachers and children can refer to the chart, but many children find the code helpful with very little instruction.
"A Dog's Life" would also be a good addition to Guided Reading instruction. It can motivate students to engage with the text since children love animals, and it presents a real-world situation. The Sounds First code allows teachers to provide support and linguistic scaffolding that can help students develop their reading fluency and learn to read for meaning.
The story's text has been modified to accommodate a less advanced level of reading—without compromising the integrity, storyline, or impact of the original version. With larger-sized, simplified text and fewer words used overall, early and delayed readers will be able to benefit from the positive message about kindness to animals in this comic without being too intimidated to attempt to read it.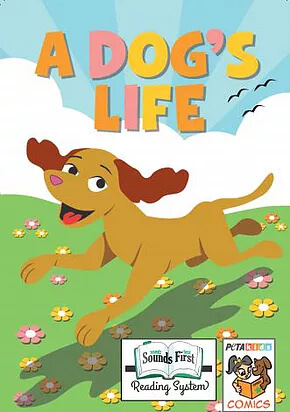 TeachKind's collection of children's comics include "A Dog's Life," "A Chicken's Life," "A Rat's Life," "A Cow's Life," and "A Fish's Life"—and each comic is designed to help elementary school students develop empathy for animals and learn more about real-world issues that affect animals' lives in an age-appropriate manner. And now, through our collaboration with Sounds First, we're excited to be able to bring this heartfelt, educational story to even more young readers!
Looking for additional ELA lessons that teach kindness to animals? We've got you covered: