The holiday season is upon us, and we here at TeachKind are thrilled to share some of our favorite activities and resources for celebrating this time of year, including "ThanksVegan" ideas. Help students see that cruelty to animals shouldn't be part of the festivities. Motivate them to be kind to animals and their peers alike, even after we move into the new year!
November Activities and Lessons
TeachKind's Favorite Turkey Friends: Cornelius, Jake, and Mayflower
Cornelius
Many people know Esther the Wonder Pig, the piglet adopted into a loving family who grew to be much bigger than expected. But do you know Cornelius? Check him out photobombing his trusted sidekick and friend Esther.
Show students this video of Cornelius showing affection for his guardian, and use the questions below to encourage discussion.
Questions to consider:
Why do you think Cornelius likes to get hugged? (Answer: He likes knowing that he is loved and safe with his guardian.)
How does Cornelius' guardian react to the turkey's affection? (Answer: He is elated by the close bond that he and Cornelius share.)
What do you notice about the way Cornelius lives? (Answer: He is able to roam freely in lush fields.)
How do you show love for those you care about? How do you feel when someone shows you love? (Answers will vary. Encourage students to make the connection that animals are capable of love and affection, too.)
Jake
Get to know Jake the turkey from Oak Ridge, North Carolina! He was rescued by Red Dog Farm from a roadside zoo. He's a wonderful animal with a gentle soul, and today he's being properly cared for at a loving home.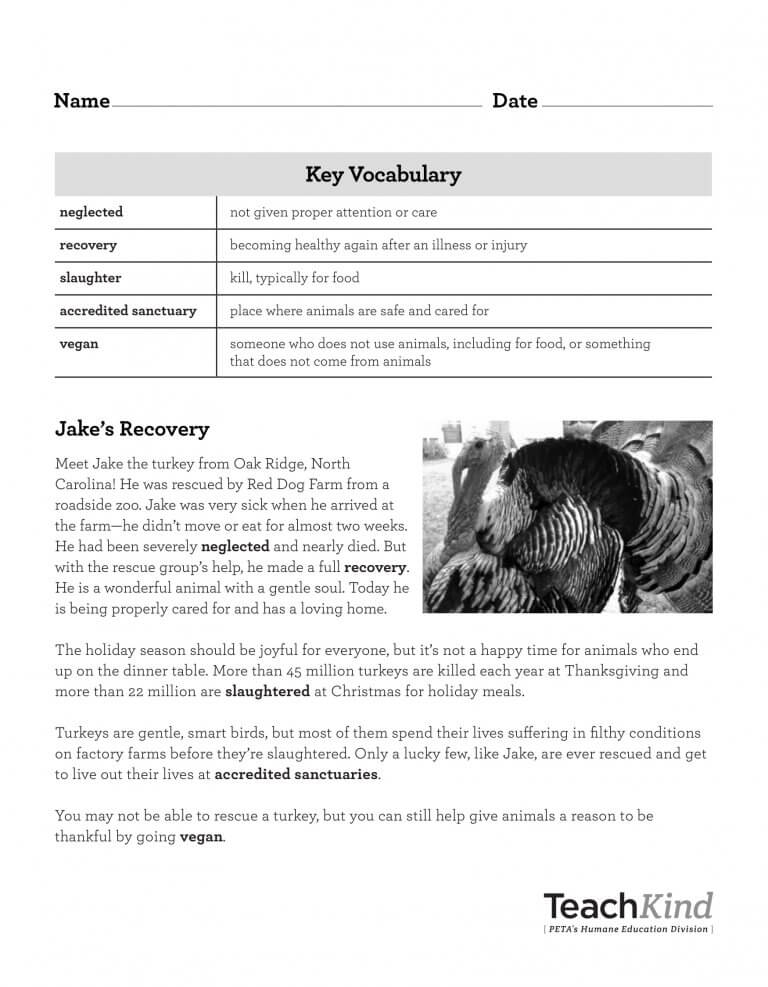 DOWNLOAD THIS LESSON IN DIGITAL FORMAT HERE
Mayflower
Get to know Mayflower, a turkey who was found as a baby at a Pennsylvania auction when he was about to be sent to slaughter for someone's Thanksgiving dinner. Use his story to promote compassion for all sentient beings this holiday season and beyond.
Be sure to check out Long Island Orchestrating for Nature (LION), the organization that helped rescue Mayflower, as well as Broome Animal Sanctuary and Farm, where he now lives. Use other TeachKind resources to create an entire lesson around this story.
DOWNLOAD THIS LESSON IN DIGITAL FORMAT HERE
Virtual Gratitude Wall
Use this information to help elementary school students learn amazing facts about turkeys, then pose this question to them: If you were a turkey, what would you be thankful for?
Possible answers:
I have my own personality and interests.
I can form a strong bond with my mom right after I hatch.
I can communicate with other turkeys using our own language.
I feel safe with my mother.
I enjoy spending time with my family.
I enjoy having my feathers stroked.
You can use a platform like Padlet to create a virtual gratitude wall page and have all students add to it.
ThanksVegan Zoom Background
Still working from home? Use this Zoom background to advocate for turkeys this Thanksgiving season! Encourage other educators and students to use these TeachKind backgrounds to spread the message of compassion far and wide, all year long.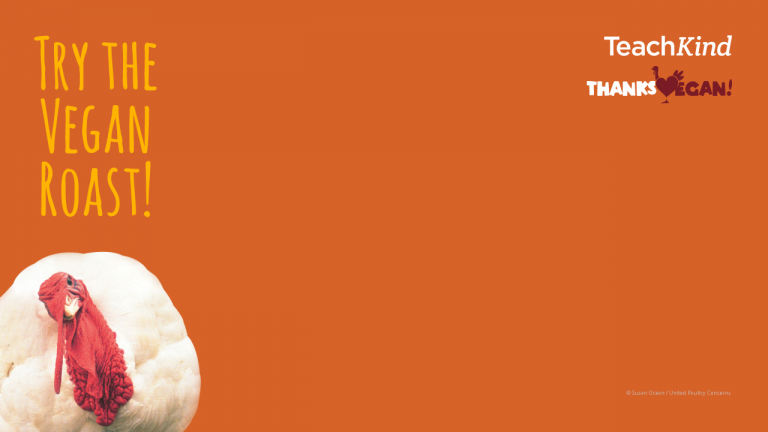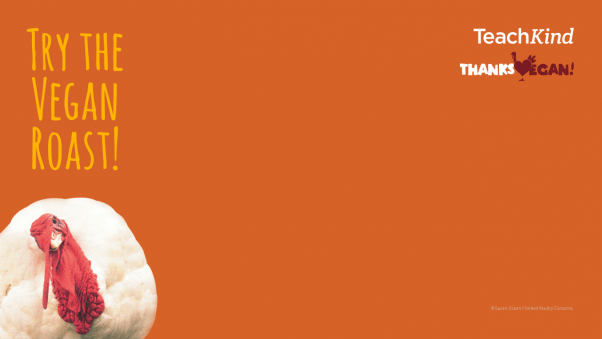 ThanksVegan Meal
Some TeachKind teachers encourage their students by challenging them to eat vegan for a period of time. The response from students and their families is usually overwhelmingly positive. So why not start with a holiday challenge? Share these recipes with students to help them plan a compassionate ThanksVegan meal.
December Activities and Lessons
TeachKind Rescue Stories: Christmas the Puppy's First Holiday
Meet Christmas, a dog who was found as a puppy by PETA Asia staffers on a remote island in the Philippines. He was lucky to receive treatment for a lice infestation and two wounds on his back—and now he's living his best life in a loving home where he doesn't have to struggle to survive. Use his story to teach your students the importance of adopting—not buying—animal companions and having them spayed or neutered. During difficult times like these, Christmas' story could also serve as an example of resilience for all students.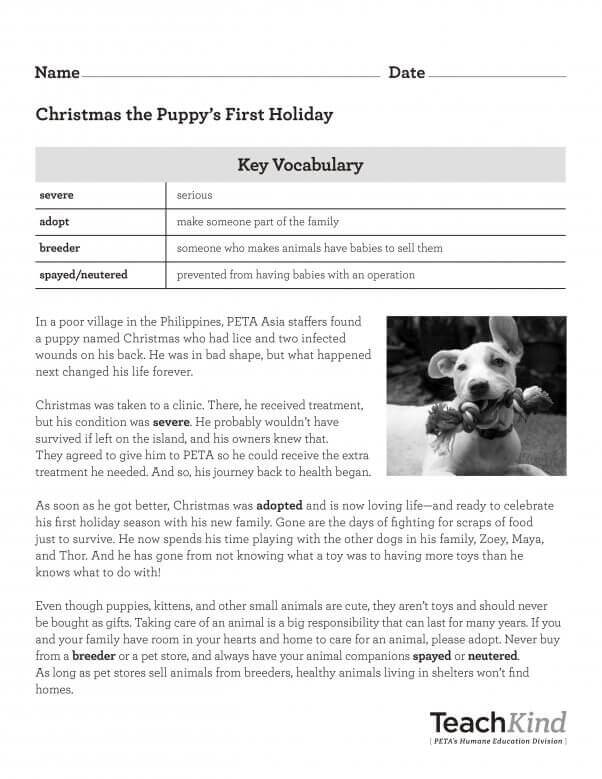 DOWNLOAD THIS LESSON IN DIGITAL FORMAT HERE
Animal-Friendly Dreidel
Help your students partake in games of dreidel in celebration of Hanukkah with these vegan chocolate gelt coins. You could also use individually wrapped chocolate treats by Enjoy Life. Explain that each of the four sides of the dreidel is inscribed with a letter of the Hebrew alphabet. The four letters form an acronym that can be translated to "A great miracle occurred there," which refers to the miracle of the cruse of oil. When someone rolls "nun," their turn is over and the person to their left rolls. When "gimel" is rolled, that person gets to take every coin in the pot. When "hei" is rolled, that person gets to take half the coins in the pot. Finally, when "shin" is rolled, that person has to put in a coin in the pot. Take a moment to let students know that many favorite holiday dishes and treats can be made vegan.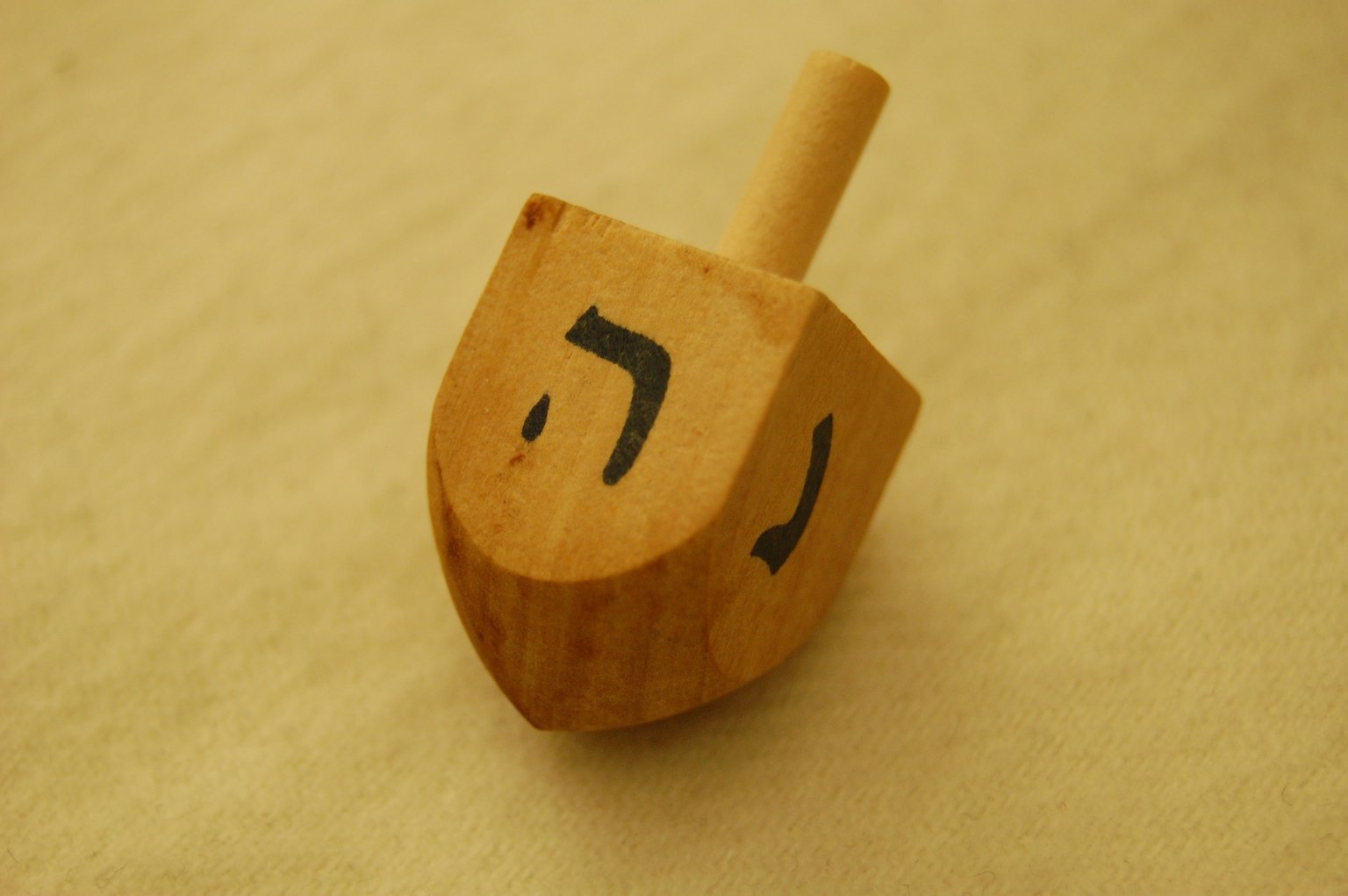 To get more animal-friendly inspiration for celebrating Hanukkah with your students, check out this helpful PETA Kids guide!
Amazing Arctic Animals Printable Mini Book and Activity
An elementary school classroom wouldn't be complete without a wintertime unit on Arctic animals. These animals are fascinating to students because of their astonishing adaptations and ability to survive in very cold habitats. Unfortunately, many otherwise great units on Arctic animals fall flat because they lack the key element of a humane lesson—they don't teach about the problems faced by these animals or how kids can help.
Addressing these issues in lessons is crucial because it encourages students to develop empathy for the animals, which can expand into empathy for all sentient beings. Use TeachKind's popular lesson in your Arctic animals unit this year and see how eager to help your students will be!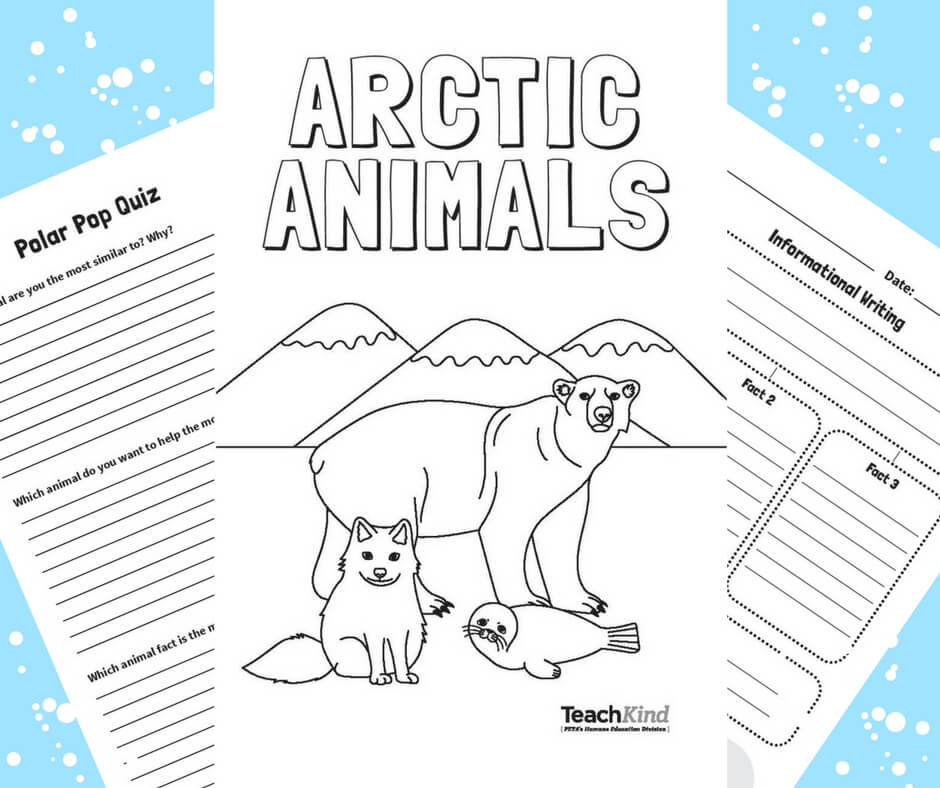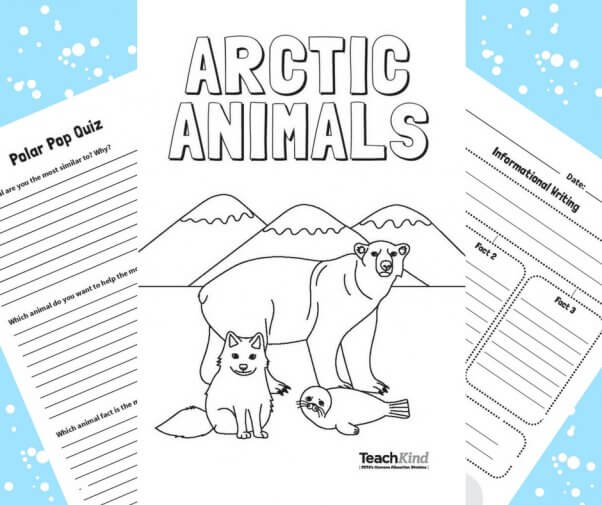 DOWNLOAD THIS LESSON IN DIGITAL FORMAT HERE
New Year Activities and Lessons
50 Small Yet Impactful Acts of Kindness for Animals
Help students start the new year off right with a week full of kind deeds! Check out our 50 Small Yet Impactful Acts of Kindness for Animals, or e-mail us at [email protected] for more ideas.
What Winter Is Like When You're a 'Backyard Dog'
The following activities are designed to teach students about the lives of chained and penned dogs and to offer them ways to help these animals. The activities are perfect to use in conjunction with or as an introduction to the Change for Chained Dogs fundraiser.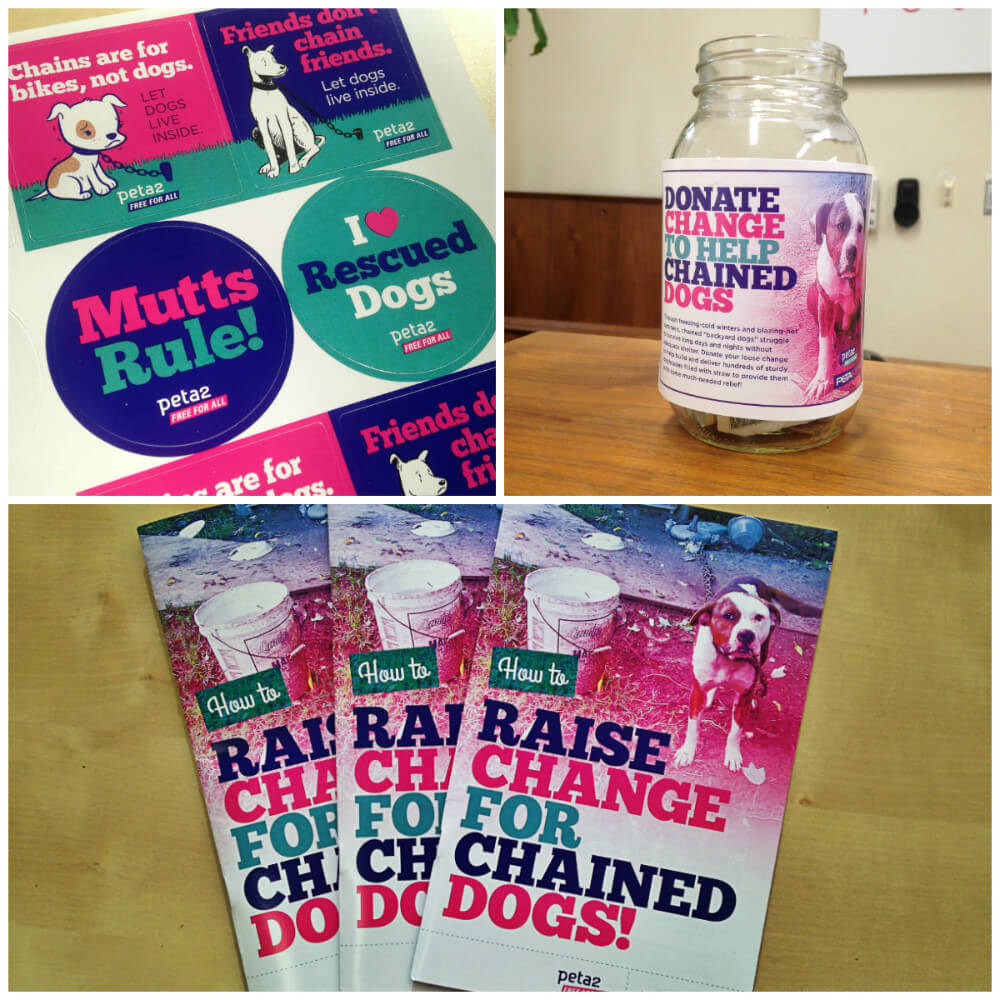 *****
Like these ideas? Please share them to help inspire other teachers to incorporate compassion for animals into their lessons!
Be sure not to miss the latest in humane education. Fill out the form below to sign up for TeachKind News:
By submitting this form, you're acknowledging that you have read and agree to our privacy policy and agree to receive e-mails from us.