Published by .
You know better than to go to a roadside zoo, an aquarium, or any of these highway hellholes. So where should you go?
We've got good news for you! There are tons of animal-friendly activities out there, so you can have the best and most compassionate vacation ever.
1. Animal Sanctuaries Accredited by the GFAS
The Global Federation of Animal Sanctuaries (GFAS) has rigorous standards of sanctuary management and animal care. GFAS-accredited animal sanctuaries never breed animals or use them in commercial activities. Some of the member sanctuaries provide educational tours, but not all of them do, so if you're interested in visiting one with tours, please check before you go.
2. Animal-Free Circuses
Thankfully, animal-free circuses such as San Francisco's off-the-wall Circus Finelli and Cirque du Soleil provide cruelty-free spectacles for us to behold. Check out our entire list of animal-free circuses.
3. Water Parks
Water parks are pretty much the perfect family vacation destinations. Parents can take a dip, read, and picnic while the kids go crazy on the slides.
4. Snorkeling or Scuba Diving
If underwater life piques your interest, there's no need to impale fish on a hook to see these fascinating animals up close. Snorkeling and scuba diving are excellent ways to experience a huge variety of tropical or freshwater fish, sea turtles, eels, rays, and other animals in their home, on their own terms.
5. Botanical Gardens and Parks
Even on a trip, you can have a picnic lunch and spend an hour or two at a park or green space, where you can observe wildlife such as birds, squirrels, chipmunks, and many other animals. Click here for some decadent vegan picnic ideas. Or you can immerse your senses in a botanical garden or conservatory, where you can see, smell, and touch plants from around the world.
6. Animal-Free Theme Parks
Theme parks such as The Adventuredome feature many thrilling activities: roller coasters, laser tag, miniature golf, bumper cars, midway booths, an arcade, clown shows, and more.
7. Camping With Your Dog
If done right, camping can be a blissful experience for both you and your companion animal. Here are some tips for having a super-successful vegan camping trip.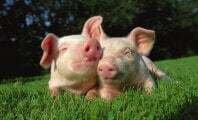 Order Your FREE Vegan Starter Kit