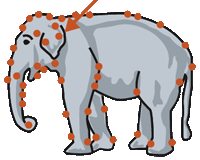 Check for signs of bullhook wounds, scars, or dry, peeling skin. Bullhook injuries are typically behind the ears. Ask the handler to fold the elephant's earflaps forward, and look for bullhook wounds. An elephant's skin is extremely sensitive and bleeds easily. Circuses use bullhooks to punish and control elephants. Trainers often embed the hook in the soft tissue behind the ears, inside the ear or mouth, in and around the anus, and in tender spots on the trunk, under the chin, and around the feet. Some bullhooks are discreetly designed to also serve as electric prods—one end has a sharp, metal hook, and the other end has hidden prongs that deliver an electrical current.
A powder called Wonder Dust is used to conceal bloody bullhook wounds. Within hours of being punctured by a bullhook, a welt or boil may erupt. The wound may grow larger if it becomes infected. Heavy blows can result in tissue damage that will cause the skin to die and slough off.
While performing in the ring, an elephant responds to verbal commands from a trainer carrying a bullhook and moderate pressure from the bullhook because the elephant has been conditioned through violent training sessions to know that refusal to obey in the ring will result in severe punishment later. Moments before entering the ring, while out of public view, trainers may give the elephants a few painful whacks to remind them who's boss and ensure that the elephants perform the specified tricks on command.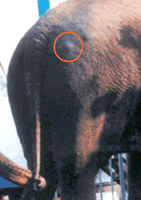 An elephant with hook boils.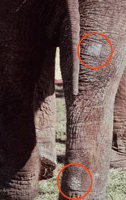 Lighter gray spots are applications of Wonder Dust, which is used to conceal bloody wounds. These areas on the hind legs are where trainers hook and poke elephants to make them move forward faster.