What do dogs kept on hot roofs, bulls slated to be slaughtered for "tradition," Lolita the orca, and sheep used for wool sold by Forever 21 have in common? PETA Latino has their backs—and then some. Since its launch in 2013, the group has put animal rights on the Latinx community's map.
What Is PETA Latino?
PETA Latino is a PETA outreach division that serves as a resource to Spanish-speaking communities in the U.S. and Latin America.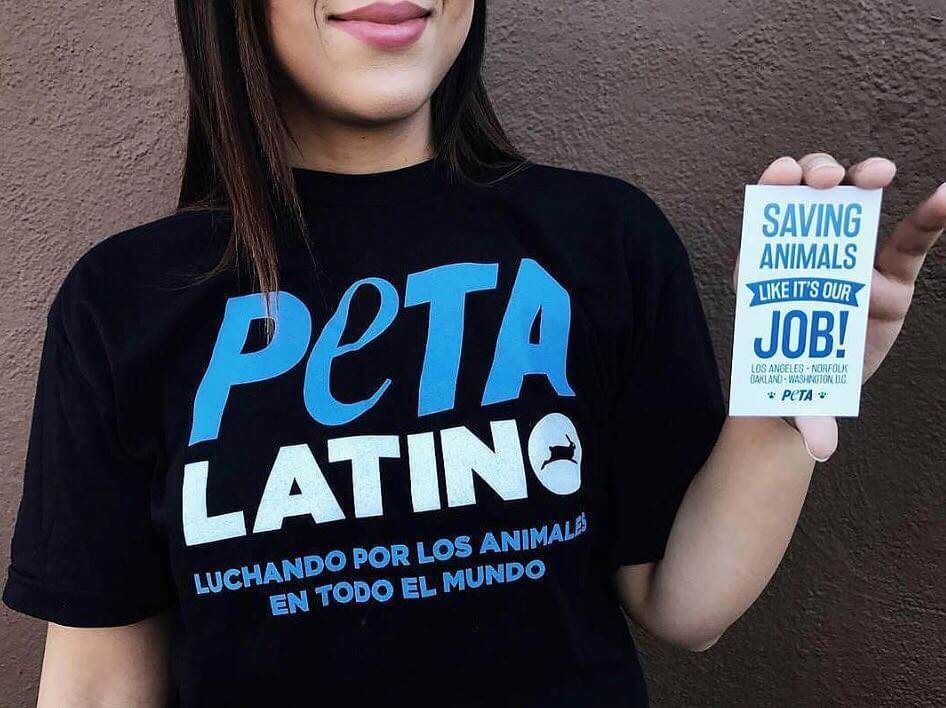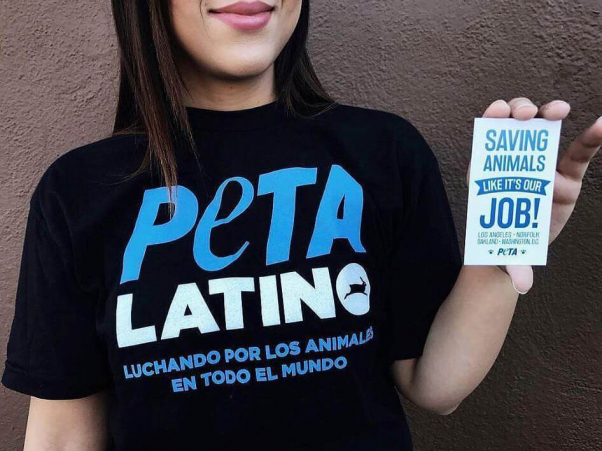 And while PETA Latino focuses much of its efforts on campaigns specific to Latin America, it helps fuel all of PETA's campaigns—PETA victories are PETA Latino victories. The division's outreach and its work to champion animal rights have been successful thanks to its massive social media presence and impact, colorful demonstrations, engaging action alerts, and partnerships with compassionate Latinx stars.
Stay Up to Date! Subscribe to PETA Latino News
Do You Follow PETA Latino?
You'll find PETA Latino on Facebook, Twitter, and Instagram, where it has more than 4 million followers combined. On Facebook, its video showing crocodiles in Vietnam being cut open and skinned for "luxury" leather bags has garnered more than 17 million views. A PETA Latino original video urging people to stop eating pigs on Nochebuena (Christmas Eve) has received more than 4.5 million views, and more than 115,000 people signed the division's pledge to leave pigs off their plates during the holiday.
Forever 21 likely rues the day PETA Latino joined Instagram. As part of a PETA-wide campaign to persuade the company to drop wool, PETA Latino has given Forever 21's Mexico Instagram account a run for its money. The division and its supporters have inundated the account's posts with #DropTheWool comments, and a few celebrities—including Victor Drija, who spoke out against cruelty to animals—have joined in.
Over on Twitter, #FrasesProhibidasPorPETA (#PhrasesBannedByPETA) was the top trending topic in Mexico in December 2018. Just as PETA did with English animal-friendly idioms, PETA Latino encouraged Spanish speakers to ditch speciesist phrases that normalize violence (agarrar el toro por los cuernos or "grab the bull by the horns") in favor of kinder language (agarrar la flor por las espinas or "grab the flower by the thorns").
Las palabras son importantes y a medida que nuestra comprensión de la justicia social evoluciona, nuestro lenguaje evoluciona junto con ella. Aquí explicamos cómo eliminar el especismo de tus conversaciones diarias. pic.twitter.com/rbObw3iDsJ

— PETA Latino (@PETA_Latino) December 10, 2018
Speaking of Bulls …
Thanks to PETA Latino, condemnation of cruel and deadly bullfighting is only growing in the Latinx community. The Mexican states of Coahuila, Guerrero, and Sonora have imposed bans on the so-called "sport," and—after PETA Latino and its supporters spoke out—Quintana Roo banned bullfighting, too, as well as cockfighting and horse-drawn carriages.
¡Victoria! 🎉 Después de estar 152 días congelada, #QuintanaRoo ha publicado la Ley de Bienestar Animal. Por lo que a partir de mañana entrará en vigor, quedando ILEGALIZADAS las corridas de toros en dicho estado. Gracias @CarlosJoaquin por dar este paso. https://t.co/NvYOhVPmyQ pic.twitter.com/pyJvNpXZmn

— PETA Latino (@PETA_Latino) November 25, 2019
PETA Latino has let countless people know that dogs are kept on rooftops across Latin America. "Out of sight, out of mind," dogs on roofs are forgotten and abandoned, forced to eat, sleep, and defecate within one filthy little space. In many cases, the owners tire of caring for them and don't provide them with adequate food, water, or veterinary care. PETA Latino gives community members information on actions to take if they spot a dog on a rooftop and urges everyone to treat dogs as part of the family. And the division's work is paying off: Thousands have signed PETA Latino's petition promising never to leave their dog outdoors.
Celebrities Love PETA Latino
PETA Latino loves them for their outspokenness, too. The division has partnered with celebrities like comedian and actor George Lopez, who—alongside his adopted dog, Owen—reminded the world that "'fixing' animals is chingón" and that spay/neuter surgeries save lives.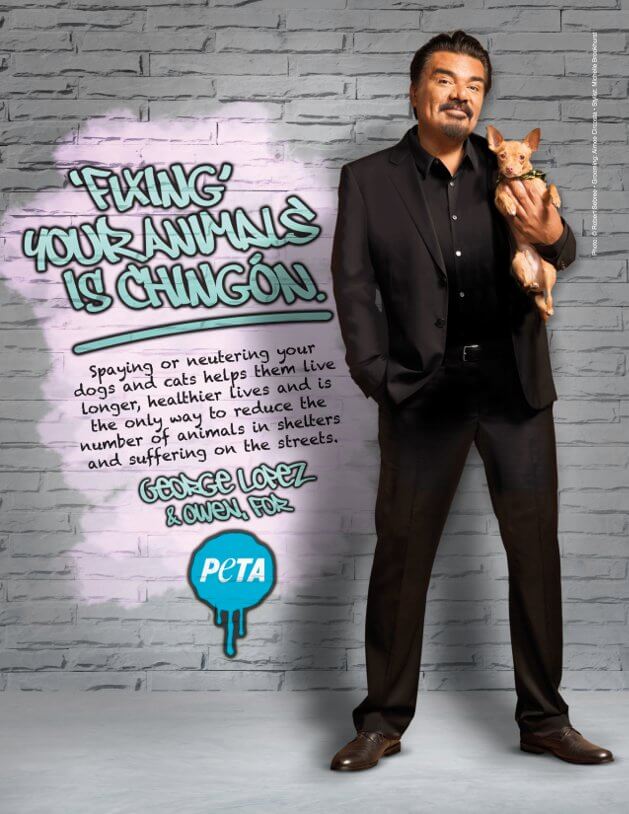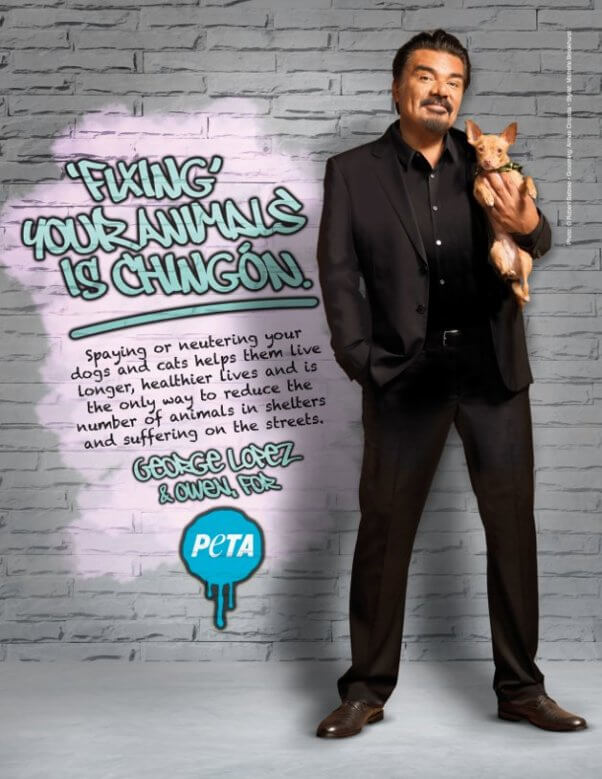 Model and actor Carmen Carrera also joined PETA Latino in an exclusive video, boldly baring all to draw attention to the suffering endured by animals caged and killed for their fur—and to encourage her followers to "transform their wardrobes" by going fur-free.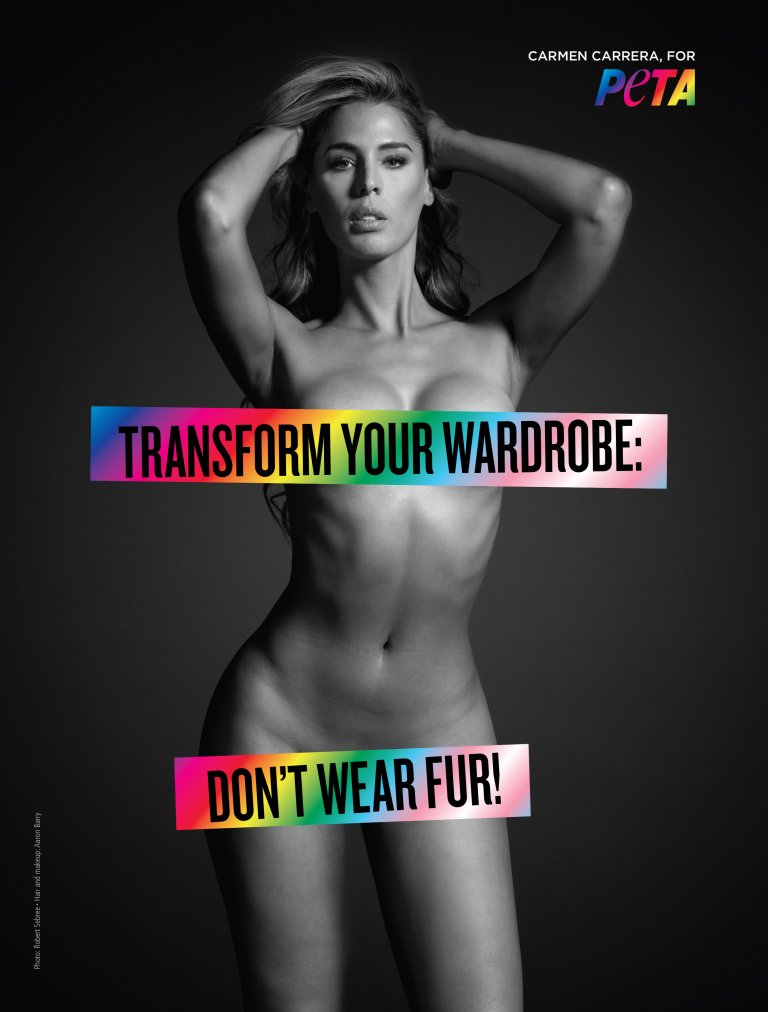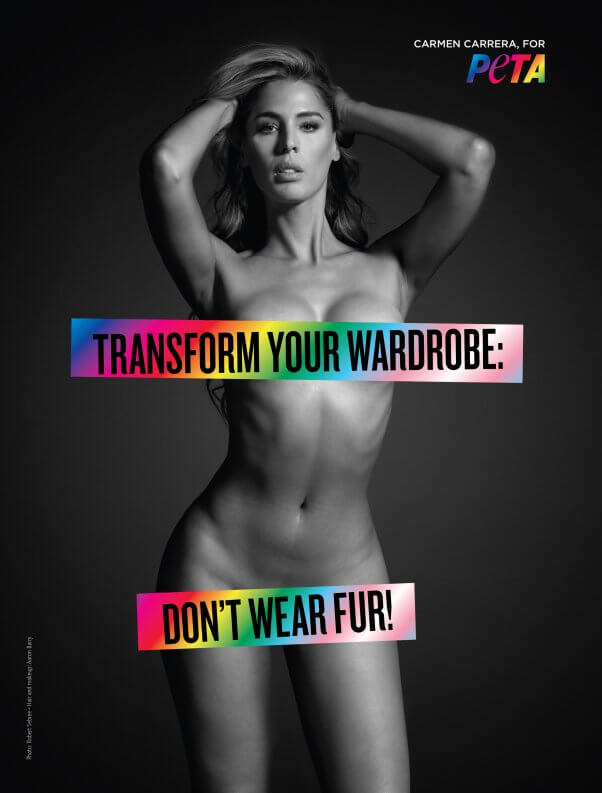 Nicholas Gonzalez teamed up with PETA Latino, too, to compel guardians to "be [their] dogs' best friend." "Don't chain or crate them," the ad read. "They wouldn't do that to you. Please don't do that to them." The actor, who's known for portraying Dr. Neil Melendez in The Good Doctor, also told fans, "I think it's really important to adopt."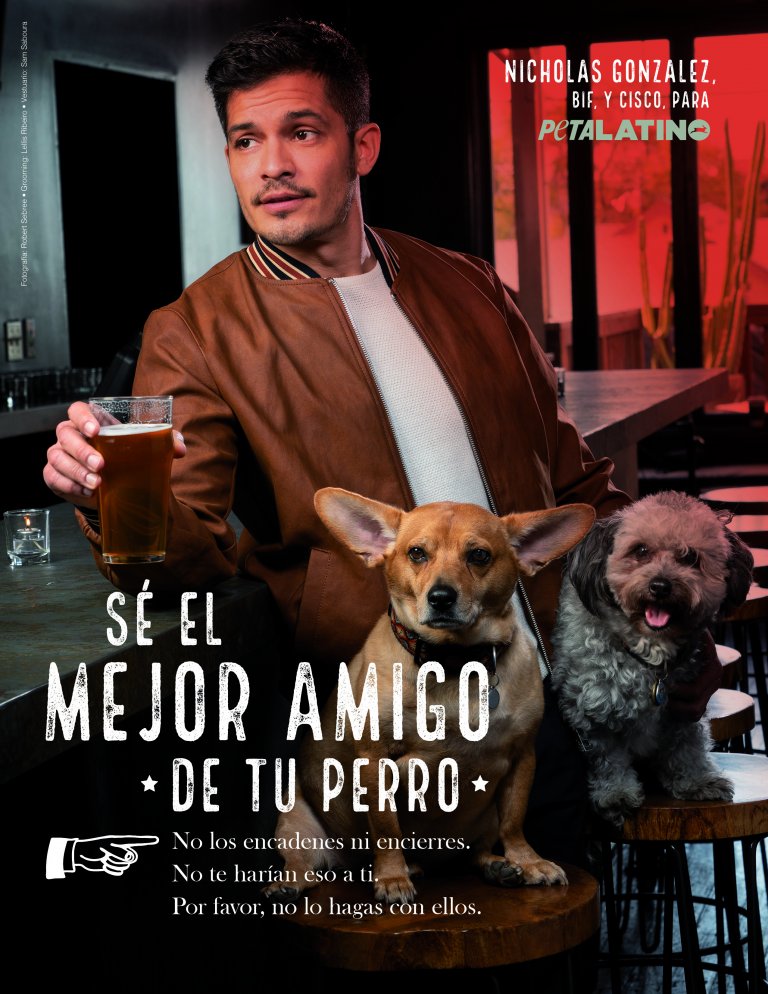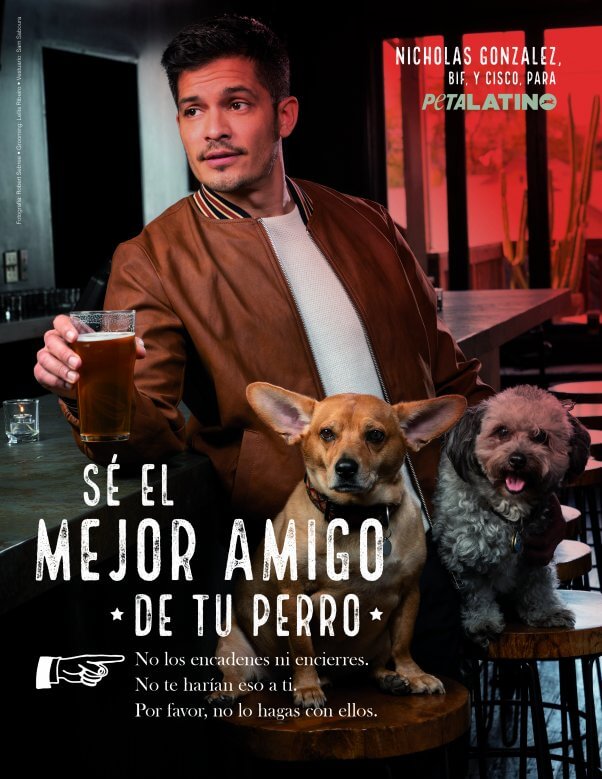 Takin' It to the Streets
Here at PETA, we're known for hosting head-turning protests, and PETA Latino is no exception. In Bogotá, Colombia, activists holding signs and sheared "sheep" caught the attention of passersby, urging them and Forever 21 to stop using and buying wool stolen from sensitive animals.
Just days later (one month after news of the fires in the Brazilian Amazon rainforest caught global attention), PETA Latino traveled to Medellín to join other activists and vegan model Kathy Moscoso in urging onlookers to go vegan—for animals, their own health, and the planet.
At many PETA demonstrations, PETA Latino is a prominent presence—such as when we gathered together in Los Angeles to urge district attorney Jackie Lacey and her office to investigate the deaths of horses at Santa Anita racetrack (which she did) …
… and when we pressed Smithfield Foods to start doing right by all sentient beings, including its employees (many of whom are Latinx) …
… and basically anytime we put SeaWorld on blast.
¡Ay, dios mío, the Vegan Latin Food!
One easy part of PETA Latino's job is touting delicious vegan Latin food—from vegan pozole in Mexico to meatless carbonada in Argentina to animal-free croquetas here in the U.S. To celebrate National Hispanic Heritage Month, PETA and PETA Latino highlighted the top 10 Latinx-owned vegan restaurants nationwide, including Calaveritas in Atlanta, Mama's International Tamales in Los Angeles, and The Cocinita in Miami.
PETA Latino understands that food and cooking bring people together—which is why the division spotlights the ease of putting vegan twists on classic Latin dishes, including via special events. In 2019, it hosted an event called "Food Fight: Empanadas Edition," in which six of the top vegan chefs in Los Angeles battled it out to see who made the best empanada. The vegan chilaquiles cook-off of 2017 was a success—stars Kate del Castillo, Alicia Machado, Daniella Monet, and Marco Antonio Regil judged the cooking competition, which was PETA Latino's first one.
ICYMI: Vegan #Instagram influencers whipped up vegan chilaquiles in a #FacebookLive cook-off! https://t.co/TJGLKCXZLw pic.twitter.com/SCm1MC2wZG

— PETA (@peta) October 27, 2017
PETA Couldn't Do What It Does Without PETA Latino
PETA Latino is an indispensable resource for Latinx people looking to make kinder choices for animals. In 2017, roughly 393,000 people signed its action alerts—that number skyrocketed in 2018 and again in 2019. Clearly, as is the case with PETA, PETA Latino's supporters can largely be credited with its success. So join them and us in supporting the division's work to stop animal abuse worldwide: