After adopting a pig at the age of 14, next-level activist Olivia Head realized that there are so many more animals like Tee who need a place to call home. Thanks to her background in farming (and the fact that she's super-savvy), Olivia, who's now 17, had the competence and confidence as well as the space to create a safe haven for unwanted animals. In 2017, she founded Oinking Acres Farm Rescue & Sanctuary—a Brownsburg, Indiana, nonprofit devoted to rescuing animals, including ducks, goats, and pigs.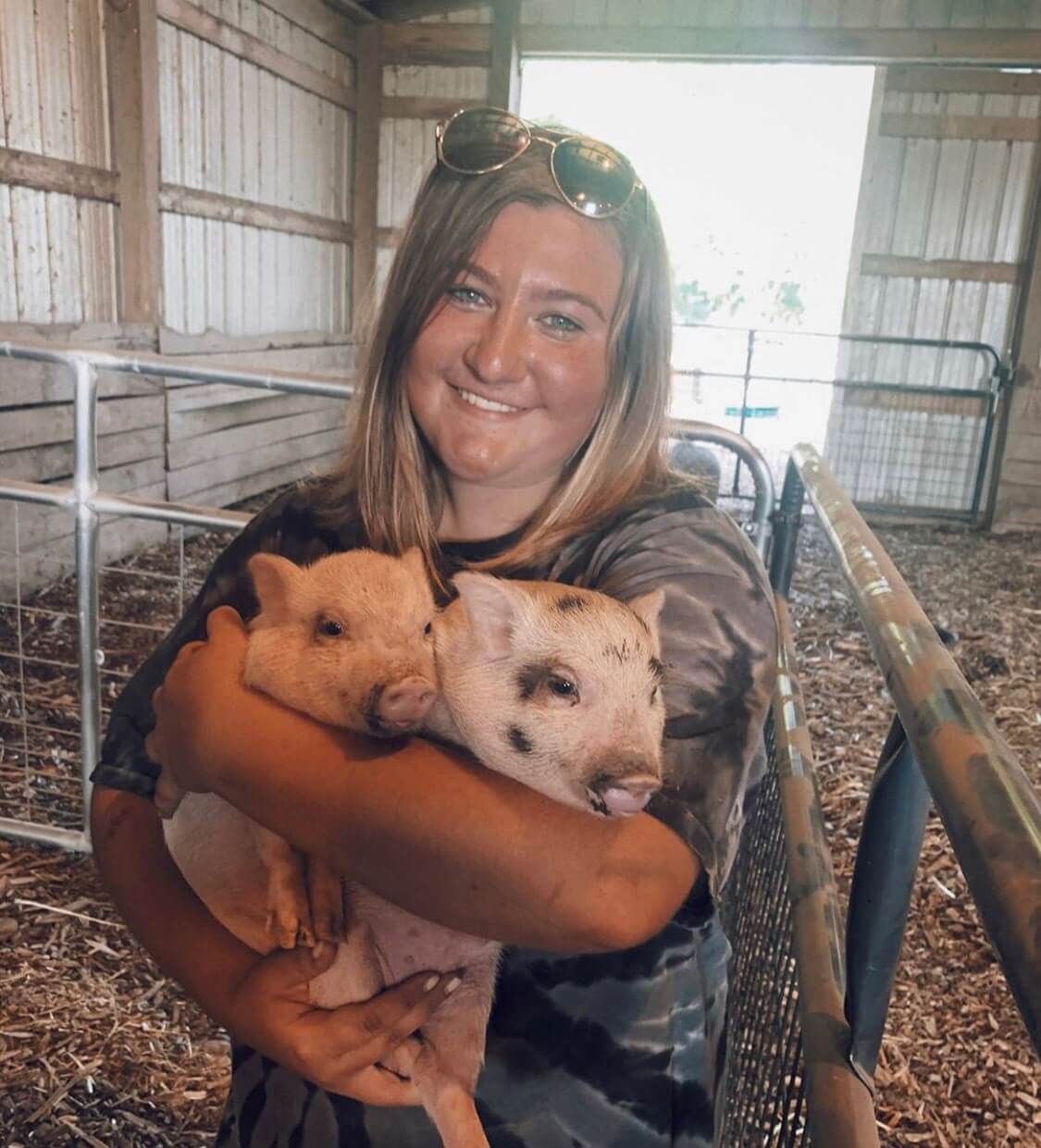 Oinking Acres Has Saved Hundreds of Animals
Olivia took action when she learned that a huge number of pigs are purchased on a whim and then abandoned when their owners realize that they're not up for taking care of a 120- to 200-pound responsibility. That's what compelled Olivia to team up with her mom, her sister, and a pair of devoted volunteers to start the sanctuary—which, in 2019, was home to 133 animals, including 79 pigs, 58 of whom were placed with loving guardians. Since its inception, Oinking Acres has rescued 224 neglected and abandoned pot-bellied pigs and found homes for 158 of them.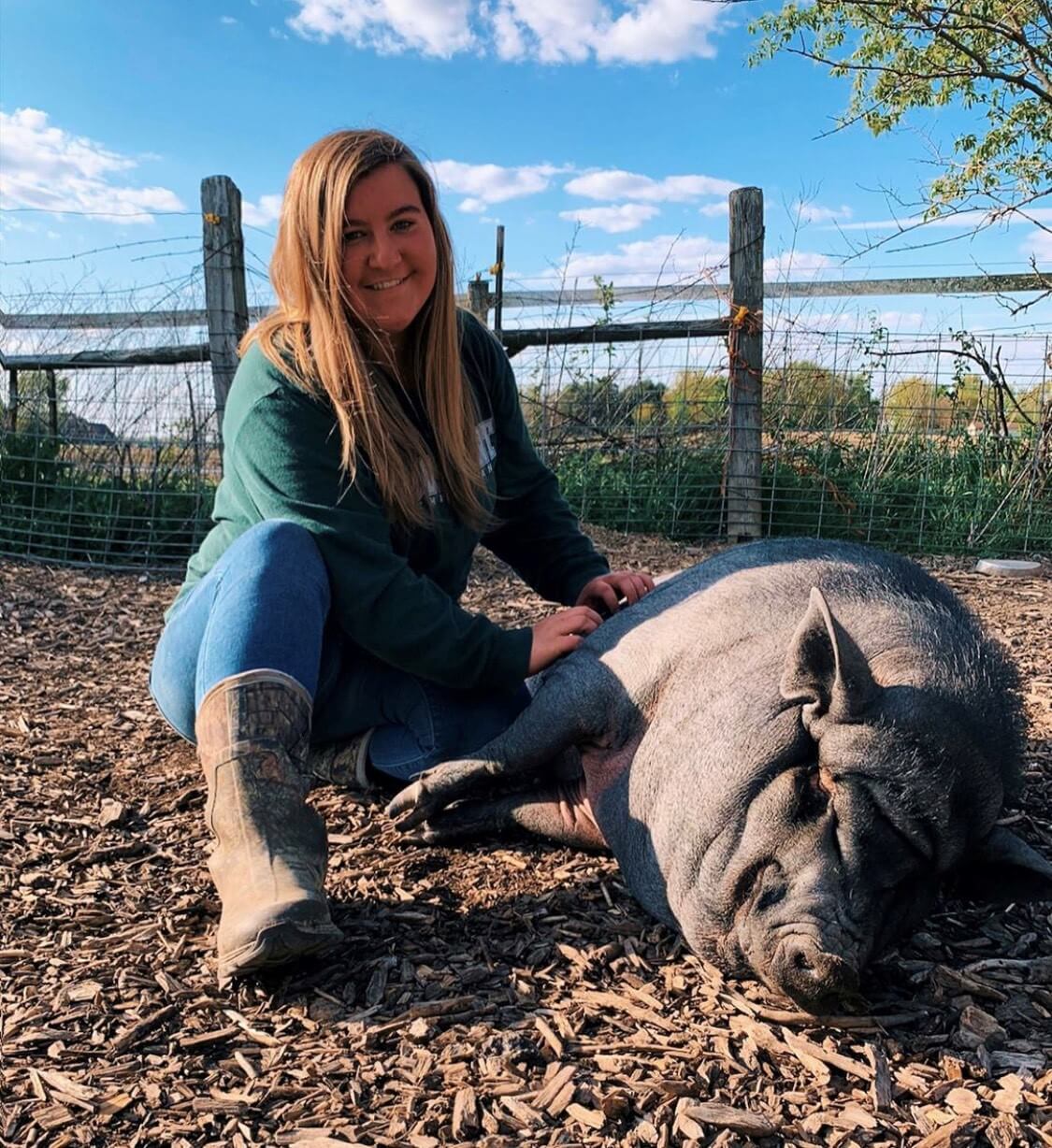 Why There Are So Many Homeless Pot-Bellied Pigs
When people fetishize "teacup pigs" (which is a deceptive label, not a breed that actually exists) and buy them without considering that these cute baby animals are sentient beings who will grow larger and require round-the-clock care and affection, their sense of accountability is discarded—along with the pigs. Left to clean up the mess are kind people like Olivia, who passes up weekend getaways and other vacations in order to dedicate all of her time to the animals relying on her.
If Olivia had her way, there would be no need to rescue pigs in the first place. "I wish these animals weren't bought. I wish they were not overbred and I wish they were not discarded as easily or commonly as they are," she said.
PETA Is Awarding Olivia for Her Remarkable Work at Oinking Acres
Olivia considers this path to be her calling and plans to stick with it. Her goal is to change the world—one pig, goat, chicken, and duck at a time—while spreading love and kindness wherever she goes. Activists of all ages can look up to her as a leader and be inspired by her commitment to helping animals.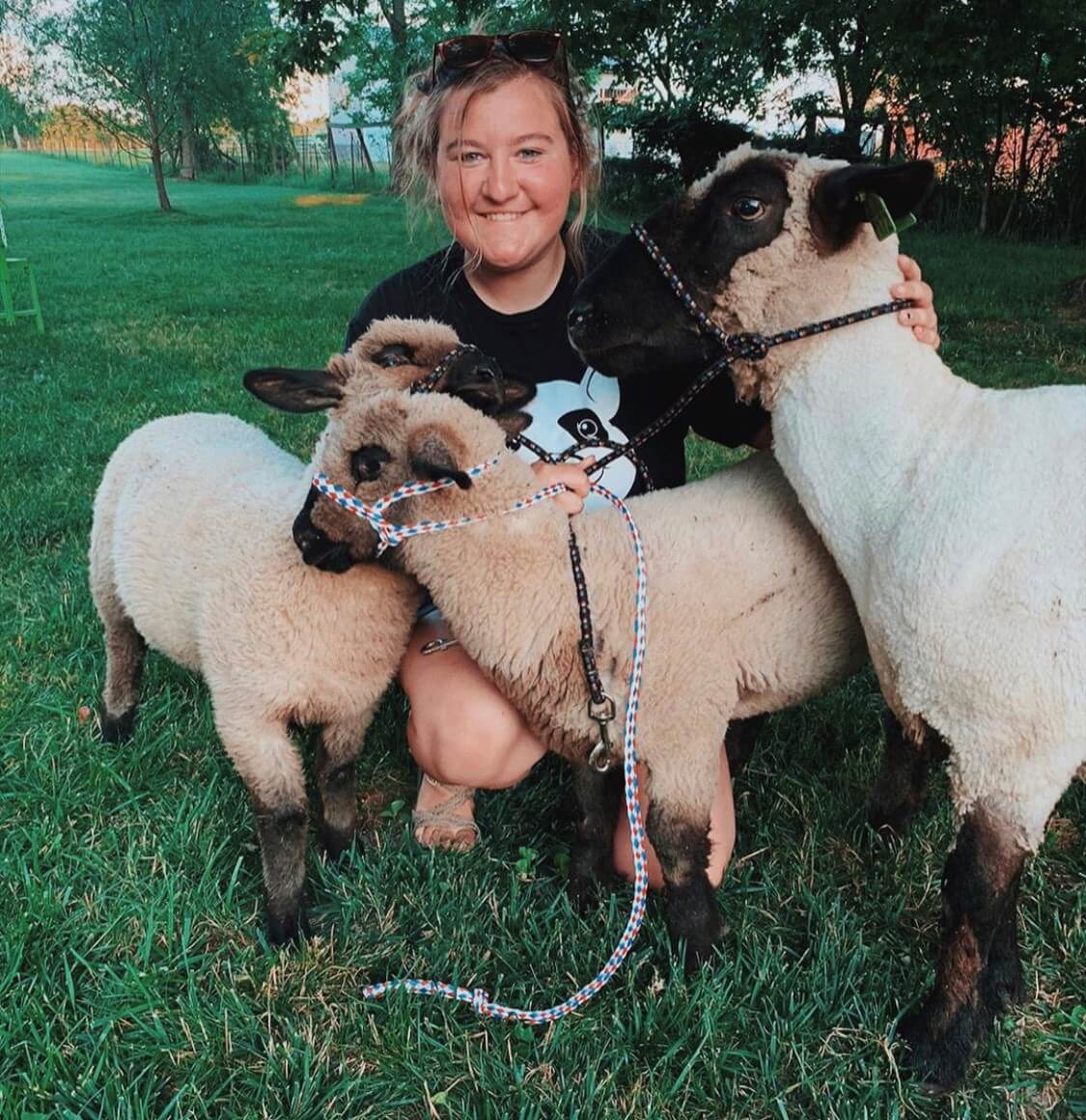 Describing her as a hard worker with a huge heart would be a serious understatement, and that's why we're giving her our Hero to Animals Award. We're blown away by her capacity for compassion and all that she has accomplished at such a young age.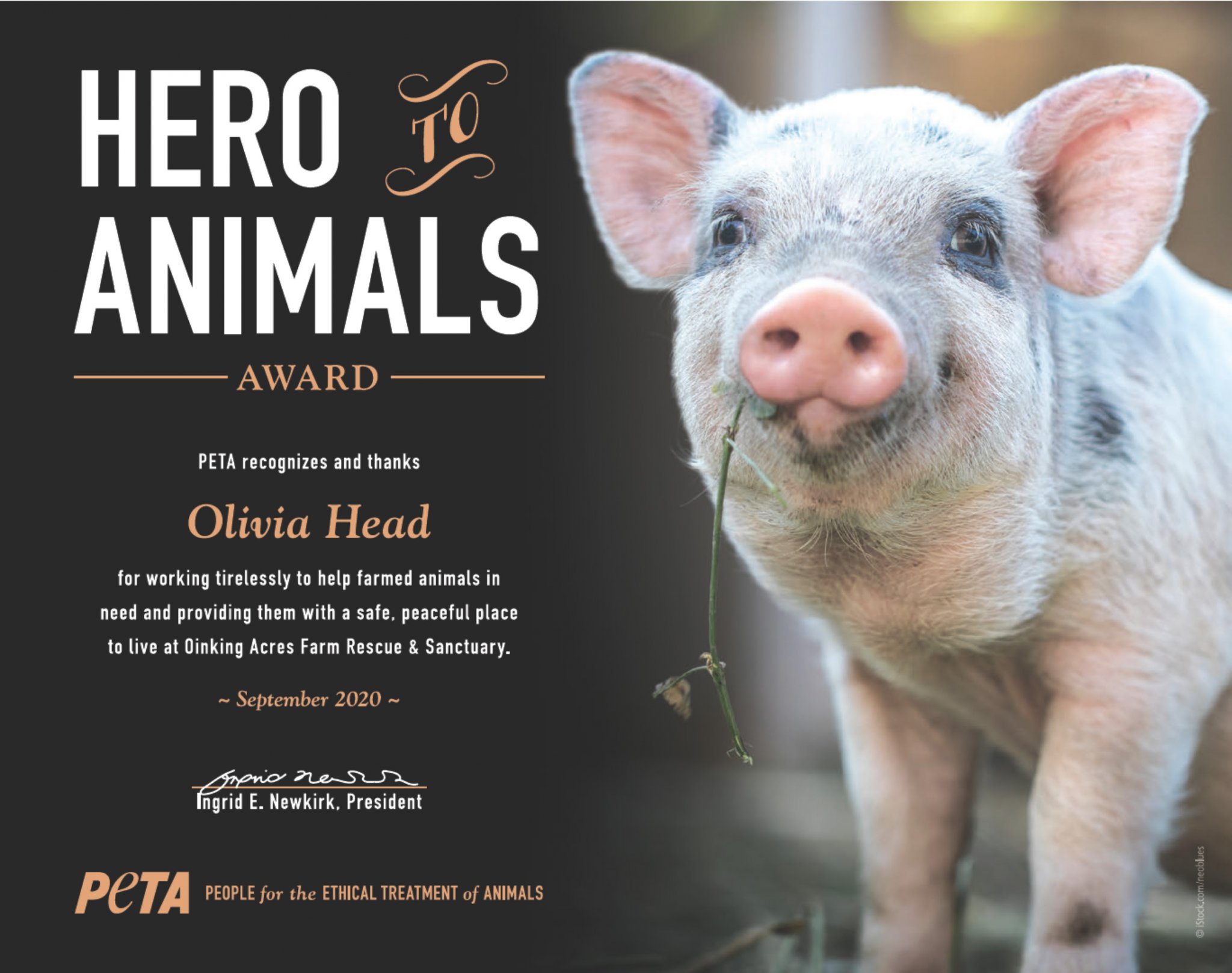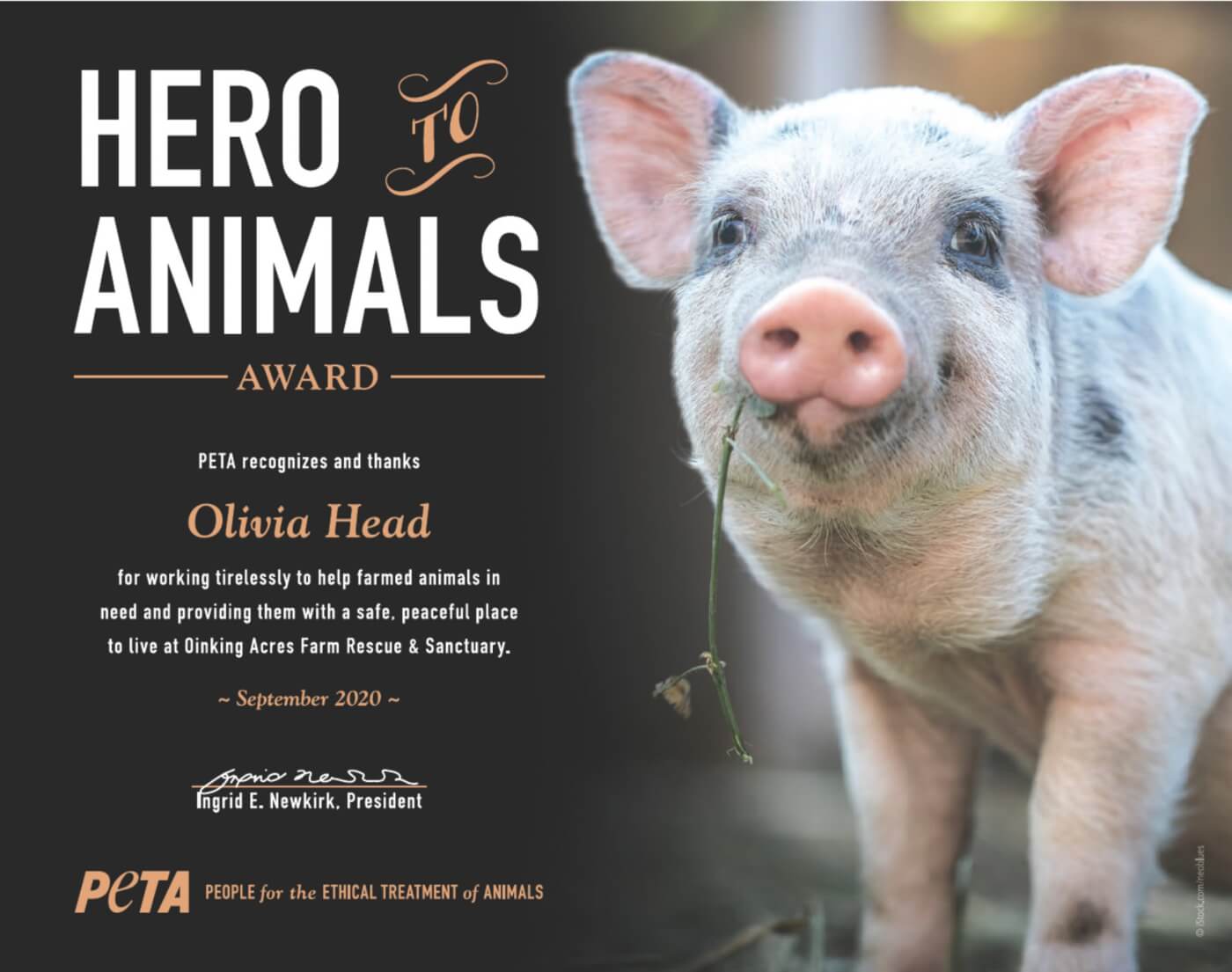 Olivia's Message
She says that working closely with animals has allowed her to develop a deep connection with them—and she could never imagine viewing them as tools for experiments, food, clothing, or entertainment. She wants the world to know that farmed pigs are just as smart and sensitive as the pot-bellied ones who share people's homes and that no pigs want to spend their life in a dark, filthy shed, only to be slaughtered.
"The best advice I can give is do not let anyone underestimate what you're capable of because of your age. Also, be kind to one another and build each other up so that we can all … work together to be a voice for [animals]."

—Olivia Head
Olivia urges everyone to stop eating pigs and instead learn about them and recognize that they are intelligent—possibly even smarter than dogs—and deserving of respect and consideration.