Growing up, most of us were taught some basic rules for how to treat our friends: Share, play nicely, and be kind. And we were definitely told not to hit, kick, yell at or leave our friends outside in the blistering heat or freezing cold.
In a new PETA ad campaign actor Nicholas Gonzalez wants you to be your dogs' best friend, and asks: if you wouldn't do these things to your best friend – why would you do that to your dog?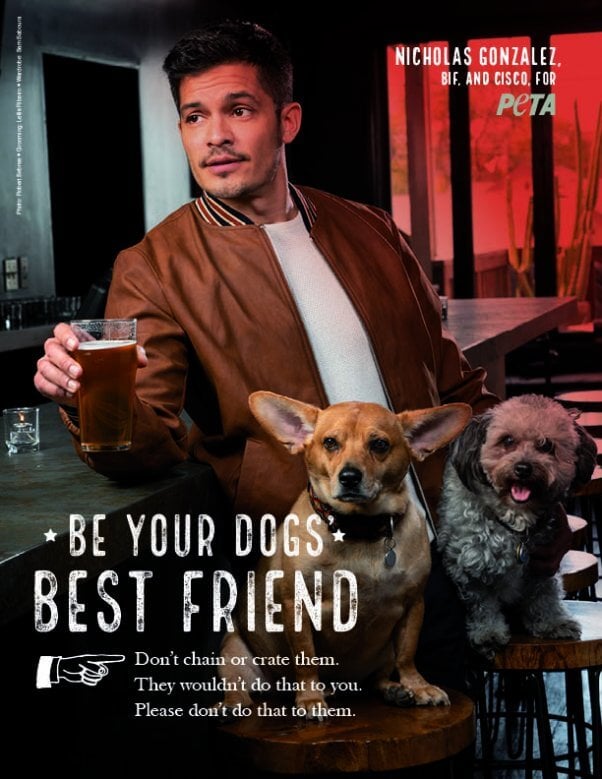 In the campaign video, Nicholas stresses the importance of treating dogs like the family members they are—and that means keeping them indoors. "Sometimes it's really hot or it's really cold out there, and dogs aren't meant to just live [outside]," he says. "They're meant to be a part of the family and be inside and share your hearth and share the air conditioning when needed. Dogs like to be treated just like everyone else."
Nicholas is best known for his roles as Alex Santiago in the Showtime series Resurrection Blvd. and Dr. Neil Melendez in ABC's The Good Doctor. And doctor's orders—according to Nicholas—are to treat your animal companions as you would your best friend. It all starts with adoption.
"I think it's really important to adopt. There's so many dogs that are waiting for a good home and waiting to be loved," Nicholas says. His adopted dogs Bif and Cisco are his adorable campaign costars and a part of his family's pack of rescued animals.
Looking for your new best friend? Head over to your local open-admission animal shelter, where you'll find many dogs, cats, and rabbits of all backgrounds who would love to join your family. And find out how you can take action the next time you see a dog chained outside: