Vegan influencer, actor, and "America's mom" Tabitha Brown has made vegan go viral in 2020—and PETA is crowning her our Person of the Year!
The queen of TikTok inspires millions to have compassion toward all sentient beings by showing the world how to create healthy, delicious vegan meals. If you're unfamiliar with Tabitha, stop everything now and check out one of her many social channels—she currently boasts over 9 million followers across TikTok, Instagram, and Facebook. (Seriously, we'll wait. No one should spend another second without this woman's smile in their life!)
"I love people and animals so my mission is to get people healthier by not eating animals or animal products. The more people I get to try a vegan lifestyle, the more animal lives I save in the process! It's a win-win."

—Tabitha Brown to Chowhound
How It Started
Tabitha went vegan several years ago, after her daughter, Choyce (an influencer in her own right), urged her to watch Netflix's documentary What the Health. After noticing the positive impact that eating vegan had on her health, Tabitha started sharing her experience—and her mouthwatering recipes—with the world. From her viral video review of Whole Foods' TTLA (tempeh bacon, tomato, lettuce, and avocado) sandwich to her vegan mac 'n' cheese recipe, the internet took notice of her infectious joy and tasty animal-free concoctions.
Her carrot bacon recipe has nearly 20 million views on TikTok and has inspired everyone from the Food Network to Good Morning America to share the recipe and promote an alternative to eating pigs.
How It's Going
This has been the year of Tabitha Brown. She was featured in The New York Times, Vogue, Harper's BAZAAR, and Bustle and on NPR, and she signed with a major Hollywood agency. We're thrilled about her success and that her message of eating vegan and helping animals has been amplified to millions around the world.
From her simple recipes to her words of encouragement and positive nature (she compares potato wedges to a warm hug, and she's not wrong), Tabitha is showing the world that going vegan is not only easy but also fun! She's dedicated to making eating vegan accessible, reminding fans that there is not one "type" of person or community eating vegan but that it's a way for everyone to live kindly—for animals, the environment, workers' rights, and our own health.
"If you got somebody's heart, baby, you got their ear," Tabitha told BuzzFeed. "And if you get their ear, honey, then they can get laughter, and that's what I bring."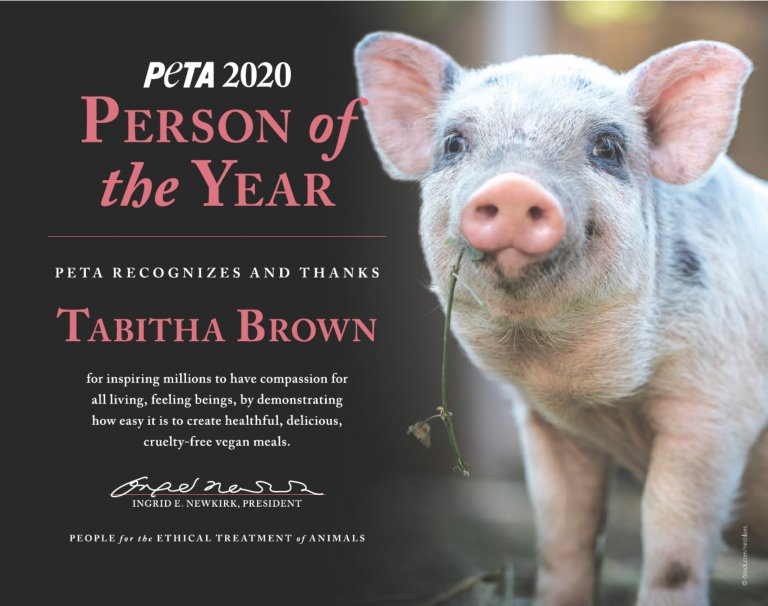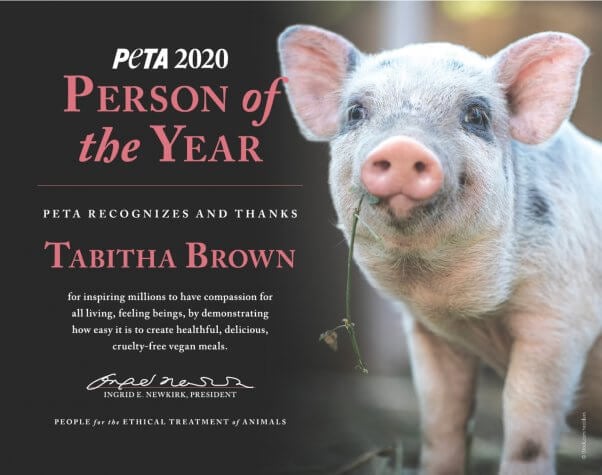 *****
Did you know that by going vegan you can help spare the lives of nearly 200 animals a year? This includes animals like pigs—who enjoy listening to music, getting massages, and even playing video games—and cows, who communicate with each other by using very subtle facial movements. If you need help getting started, order a free vegan starter kit!