Ryan Eggold's beloved character on New Amsterdam, Dr. Max Goodwin, is known for stopping at nothing to give his patients the care they deserve—so naturally, Ryan has followed in his alter ego's footsteps and has stopped at nothing to give his dog, Jody, the love she deserves. Check out their uplifting story in Ryan's debut PETA campaign.
"Dogs just become part of the family so quickly. They're in your family photos. They sleep with you at night," said Ryan on set with his family.
Dogs are highly social animals who long to live with, love, and be treasured by their human families. They deserve a lifetime of attentive care and proper companionship. An estimated 70 million homeless dogs and cats are looking for that companionship every day—that's why Ryan and PETA are telling everyone to adopt companions from reputable animal shelters and never buy them from pet stores, breeders, or anywhere else.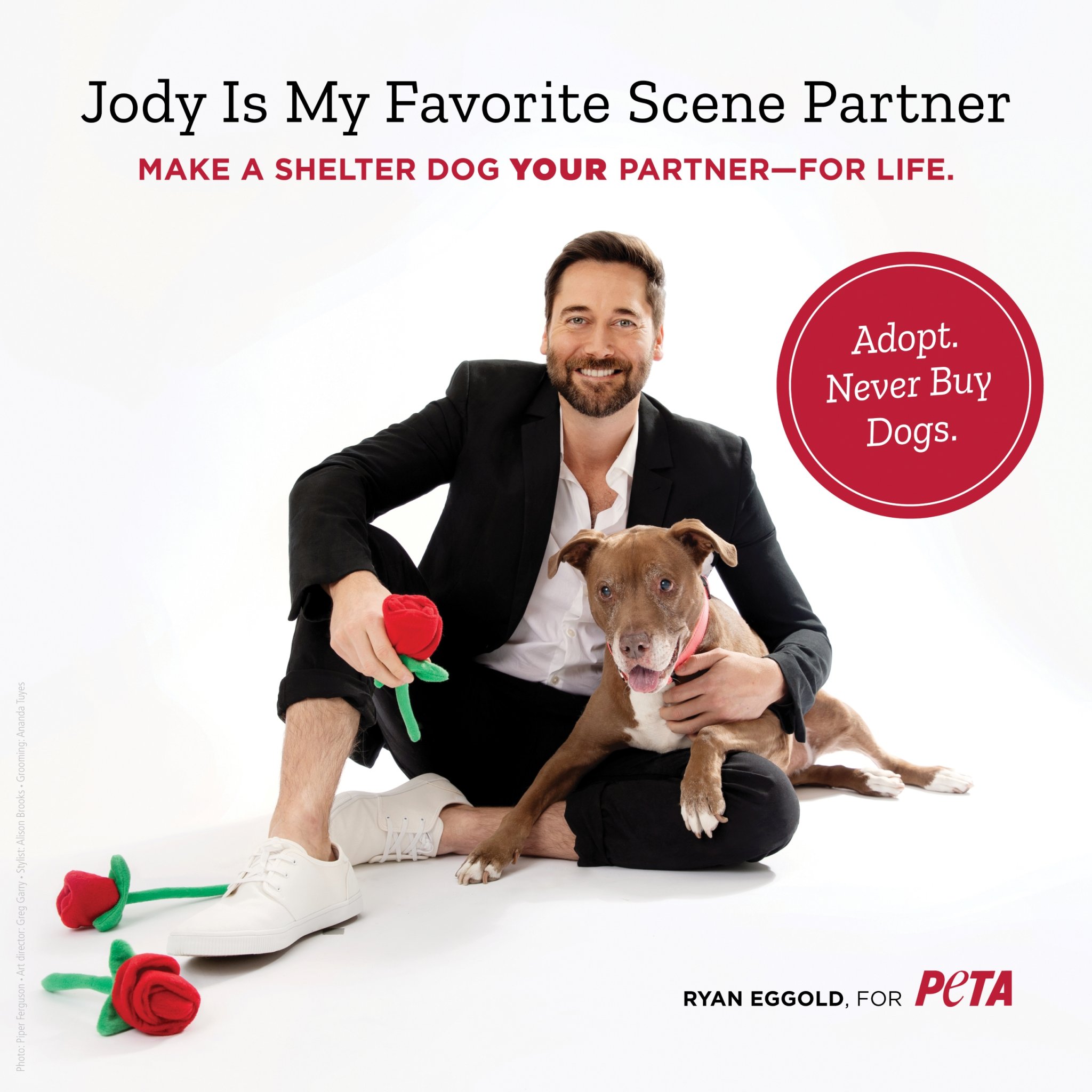 There's so many great dogs out there [who] need a home and just have so much love to give. It's really sad to neglect those dogs for a dog because [he or she] has a kind of coat you want.
—Ryan Eggold, for PETA
Adopting a senior dog is extra important because of how often they're overlooked at animal shelters. Senior dogs like Jody have a much lower adoption rate compared with younger dogs and puppies. There are numerous benefits that come with adopting a senior dog:
You know exactly who you're bringing home. A senior dog has reached full size and has developed their personality by the time we meet them. We also know more about their energy level and their grooming needs. There are no mysteries about their adult size, energy level, grooming needs, or personality.
Most adult dogs are already housetrained and have lost the puppyhood urge to chew on shoes or other human possessions.
They have social graces. Mature dogs learn and respect their boundaries more quickly than boisterous puppies.
They provide lifesaving love. Many guardians of senior dogs believe that they're especially appreciative of receiving a new chance at life. As a result, they're firmly loyal and loving to their new family.
If you're truly ready to provide an animal with a lifetime of attentive care and proper companionship, be sure to visit your local open-admission animal shelter or visit Petfinder.com, and remember to have all your animal companions spayed or neutered.