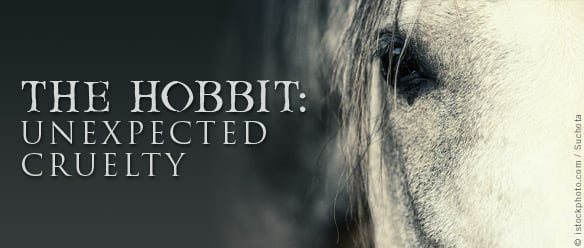 UPDATE #2: Hobbit Cruelty Under Investigation in NZ
UPDATE (November 26, 2012, 1:00 p.m. Eastern time): Following PETA's release last week of disturbing whistleblower reports of 27 animal deaths during the filming of The Hobbit: An Unexpected Journey, we have asked authorities in New Zealand, where The Hobbit was filmed, to investigate and pursue appropriate criminal charges if warranted.
UPDATE #1: PETA Responds to Peter Jackson's Statement
UPDATE (November 20, 2012, 4:00 p.m. Eastern time): PETA responds to Peter Jackson's statement: Five whistleblowers reported more than two dozen animal deaths during the production of The Hobbit: An Unexpected Journey. They raised concerns not just once but repeatedly to both the head wrangler and the head of production about the unsafe housing conditions for animals and about Shanghai the horse, who was hobbled (his legs reportedly tied together when he proved to be "too energetic" for his rider). But their concerns were outright ignored.
With the exception of the hobbled horse, all claims of animal injury and death are directly related to how the animals were housed and fed. Jackson attempts to deflect these serious charges by talking about the use of animals during action sequences—even though these damning incidents did not take place when cameras were rolling. Two horses went over steep embankments and died (one was found with her head submerged in water), a horse sustained a severe injury after being put in with other horses despite known problems, sheep broke their legs in sinkholes, and chickens were mauled by dogs—all instances of extreme negligence. It seems to PETA that instead of vainly defending himself, Jackson should be giving a firm assurance that this will never happen again. He is the CGI master and has the ability to make the animals and other interesting creatures in his movies 100 percent CGI, and PETA calls on him again to do so.
When The Hobbit is released in December, audiences will see an adventure story set in a fantasy world. For the animals involved in the filming, however, the abuse and neglect that they experienced were far too real. Recently, PETA gave the Associated Press the exclusive on the reported animal death toll. In all, three horses, a pony, and several goats, sheep, and chickens were allegedly maimed or killed.
According to whistleblowers from The Hobbit: An Unexpected Journey, the following occurred:
A horse named Shanghai was hobbled (his legs were tied together so that he couldn't move) and left on the ground for three hours because he was too energetic for his rider. Afterward, in order to hide his rope burns for filming, his legs were covered with makeup and hair. Hobbling is an outright violation of the American Humane Association's (AHA) guidelines.
One horse was killed and another horse was injured after being placed with two highly strung geldings, despite concerns that the geldings would be too aggressive.
Another horse was killed after falling off an embankment in a severely crowded paddock.
When the horses were moved to the stables, another horse died after being fed large amounts of food that he wasn't used to. The horse had shown signs of colic, an extremely painful illness.
When the horses were moved back to the paddocks after this incident, another horse had the skin and muscles of her leg torn away by wire fencing.
Several goats and sheep died from worm infestations and from falling into the sink holes that covered the farm.
Numerous chickens were mauled and killed by unsupervised dogs or trampled by other animals when left unprotected.
How can something like this happen when the unit production manager was warned and the production was monitored by the AHA?! Furthermore, this movie was directed by Peter Jackson, a master at computer-generated imagery (CGI). In a movie that features CGI dragons, ogres, and hobbits, CGI animals would have fit in perfectly. Jackson could have made The Hobbit without using a single animal—and he should have.
Send a message to filmmakers that hurting and killing animals for a film is unacceptable and refuse to see movies that do. Urge Peter Jackson to hold himself and his crew responsible when it comes to animal safety on film sets. Use the button below to send him a message now!