Last updated on June 1, 2023:
The number of dogs and other companion animals who have reportedly died from heat-related causes since 2022:
63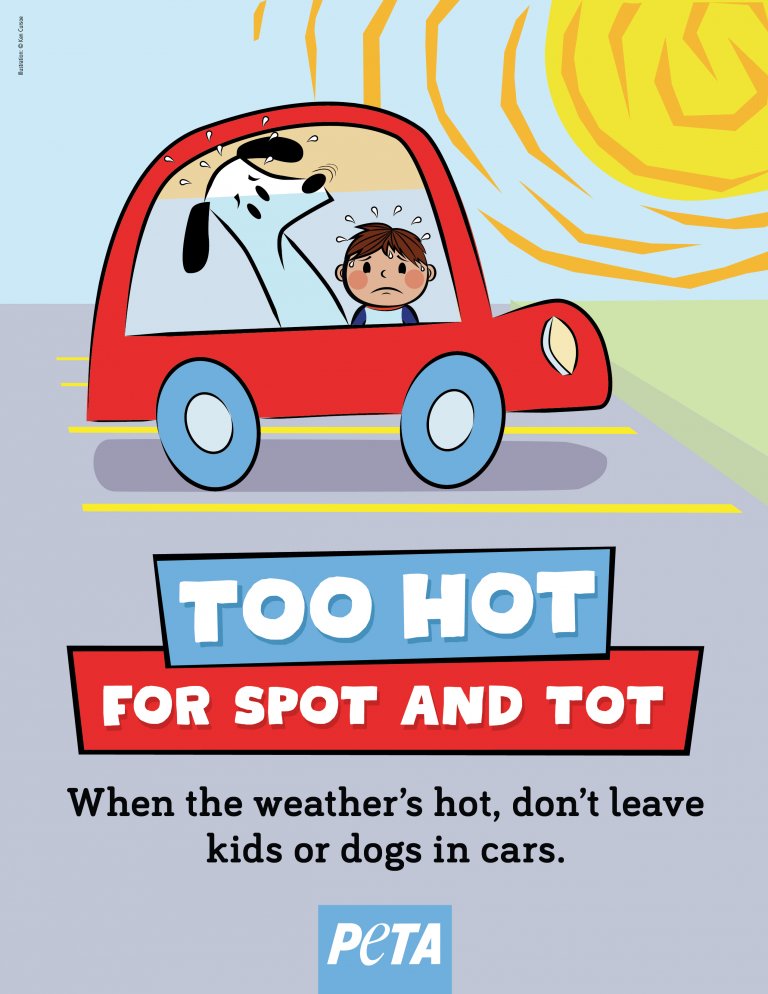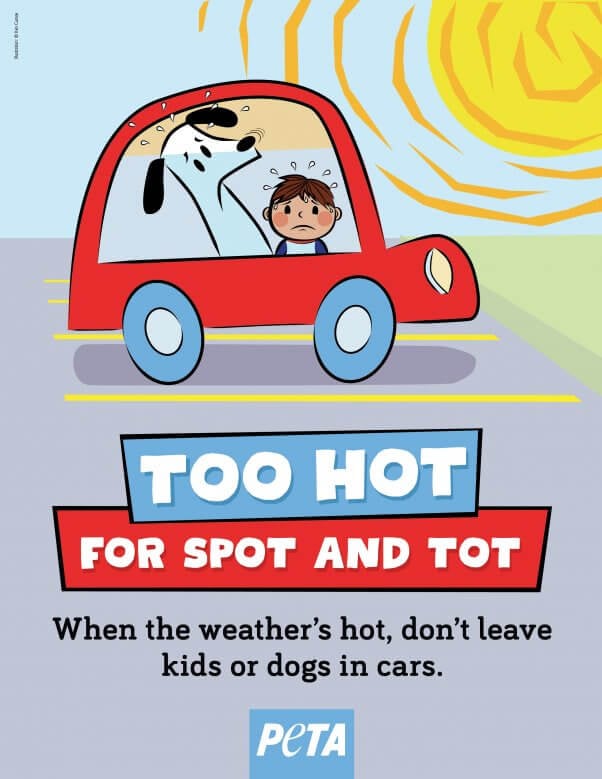 Every year, PETA receives reports about dogs, cats, and other animals who have died after being left in hot cars or outside during the hot weather. In 2022 alone, fifty-four animals endured heat–related deaths and another 469 were rescued from the heat—and those are just the ones that were reported. Most almost certainly aren't.
The following list is a compilation of heat-related deaths of companion animals reported in 2023:
| | | | |
| --- | --- | --- | --- |
| Date | Location | Number of Dogs or Other Animals Who Died | Notes |
| 5/26/23 | Wayne Township, Ohio | 1 | A dog died after being left in the car during a six-hour eviction process. |
| 5/17/23 | Portland, Oregon | 1 | A dog was found dead in a van during a heat wave. |
| 5/15/23 | Sparta, Wisconsin | 1 | A sheriff's office K-9 died days after sustaining a "heat-related injury." |
| 5/10/23 | Sidney, Ohio | 1 | A dog died in a hot car after the driver reportedly had a panic attack and walked away for several hours. |
| 4/29/2023 | Valley Center, California | 1 | A dog died after being left in a hot van during a dog show. |
| 3/12/2023 | Fort Lauderdale, Florida | 4 | Four puppies died after being left inside a hot car in a garage. |
The following list is a compilation of heat-related rescues of companion animals reported in 2023:
No animal should endure a heat-related death. It's inexcusable.
As guardians, we must take these vital steps in order to protect our beloved family members:
1. Keep dogs and cats indoors.
Unlike humans, dogs can sweat only through their footpads and cool themselves by panting, which makes it extra hard for them to beat the heat. Being left outside in hot weather can cause heat stress, injury, or death.
2. Never leave your dog—or any other animal—in a hot car.
It's like being baked alive. Heatstroke can happen in just minutes, even with the car's windows partially rolled down. And opening a window slightly won't help—parking in the shade or leaving water in the vehicle won't prevent your dog from overheating, either.
3. If you see a dog in a hot car …
… call 911 immediately. While you're waiting for the police to arrive, write down the car's make, model, and license plate number, or take a picture of the vehicle and go to the nearest building to find a manager and ask that the owner of the car be paged. If authorities are unresponsive or too slow to respond and the animal's life appears to be in imminent danger, find a witness who will back up your assessment before carefully removing the animal from the car and carrying him or her into the shade. PETA offers an emergency window-breaking hammer for help with intervening in these life-or-death situations. Don't leave until the authorities arrive on the scene and you know that the dog is safe. Learn more about what to do if you see a dog in a hot car.
4. Recognize the symptoms of heatstroke, and take action if you see them.
Heatstroke is a potentially fatal emergency. Symptoms include restlessness, heavy panting, vomiting, lethargy, and lack of appetite or coordination. If a dog is exhibiting these signs, attempt to lower the body temperature by providing the animal with water and applying a cold towel to the head and chest. If someone is with you, one of you should take these steps in the car as the other drives the dog to a veterinarian.
5. Be mindful when walking a dog in hot weather.
On a hot day, the pavement on sidewalks can reach temperatures between 130 and 180 degrees, which is hot enough to hurt your dog's feet and even seriously burn them. Here are some helpful tips when walking your companion in the heat:
Always test the pavement with the palm of your hand before setting out—if it feels hot, it's too hot for Spot.
Walk early in the morning or late in the evening, when it's cooler.
Choose shady routes.
Carry water, and take frequent breaks.
Never make dogs wear muzzles or halters that restrict their breathing.
Opt for a lightweight fabric collar or a nifty Swamp Cooler vest.
Walk—don't run. Dogs will run to the point of collapse just to please you. At that point, it may be too late to save them.
Together, we can help drastically reduce the number of dogs and other animal companions who die in hot weather and even eliminate these tragedies altogether. Animals are counting on us—as their guardians and as good Samaritans—to keep them safe. We mustn't let them down.
Take Action Now
The Helping Overcome Trauma for Children Alone in Rear Seats (HOT CARS) Act of 2017 aims to minimize the number of children and animals who die in hot cars every year by requiring that automakers equip all vehicles with technology that alerts drivers when a passenger remains in the backseat after the engine has been turned off. Sadly, since the bill was introduced, more deaths have occurred—and there will certainly be more in the months ahead. But we can prevent tragedies like these. Click below to help:
Make sure that all your friends and family know the potentially lifesaving hot weather tips above.
Watch this video, listen to this radio clip, and check out this ad to learn more about the reasons why you should never leave a dog in a hot car.