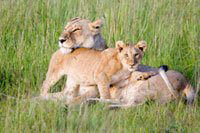 Nothing says "Go, team!" less than an unhappy animal, and as athletes and fans raise a ruckus on and off the field, there's no reason to subject a real animal to the stress of being a school mascot. Costumed human mascots can lead cheers, react to the crowd, and pump up the team—all things that a frightened animal can't do.
Lions and Tigers and Bears—Goodbye!
Big cats, bears, and other live-animal mascots don't belong on college campuses. Even in the best circumstances, subjecting animals to a busy university environment and forcing them into close proximity to crowds of people day in and day out is stressful and cruel.
Regardless of the length of time that they're kept in captivity, lions, tigers, bears, and other exotic animals don't "get used to" being in public settings.
Costumed human mascots are used by most professional sports teams and at most universities. Some schools offer scholarships to students who are chosen for the role.
One human mascot for the NFL's New England Patriots said, "[W]hile live animals must be tucked away in a corner of a stadium and are rarely seen during the game, a human mascot in costume can be visible, active and instrumental during the entire event."
The mascot coordinator for Major League Baseball's Arizona Diamondbacks said, "The bottom line is that a human mascot can do far more than a live animal mascot [and can do so] with fewer headaches."
What You Can Do
Only a handful of schools still force live animals to act as mascots. Please write to them to voice your objections. If you're a student or an alumni of any of these institutions, inform school officials that you won't attend athletic events or donate money—both huge sources of revenue for universities—until it discontinues its live-animal mascot program.
Louisiana State University
Louisiana State University (LSU) has used a series of tigers named Mike, repeatedly "replacing" each when he dies—which happens alarmingly often. The school has a grim history of failing to keep tigers safe and healthy.
The first Mike died of kidney disease.
Mike II reportedly died of pneumonia less than a month after his arrival at LSU, at only 8 months of age. Reportedly, Mike II was then secretly buried and quickly replaced. The second Mike II was at LSU for only one season. He died from complications associated with multiple fractures to his left rear leg—exactly how or when the leg was injured is unknown.
Mike III died of pneumonia.
After pranksters cut the locks on the cage, Mike IV wandered around the campus before he was shot three times with a tranquilizer gun and recaptured.
He developed a neurologic problem and was transferred to the Baton Rouge Zoo and eventually euthanized after becoming severely disabled.
Mike V underwent three medical procedures: two root canals and one benign tumor removal. After suffering from weight loss and respiratory difficulty, he died of renal failure.
Mike VI, whom the school obtained from a now-defunct sham sanctuary, was euthanized after battling cancer.
Please send polite comments to:
F. King Alexander, President
Louisiana State University
3810 W. Lakeshore Dr.
Baton Rouge, LA 70808
225-578-2111
225-578-5524 (fax)
[email protected]
The University of North Alabama
The University of North Alabama obtained two lion cubs, named Leo III and Una, born in 2002, and they have been on display ever since. The school also hauls the lions around the local area to make appearances.
Please send polite comments to:
Dr. Kenneth D. Kitts, President
The University of North Alabama
1 Harrison Plz.
Florence, AL 35632
256-765-4211
[email protected]
University of Memphis
For over 40 years, the University of Memphis has exploited tigers as mascots. Tom III, the current one, is forced to attend all home football games and many other school events throughout the year.
Please send polite comments to:
David Rudd, President
University of Memphis
341 Administration Bldg.
Memphis, TN 38152
901-678-2234
[email protected]
Massillon High School
For many years, Massillon High School in Massillon, Ohio, has leased tiger cubs from animal dealers for use as mascots. Despite polite requests from PETA to stop using live-animal mascots, communication from Massillon officials, students, and citizens has been rude, dismissive, and even threatening.
Please send polite comments to:
Paul Salvino, Superintendent
Massillon City Schools
930 17th St. N.E.
Massillon, OH 44646
330-830-3900, ext. 50117
[email protected]