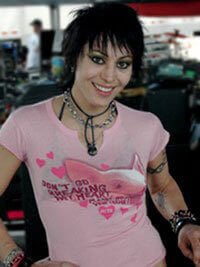 As the rebellious rock icon behind the Runaways and the Blackhearts, Joan Jett has snarled and sneered her way to the top of the music charts with straight-up rock hits such as "I Love Rock 'n' Roll," "Cherry Bomb," and "Bad Reputation." The rock star—a longtime vegetarian—proved that she loves animals as much as loves rock 'n' roll when she recorded PETA's Butterball hotline message.
"Workers at a Butterball plant were recently documented punching and kicking live birds, slamming them against metal trailers, and worse," says Joan in the exclusive PETA recording for PETA's vegetarian hotline, 1-888-VEG-FOOD. "Please join me in calling Butterball's Turkey Talk Line to tell their operators that there is no appropriate way to cook a tortured bird. Call 1-800-BUTTERBALL."
Butterball earned its "Bad Reputation" after an undercover investigation at a Butterball slaughterhouse in Ozark, Arkansas, documented shocking abuse, including an employee stomping on a live turkey's head until her skull exploded, a worker swinging a turkey against a metal handrail so hard that her backbone broke through her skin, and yet another employee inserting his finger into a terrified turkey's vagina.
Be a rock star for animals by going vegetarian. Order PETA's free "Vegetarian Starter Kit" and help yourself to all the recipes and tips that you need to quit meat cold turkey. You can also help stop the abuse and suffering of turkeys in animal factories today by supporting PETA's lifesaving work.