Pushing aside greasy chicken wings in favor of guacamole and other tasty vegan snacks, PETA and PETA Foundation staffers are bringing healthy competition with a side order of compassion to their brand-new all-vegan fantasy football league.
The 12 veggie-powered team managers of this league have sharp minds and healthy hearts on their side. But to up the stakes, this fantasy football league is pitting brother against brother, as the league co-commissioners (and brothers), PETA Director Justin Goodman and counsel to PETA Jared Goodman, duke it out, hoping their days spent winning battles for animals will prepare them to select winning draft picks, earning them the right to take home this:
The Plant-Based Primacy trophy may be smothered in bragging rights, but it's not smothered in cruelty and artery-clogging cholesterol. That's because PETA's vegan fantasy football leaguers will be fueling 10-hour game-watching marathons with healthy snacks such as vegan sliders, vegan buffalo wings, football-ready chili, and nachos covered with delicious Daiya vegan cheese.
The NFL is no stranger to compassion. Football players have perfected their game on and off the field while standing up for animals. Fantasy football favorites Arian Foster and Tony Gonzalez are big advocates of vegan eating, and Terrell Suggs, Willis McGahee, and Bret Lockett prefer wearing ink to mink. After going vegetarian, now-retired NFL running back Ricky Williams said he felt lighter, had more energy, and dropped an unwanted 20 pounds.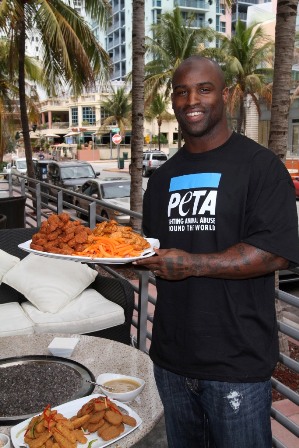 Join the Vegan League
Get healthy and kick cruelty off your coffee table this football season: Find out how easy it is to go vegan today.