Since UniverSoul Circus was in its infancy, PETA had been urging it to stop exploiting elephants, tigers, zebras, camels, horses, and other animals in its cruel live-animal acts. After shocking whistleblower reports of animal abuse emerged, countless protests were held at shows across the country, more than 100,000 PETA supporters sent e-mails, and celebrities like TLC's Rozonda "Chilli" Thomas spoke out, UniverSoul is finally animal-free.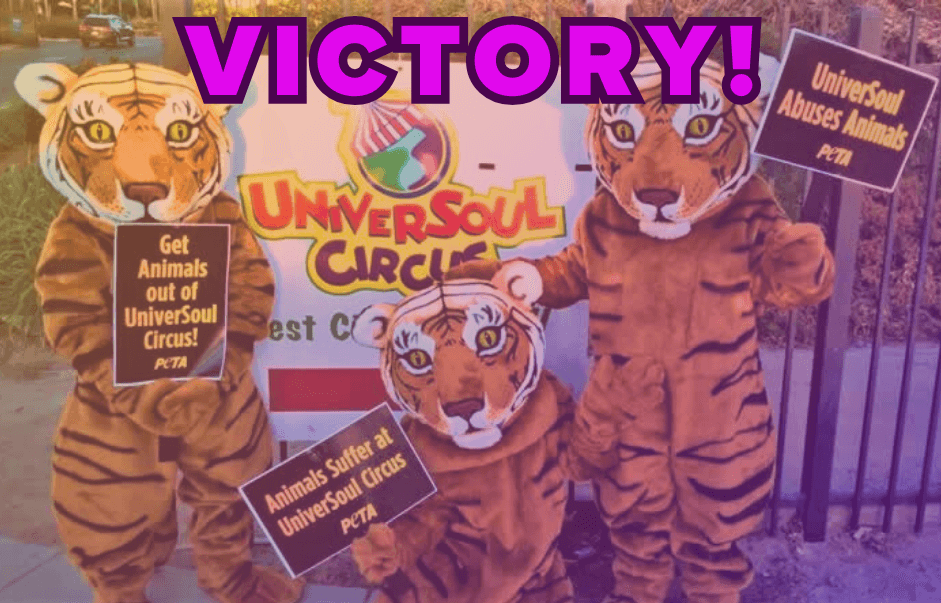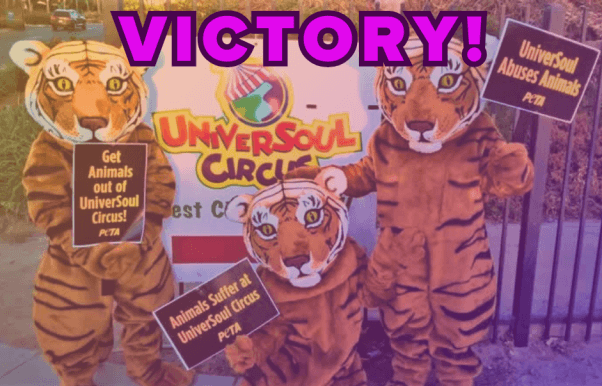 Thanks in no small part to PETA's decades-long campaign, UniverSoul's most recent tour stops in Washington, D.C., and New York City featured no live-animal acts. This is a major win for animals who are exploited and abused in traveling circuses, which subject them to miserable confinement in parking lots and force them to perform under the constant threat of violent punishment.
Keep reading to see how PETA's relentless work helped pave the way for this victory.
A Timeline of PETA's Decades-Long Campaign to Urge UniverSoul to Nix Live-Animal Acts
1990s
In 1997, PETA first wrote to UniverSoul, calling on it to end its live-animal acts. We followed up with the circus several times. That same year, world-famous comedian Richard Pryor wrote to UniverSoul, saying, "Comparing the lives of elephants who are kept in leg shackles, transported around in cramped vehicles in all weather extremes, forced to labor setting up the 'big top,' and repeatedly struck with sharp metal bullhooks, to the lives of their wild brothers and sisters is perhaps the easiest way to see why they are so broken in spirit."
In 1999, world-renowned primatologist Dr. Jane Goodall appealed to UniverSoul "to end the senseless exploitation of chimpanzees," saying that animals in circuses "live out their lives in inhumane, lonely, and unnatural settings in the name of entertainment."
2000s
In 2003, singer and actor Olivia Newton-John wrote to Las Vegas City Animal Control officials, saying, "We respectfully request that you follow the lead of California authorities and prohibit the circus from featuring its kangaroo boxing routine …. I find it appalling that tethered kangaroos are taunted into defending themselves as an oddity for a UniverSoul Circus act."
In 2004, Burger King confirmed to PETA that it was ending its sponsorship of UniverSoul.
2010s
In July 2011, following a complaint by PETA that included video footage of a tiger with her foot trapped in a cage's sliding door, the U.S. Department of Agriculture (USDA) cited UniverSoul's exhibitor Mitchel Kalmanson.
In March 2013, after learning that UniverSoul planned to use Nosey the elephant—who was virtually crippled and had been showing signs of painful arthritis—in its Florida shows, PETA urged the circus to spare the suffering elephant. It didn't respond to our pleas at first, but after receiving an influx of calls and e-mails from PETA supporters, it didn't force her to perform in its shows.
In October 2013, two days after PETA submitted a complaint to the USDA that tigers traveling with UniverSoul were languishing in undersized metal cages while temperatures exceeded 90 degrees, the agency cited Kalmanson again for his violations of the federal Animal Welfare Act.
In August 2014, based on a veterinarian's assessment stating that an elephant traveling with UniverSoul was suffering from apparent painful lameness, PETA sent an urgent letter asking the USDA to investigate the circus and to ensure that no injured or lame animal was forced to perform.
In July 2015, actor and author Robbyne Kaamil, whose great-great-grandmother was enslaved on a North Carolina plantation, drew parallels between UniverSoul and human slavery that were too hard to ignore in a powerful, award-winning public service announcement titled "UniverSoul Circus: Let's Teach the Children."
In August 2015, PETA Foundation lawyers filed a lawsuit in the Superior Court of the District of Columbia against UniverSoul, alleging that it had deceived its patrons into supporting and perpetuating the abuse of animals.
In November 2015, after a pair of zebras broke free from a UniverSoul performance in Philadelphia, PETA asked the USDA to investigate in order to ensure that the animals were receiving veterinary care and to determine how the dangerous incident had occurred. The agency cited the zebra exhibitor for failing to handle animals safely.
PETA supporters routinely descended on UniverSoul's opening-night shows in cages and full bodypaint to inspire action against the circus' exploitation of animals. In 2017, a fierce PETA "tiger"—actually, animal rights advocate Nikki Ford—caged herself at UniverSoul's headquarters in downtown Atlanta to force the company to listen to our demands.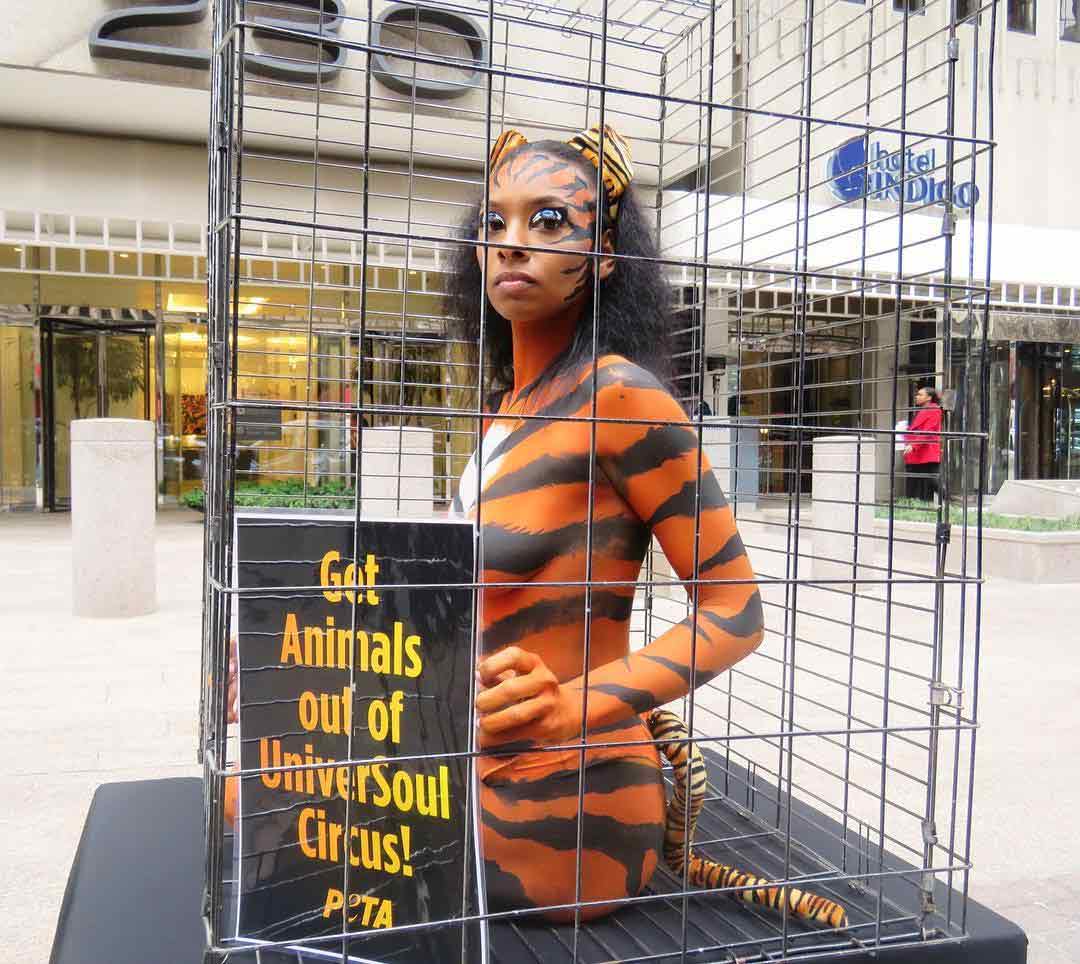 And in 2018—UniverSoul's 25th anniversary—a "crying elephant" led PETA supporters in a fiery demonstration outside the circus's opening-night performance in Philadelphia. The protesters displayed a bullhook, calling out UniverSoul's history of hiring abusive trainers—like Larry Carden, who reportedly forced elephants with bruised feet to stand on concrete.
In July 2019, Chilli called on UniverSoul to end all animal acts with a clear message: "These beautiful wild animals belong in the wild, not for our entertainment."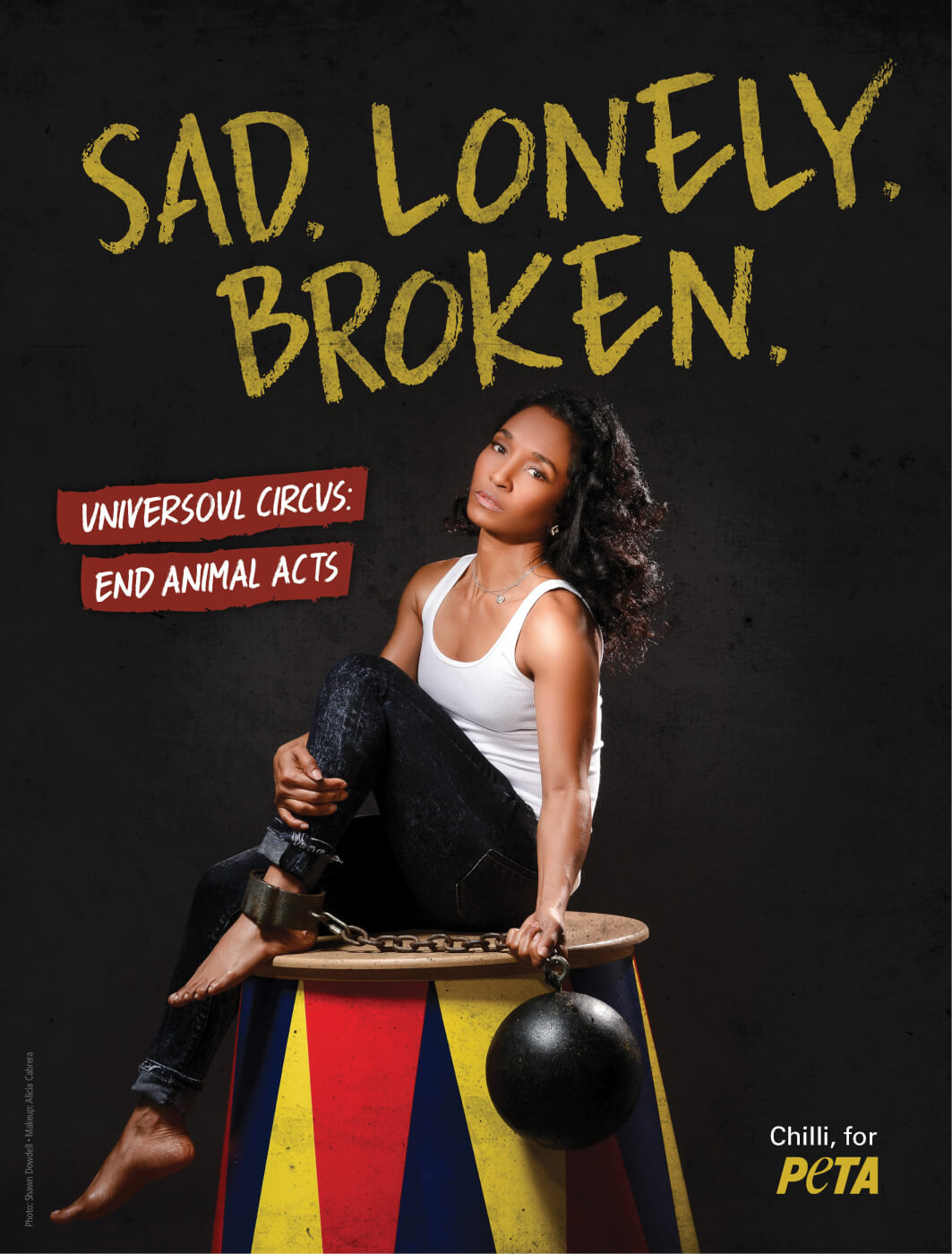 2020s
In November 2020, after PETA informed PENN Entertainment that UniverSoul had hired abusive animal handlers—one of whom was caught transporting big cats around in a trailer teeming with maggots—the company pledged never again to host an animal circus at its 41 properties nationwide.
Even after UniverSoul dropped elephant and tiger acts, PETA continued to protest against the circus because it was still forcing camels, zebras, and horses to perform.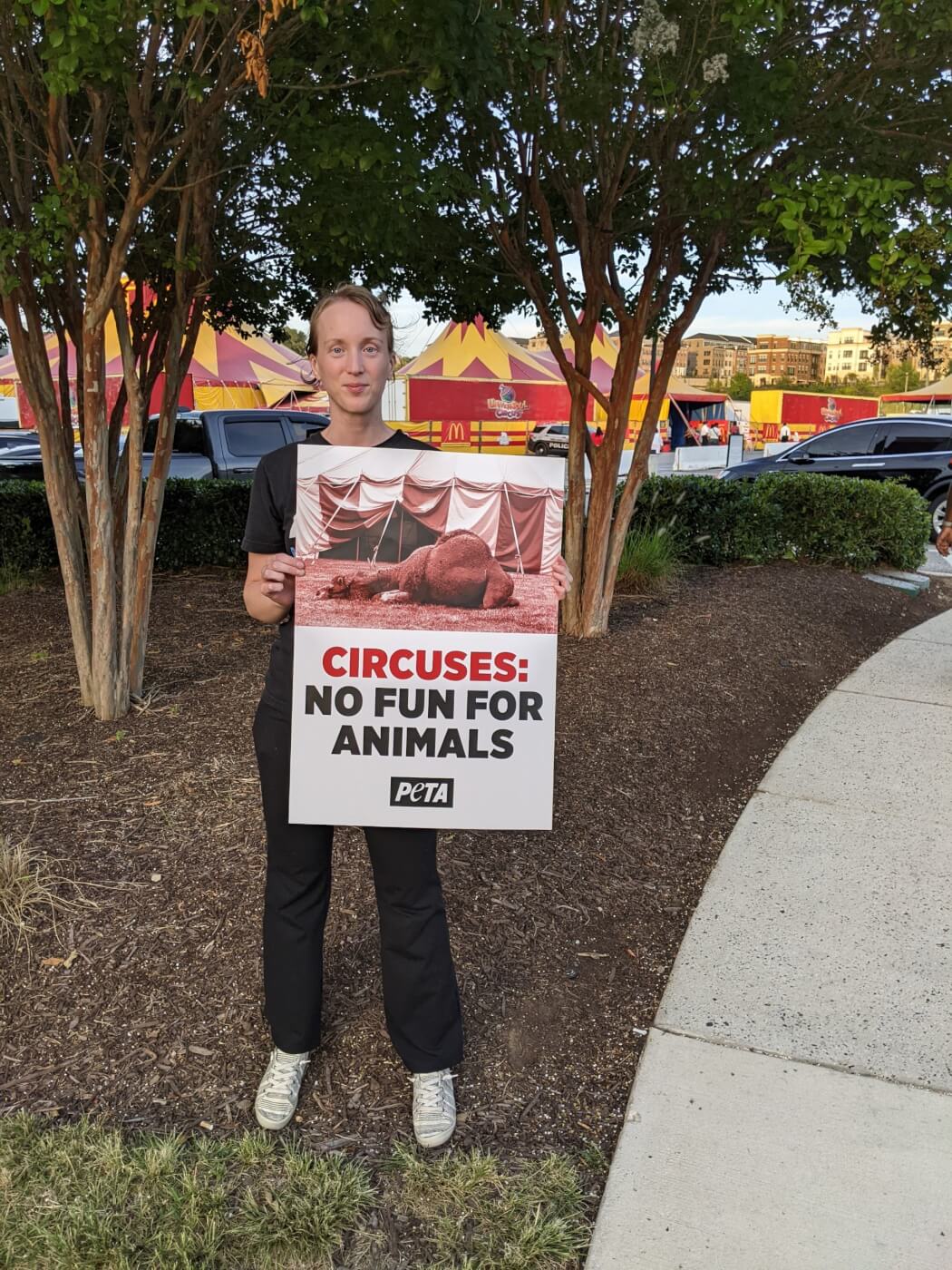 Let's Keep Helping Animals Who Are Still Suffering in Other Circuses and Abusive Live-Animal Acts
UniverSoul joins a growing list of circuses—including Ringling Bros. and Barnum & Bailey—that are ditching cruel animal acts and instead dazzling audiences with only willing human performers. Let's keep victories coming for animals by urging Shrine circuses to go animal-free, too.