Animals have been caged, chained, and forced to perform in UniverSoul Circus for a quarter of a century—and these suffering animals aren't celebrating as the infamous circus marks 25 years. Here are 25 times that UniverSoul was hell for animals:
1. Betty the elephant, who's supplied for the circus by Larry Carden, is chronically lame, but UniverSoul continues to use her for rides and performances. She avoids bending her left front ankle and walks as though she has a "peg leg"—a sign that she's physically compromised and probably in pain.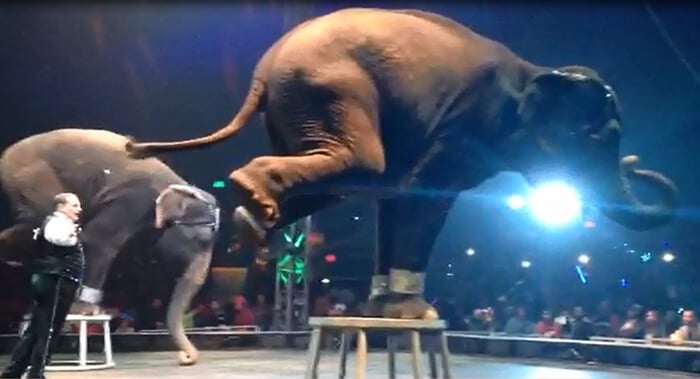 2. When UniverSoul performed at Turner Field in Atlanta, inspectors reported that a camel with a 3-inch-long laceration and another with a swollen ankle and foot that needed to be treated and drained were used in the show.
3. During that same visit to Atlanta, inspectors also found that elephants Betty and Bo were forced to stand on concrete despite having bruised feet. Bo had "Wonder Dust"—a gray powdered blood coagulant used to cover up wounds—on his chest.
4. After a driver lost control of a truck transporting animals to UniverSoul Circus, the trailer overturned on an interstate in Georgia, injuring several animals. Firefighters used the Jaws of Life to free them.
5. In 2016, two zebras escaped and ran amok through busy roads in Oakland, California, endangering themselves and the public.
6. During a stop in Philadelphia, two zebras escaped from their handler and ran through city streets. One sustained wounds on both front legs.
7. Fearing a public-health risk, Dallas officials barred the circus from using Betty and Bo after deciding that the elephants had been exposed to—and were likely carrying—tuberculosis.
8. UniverSoul elephant exhibitor Carden was once charged for allegedly inserting a bullhook into Bo's mouth.
9. The circus caused universal outrage when it forced Makia—a lame, likely arthritic elephant—to give rides to humans.
10. A whistleblower reported that two employees had lost the tips of their fingers to tiger bites. UniverSoul later admitted that tigers had "nipped" employees.
11. The circus's exhibitors have been cited numerous times by the U.S. Department of Agriculture (USDA) for failing to erect proper barriers between the public and wild animals such as tigers, elephants, and chimpanzees.
12. In 2013, UniverSoul handler Mitchel Kalmanson was cited for keeping big cats inside cramped cages for 24 hours a day, seven days a week during the entire four to seven weeks they were on the road.
13. Kalmanson was cited again in 2013 for imprisoning a tiger inside a cage with a heavy chain around the big cat's neck. Inspectors noted that the animal was at risk for serious injury or strangulation if the chain caught on something in the enclosure.
14. Following a complaint by PETA that included a video of a tiger with her foot trapped under the sliding door to a cage, authorities cited Kalmanson for failing to maintain facilities to ensure that there's no risk of injury to animals.
15. UniverSoul even hired notorious animal abuser Hugo Liebel, who's racked up nearly 200 animal-welfare violations. Most of these citations are related to his mistreatment of Nosey, an arthritic elephant that Liebel kept in chains so tight that she could barely move.
16. A Los Angeles County inspector found a tiger under the "care" of UniverSoul with a laceration caused by continuously rubbing against a cage.
17. While performing with UniverSoul, elephant exhibitors Jorge and Louann Barreda were cited for failing to provide four female African elephants with adequate veterinary care.
18. Like clockwork, just four months later, the Barredas were cited yet again for failing to provide the elephants with veterinary care. Inspectors also found that the animals were suffering from various foot aliments. Foot problems are a leading reason that captive elephants are euthanized.
19.  The USDA has cited UniverSoul big-cat exhibitor Terranova Enterprises for failing to clean enclosures properly and exposing animals to cleaning chemicals.
20. The agency cited elephant exhibitor Carson & Barnes Circus while it was on tour with UniverSoul for failing to provide elephants with adequate shelter.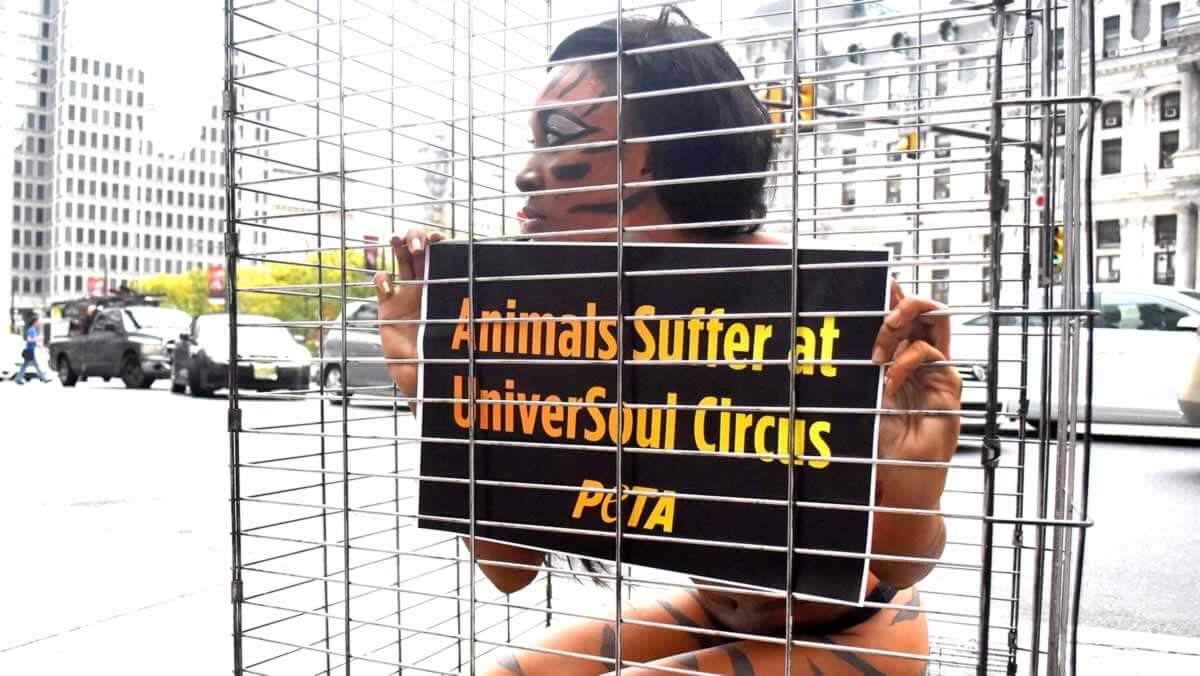 21. During a stay in Maryland, a tiger escaped and attacked an elephant. When this occurred, children from several elementary schools attending the circus were walking under the tent in which the tiger escaped.
22. Just one year earlier, a 450-pound tiger escaped while a cage was being cleaned. The animal leapt onto a car and ran through an alley before being captured.
23. On numerous occasions, UniverSoul forced kangaroos to box one another.
24. One of the kangaroos used in the appalling boxing routine died from a deadly bacterial infection known as "lumpy jaw," which can be caused by crowding, poor hygiene, or poor diet. The circus continued to force him to fight for two months after he was diagnosed with the deadly infection.
25. New York City officials once refused to grant UniverSoul a permit to use elephants and tigers for a performance on the grounds that the tigers were kept inside cages with inadequate space and that the elephants' tuberculosis test records were outdated.
*****
Stop UniverSoul From Touring With Animals for Another Year—Take Action Now!
Despite a public outcry, UniverSoul continues to bully sensitive animals into performing uncomfortable and often painful tricks. Using our action page below, write to the circus and demand that it drop all animal acts.