A PETA member has been cleared of a charge following a protest against Texas A&M University's experiments on sick, disabled dogs in its laboratory.
The Honorable Edward J. Spillane III—presiding municipal court judge for College Station, Texas—dismissed a charge against dedicated animal liberator and Texas A&M University alum Brittny Hopwood. The legal trouble stemmed from a demonstration last April in which she projected a message onto the side of a building in College Station using a portable projector.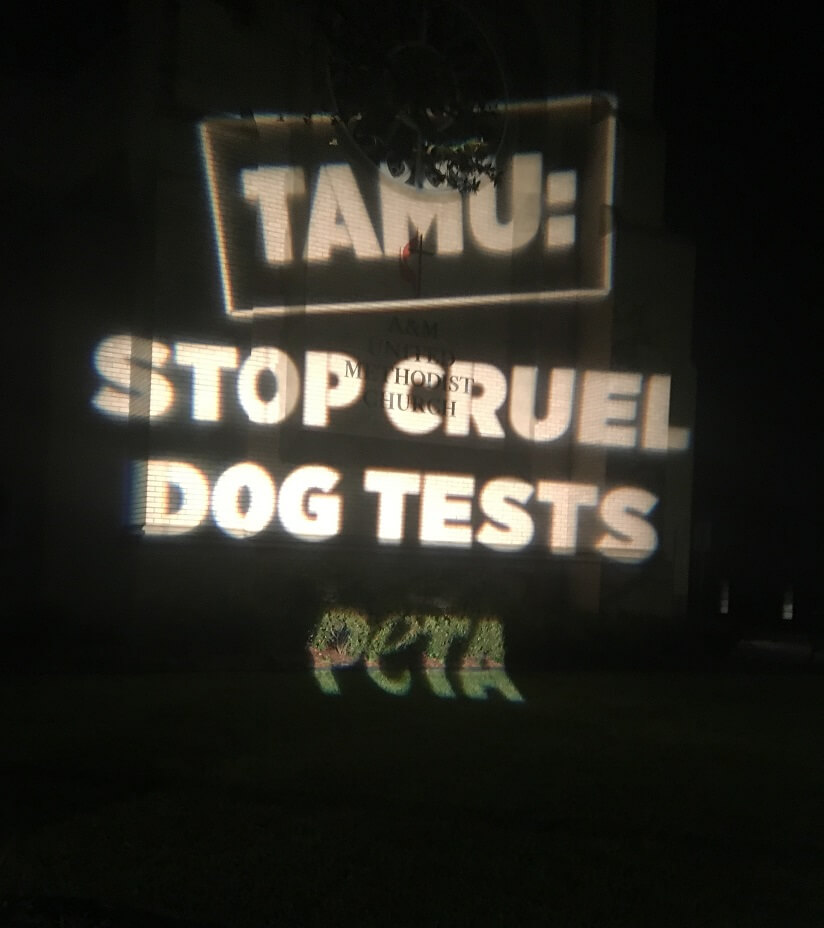 The message urged Texas A&M University to "stop cruel dog tests," in protest of its use of dogs in painful and scientifically debunked muscular dystrophy experiments. Police cited Hopwood with violating a city sign ordinance, which is a Class C misdemeanor that carries a potential $500 fine.
The unsuccessful prosecution comes on the heels of an apparent pattern by the university of quashing peaceful protest against its sickening muscular dystrophy dog laboratory—which has failed to produce a treatment to reverse symptoms of this debilitating disease in humans, let alone find a cure. According to local media affiliate KBTX, just a month before the protest in question, the College Station Police Department said that such projections are "protected speech" if they're projected from a public right of way.
Texas A&M University knows that it can't defend itself in a free and open public forum, so it's trying to silence the discussion. But it will fail. PETA will vigorously continue to defend our First Amendment right to speak out—using creative and lawful means—for the rights of the disabled dogs at this university.
Urge Texas A&M to Close Its Dog Laboratory
PETA has released video footage showing that dogs in Texas A&M University's laboratory suffer from a crippling and painful form of canine muscular dystrophy that leaves them struggling to walk, swallow, and even breathe, the opposite of the life and the care that all dogs—and all other animals—deserve. Numerous people—including patients with muscular dystrophy, scientists, and celebrities like Lily Tomlin, Richard Linklater, Ryan Tannehill, and Bill Maher—have teamed up with PETA to speak out against the experiments, and you can, too. Click the button below to urge Texas A&M to stop funding cruel, wasteful experiments on dogs: