Dead fish covered a California highway on August 14 after a truck transporting goldfish, koi, and other exotic fish to a pet store was hit by a big rig reportedly carrying 80,000 pounds of peaches.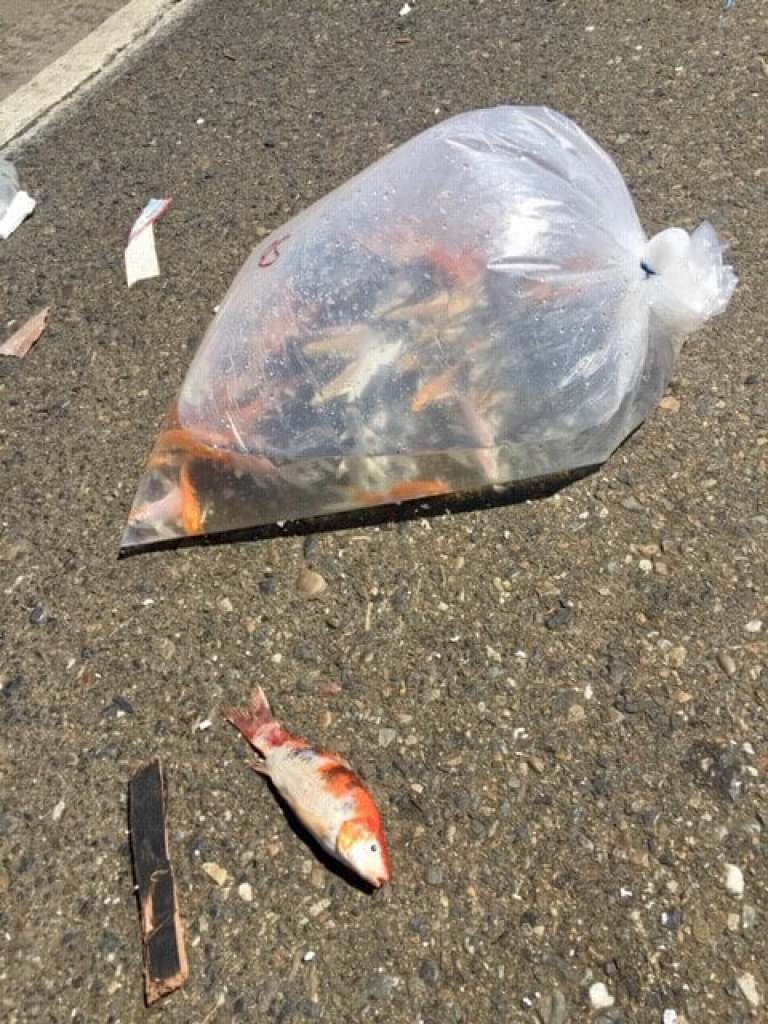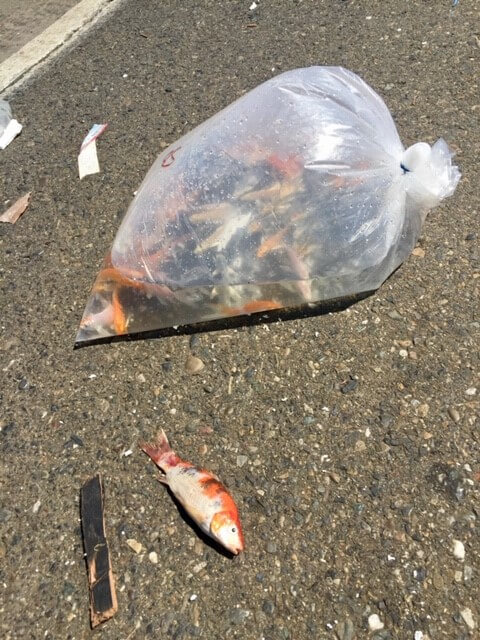 Photo courtesy of California Highway Patrol–Merced
The box truck carrying the animals was stopped on the shoulder of the road when it was struck by the peach truck, according to California Highway Patrol. Although some news outlets reported that there were "no injuries," there were, in fact, countless fatalities. Photos show fish lying on the concrete road under the hot sun, lifeless.
The deadly incident was another unnecessary, avoidable reminder that animals aren't freight. Fish like the ones who were killed in this crash are often transported from dealers to pet stores in minuscule plastic bags stuffed into cardboard boxes, just like the ones in the pictures above. These sensitive animals can be jostled around for days, often while traveling from one side of the country to the other.
What can you do to help these fish and other animals like them?
Disasters like this are actually fairly common. Countless animals bound for pet stores and slaughterhouses have been killed on the road in similar incidents. Less than two weeks prior to this accident, a crash left hundreds of frantic, overheated pigs trapped in an overturned truck for hours—and those who weren't shot and killed onsite were forced into a second truck and taken to slaughter. And just as helping pigs is as simple as going vegan, helping fish is easy, too: Let them live in peace in their natural homes, and never support pet stores that sell them.
See what a PETA investigation revealed about betta fish who are transported from dealers to pet stores.
Pet stores such as Petco and PetSmart, which sell live animals, put profit first—at the animals' expense. Fish are meant to dwell in natural habitats like seas and rivers, not suffer miserably by being forced to spend their lives in glass tanks. Please don't support the tropical fish trade by purchasing fish. If you're super-keen on giving a fish a good life, check with reputable local rescue groups and shelters, which often have ones who need new homes. If you're thinking of rescuing fish or if you already have some, there are things you can do to help ensure that they're as happy as possible. Click below to learn more.
Want to do more to help fish like those who were killed in the crash? Click below to urge Petco to end its sale of bettas immediately.