Update: June 9, 2020
Representative Brendan Boyle (D-Pa.), now joined by Rep. Ken Calvert (R-Ca.), along with Rep. David Cicilline (D-R.I.), Rep. Steve Cohen (D-Tenn.), Rep. Tulsi Gabbard (D-Hawaii), Rep. Raúl Grijalva (D-Ariz.), Rep. Barbara Lee (D-Ca.), and Rep. Lucille Roybal-Allard (D-Ca.), has sent a new joint bipartisan letter to Joshua Gordon, the director of the National Institute of Mental Health (NIMH), calling for a timeline to end four cruel and discredited depression tests on animals pursued by the agency. PETA is grateful to these legislators for speaking up for animals!
The Congressional delegation's new letter calls out Gordon for his inexplicable policy regarding the forced swim test, tail suspension test, foot shock test, and social defeat experiments on animals (see below). NIMH continues to perform or fund these crude and wasteful tests with taxpayer dollars despite overwhelming proof that they are irrelevant to human mental health.
 "Your office has stated that these tests 'have largely failed to reveal translatable neural mechanisms, and lack specificity from a pharmacologic-validity perspective.' You have called the forced swim test 'terrible' for most drugs, that its use has amounted to 'wasted time and $,' and said that NIMH is 'discouraging the use of certain behavioral assays, including the forced swim and tail suspension test, as models of depression.' Yet, you state 'NIMH will continue to fund such studies.'"
Yeah, we don't get it, either.
You can add your voice to ours and that of Congress by taking action below. Tell NIMH it needs to stop wasting millions of taxpayer dollars on tormenting animals and instead pursue modern, non-animal, human-relevant research that can deliver effective treatments for patients.
Originally published August 19, 2019: 
In a powerful letter sent August 16, 2019, Rep. Brendan Boyle (D-Pa.) has directed the National Institute of Mental Health (NIMH) to provide a timeline for ending psychological tests that nearly drown animals, hang mice by their tails, or shock them.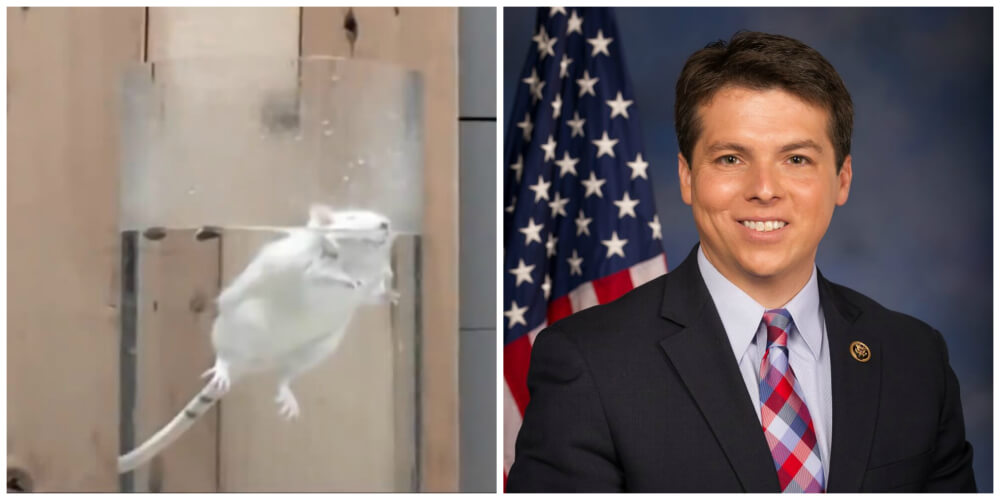 "I am concerned to find that the [National Institute of Mental Health] is subjecting small animals to several controversial tests in its laboratories," Rep. Boyle wrote in a letter to NIMH Director Joshua Gordon.
Boyle noted that these senseless tests "are not helping to address mental health issues experienced by humans." adding, "Our government, which funds mental health research through our taxpayers, must make the best possible use of its resources and employ only human-relevant and scientifically valid research methods to tackle this mental health crisis."
Like countless scientists (and folks with general common sense), Boyle pointed out that these tests have failed time and again to help us better understand mental health in humans.
"It's my understanding that evidence shows that these tests—the forced swim, tail suspension, and foot shock tests—are not helping to address mental health issues experienced by humans," Boyle stated.
He tries to run away from his attacker, but he can't escape 💔 They did this to him on purpose 😡 Experimenters put him in a cage & watched as a bigger & more aggressive mouse attacked him repeatedly. The NIMH calls this a psychological test, but it's NOT—it's just plain torture. pic.twitter.com/aHn44R8LbA

— PETA (@peta) July 29, 2019
Without leaving any room for these tests to continue, Boyle asked frankly what's on everyone's mind: When will NIMH ban these tests on sensitive, feeling mice, rats, and other small animals? Experiments, by the way, that Gordon himself has both conducted and criticized as being scientifically problematic.
"[C]an you share your timeline for phasing out these tests in favor of more modern methods?" Boyle asked of the NIMH leader.
We are inspired by and thankful for Rep. Boyle's compassionate move!
Congressman Brendan Boyle has our backs and animals' backs, but we still need you to take action!
Using our form below, please demand that NIMH stop conducting and supporting these useless tests on small animals and redirect funds to support advanced, animal-free research methods that offer the hope of actually helping human patients.
Note: PETA supports animal rights, opposes all forms of animal exploitation, and educates the public on those issues. It does not directly or indirectly participate or intervene in any political campaign on behalf of or in opposition to any candidate for public office or any political party.