On Friday, a transport truck carrying nearly 200 live pigs to a Smithfield Foods slaughterhouse overturned on an on-ramp in Suffolk, Virginia.
More than 180 of the pigs were trapped inside the truck for hours, lying on top of one another as the temperature approached 90 degrees. In the video above, you can hear the screams of the terrified, injured animals.
As if the trauma of the accident weren't enough, while workers were removing the surviving pigs from the scene in order to send them on to the slaughterhouse, they hit them and slapped them in the face.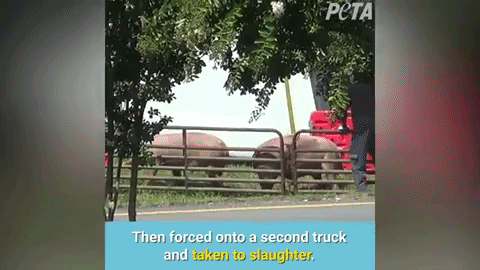 Injured pigs were shot and killed onsite with a captive-bolt gun.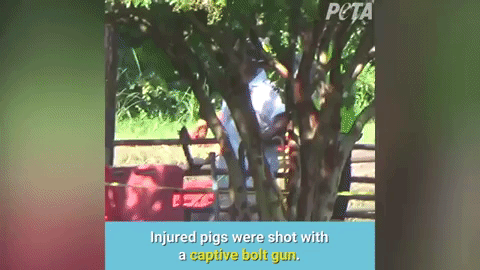 The steps that the surviving pigs took on grass at the crash site were likely their first—and their last. They briefly felt the sun and the turf on the roadside before they were forced into a second truck and hauled off to slaughter.
This sort of horror is not uncommon for the 121 million pigs killed for food every year in the U.S.
Many of us already know that pigs raised and killed for food suffer horribly, but the suffering isn't limited to their experiences on farms and in slaughterhouses—being transported to slaughter can be just as terrifying. Accidents like the one above are common in the animal-agriculture industry, in which transport is largely unregulated and federal laws protecting animals on their way to the slaughterhouse are virtually nonexistent.
Think Before You Eat Another Sausage Link
When in their natural surroundings—not being raised for human consumption—pigs are social, playful, protective animals who bond with each other, make nests, and enjoy relaxing in the sun. We can help end their suffering by going vegan. By doing so, you'll save not only nearly 200 animals each year but perhaps also your own life.
Keep it simple with this classic, uncompromising tee shirt. You may turn a few heads, but everyone will know exactly where you stand.