Texas A&M University (TAMU) is sending a new group of veterinary school graduates out into the world, but dogs used in the school's horrific canine muscular dystrophy (MD) experiments are still being held under lock and key in barren cages, and their only way out is death. That's why PETA supporters crashed TAMU's commencement ceremony with an arresting visual: a "graveyard" memorializing 27 dogs who have died in the school's MD dog laboratory.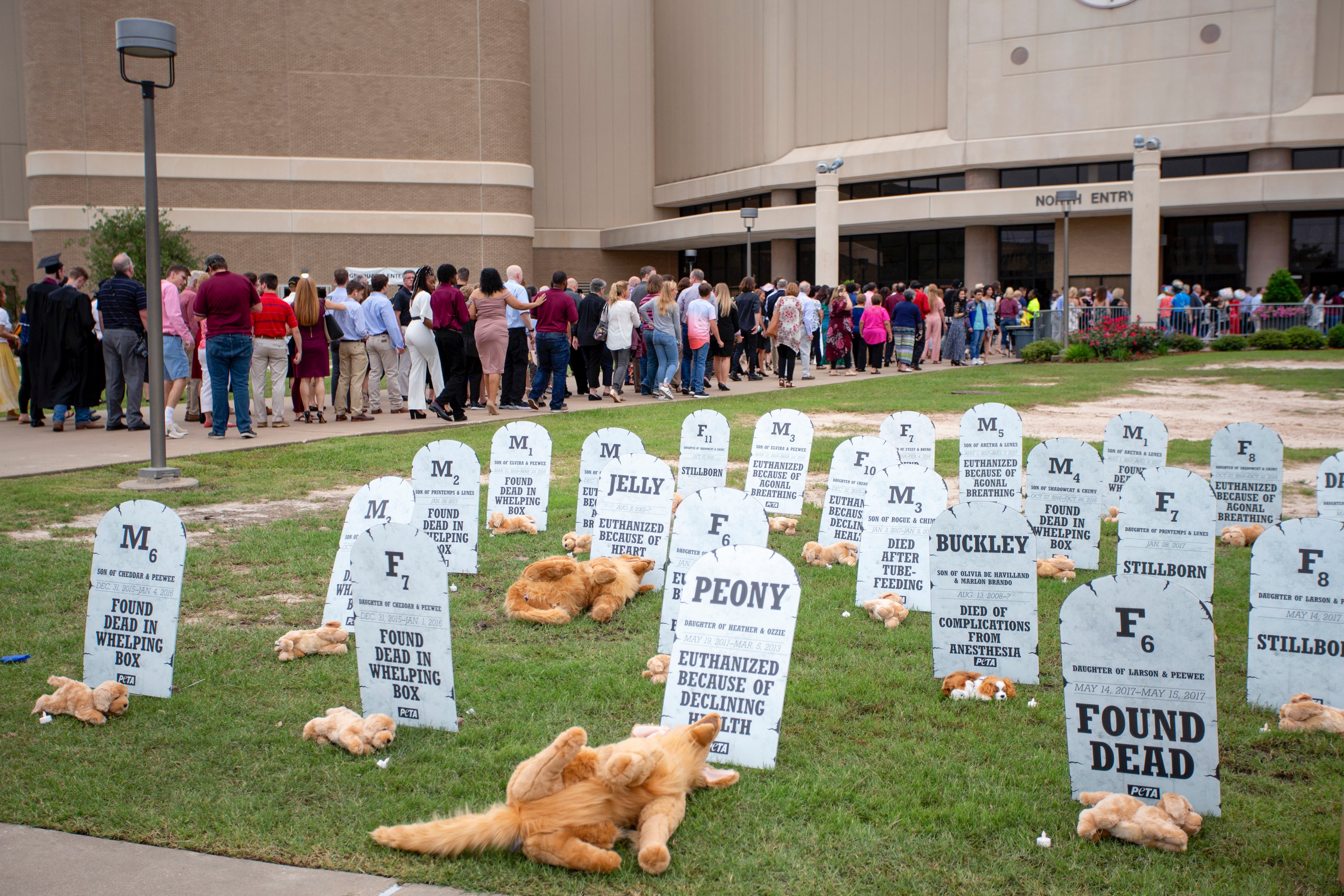 What's Happening to Dogs at TAMU Will Haunt You
TAMU experimenter Joe Kornegay uses artificial insemination and selective breeding to produce dogs who have painful and debilitating symptoms of canine muscular dystrophy. Many puppies who are produced in this manner are stillborn or die within days of birth. Notations in the university's own breeding records, which were obtained by PETA, are rife with cold, clinical terms describing animals' suffering: Phrases such as "failure to thrive" and "started gasping—agonal" were used to document their conditions.
It's graduation week at @TAMU — but golden retrievers trapped in the school's deadly dog lab can NEVER leave.

PETA supporters created a "graveyard" to represent all the dogs who have suffered & DIED there — and to say SHUT IT DOWN! pic.twitter.com/gZQOiv4Cyf

— PETA (@peta) May 10, 2019
As the families and friends of graduates streamed into Reed Arena, they walked right through PETA's "graveyard." Activists were on hand with leaflets explaining how dogs suffer when they're exploited for experiments such as the ones being conducted at TAMU. Many people stopped to ask questions, and others paused to take photos of the stark descriptions on the "tombstones," which detailed how dogs used in the university's experiments died. Check out some of these photos: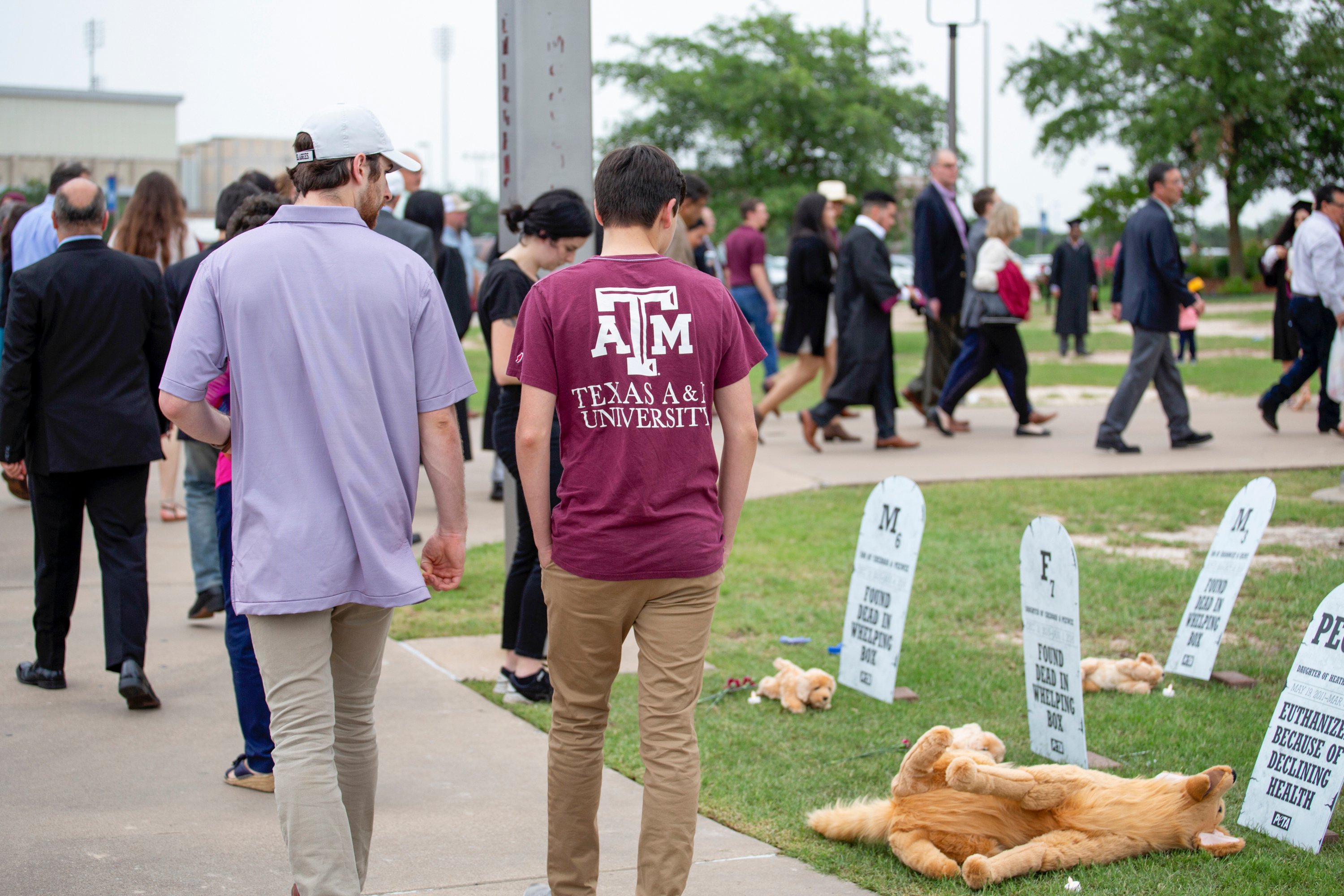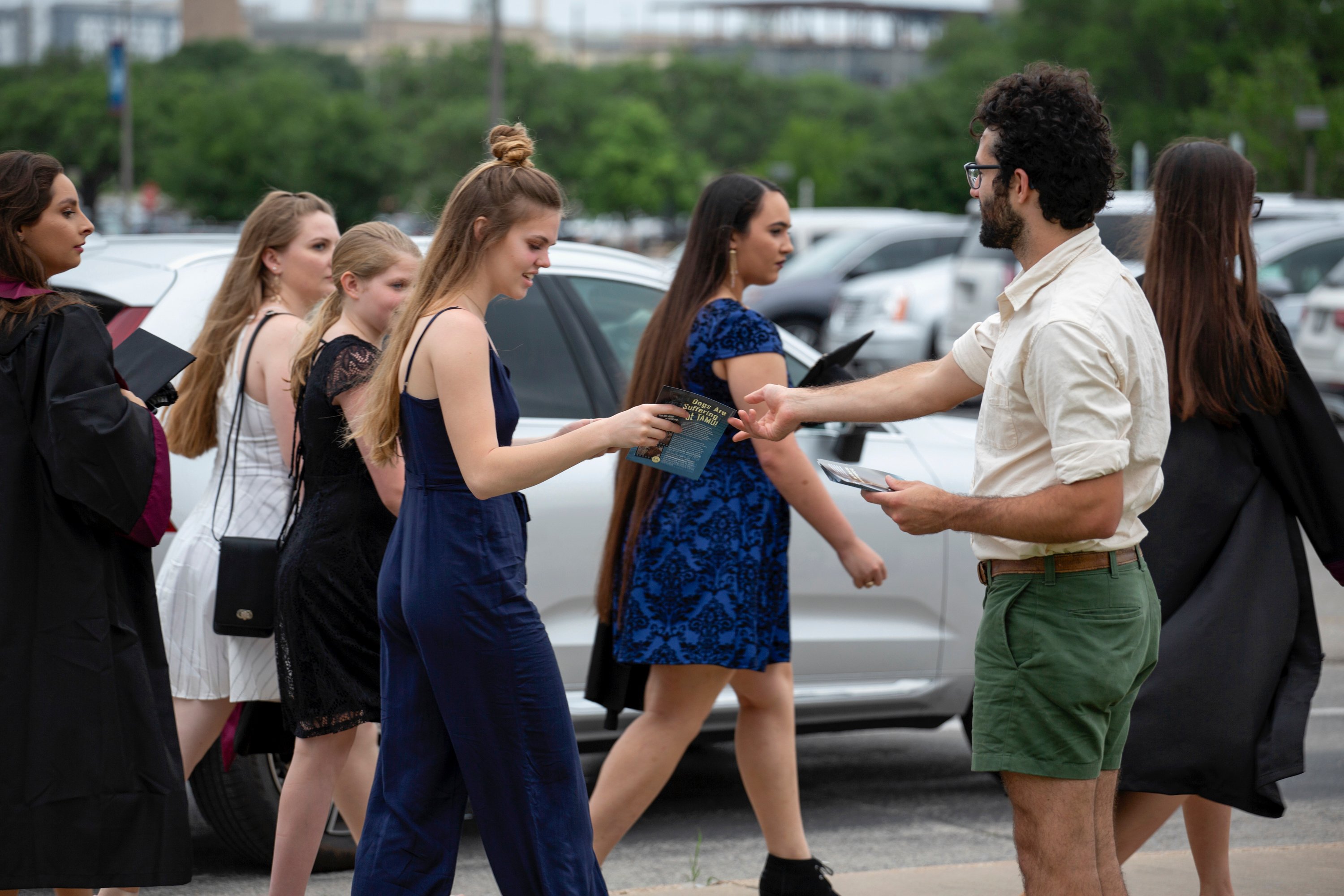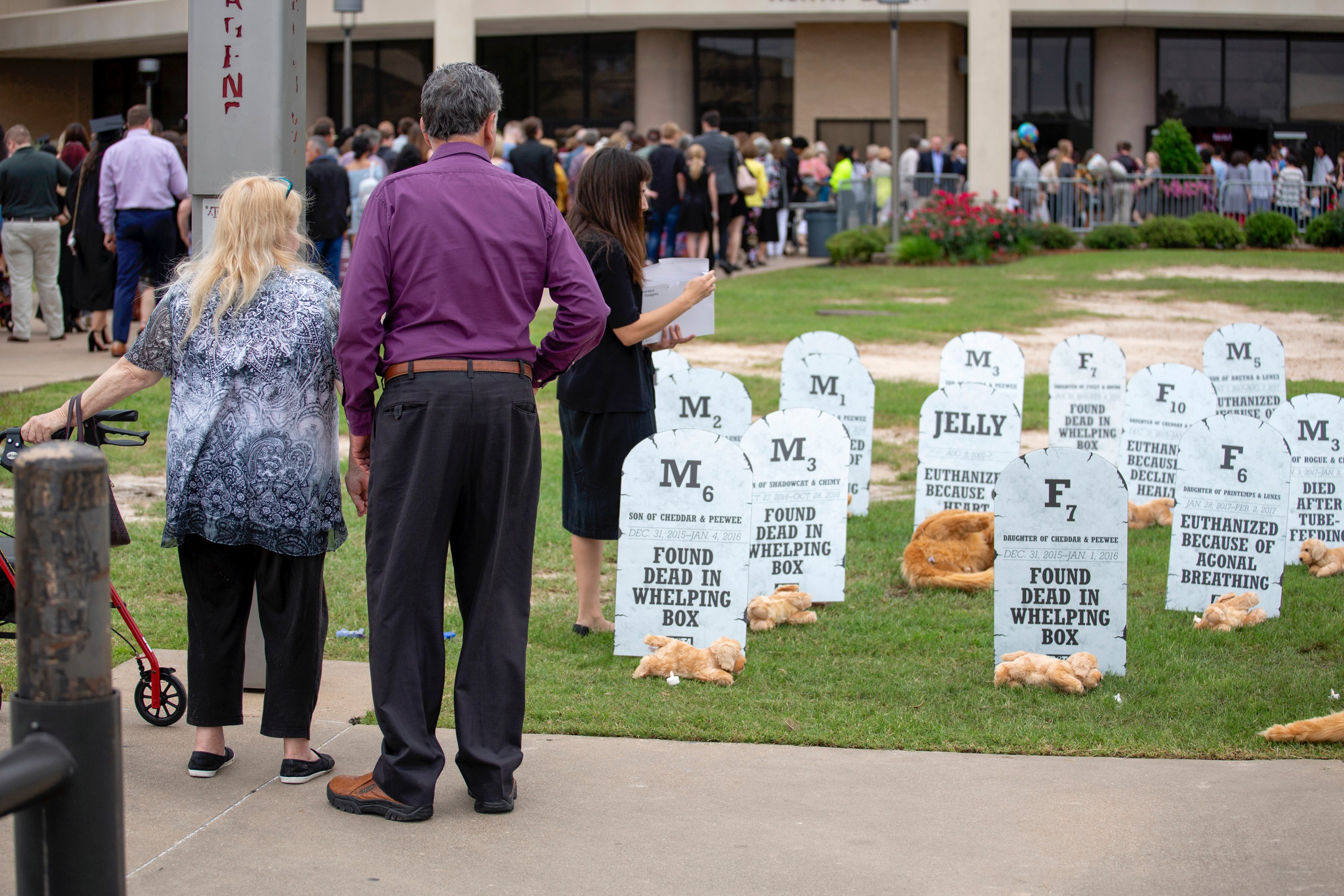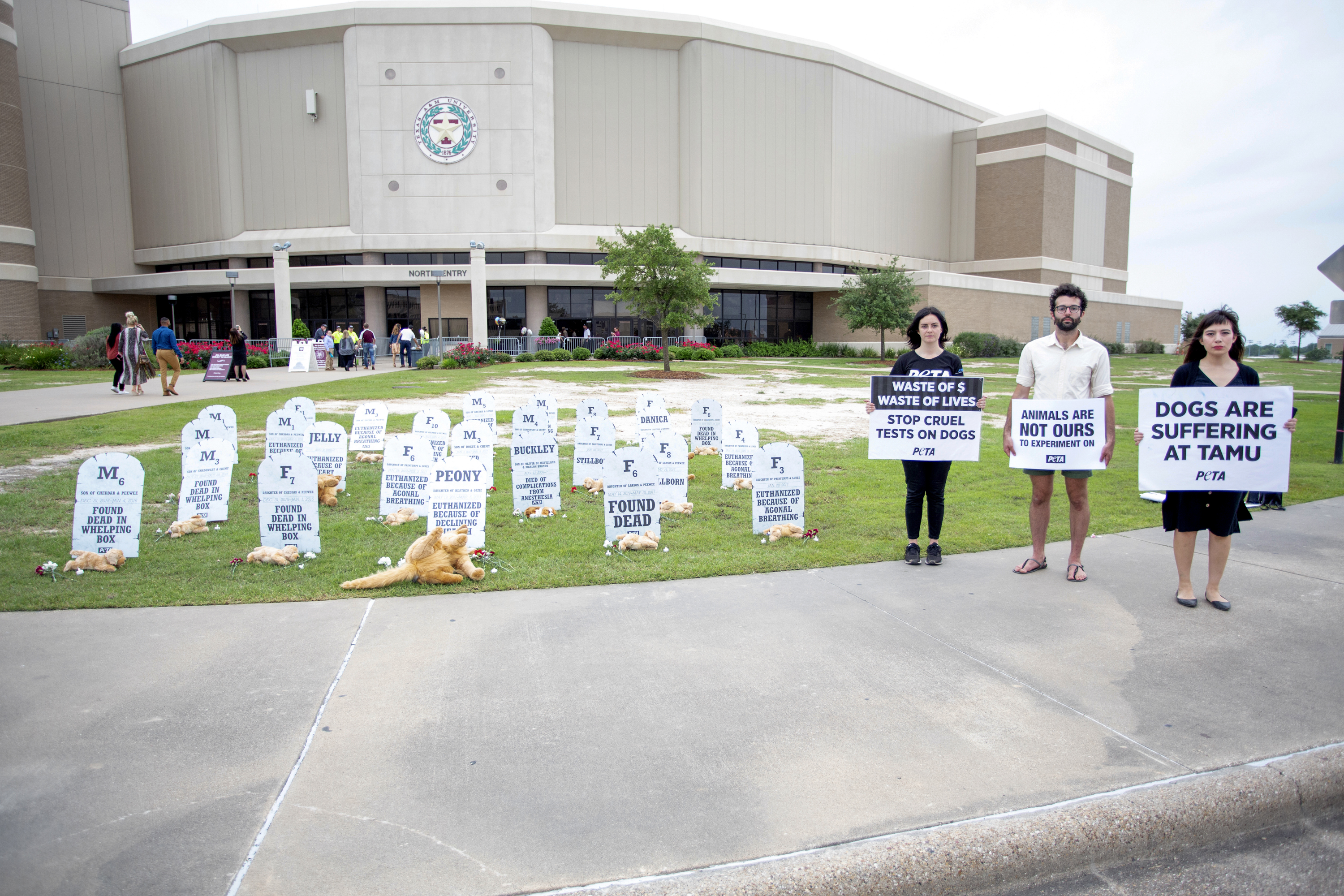 It's Time to Put the Final Nail in the Coffin—Let's End TAMU's Experiments on Dogs!
Dogs at Texas A&M are deliberately bred to develop a crippling and painful form of canine muscular dystrophy that leaves them struggling to walk, swallow, and even breathe. Dogs who don't exhibit symptoms but carry the gene for the disease are used for breeding, and they've been seen frantically pacing and biting the bars of the small cages. Thirty-eight years of these experiments have failed to result in a single cure or treatment that reverses muscular dystrophy symptoms in humans.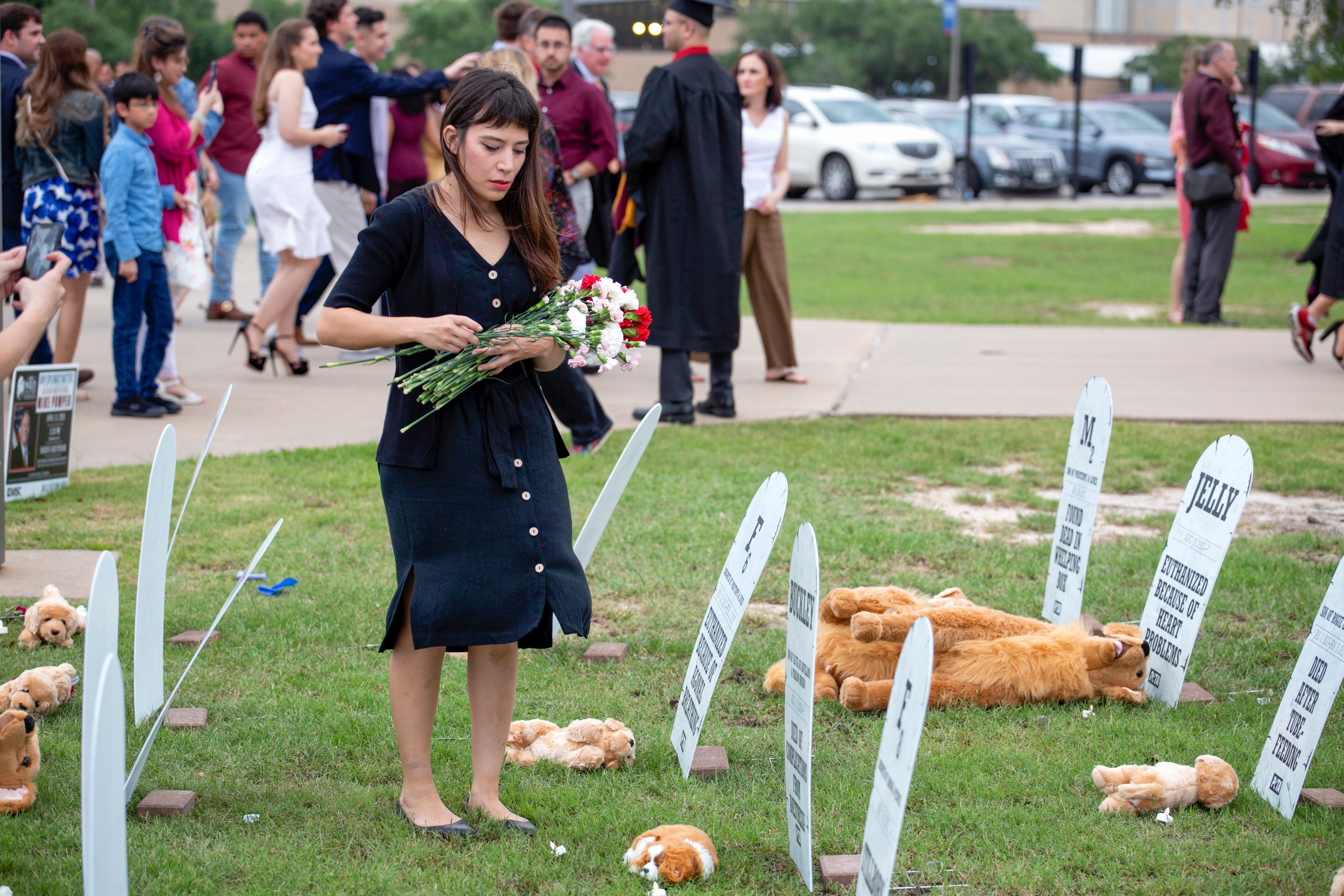 Director Richard Linklater, actor Lily Tomlin, political commentator Bill Maher, NFL player Ryan Tannehill, and, most recently, musician Nikki Sixx have all spoken out against TAMU's experiments on dogs. Please join them—and thousands of compassionate people who have already taken action—by urging the university to stop breeding dogs to have MD as well as closing its dog laboratory, releasing all dogs for adoption into good homes, and redirecting its resources toward humane research methods. Click the button below to get started!