"Why in the hell is this not a prop?" asks an on-set whistleblower from Kevin Costner's big-budget Western series Yellowstone. We're asking ourselves the same question.
In a first-ever whistleblower video interview for PETA's Animals in Film and Television division, a compassionate eyewitness reveals that dead cows' bodies, including one that appeared to have been mutilated were used for Yellowstone's second season. Following these gruesome allegations, PETA has launched a portal making it easier for whistleblowers to report animal abuse, neglect, or improprieties seen on set.
"[I]t carves something on your mind that you can never delete."
During the exclusive interview, the whistleblower shares that Yellowstone's crew initially believed that a cow's body was a prop—until temperatures began to rise:
"[A]s the sun came up and the temperature increased, we knew right away that it was not a prop. We knew that it was real. We began to smell the realness of this freshly dead carcass that had been mutilated in its hindquarters and in its neck, with flies and bees going in and out of the eyes, the nose, the nostrils, the mouth. It's terribly heartbreaking."
Watch the full video interview:
Prior to the interview, the whistleblower shared a photo of the cow's body with PETA, saying that the crew was shaken and the stench was so strong that people couldn't wash it off their bodies.
Warning—this image contains graphic content: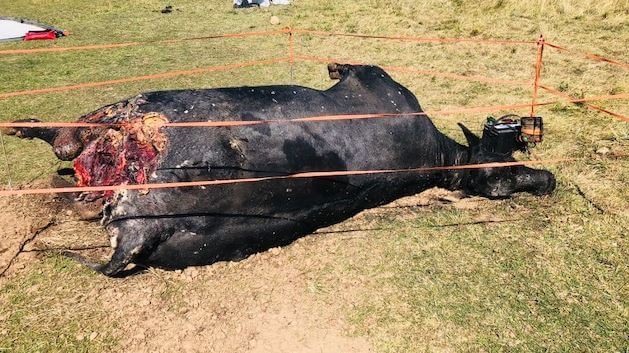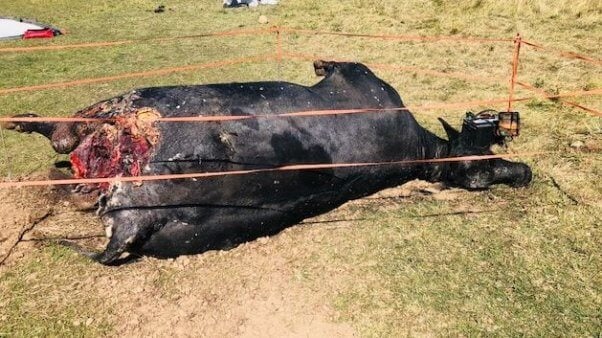 "Why in the hell is this not a prop?"
From the bear and the horse portrayed in The Revenant to the tiger in The Walking Dead and all the animals in The Jungle Book as well as Disney's upcoming The Lion King, Hollywood has been showing that it can portray stunningly lifelike animals on screen by way of computer-generated imagery (CGI) or realistic props. But clearly, Costner and Yellowstone's creator Taylor Sheridan didn't get the memo. Not only did they use real cows' bodies—even though the whistleblower later found realistic cow props at the studio—they also insisted on using live animals in stressful scenes as well.
@officialpeta

Animals seriously don't belong in movies or TV shows. 
This "bleeding cow" is actually a prop, not a real animal! Realistic and advanced props like this, along with computer-generated imagery, prove that using real animals is as unnecessary as it is cruel!
After learning of producers' plans to recreate a rodeo—an archaic and cruel event in which animals are taunted and manipulated into engaging in dangerous and often painful behavior—PETA encouraged the production to use existing rodeo footage instead. Once again, the production ignored our request for compassion and shot the scenes using live animals—and worse yet, it banned cell phones and cameras from the set on the day of that shoot, according to the whistleblower.
"I want audiences to know that this industry will hoodwink them unless they really dig down and realize the [in]justices that have been happening with animals."
This isn't the first time that on-set whistleblowers have contacted PETA to report abuse and cruelty on film or TV sets. In 2018, a crewmember shared deeply disturbing video footage from the set of Crazy Alien, which appeared to show a German shepherd locked inside a cage, suspended 20 feet in the air, spun around by a crane, and then plunged into a frigid, fast-flowing river.
PETA is asking supporters to reject animal exploitation and pass on Yellowstone's second season, as well as calling on Paramount to commit to using CGI or realistic animal props in the future.
If you witness any form of animal abuse on set, do your best to document it. Then report it here or contact PETA's confidential whistleblower hotline at 323-210-2233 or [email protected].