Happy (belated) April Fool's Day! In 2013, we publicized a "plan" to release meat allergy–inducing Lone Star ticks in parks in the Northeastern United States. According to scientists, the bite of the Lone Star tick causes people to develop an allergy to meat. In good-natured April Fool's fun, we publicized a make-believe plan to increase the Lone Star tick population in an effort to cause more folks to ditch meat. On Tuesday, Snopes—a "definitive fact-checking and Internet reference source"—fact-checked the years-old claim.
Is PETA Releasing Lone Star Ticks into the Northeastern United States to Create Meat Allergies? https://t.co/rAqhaljzB7

— snopes.com (@snopes) October 24, 2017
In not-so-surprising news, Snopes determined that the claim is false, recognizing the plan as fictitious. According to the fact-checking site, the post is still as viral as ever. Even though the plan was clearly tongue-in-cheek—we even mentioned offering the bugs by mail for anyone itching to go vegetarian—some folks are apparently still ticked off.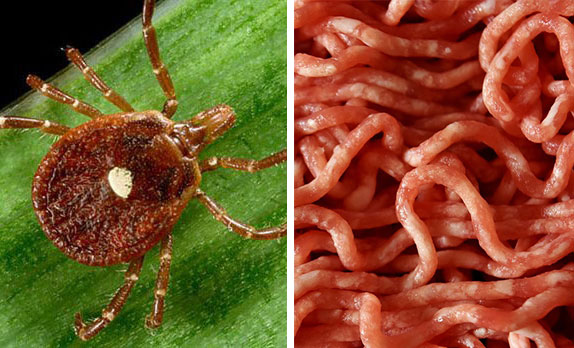 Although our April Fool's joke was just that—a joke—preventing animal suffering and encouraging folks to go vegan are no laughing matters. Eating meat and other animal-derived foods hurts animals, human health, and the environment.
Going vegan is the single best way to make each day a lot less scary for the tens of millions of animals abused and killed every day in the meat industry.
https://twitter.com/peta/status/1470476620381179910
Animals on factory farms suffer routine abuse & a lifetime of suffering before being slaughtered. #Reasons2GoVegan pic.twitter.com/kqoMbaRPyK

— PETA (@peta) June 13, 2015
Ditching meat also reduces a person's chances of suffering from cancer, diabetes, heart disease, obesity, and strokes.
ICYMI: Eating processed meats is a confimed cause of cancer. https://t.co/C89m27dTgs pic.twitter.com/i3zkEMRUSc

— PETA (@peta) October 30, 2015
As if minimizing animal suffering and improving your health weren't reason enough to make the switch, going vegan can also help protect the environment. Raising animals for food requires massive amounts of land, food, energy, and water. You can even fight climate change by going vegan!
Meat production is a leading cause of climate change, water waste, and deforestation. If you're concerned about our environment, #GoVegan! pic.twitter.com/f2sTiBMjSv

— PETA (@peta) November 12, 2016
So while PETA may not be releasing Lone Star ticks across the U.S., we're certainly happy to kick back and let them continue to do their beautiful thing. In the meantime, order yourself a free vegan starter kit and discover just how easy it is to make the switch to compassionate eating—no ticks required.