Awards season is here, which means PETA's rolling out the red carpet, because we've got a few Oscat awards of our own to give out. Join us and celebrate our picks for this year's animal-friendly film categories!  
Best Actress: Tilda Swinton,
The Eternal Daughter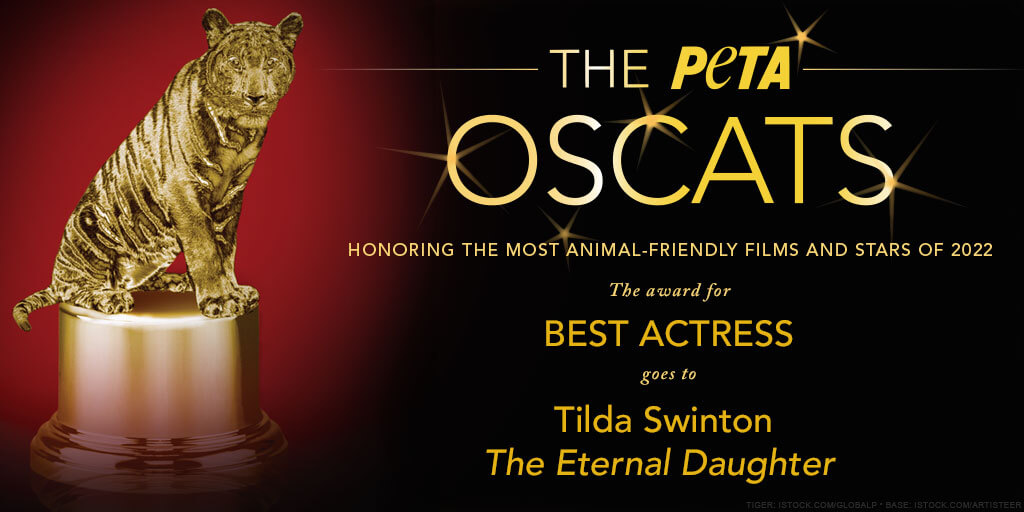 In The Eternal Daughter, a gothic mystery, Tilda Swinton delivers a career-defining performance and does it alongside her own companion dog, Louis—setting an example that's quickly becoming the industry standard. Animals used in film and TV often endure abusive training techniques, such as food deprivation, and are denied loving homes. By inviting her canine companion to the set, Swinton ensured that no dog was condemned to languishing in a cage at a facility, just to be used as a prop in a movie when the time comes. It's clear from her chemistry on screen with Louis—especially the way she welcomes him onto her bed—that he's family. 
Best Actor: Jeff Goldblum,
Jurassic World Dominion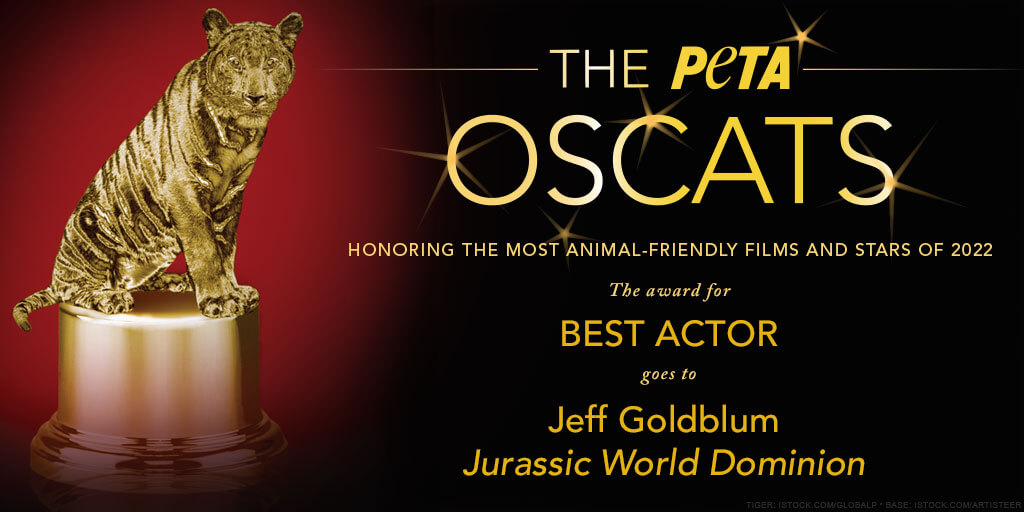 If dinosaurs really lived among humans, it would probably look a lot like what's shown in Jurassic World Dominion, from scummy dinosaur breeding farms to black markets in which dinosaurs are sold as exotic "pets"—the same horrors that our fellow animals are subjected to in real life.  
The latest installment in the Jurassic franchise drives home its anti-speciesist message with a powerful speech delivered by Dr. Ian Malcolm (Jeff Goldblum): "Human beings have no more right to safety or liberty than any other creature on this planet. We not only lack dominion over nature, we're subordinate to it." 
Faux for
Fox
Sake: Ruth E. Carter,
Black Panther: Wakanda Forever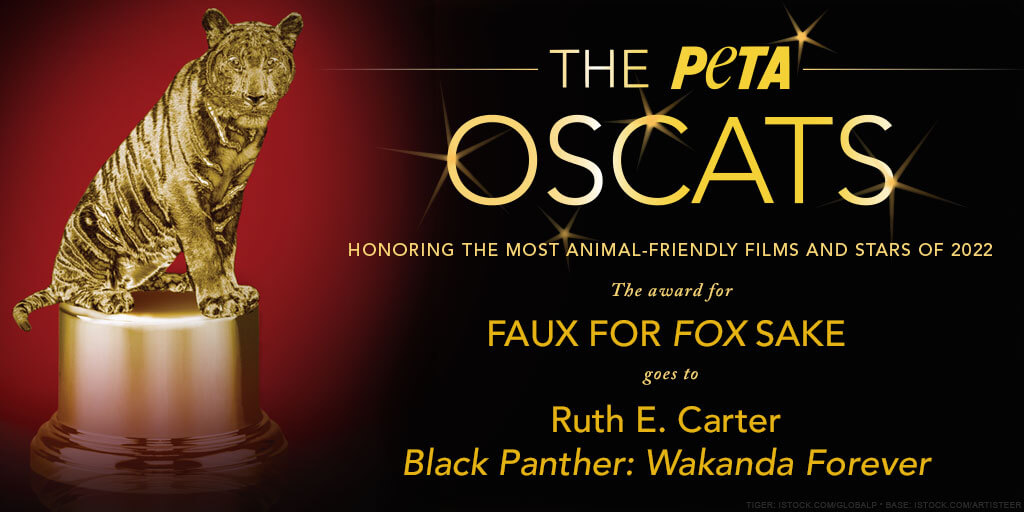 We went wild when we saw our favorite vegetarian character, M'Baku (Winston Duke), sporting faux fur and munching on a carrot during a pivotal scene in this film. In fact, all the fur in Black Panther: Wakanda Forever is cruelty-free. Fur farmers use the cheapest and cruelest killing methods available, including suffocation, electrocution, gas, and poison. We applaud costume designer Ruth E. Carter's dedication to reducing animal suffering in her projects. 
Best Animated Feature:
Puss in Boots: The Last Wish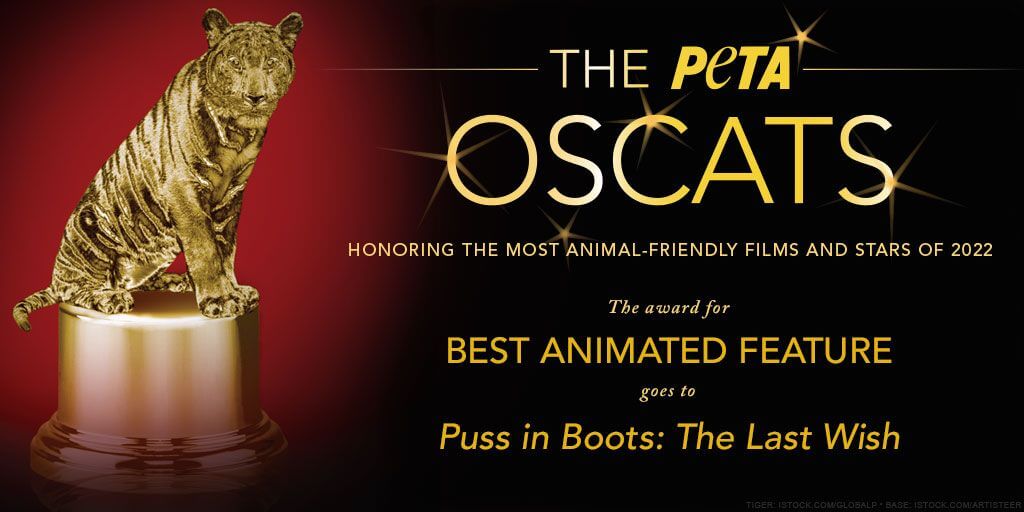 That fan-favorite feline Puss in Boots finally comes back to kick butt in this meowst-see sequel. The long-awaited Last Wish features an all-star cast of animal-friendly stars, including our celebrity crush, Antonio Banderas, who not only voices the titular feline hero but also is a fan of cats in real life.  
What really makes this blockbuster worthy of being our Best Animated Feature is its pro-adoption themes. After meeting a stray dog named Perrito (Harvey Guillen)—who longs for a family after enduring a lifetime of abuse and abandonment—Puss and his partner, Kitty Softpaws (Salma Hayek), welcome him as a new member of their adventure-seeking family. Seeing the pawsome trio embark on a daring adventure together was a heartfelt reminder that everyone deserves a loving family.   
The movie gets extra points from PETA for its strong anti-declawing messaging, which is shown when Kitty reveals that her distrustful attitude was caused by having her claws stolen from her—which rings true for cats in real life, who can become distressed and withdrawn after they've been declawed.  
PETA Pick:
To Leslie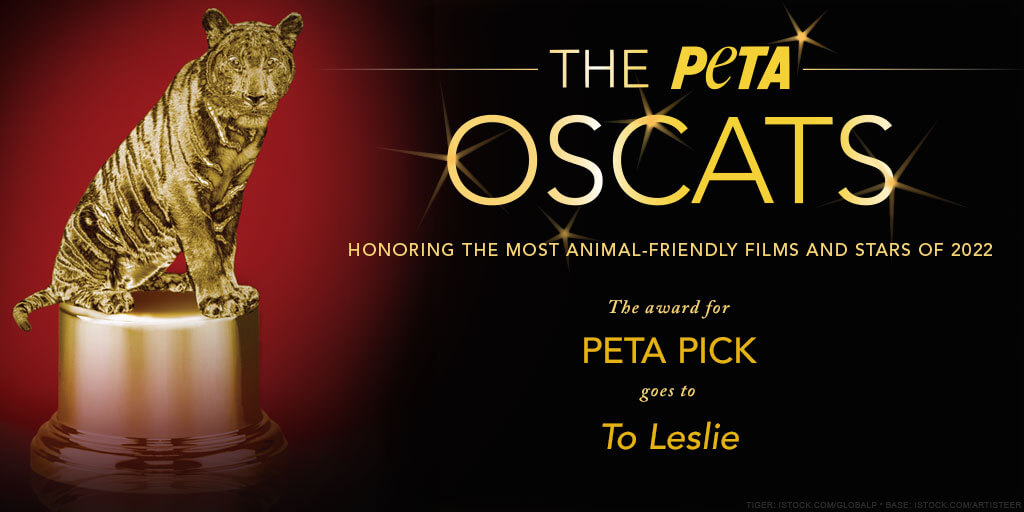 There's no question in our mind that To Leslie is award-worthy. Andrea Riseborough's profound performance as a single mother rebuilding her life after hitting rock bottom pulls at the heartstrings, but the scene that really hit home was when lead character Leslie's son speaks out against the cruelty of roadside zoos: "Animals are meant to be in the wild, and we put them in cages. How'd you like it if people stood around watching you suffer?" We couldn't have said it better ourselves.
The powerful scene is a reminder to viewers never to visit crummy roadside zoos, where animals are forced to spend their lives in dismal conditions behind bars for humans to gawk at. This deprivation—combined with relentless frustration, loneliness, and sometimes even abuse from the people who are supposed to be caring for them—causes severe physical and psychological distress for many animals stuck in tiny, barren cages. 
Primo Primate: Jordan Peele,
Nope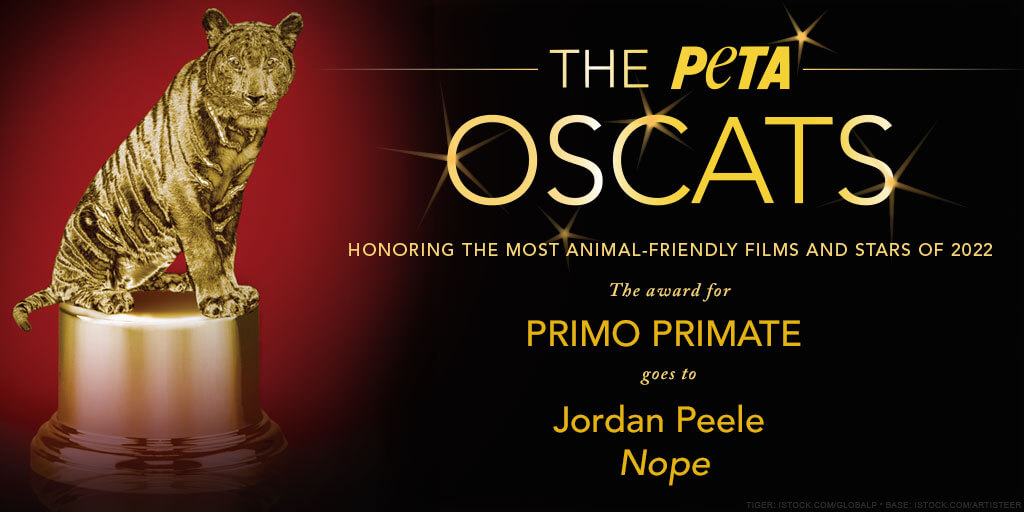 While we say "nope!" to using animals in films, we say "yep!" to Jordan Peele's poignant message to viewers: Animals don't exist to be exploited for human entertainment. In a horrifying scene that shows a computer-generated chimpanzee attacking humans on the set of a television show, Nope shows the consequences of forcing great apes to perform.  
Chimpanzees used for entertainment were abducted from their mothers, subjected to beatings behind the scenes, and then dumped at shoddy roadside zoos when they became too mature and powerful. PETA and other advocates successfully ended the use of great apes in Hollywood, but primates such as capuchin monkeys and other animals are still sometimes exploited by misguided filmmakers.  
Meat Is Murder:
Fresh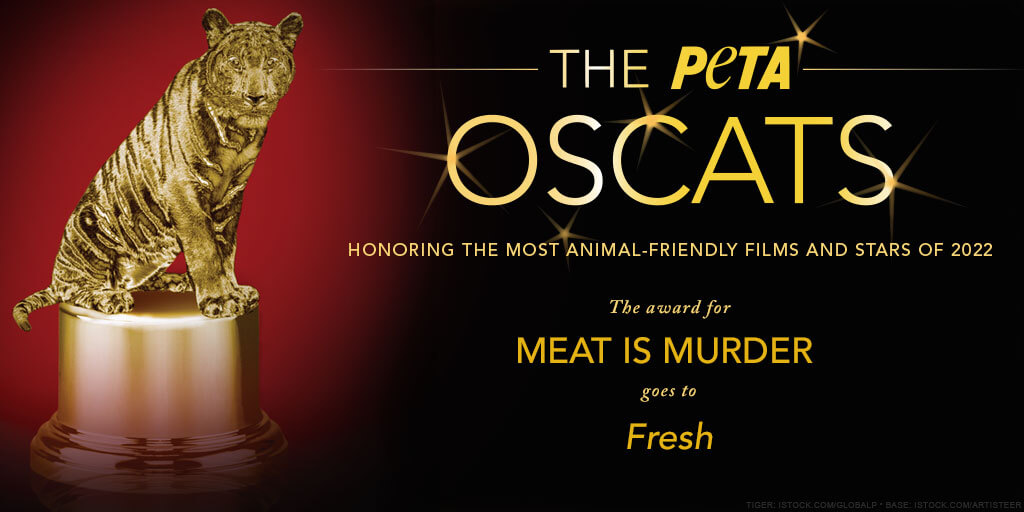 No matter how you slice it, meat is murder—which is exactly what Fresh illustrates. The horror film forces viewers to empathize with animals who are killed for their flesh by depicting the desperate attempts of humans to escape being slaughtered and turned into meat. Unfortunately, this nightmare is essentially inescapable for animals used for food, which is why we urge everyone to help end the abuse and slaughter by going vegan. Order a copy of PETA's free vegan starter kit for tips and recipes to help you go vegan today.  
Test Students, Not Animals:
The Bad Guys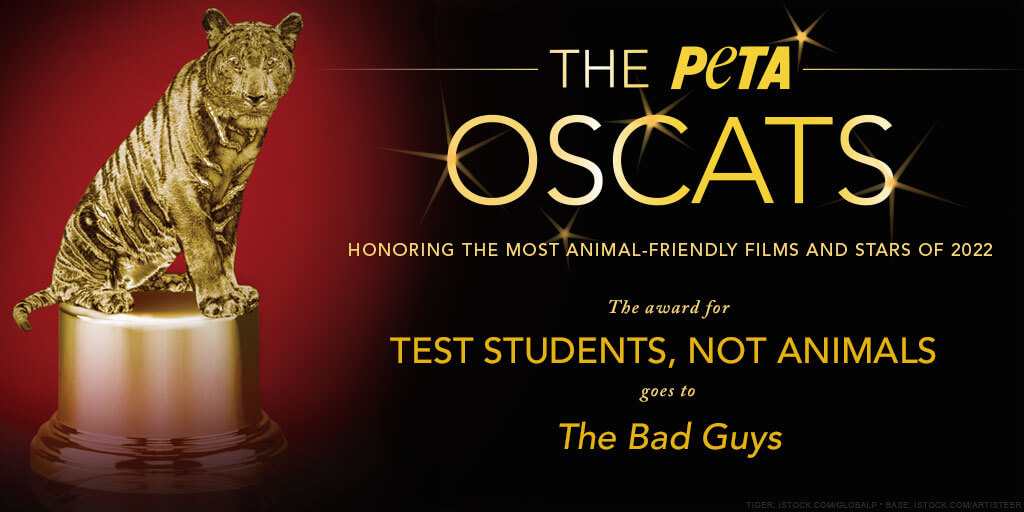 This animated heist comedy features a gang of animal troublemakers who, after attempting to free guinea pigs from a laboratory, are on a mission to evade the law. The Bad Guys is action-packed and family-friendly, and it sends a message that PETA can get behind: The real "bad guys" are the ones experimenting on other animals. Each year, more than 110 million animals—including mice, rats, frogs, dogs, cats, rabbits, hamsters, guinea pigs, monkeys, fish, and birds—are needlessly killed in U.S. laboratories. 
No Horse, of Course:
Alice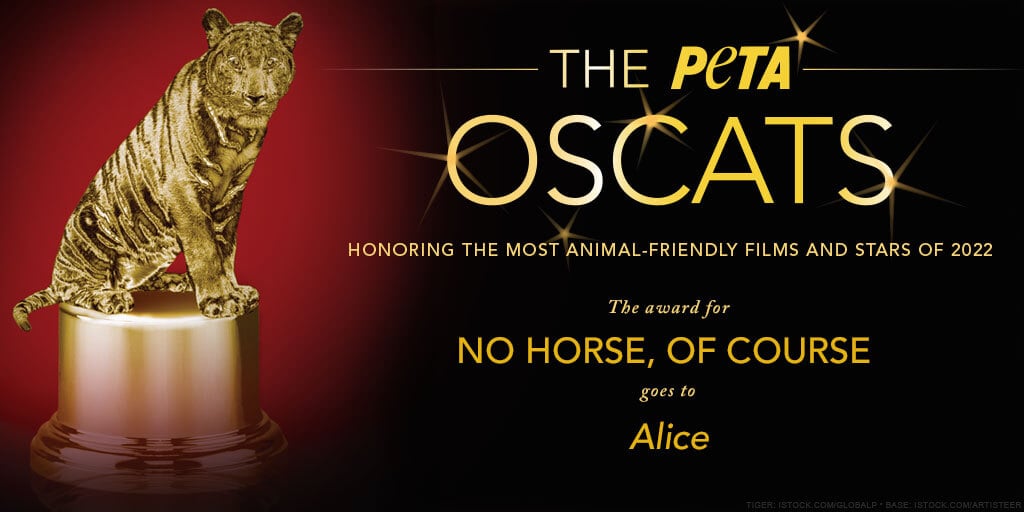 While part of the film simulates the Antebellum South, Alice sets the scene without using any live horses. Historically, horses have been among the most commonly injured and killed animals when used for movies and TV shows. Since they're prey animals who are easily frightened, production sets are extremely stressful and unsafe environments for them, which is why we urge all filmmakers to omit horses from productions altogether. Alice is a terrific example, showing that period pieces don't need to rely on the exploitation of horses in order to be effective.   
Best Reboot:
Goodnight Mommy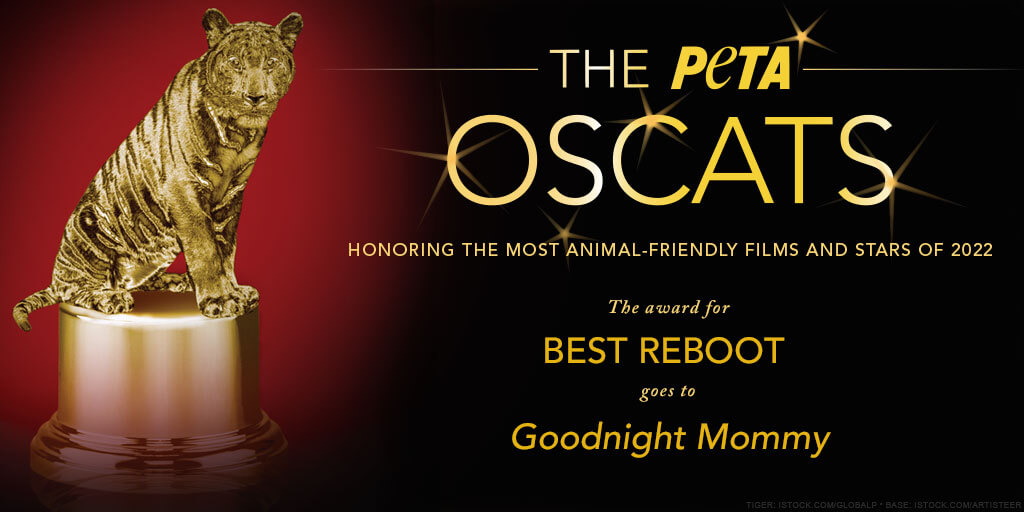 This remake includes all the chilling horror of the original film but without the use of live animals. Director Matt Sobel compassionately opted out of using cockroaches and a cat—who were used in the original Goodnight Mommy—and instead came up with new, creative ways to disturb and horrify viewers. We love to see filmmakers challenge themselves to think outside the box, instead of relying on tired old methods of animal exploitation. 
Speak Up for Animals Used for Entertainment
Animals aren't actors. We encourage everyone to follow in these award winners' footsteps by speaking up for animals whenever they need help. If you witness or hear about animal abuse on film or television sets or see an animal being used in a movie or show, report it to PETA.