Huge. News. Compassionate consumers who want to do good and feel good while they smell good can now choose from all Secret deodorant and antiperspirant products, as the brand is now on our trusted list of companies and brands that don't test on animals. Secret—one of the leading deodorant brands in the U.S.—is the latest Procter & Gamble brand to be added to our Global Beauty Without Bunnies program and will soon feature PETA's bunny logo on its website and eventually on its packaging.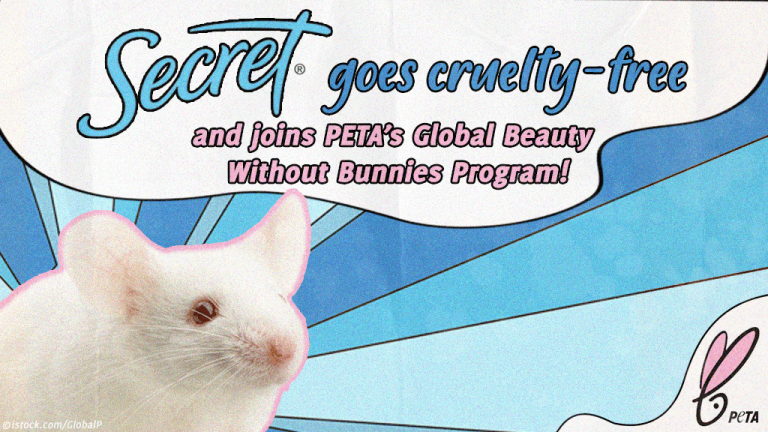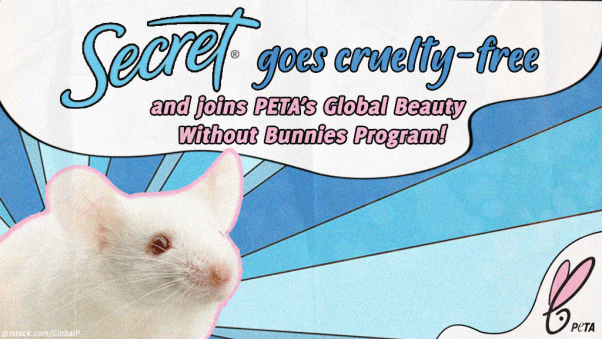 This means that Secret has banned all tests on animals everywhere in the world—for ingredients, formulations, and finished products.
Procter & Gamble has collaborated with us for many years to help end animal testing in the beauty industry around the world. The company is also collaborating with PETA scientists on a variety of efforts to replace the use of animals in deadly toxicity testing.
"As a pioneer in animal testing alternatives, we are thrilled to add Secret to the list of P&G brands that are part of PETA's Global Beauty Without Bunnies program," says Kelly Vanasse, Senior Vice President and Chief Communications Officer, Procter & Gamble Global Beauty, Grooming and Health Care. "Being cruelty-free is important for Secret. It provides people with the assurance they've come to rely on when choosing their personal-care products."
Procter & Gamble is committed to ending all animal testing, and we encourage other industry giants to follow its lead in embracing modern, non-animal research methods.
Procter & Gamble's work with the PETA International Science Consortium Ltd. includes coauthoring a paper describing non-animal approaches to assessing respiratory toxicity and participating in a group that works with the Food & Drug Administration to gain regulatory acceptance for non-animal tests.
Last year, Procter & Gamble's Aussie and Herbal Essences brands were added to our Global Beauty Without Bunnies program.
PETA and Procter & Gamble will continue to work together to ban animal testing globally. Will you join us?
By purchasing animal test–free products from the more than 4,700 listed companies and brands in our searchable database, you'll help prevent sensitive rabbits, guinea pigs, mice, rats, and others from enduring excruciating tests, a lifetime of suffering, and death. So what are you waiting for? Hop to it—start shopping: