Save a horse—ride a horseless carriage! In a major whinny for horses, a local Charleston, South Carolina, business owner has unveiled the first prototype for an all-electric horseless carriage, setting an excellent example for tourist spots everywhere.
Super proud of my friend Kyle for launching the first horseless "E-carriage"! This is years in the making and built by hand! pic.twitter.com/X4rbBboIQG

— Caroline Balchunas (@carolinebTV) May 9, 2022
As cities continue to ban cruel and archaic horse-drawn carriage rides, companies are coming up with new ways for tourists to experience tour rides without supporting animal abuse. Aesthetically designed like a horse-drawn carriage (minus the horses), the "e-carriage" is an animal- and eco-friendly twist on a classic sightseeing ride through the city.
There's No Excuse for Taking Horse-Drawn Carriage Rides
Horse-drawn carriage rides are miserable for horses, who are forced to pound the pavement for hours on end while hauling heavy, oversized loads of tourists. Drivers often overwork horses and make them toil through extreme weather. Horses also suffer from long-term ailments, such as respiratory problems from breathing in exhaust fumes and debilitating leg problems from walking on hard surfaces.
In nearly every city where horse-drawn carriage rides are allowed, accidents have occurred—and Charleston is certainly no exception. In June 2021, a truck struck a horse-drawn carriage with multiple passengers, causing the frightened horse pulling it to take off running. Two people were taken to the hospital. In July 2020, a horse pulling a carriage sustained serious injuries after he took off running, and he was subsequently euthanized. In 2019, two horses pulling a carriage took off and damaged several cars. One passenger jumped out of the carriage. Clearly, an e-carriage in Charleston can't come soon enough, and it's time for other businesses offering tourist rides to follow suit.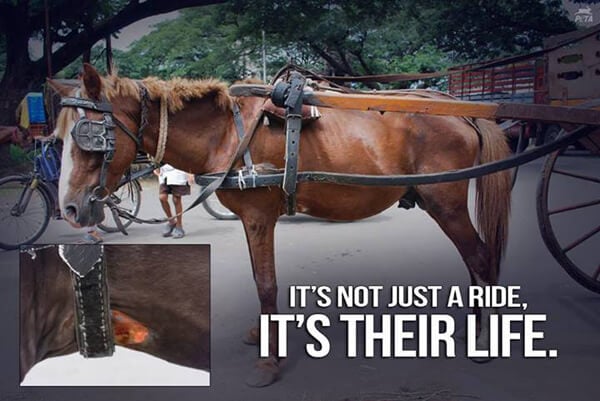 Lend a Helping Hoof to Horses—Speak Up Against Horse-Drawn Carriages
There are plenty of ways to go sightseeing in a new city while being kind to our fellow animals. Take a pedicab ride, go on a bus tour, or rent an electric bike—as long as it doesn't involve exploiting horses or other animals, go for it!
Many cities, including Chicago and Salt Lake City, have banned horse-drawn carriages. If you live in a city where horse-drawn carriage rides are still allowed, contact your local officials to ask if they'll sponsor a ban.
Click the button below to urge Charleston's mayor to help ban horse-drawn carriages: