Praxis is a rebellious Latin American stencil artist who was born and raised in Colombia. Grounded in humble beginnings, he has made a name for himself creating art with an impact by harnessing his passion for Latine people, his community, and animals. Having dedicated his life to animals, he has taken not only Bogotá, Colombia, but also California, New York, Oregon, Texas, and Washington by storm with his powerful animal rights art. In fact, he was the first artist to hold an animal rights art show in Bogotá.
He has even taken his talents to Sunset Boulevard in Los Angeles, where he created an anti-speciesism mural on the side of PETA's Bob Barker Building in a three-day painting marathon.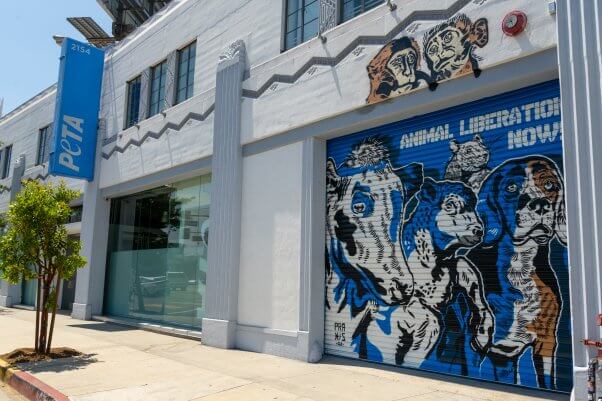 Praxis has generously donated many pieces to various PETA and PETA Latino causes over the years and has worked closely with us on projects focusing on Lolita the orca, bullfighting, the Iditarod, vivisection, exotic skins, and vegan eating. Check out the edgy and powerful art that he has created to inspire millions of people around the world.
Lolita
Lolita the orca was violently torn away from her family and natural habitat decades ago, along with several other orcas in Puget Sound (off the coast of Washington) who were later sold to marine parks. More than five decades later, she's still stuck inside the smallest orca tank in the world at the Miami Seaquarium while the rest of her pod swims free.
Praxis created this powerful image to illustrate the suffering Lolita endures every day and the urgent need to transfer her to a seaside sanctuary, where she deserves to be.
As long as Lolita and other animals are oppressed and exploited, there will be those of us who won't rest until they are freed, even if it takes our whole lives.
Iditarod
Praxis' art was vital in urging Millennium Hotels and Resorts to drop its sponsorship of the deadly Iditarod dog-sled race, which is nothing short of a nightmare for the dogs who are forced to run approximately 1,000 miles while pulling a heavy sled in some of the most grueling conditions on Earth. More than 150 dogs have died while running the race—not counting those who suffered and died while chained up outside during the off-season or who were killed because they lacked the speed or stamina to make the grade.
Fashion
Praxis has designed several thought-provoking images to aid in the global crackdown on the sale of fur, exotic skins, down, and other animal-derived materials. Praxis and his art have offered endless support to our campaigns against the use of such materials by brands and fashion houses, from Urban Outfitters to Louis Vuitton and Prada.
There's no excuse for this senseless violence towards birds and coyotes when so many fashionable, functional alternatives to fur and down exist.
This past week, Praxis continued to take New York City by storm and stood up to the fashion industry with his powerful stencil art.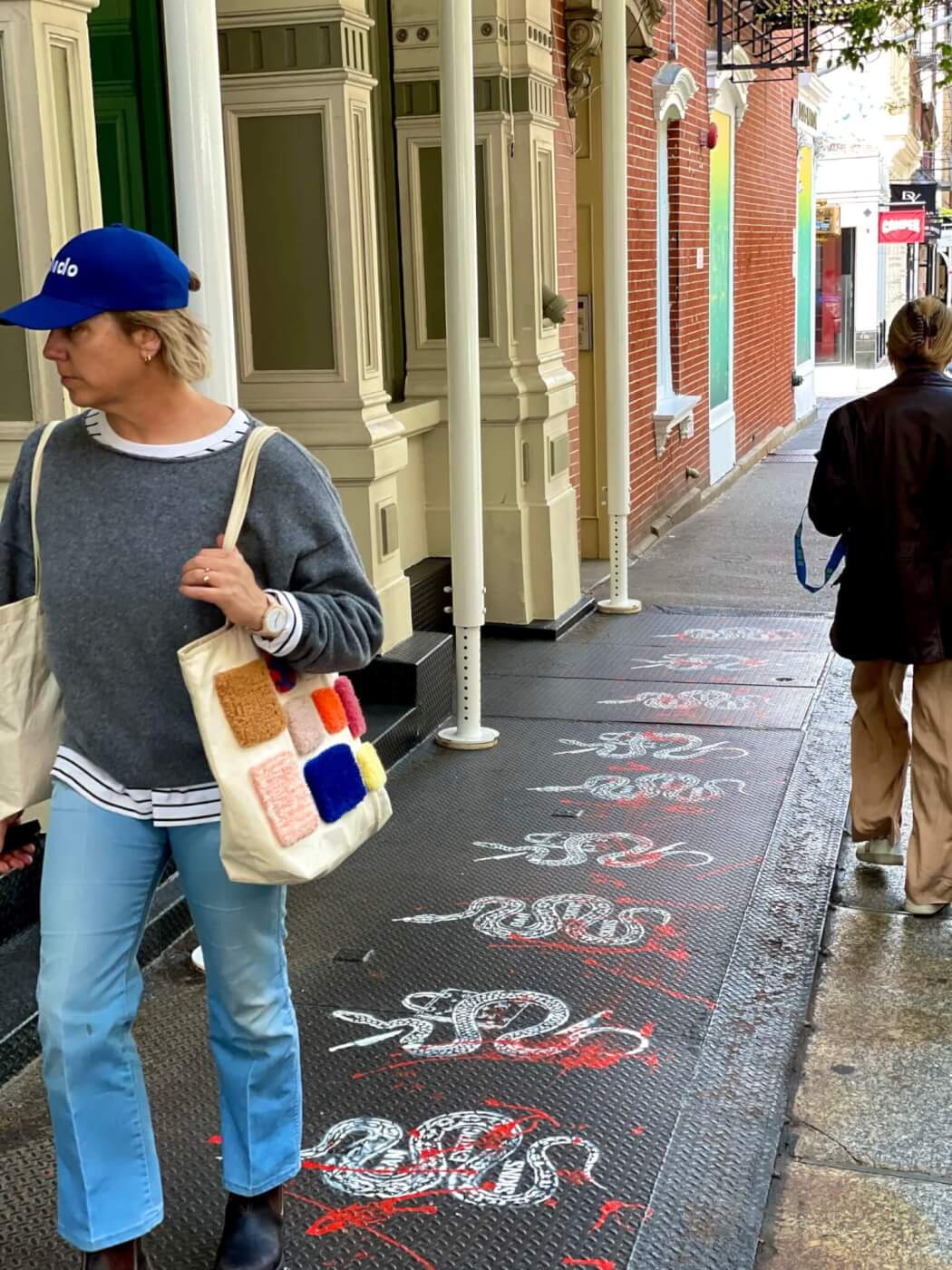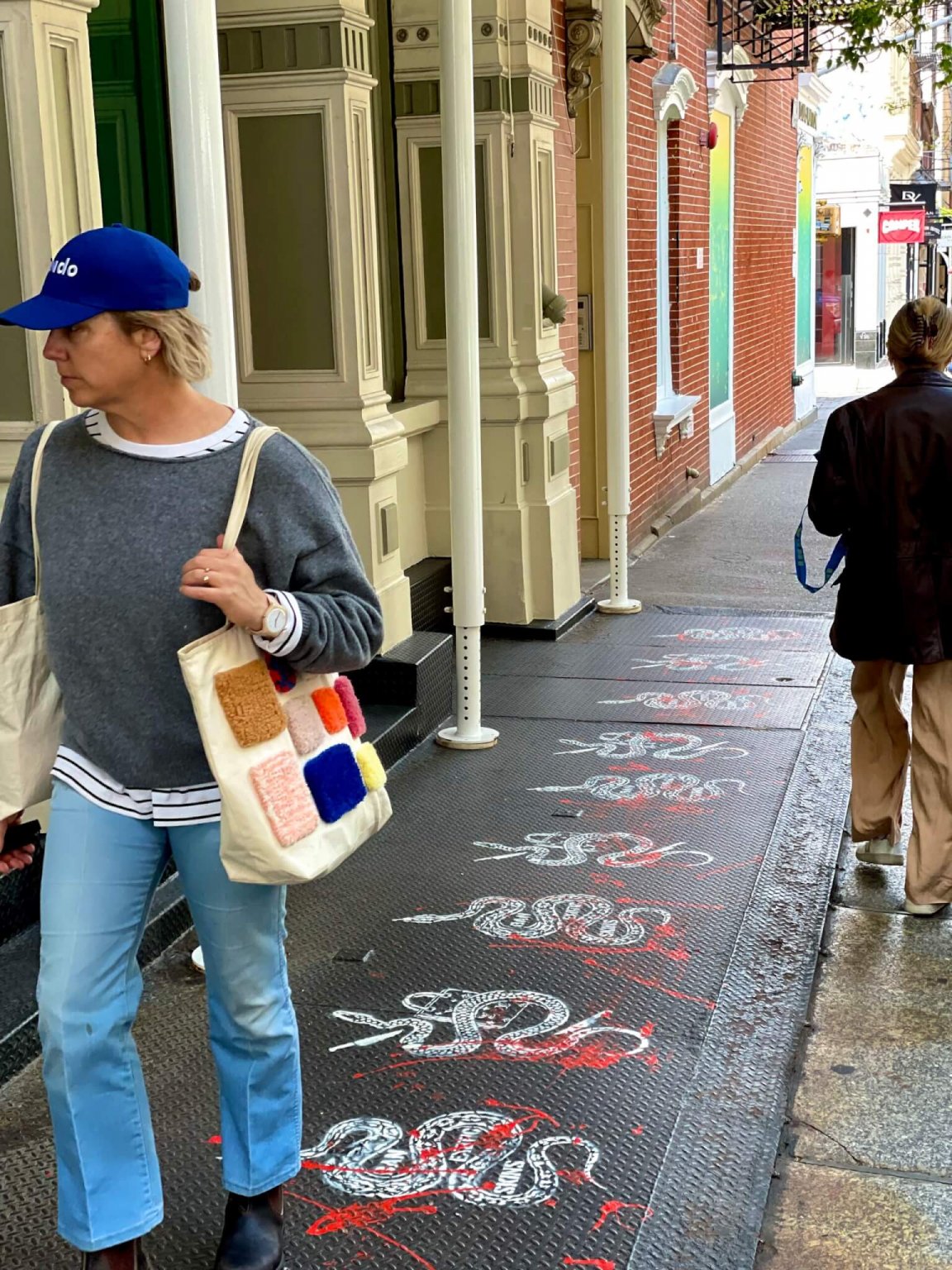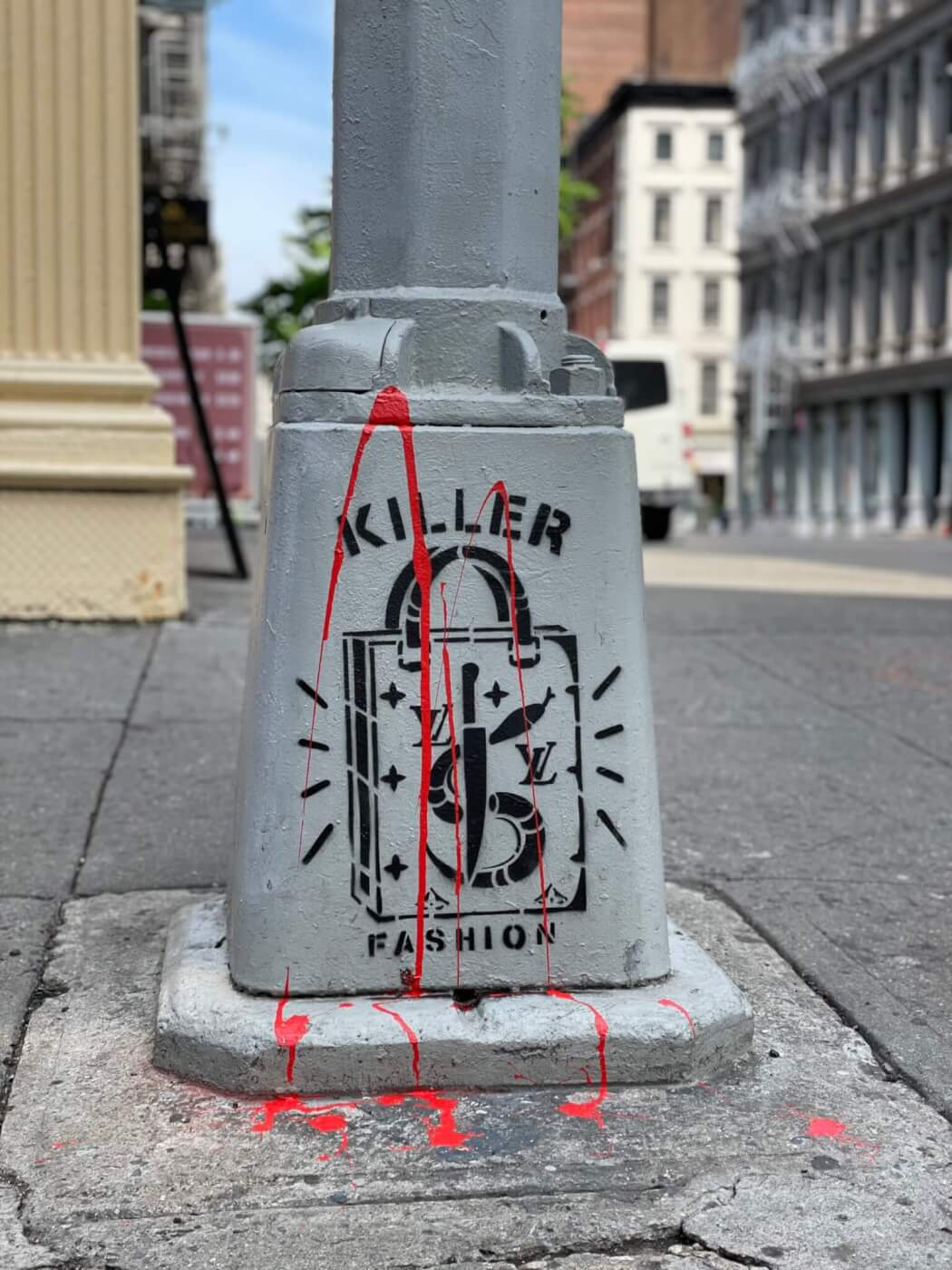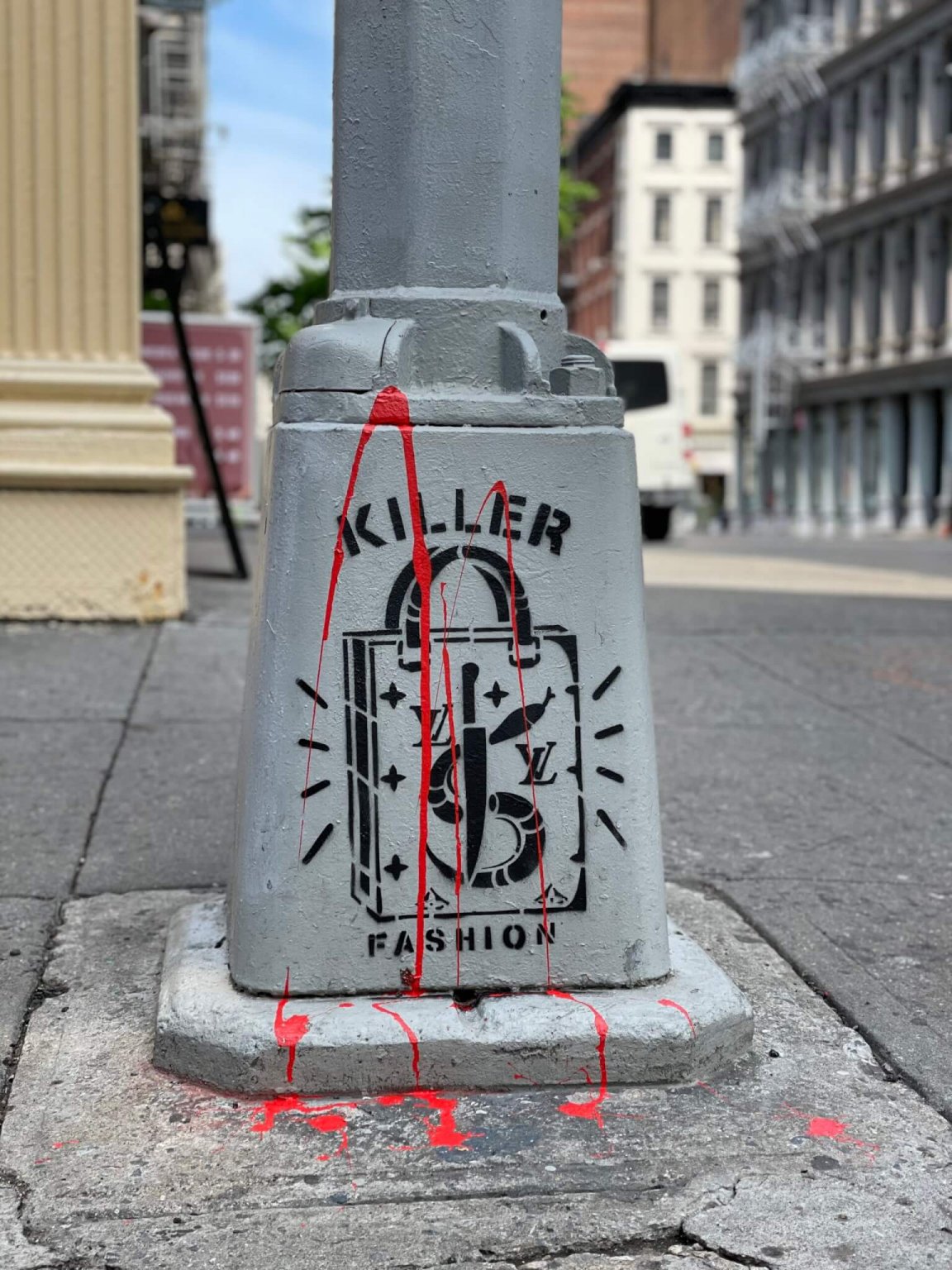 At the height of the holiday shopping season in 2020, he joined forces with PETA to expose the cruelty that goes into Canada Goose coats, placing 100 new pieces around the area, including at New York University and Columbia University as well as in SoHo, the Meatpacking District, Williamsburg, and Bushwick.
"These images bring people face to face with the trapped coyotes and gentle birds who died before they were used to make Canada Goose's fur-and-feather parkas," says PETA Executive Vice President Tracy Reiman. "PETA is pleased to team up with Praxis to remind everyone that there are once-sentient beings in every down-filled and fur-collared parka."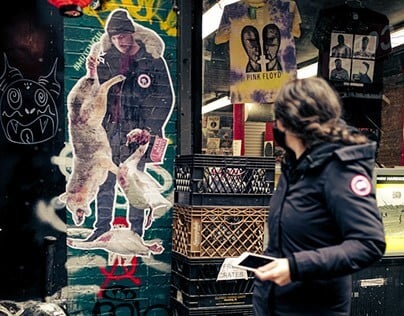 Vivisection
PETA and Praxis took to the streets of San Antonio to spread awareness of the torture of monkeys at the national primate research centers (NPRCs).
The NPRCs receive tens of millions of taxpayer dollars every year via the National Institutes of Health. Instead of funding effective, non-animal research, the agency gives money to the NPRCs so that they can pry baby monkeys away from their mothers, embed devices in their skulls and eyes, infect pregnant monkeys with Zika, and more.
Artwork Reveals Monkeys' Suffering in NPRC Labs
In Portland, Oregon, Praxis and PETA raised their voices with a citywide flyposting campaign that confronted passersby with images of a traumatized baby monkey who was separated from her family and abused by experimenters. The provocative street art takes aim at the Oregon NPRC at Oregon Health & Science University as well as the six other federally funded primate research centers in the country, demanding that these archaic monkey laboratories be shut down. Praxis' art targeting the Washington NPRC was seen on the streets of Seattle.
In Texas, San Antonio residents were also confronted by images of a traumatized baby monkey torn away from her mother to be abused by experimenters. Praxis and PETA plastered the city with thought-provoking street art, demanding an end to the Southwest NPRC at Texas Biomedical Research Institute.
In California, Praxis and PETA took over not only the busy downtown streets of Sacramento but also the University of California–Davis, where several infant monkeys have died, including one who died of heat stress and another who was severely injured after staff placed her in the wrong outdoor enclosure and she was attacked by other stressed monkeys. UC-Davis staff also injected 54 titi monkeys with a vaccine that was inappropriate for their species—as a result, three of them had to be euthanized. Praxis shocked residents with impactful art demanding that the California NPRC at UC-Davis lose both its federal funding and its license to conduct experiments.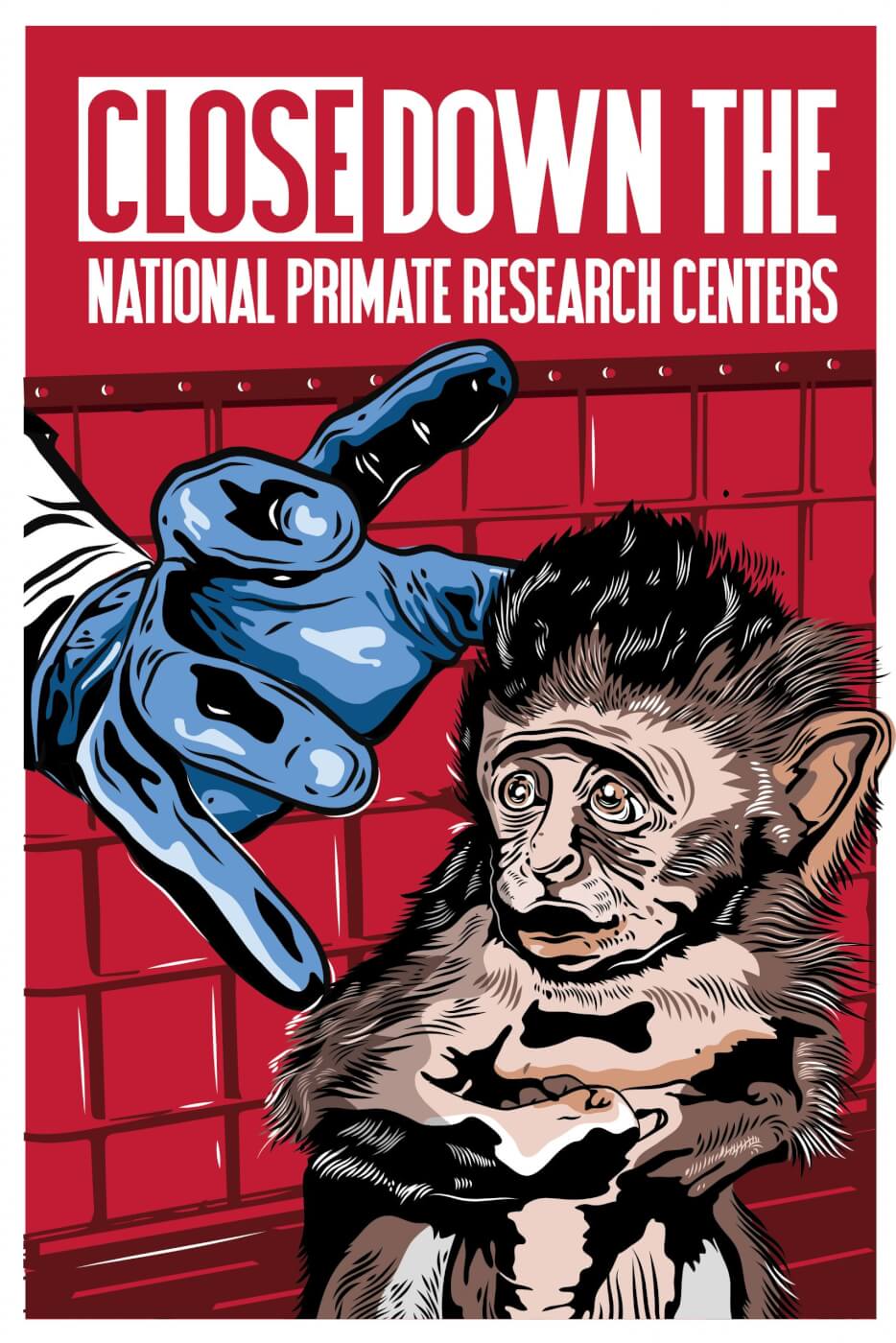 Go Vegan
PETA's motto reads, in part, that "animals are not ours to eat or abuse in any other way," and Praxis has dedicated his talents to spreading that message through his art.
Compassion is the way to liberation! Our lives for theirs, until every cage is empty.
Vegans each save nearly 200 animals every year—and benefit their own health by consuming foods that don't contribute to heart disease, cancer, strokes, diabetes, or obesity. Eating vegan is one of the easiest and most effective things that we can do to safeguard the environment and help spare animals a life of suffering and a horrific death.
If you haven't gone vegan yet, we can help make the transition easy. Order a free vegan starter kit to get fun, easy recipes and useful tips: