No one really needed another reason to boycott roadside zoos, but PETA's giving you one anyway, and it may take you by surprise: fires. While tragedies can happen anywhere, the last few years have seen an alarming pattern of fires linked to faulty wiring, unattended space heaters, and other instances of carelessness at shoddy tourist traps around the country—just further examples of the neglect that these dumps have become known for. See for yourself:
February 2022
Between 40 and 50 animals were reportedly killed in a February 24 petting zoo fire at Cockrill's Country Critters in Austin, Arkansas. An electrical fire apparently broke out in a barn that housed the operation's "exotic" animals. Prairie dogs, chinchillas, hedgehogs, parakeets, cockatoos, ducks, lemurs, and several reptiles were reportedly among the dozens killed. The "fire killed most of [the] animals," the Arkansas Democrat-Gazette reported. An iguana who was injured in the blaze reportedly had to have a portion of her tail amputated.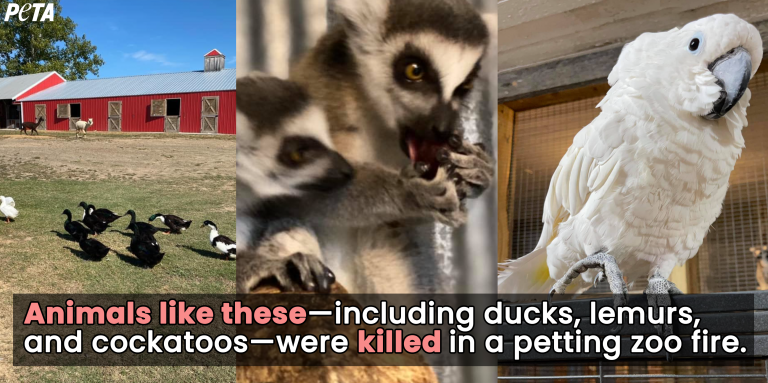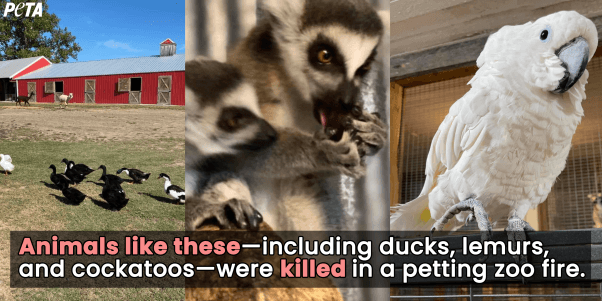 With their greed on full display, staff and volunteers are apparently already moving on, talking up plans to rebuild the barn and opening the rest of the petting zoo on schedule for a spring break event. "Our plans haven't changed," the operation posted on Facebook.
January 2022
A kangaroo (apparently one named Kuzco), two ferrets, and two prairie dogs were reportedly killed when the barn that they were confined to by Tyler's Exotics (a Battle Creek, Michigan, mobile zoo owned by Tyler Foland) went up in flames in the early hours of Wednesday, January 5. According to the Battle Creek Enquirer, the barn was destroyed after becoming "engulfed in flames." Although authorities are still investigating, preliminary information apparently indicates that unattended "heating elements" may have caused the fire.
Confined to a barn, exploited at birthday parties, killed in a blaze—these animals shouldn't have been subjected to any of these things.
In nature, kangaroos live in forests, in woodlands, and on islands. Prairie dogs are social animals who live in close-knit family groups and whose burrow network colonies—also called "towns"—are essential to the ecosystem. Ferrets are complex and unique individuals who require a lifetime of special care, food, and supplies—many are never able to interact safely with other animals in a home. But exhibitors like Foland (who apparently drags wild and exotic animals to and from alien environments and subjects them to crowds of children and other strangers) don't see individuals—they see dollar signs. And as with the slew of tragedies noted below, Foland's speciesist blind spot proved to be deadly.
https://www.facebook.com/HannahKnowlesWWMT/posts/337672564845682
May 2021
"A lot of kids are going to be crying today," said a police officer who responded to a May 2 barn fire at a Noccalula Falls Park petting zoo in Alabama that killed roughly 75 animals, including birds, baby alligators, a tortoise, 10 turtles, and 20 to 25 guinea pigs. (Why don't staff know how many guinea pigs were in the barn?) Authorities were reportedly only alerted to the blaze after a passerby called 911—according to the park supervisor, overnight security personnel were onsite, but they were stationed on the other side of the park. Authorities were investigating to determine the cause of the fire, a local newspaper reported.
March 2021
In Missouri, 11 reptiles (including snakes, an iguana, and other lizards) trapped inside a structure at the Critter Lane Petting Zoo were killed after it caught fire on March 19, a day before the operation opened to the public. (The opening weekend went on as planned.) According to the St. Louis Post-Dispatch, more than 300 exotic animals were kept at the roadside zoo—exploited for profit and entertainment—and the owner said that the facility plans to add new victims once the "reptile house" is rebuilt.
Fire destroys reptile house, kills all 11 reptiles at Critter Lane Petting Zoo in St. Francois County https://t.co/icBDnvy1oE

— St. Louis Post-Dispatch (@stltoday) March 19, 2021
Also in March, two giraffes were killed in a fire at Roer's Zoofari in Fairfax County, Virginia. One of them had arrived at the hellhole just days before dying and hadn't even been named.
February 2021
A lemur and a binturong (aka a "bearcat") at Pymatuning Deer Park in Pennsylvania were killed in a fire that officials said was obviously sparked by an electrical heater that the roadside zoo had recently installed. PETA and the Animal Legal Defense Fund are suing the facility for its alleged mistreatment of big cats, lemurs, a bear, and other animals.
January 2021
Robert Mullen is a former exhibitor whose traveling menagerie, PM Productions (aka "Amazing Rainforest Experience"), caught flak in 2015 after he forced "skeleton" tigers to perform at the Missouri State Fair. Then on January 21, 2021, the trailer on his property where he kept animals stacked in cages caught fire, killing all 23 animals—including an alligator, a monkey, a lemur, snakes, and cats—who were inside. Although the cause of the blaze remained undetermined, it was suspected that it likely started because of faulty wiring.
July 2020
Another reptile house caught fire, this time on July 18, 2020, at Maryland's Plumpton Park Zoo. The roadside zoo's staff rescued some of the animals from the flames, but two snakes and four birds were killed. The fire marshal reportedly believed one of the reptiles' heat lamp fixtures started the fire.
March 2020
A March 24, 2020, barn fire killed several animals at Special Memories Zoo, a now-defunct roadside zoo that was once open to the public in Greenville, Wisconsin. The flames burned too long for investigators to be able to rule out arson, but the fire may have been accidental and structure-related. And—get this—while investigating, they found more than a dozen corpses of other animals who had apparently died prior to the fire.
November 2018
An 8-foot-by-8-foot building at the Heritage Park Zoo in Prescott, Arizona, that had housed five wallabies caught fire on November 20, 2018, killing one of the animals (Jack) and injuring another. The other three only survived because they were able to escape from the structure. Prescott Fire Department officials reportedly said that a heat lamp was the only possible source of the flames.
These wallabies made it out of a fire at the Heritage Park Zoo in Prescott, Arizona Monday night. Unfortunately one of them did not make it out of the fire alive. #FOX10Phoenix #Wallaby #Zoo #Animals pic.twitter.com/g0lY3QIXkA

— EdThePhotog (@EdThePhotog) November 20, 2018
December 2017
An electrical malfunction reportedly sparked flames in the back of the main barn at the Little Ponderosa Zoo in Tennessee, apparently killing roughly 45 animals. A donkey named Tony had been removed from the burning barn but then—apparently scared and confused—ran back into it. He was among the dozens of animals who died in the blaze. A dog named Charlie—who the roadside zoo said was used to guard and herd sheep—sustained burns and blisters.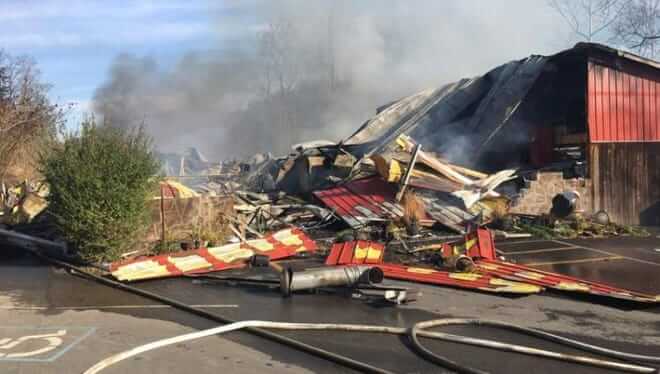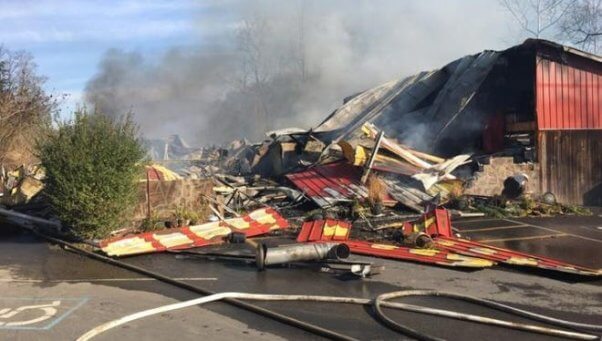 January 2016
According to reports, 41 animals were killed in a January 12, 2016, fire at Wildlife in Need, a now-defunct Indiana facility known for its long history of callous abuse and neglect as well as its notorious owner, Tim Stark of Tiger King. Just months prior to the tragedy, the roadside zoo was cited for physically abusing tiger cubs. There's some good news, though: Later, in 2020, PETA helped ensure that the tawdry roadside zoo was free of wildlife in need:
RESCUED! The cages are finally empty!

PETA just confiscated 22 big cats from #TigerKing villain Tim Stark's shabby roadside zoo following our ESA win. Now they'll finally get the care they need at @animalsanctuary & @turpentinecreek: https://t.co/kDQJugVvw5 pic.twitter.com/7I2qsPpIG4

— PETA (@peta) September 20, 2020
March 2015
Speaking of Tiger King, arson was suspected as the cause of the fire that burned down the studio for Joe Exotic TV and the adjacent barn, killing seven alligators as well as a crocodile who allegedly came from Michael Jackson's Neverland Ranch. The animals reportedly "boiled to death."
January 2015
After South Carolina's Hollywild Animal Park underwent lighting and electrical maintenance (which was performed by park staff), a lighting fixture inside a metal barn at the roadside zoo caught fire—nearly 30 animals reportedly died from smoke inhalation and more than 10 others were injured. The newly "renovated" barn reportedly did not have a smoke alarm.
*****
OK, you're incensed—here's what you can do about it.
By their very nature, places that exploit animals are rife with potential for abuse and neglect—so while certainly alarming, it's not surprising that tragedies like the ones above are widespread among these highway hellholes. So, please, never visit a roadside zoo.
Do more to help animals in roadside zoos: Thanks to PETA's rapid-action function, you can quickly and easily take multiple actions for animals exploited for entertainment.