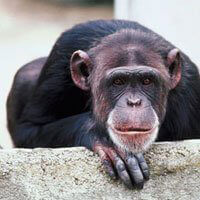 Traveling zoos and petting zoos are bad news for animals and humans. They subject animals to the stress of transport, alien environments, irregular feeding and watering, mishandling, and crowds of strangers. Many children and adults have been mauled by tigers, primates, and other animals who are used as props in photo shoots, and countless people have been sickened—and some have died—after contracting diseases from animals in petting zoos.
Travel Trauma
Animals used in traveling exhibitions are almost constantly confined to tiny transport cages or trailers. They suffer in extreme temperatures and are denied adequate food and water because transporters don't want to bother with frequent stops to feed and water the animals and clean their cages. Without exercise, animals become listless and prone to illness, and as a reaction to stress and boredom, they may resort to self-mutilation.
Life on the road can be extremely traumatic for animals. For example, one study found that after tigers were transported even briefly, their cortisol levels, which indicate stress, increased as much as 482 percent and remained elevated for nearly two weeks.
PETA's undercover investigation of G.W. Exotic Animal Memorial Park in Oklahoma documented that the facility separates newborn lions, tigers, and bears from their mothers just hours after they are born. Days-old and weeks-old cubs have been used for photo shoots at the facility or taken on the road. Some have been handled by the public even though the animals were infected with ringworm. During our investigation, numerous cubs reportedly died while traveling.
The U.S. Department of Agriculture (USDA) has cited many traveling zoos for violations. For example, Texas-based ZooCats, Inc., has been cited repeatedly for failure to provide adequate veterinary care to tigers and failure to provide tigers with food that is sufficient to maintain the animals in good health. In 2010, the USDA issued a citation for ZooCats' repeat failure to provide adequate veterinary care, noting that within mere months, a female tiger died while delivering cubs, another tiger gave birth to multiple still-born cubs, and a white tiger with a history of "poor cub survival" gave birth to another still-born cub. Just three weeks after giving birth, the white tiger was forced to resume travel with her surviving three cubs. USDA inspectors noted that "[t]here is a significant number of unexplained deaths of tiger cubs at [ZooCats]. These circumstances indicate that violations of the Animal Welfare Act, such as previously documented inadequate diets may have contributed to these deaths."
Perry's Exotic Petting Zoo, of Central Point, Iowa, was cited for failure to provide veterinary care to three 11-day-old tiger cubs who died two days after being acquired and transported from Ohio to Iowa and Colorado. The cubs had been used for photographs with the public on the day before their deaths. The USDA inspector suspected that stress related to transportation and handling contributed to their failed health.
Suffering on Display
Animals used in traveling zoos suffer both behind the scenes and when they are on display. The Zoo, a traveling animal exhibit, has been repeatedly cited by the USDA for inadequate animal care practices, including failure to provide proper diets, veterinary care, or environmental enrichment.
On one visit, the inspecting USDA veterinarian reported that algae was in the water buckets, a lion cub was being fed inappropriate milk replacers, and a baboon in solitary confinement was rolling her head and pacing—behavior that indicates extreme mental distress.
As documented in undercover video footage, the Amarillo Wildlife Refuge forced a tiger cub named Ziggy to work a six-hour photo shoot in the sweltering parking lot of a Sam's Club store in Texas. The cub developed painful blisters on his paws from standing on hot pavement all day.
Photo Shoots Turn Tragic
Not surprisingly, dangerous wild animals often attack when permitted to have direct contact with the public. For example, Great Cat Adventures, a traveling zoo that breeds big cats in order to produce cubs for use in photo shoots, was cited by the USDA four times in as many months for handling tigers in a dangerous manner during public appearances at places such as the Tulsa State Fair in Oklahoma, the Steele County Fair in Minnesota, and a shopping mall in Illinois.
Licensed but Poorly Regulated
The Animal Welfare Act (AWA) requires that animal exhibitors be licensed by the USDA's Animal and Plant Health Inspection Service in order to ensure that exhibitors meet the AWA's minimal requirements regarding animal care. The AWA requires little more than that exhibitors provide animals with sufficient food and water and enough room to stand up, turn around, and lie down. In reality, no government agency can effectively regulate or enforce the humane treatment of animals who are continuously on the road.
Disease Outbreaks Associated With Petting Zoos
Children who visit petting zoos often bring home more than their parents bargained for. Health officials indicate that petting zoos are hotbeds of serious pathogens, including E. coli and salmonella bacteria. Experts warn that infections can spread through direct or even indirect animal contact. The area surrounding the animal's cage can be teeming with bacteria, and children can even bring it home on their clothing. The very young, the elderly, and others with weakened immune systems are especially at risk.
Children who come into contact with E. coli can develop bloody diarrhea, anemia, chronic kidney failure, or neurological impairments such as seizures or strokes. According to the Centers for Disease Control and Prevention (CDC), kidney failure can occur and dialysis and transfusions are sometimes necessary. Some who are sickened by E. coli bacteria must undergo surgery to have part of the bowel removed. Here is just a partial list of illnesses that have resulted from petting zoos since 2002:
The children's petting zoo at the Toledo Zoo was closed indefinitely after three animals tested positive for campylobacter, an infectious bacterium that causes gastrointestinal illness.
An outbreak of E. coli bacteria in Florida was definitively linked to animals from petting zoos at three fairs. Twenty-six people were confirmed stricken with E. coli infection, including 23 children.
State health investigators reported 108 likely E. coli cases in people who had visited a petting zoo at the North Carolina State Fair. Forty-three of those cases were confirmed by lab tests.
Canadian health officials issued a warning after six children became ill with suspected E. coli infections after visiting petting zoos in British Columbia.
Twenty-two people, including 12 children who developed kidney failure, were hospitalized after being infected with E. coli at the Lane County Fair in Eugene, Oregon. It was thought that the bacteria made contact with visitors' hands by way of the dust in the sheep barn. Eighty-two people were sickened.
The Philadelphia Zoo closed two petting areas after two children, ages 3 and 5, who visited the zoo came down with E. coli infections and had to be hospitalized.
What You Can Do
Don't allow animal act promoters to pass off their exploitation of animals as entertainment or conservation. By educating others and showing that cruelty to animals is neither fun nor ethical, you can help stop animal exploitation.
Stay away from petting zoos and other animal attractions. Let kids experience animals in their own habitats—and from a safe distance—by taking a nature hike, renting a nature documentary, or going bird-watching.
Contact PETA to learn of any problems associated with a specific exhibitor.
Voice your concerns to the fair organizers, shopping mall manager, or other promoters, and make it clear that the fair, mall, etc., will be boycotted if the exotic animal exhibition is booked.
Be on the scene when the animals arrive to look for violations of the Animal Welfare Act as well as local and state cruelty laws. Take photographs or video footage. If you see possible violations, try to get a veterinarian to verify your findings, and report your observations to your local animal control officer, the state department of agriculture, and the USDA.
Organize a demonstration, and notify the media in time for them to cover your protest.
Find out where the exhibitor is going when it leaves your community. Contact humane societies and activists in that area. Let them know what you did in your area, and ask them to do the same. You can obtain a list of animal rights groups in a specific state by calling PETA's International Grassroots Campaigns Department.
Write a letter to the editor urging people not to patronize animal shows.